Colebrook Voters Reject Vehicle Fee, Property Purchase, Petition to Prohibit ATV Traffic from Town Roads
By Karen Harrigan

Colebrook citizens and some onlookers packed the school gym for town meeting on Tuesday night, when voters handily rejected proposals for a $5 vehicle registration fee to fund transportation work, the purchase of a property on Bridge Street, and to prohibit ATVs from all town roads. The town $4,573,871 budget, a new plow truck and the purchase of a new police cruiser were all approved with relatively little fanfare.

After brief discussion, a ballot vote of 132-66 killed the notion of an additional $5 fee for vehicle registrations. The town had estimated the fee would raise $15,000 per year to fund town transportation improvements, such as bridges, roads, bike and walking routes, and parking. "Do you really think that's going to make a big difference?" asked Irene Bean. "Five dollars is a lot to some people." Mike Furbush said he viewed the fee "as nothing more than a resident tax."

The plow truck purchase was approved by voice vote, after selectman Greg Placy amended the total amount from $227,000 to $200,000 because, "We now know the exact cost of the new vehicle." The new truck will replace a ten-wheeler currently used for plowing, and the chassis of that vehicle will replace the 1997 truck currently used for water transportation from the landfill.

"The tiredest truck in our fleet is that water truck," Mr. Placy said. "After 18 trips back and forth to the landfill every day, it probably won't pass inspection." It's using a lot of oil, the brake system leaks continuously and there are holes in the frame, the floor and side panels, Mr. Placy said. The new truck will be purchased with reserve funds, resulting in no impact to this year's taxes.

There was no discussion of the cruiser purchase, with only $5,744 to come from taxes and $20,256 from the insurance claim. The former cruiser, purchased just last summer, was totaled when someone slid into it at an accident scene on an icy road last November.

Regarding a $107,850 request for the landfill closure fund, Mr. Placy explained that the N.H. Department of Environmental Services had recently lowered the acceptable amount of 1,4-Dioxane in the runoff water to what he believes is an unattainable level. "Prior to DES making this change we thought we were getting close to having it within range," he said. "Now we don't know how long it will take, if we ever manage it."

Marc Bigney asked whether running a line to the sewer system would be more cost effective than trucking the water. Mr. Placy agreed that might be the case now, although it wasn't back when the remediation started, and said the town will investigate that option.

During discussion of the water and sewer departments, town counsel Jon Frizzell fielded a request for an update on the wells situation. "There is a current lawsuit pending in Coos County Superior Court against HydroSource," he said, adding that it's likely to go to trial in January of next year.

"The question is can the [new] wells be remediated and if so, how much will HydroSource pay," he said. The company was hired to drill the new wells north of town in 2007 but high levels of clay rendered them unusable and the town took them off-line, reverting to the old wells downtown. The town is still paying $60,000 per year on the USDA loan for the project.

Selectman Ray Gorman spoke to the board's proposal to purchase the old Willard Nugent home, situated across from the town hall on Bridge Street between the Trinity United Methodist Church and the monument lot. The $65,000 proposal consisted of the $55,000 purchase price and $10,000 for demolition and cleanup of the site, "for the purpose of well field protection and enhanced parking."

Mr. Gorman explained that the building is in worse condition than anticipated by the owner (Timothy Brooks of Stratford), who does not plan to pursue his original plan of renovation. Based on its stated purpose of well protection, Ms. Collins proposed amending the article to read that $20,000 would come from the town water fund, leaving $45,000 to come from taxes, which voters approved.

Rick Tillotson asked whether the area proposed for parking is situated within the wells' sanitary protective radius, defined by DES as 400 feet. Mr. Placy said yes, but expressed his belief that the lot could be developed to drain away from the well area.

Mr. Tillotson observed that the Nugent home "was one of the prettiest houses in town, and a benefit to the town's character." He said the Tillotson North Country Foundation had received the town's $45,000 request to purchase the property, but declined the grant "because we thought it would be better to get the Canaan Building Trades to restore it and get it back on the tax rolls instead of a parking lot." His proposal garnered a round of applause and the article failed by hand vote.

Concerning the government buildings budget, Bernie Carrier asked whether there's "been any discussion about consolidating the town offices and the SAU at the Academy building." When Mr. Placy said no, Mr. Carrier asked why not. "We didn't know it was going to be empty, for one," Mr. Placy said. "Now is probably the time to talk with the school board about what's going to happen with it." Mr. Carrier pointed out that the town is putting a lot of money into the town hall, and the C.A. building has a lot more room.

ATV Use of Town Roads

Prior to taking up the biggest issue of the night, the petitioned Article 26 seeking to ban ATVs from all town roads and streets, Mr. Placy reminded voters, "This is an opinion vote, because the RSA says the selectmen have sole legal discretion on the use of roads."

He added that the board was opposed to this measure, but "very much in favor of Articles 27 and 28, because we believe there are some solutions out there." These articles proposed creating the position of a Recreation Trails Supervisor to facilitate between landowners and the ATV community, and $10,000 to fund the position for the first year.

South Hill Road resident Mark Hunt was first to speak, and said nothing had been done to alleviate the ATV traffic on his road for years. "They're up for the weekend to have a good time, and that's great," he said. "But my weekend is hell. I don't think anyone here is anti-ATV or anti-business, but it's been shoved down our throats. We had to threaten to shut it down just to get people to the table. No one's come to the table for years."

Mike Ouellet, the trail administrator for the Metallak ATV Club, said the club understands that the traffic "can be unpleasant and intrusive, and the Metallak ATV Club is committed to change this." He noted that the club has over 900 members, maintains over 120 miles of trails and works with 68 landowners; he also cited figures showing the impact of motorized recreation on real estate sales and the local economy.

"Yes, there are rogue and inconsiderate riders that create problems," he said, "but the club has been proactive to help curb these issues." Mr. Ouellet related discussions with N.H. Fish and Game and the Coos County Sheriff's Office about trail enforcement, and the club's own trail patrols. He said the club is working with the selectmen and the state to open up the railbed south of town to connect to Sims Stream Road, and "We estimate that should reduce the traffic on South Hill Road by more than 50 percent."

Mr. Ouellet cited hopes to bypass Cree, East Colebrook and Bear Rock roads, involving negotiations with 35 different landowners; once they're complete it will take a couple of years to build six miles of new trail and could cost as much as $100,000. "We know and understand the difficulties and trials of the homeowners on the trail connectors," Mr. Ouellet said. "Please be patient a little while longer--we are working hard and are committed to get alternate trails."

Cynthia Harris said it feels to her as if the entire issue is about money, and that she simply wants to restore the quiet that existed prior to the ATV traffic, but believes no one is listening to her and others' complaints. "Nobody seems to think we have a right to some peace and quiet," she said. "Why do they get to do whatever they want, and nobody cares what we think? You don't care about our feelings or how it affects our life. People who want to use the roads are not giving a darn about what the people who live on those roads feel."

South Hill Road resident Vince Roscillo proposed an amendment that, if approved, would ultimately have opened all town roads and streets to ATV traffic. "If this has such a great economic impact--and I agree it does--let's all experience it," he said.

The amendment failed and the original article went to a ballot vote at 10:10 p.m. After its defeat by a 227-52 margin, Mr. Placy's motion to restrict the article from reconsideration was approved.

Metallak ATV Club president Craig Washburn opened discussion on Article 27, which proposed the Recreation Trails Supervisor position, by stating, "I'd like to know why the taxpayers are going to pay for something I've been doing 40 years for free." Julie Moran pointed out this person would be neutral and work as a mediator "so we can address the issues residents are angry about."

Mr. Placy said the board views this as a move that would help the club, but Terry Rosi disagreed with the need for a $10,000 position. "I think this can be worked out between both sides with some transparency," he said. The measure failed, nullifying the next article that would have funded the position, and the 7 p.m. meeting adjourned at 10:55.

Columbia Votes for Continued Study of School Regionalization Proposal
By Butch Ladd

Twenty-nine Columbia residents made short work of their school district and town business at their annual meetings on Tuesday evening. All articles on both warrants were passed with very minimum discussion, and everyone was able to go home after an hour and a half.

School District Meeting

School moderator Eric Stohl led voters through the warrant in 23 minutes. Everything was approved with the only discussion concerning Article 3, which asked for support the continued study and development of a regional education plan known as Model 11.

In light of the voting result in other towns, school board chairman Chris Brady stated, "I would like to amend this article by striking out 'known as Model 11.'" He said the school board supports moving ahead with the study, as now "maybe Columbia can have a voice in the choice of education."

Both the amendment and the article passed unanimously, and the voters also approved $1,580,380 for the support of schools.

Town Meeting

All 30 articles on the town warrant passed by unanimous vote with almost no discussion. Town moderator Steve Brooks asked for a moment of silence for tax collector Garry Parkhurst, who had served the town for 25 years and had passed away earlier this year.

Approved without discussion were $111,000 for town charges, $120,000 for summer road maintenance, and $98,000 for winter road maintenance; this last article was amended as it was printed as $96,000 in the book. Article 26 was amended as well, as it sought $38,000 for the fourth payment of a five- year note for replacement of a bridge on Meriden Hill Road, when in fact this would be the fifth and final year of the five-year note.

By ballot during the day, voters approved three zoning ordinance amendment proposals. The first three were all in relation to personal wireless service facilities' fall zone and dimensional requirements, and the fourth stated that no structure shall be placed or erected on any lot in Columbia having a height of more than 35 feet.

Before the meeting closed selectman, Eric Stohl recognized Deputy town clerk Debra Deblois for her efforts during this past year to help town clerk Marcia Parkhurst. "The selectboard and Marcia would like to thank Debbie for all her extra that she gave to the town this past year. With Marcia fighting illness and then Garry's illness, Debbie not only worked three days at her regular job and would come in to keep the clerk's office open. We appreciate your kindness and understanding. We thank you for all your help."

Isabelle Parkhurst then got up to thank the town for dedicating this year's town report to her late son Garry.

Pittsburg Voters Approve Continued ATV Use Of Town Roads, New Highway Truck Purchase
By Jake Mardin

Pittsburg residents voted b a 3-1 margin to continue allowing ATV travel on town roads, and approved the budget and the lease and purchase of a new highway truck during their annual town meeting on Tuesday night.

The petitioned article to see if the town would vote to close all town roads to ATVs and OHRVs beginning May 1 was expected to dominate discussion. However, when the article was brought up, Arnold Gray made a motion to move the question, saying everyone already knew how they would vote. A ballot vote was held and the article was defeated 54-166.

One article that did generate discussion was Article 2, which asked voters to authorize the selectmen to enter into a long-term lease-purchase agreement over seven years for a new, outfitted highway truck. Selectman Curt Shaw said the oldest truck the town has is a 2009 International, but it is in good shape. The problem is the 2012 International, which he said has constant mechanical problems. He said the plan is to remove the equipment from the 2012 truck and put it into the 2009 truck, and sell off the 2012 truck and old equipment. Road agent Ricky Clogston said he is looking at two different trucks: one a six-wheel International with a Cummins engine for $158,000; and the other a ten-wheel Western Star with a Detroit engine for $208,000. He said he has no space in the garage for the ten-wheeler, and with the six-wheeler, he would be able to use about two yards per load of sand more than what he uses currently.

Lindsey Gray said he didn't want to see a truck that sits outside and said freeze-ups are expensive. Arnold Gray also recommended the smaller truck, and said if the town gets more garage space in the future it could look at getting a ten-wheeler. The article was amended to enter into a lease-purchase agreement for $158,000 over seven years and to appropriate $26,700 for the first year's payment, and it passed 144-3 by ballot vote.

The town voted to add a total of $110,000 to the highway heavy equipment, police cruiser, Happy Corner Bridge, fire truck, fire equipment and revaluation capital reserve funds.

The budget was amended to $1,728,356 after a motion was made to add $30,000 for the purchase of gravel for town roads. There was some discussion on the water system and ambulance services, and the article passed on the floor.

Under the "other business" article, selectman Richard Lapoint said that as a member of the Coos County Recycling Center, the town was recently asked if it would separate different types of plastics and cans due to a shortage of available inmates at the House of Corrections. He said the board was not in favor and asked voters for their opinion, and the motion was made and passed to keep things the way they are.

Mr. Shaw said the town is continuing to work on the monuments and is looking for names of residents who have served in conflicts whose names are not listed on the current markers. The meeting adjourned at 9:50 p.m. after a little over two and a half hours.

Stewartstown Votes to Close Library, Table Decision on ATV Road Use
By Rob Maxwell

There was standing room only in the multi-purpose room at Stewartstown Community School on Tuesday evening, March 12 for the annual town meeting, where about 130 voters quickly approved a $970,336 budget, voted to close the Dennis Joos Public Library and tabled a warrant article seeking to close all town roads to ATVs.

Moderator Rick Samson called the meeting to order at 7:05 and read the entire seve- article warrant aloud. There was next to no discussion before the gathering gave approval to a 29-item budget that included $335,927 for highways and streets, $120,000 for sewage collection and disposal, $97,500 for solid waste disposal and $35,000 for revaluation of property. Voters also agreed to raise $1,082 in support of the North Country Community Recreation Center.

Mr. Samson prefaced discussion on Article 4 that sought, "to close all town roads to ATV's and OHRV traffic beginning May 1, 2019," by observing, "This is the article you're all here to discuss." After comments by four citizens including Monique Petrofsky, who noted her concern with possible health hazards caused by "dust and noise when 500 to 700 travel on a dirt road in a single day," Skip Covell moved to table the article. "We should assemble much more hard data on the subject and perhaps a committee can be formed to help with that," he said. "We should be able to work this out because we need them (ATVs) here and they seem to want to be here."

After brief consideration by Mr. Samson and selectmen Allen Coats, Dwayne Covell and James Gilbert, Mr. Samson told the gathering that a motion to table did not include public discussion. A standing vote to table was passed 92-26.

The longest debate of the evening centered on an article brought by petition asking the town to provide year-round maintenance of a 1.3-mile section of Creampoke Road. Town clerk Rita Hibbard noted that passage of the article would have no impact on property taxes for those residing on the section of road in question, and road agent Aaron Joos told the gathering that winter maintenance of the road would cost about $6,000 to $7,000 annually.

Harry Brown observed, "Those that build on these Class V roads do so because they want to live there and presumably they understand the condition of the road, so why should we have to pay for an upgrade?" Judy Gibbons told the group that she was one of the originators of the petition and stated, "There are 15 full-time residents on this section of Creampoke Road and we're now paying for private sanding and winging. I have a business there and would like our portion of the road publicly maintained." After further discussion, the article was defeated by a voice vote.

Article 6 asked voters to approve the closing of the town's public library, because "Consultation with Librarian Bobbi-Jo Allen shows little to no use of the library in recent years." This article was passed by voice vote with no discussion.

The "any other business" portion of the meeting saw a return to the issue of ATVs on public roads. Dr. Elliott Kaufman asked if the board of selectmen could form "a group or committee to talk about the issue," and Mr. Coats said the board had discussed this, although, "The problem is finding people willing to serve and putting together a panel that is willing to work together to find a middle-of-the-road solution. I suggest that people interested in working on this issue can come to selectmen meetings on Mondays."

There being no additional business, Mr. Samson adjourned the meeting at 8:20 p.m.

Stratford Votes to Keep Planning Board
By Rob Maxwell

Voters in Stratford rapidly approved a $2,406,000 school budget on Monday, March 11, and the following day deal with town affairs, approving a $765,555 operating budget and an additional $62,000 in appropriations from individual warrant articles. A ballot initiative seeking to abolish the planning board was defeated during daytime voting, by a tally of 104 in favor of retaining the board and 21 against.

School District Meeting

Fewer than a dozen citizens disposed of a proposed $2,406,000 school budget in less than 15 minutes without amendment at the district meeting, held on Monday at the Stratford Public School gym. In addition, voters also approved expenditures of $2,785 to defray the salaries of 10 school district officials.

Town Meeting

About 60 citizens and town officials gathered at Fuller Town Hall on Tuesday morning to discharge the town's annual business. In addition to approving a total of $827,555 in expenditures, the gathering spent about 45 minutes discussing a ballot initiative brought by petition to abolish the ton's planning board.

Moderator Jamie Sayen requested and received a motion to change the order of procedure, such that non-binding debate about the planning board became the first order of business. Ted Burns spoke in favor of the measure, saying, "It's time for the planning board's leadership to go. Many of us were ignored at a recent meeting. The purpose of abolishing the board is to get rid of the people now on the board and the sky will not fall if we do so. We can vote next year to reinstate the board with different members."

Robin Heinrichs noted that she owns property in the Hollow, "and we have flood insurance that we could lose if the board is dissolved. Why take things out on us if other people are dissatisfied with the planning board?"

Board chairman Rachel O'Meara spoke at length about the various functions and duties of the board including maintenance and revision of the master plan. She read a message sent to the planning board by Samara Ebinger of the N.H. Office of Strategic Initiatives, outlining the consequences for property owners holding National Flood Insurance Program policies; these include inability to renew insurance policies, which might affect a property owner's ability to maintain a mortgage. "If someone thinks my leadership is inadequate, I'll be more than happy to step down, but please do not abolish the planning board, "Ms. O'Meara stated.

Otto Whelen--who originated the petition to abolish the board-- explained that he was concerned about, "loss of property rights, and in particular about subdivisions. The board can be reinstated next year with all the rules in place but with different people."

Mark McCullough asked Mr. Whelen if he owned any property he wished to subdivide and Mr. Whelen replied that he did not. "That's all I need to know," said Mr. McCullough.

"Ms. O'Meara provided lots of hard data about reasons to keep the planning board," said Jim Lee. "Is there any data besides anecdotal information about reasons to abolish the board? After about 30 minutes of comment, largely in favor of retaining the board, a motion to move on to the rest of the warrant was passed by voice vote.

After a few questions concerning police coverage, the $765,555 base budget was passed unanimously, and Articles 3-10 passed with little discussion and no amendments. Article 11 sought $250 to support the Cohos Historical Society and was amended to $1,000. Voters also approved establishment of a Conservation Fund Account with no specific amount appropriated.

Wendy McMann opened "any other business" by asking if future meetings could be prefaced by a request from the moderator for all in attendance to turn-off or not bring mobile phones to the meeting. A question from Laurie Bacon about possibly changing the time of town meeting "to make things easier for working people" brought a response from Tim Brooks, who suggested combining school and town meetings on a chosen evening. With the town's business complete, Mr. Sayen adjourned the 10 a.m. meeting at 11:35.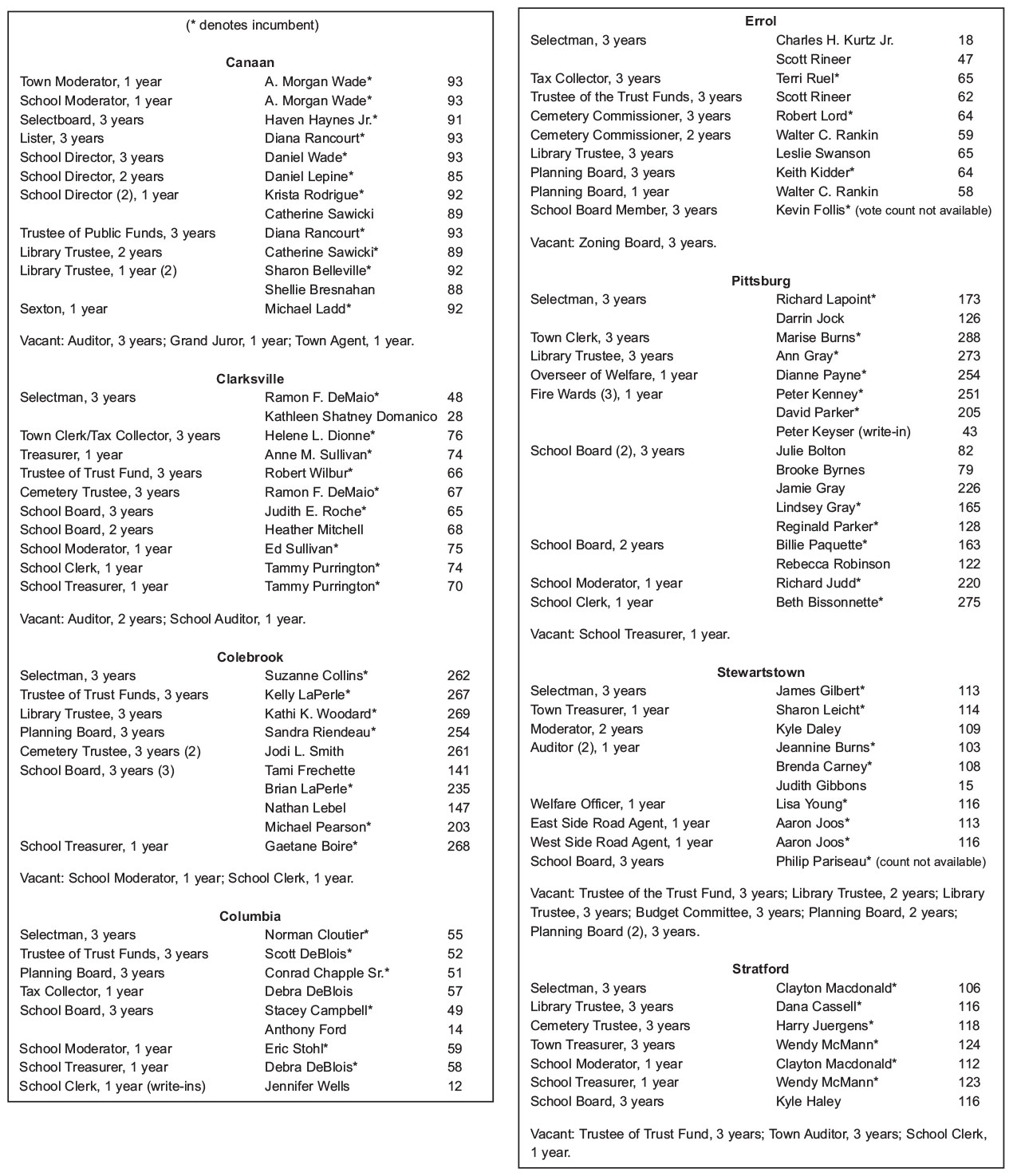 ---