---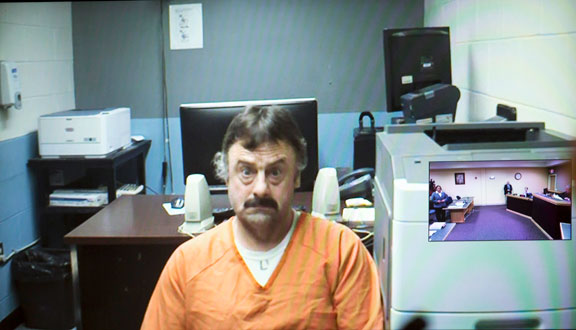 Wendell Noyes at arraignment via video feed.

Noyes Arraigned Tuesday in Berlin

By Jake Mardin
The stepfather of Celina Cass was arraigned Tuesday in Berlin on a charge of second-degree murder for allegedly submerging her in the Connecticut River in July 2011.
Wendell Noyes, 52, is being held at the House of Corrections in Stewartstown without bail and appeared via video wearing an orange jumpsuit. He is being represented by New Hampshire Public Defender's Marcie Hornick, who was present in the courtroom. Also present in the courtroom was Assistant Attorney General Jane Young, who is prosecuting the case.
Joined by others in the courtroom was Louisa Cass, the mother of Celina. She and others were wearing shirts with Celina's picture on it with the words "Justice for Celina." She appeared emotional as Judge Paul Desjardins read the complaint against Noyes. Judge Desjardins explained that the charge contained a possible sentence of life in prison. He asked Noyes if he understood the charge and the potential penalty, and Noyes answered "yes, sir" to each question.
Attorney Young told the judge that there is a sealed affidavit in support of the arrest warrant for Noyes and said that there are competency issues at play that should be addressed before a probable cause hearing. Attorney Hornick told Judge Desjardins that he found him incompetent in November after Noyes was arrested the prior month on charges of simple assault, resisting arrest, breach of bail and criminal mischief. She said he has been at the state hospital since December 29 and is under a restorability plan. Judge Desjardins said he had intended to set the probable cause hearing for the following week but Attorney Hornick said she could not see how that would be possible if Noyes had been found incompetent in November.
The state and defense both agreed that competency would be an issue and Attorney Hornick will file a motion for a follow-up evaluation. Judge Desjardins addressed the issue of bail and said that by statute, Noyes is not eligible for any at this point.
Following the hearing, Attorney Young spoke briefly to the assembled media outside the courtroom, saying that she was not able to comment on the facts surrounding the case and said the affidavit would be unsealed for around 30 days. She also said that since the case began five years ago, investigators have worked on the case.
"Celina has stayed in our hearts and will continue to be there until we resolve this case," she said.
Louisa Cass spoke to reporters, saying that her daughter loved basketball and her friends and teachers, and said "we're going to get justice."
---
---