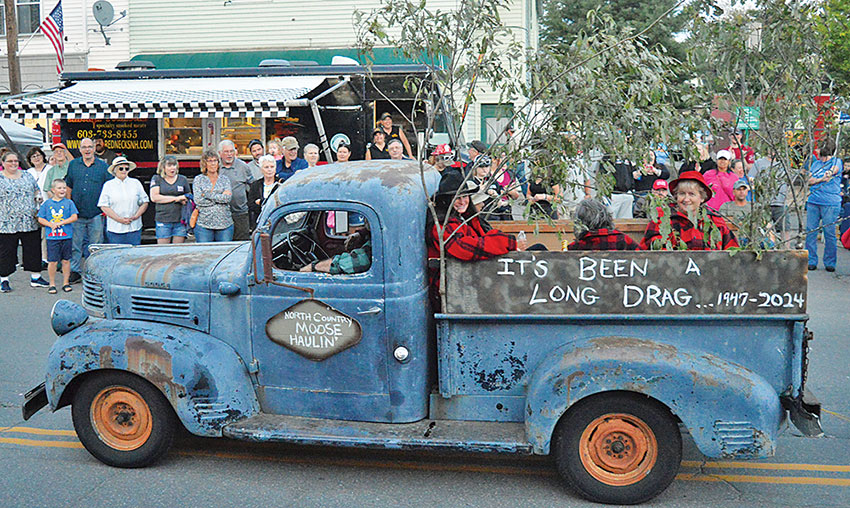 RECORD BULL ON OPENING DAY

This 919-pound bull, taken in Bloomfield by Kevin Rice of Pomfret, is the largest ever shot with a bow in Vermont and the state's 15th largest overall. He got some help with his hunt, in the form of a decoy fashioned from a cardboard refigerator box. (Courtesy photo)
Bow Hunter Takes Trophy Moose on Opening Day in Bloomfield

By Gary Moore
Pomfret fire chief Kevin Rice applied for a Vermont moose hunting permit for more than 20 years, and this year he was drawn for an archery permit. That began a process of scouting and planning that all came to fruition on October 1, the opening day of the season when he downed a trophy bull in Bloomfield.
The 919-pound bull is the largest ever taken by bow and arrow in Vermont and the 15th largest overall, according to the Vermont Big Game Trophy Club.
Chief Rice had located the big bull during a scouting trip in late September and began to plan for a way to get it within archery range when the season opened.
He and his partner, Steve Schaefer of Hartford, constructed a cardboard cow decoy from a refrigerator box they got across the river in Colebrook, and that proved to be the key to their success. He said they used their hunting knives to hack out the moose silhouette and then spray-painted it black.
They were crossing a clearcut before daylight on opening morning when they heard a bull moose grunt. As the light improved they saw a young bull and three cows. They tried calling, but that didn't seem to work. The young bull had no intention of leaving his harem and eventually they moved off.
A bit later they watched a cow and a calf. Obviously they were in a good area.
The two continued moving and calling over the next several hours until they spotted two moose bedded in a clearcut around 9:30. From a distance of 250 yards they could see that one was a cow, but couldn't identify the second animal. So they opened up their decoy and started slowly moving toward the moose.
At 60 yards the moose stood up. Now they could see that the second moose was indeed a young bull, but not the big bull the hunters were in search of. They watched as the two moose moved away.
At 11 a.m. the pair was walking along a skidder road, intermittently calling and waiting. Suddenly a moose stood up from its bed just 35 yards above them. This was the big bull they had seen days before. Rice immediately knelt down and nocked an arrow while Schaefer unfolded the decoy right behind him. The big bull quickly focused on the decoy, and testosterone took over as he immediately turned and headed right at them.
The bull came in "slow and steady, posturing all the way," as Chief Rice put it. Its head was down, its massive antlers swaying from side to side and drool dripping from its mouth.
At 15 yards, Kevin stood up and drew his bow, fully expecting to have only a couple of seconds to take his shot before the bull turned and ran off, but it kept coming. Its desire for the cow made it lose all caution, and that would be its downfall. Rice said, "I didn't want to shoot him straight on, and I kept thinking, he's gotta turn eventually, or step on us."
Chief Rice held off until the bull was just seven yards away. It finally turned slightly for better footing on the edge of the trail, and Kevin had the opportunity for a lethal shot just behind the shoulder. Talk about an adrenaline rush!
Soon all that hard work in preparation for the hunt had paid off. The bull only went about 60 yards before dropping. Five and a half hours later the two men had dragged and winched the huge bull out to the waiting trailer, where it was loaded and taken to be reported.
To take such a trophy animal with a bow and arrow is an accomplishment most of us only dream of. Rice and Schaefer can be proud of their success.
We decoy waterfowl and turkeys but I had never heard of a moose decoy. You can bet others will be using one from now on in an attempt to get a bull within range--Rice and Schaefer will likely be remembered for starting a new technique to hunt moose.
--Syndicated columnist Gary W. Moore may be reached by e-mail at gwmoore1946@myfairpoint.net, or at PO Box 454, Bradford, VT 05033.
(Issue of October 22, 2014)
---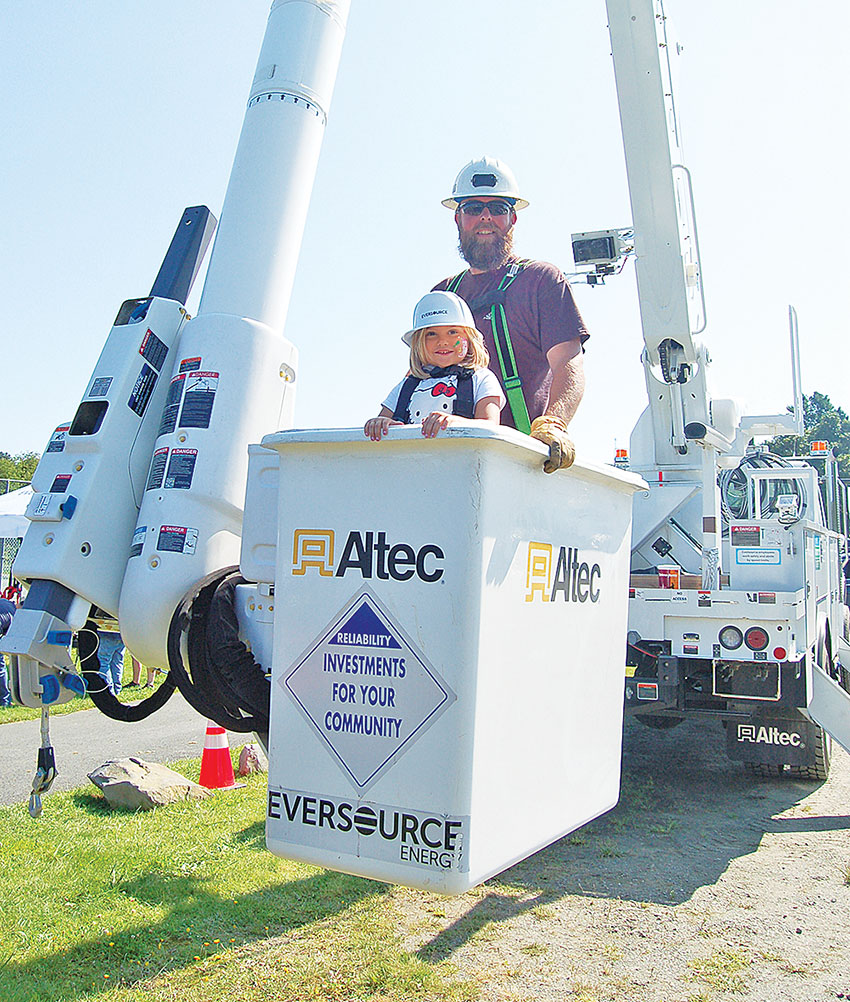 FIRST PLACE AT WMRHS MEET

The Canaan-Pittsburg cross-country team finished first at the White Mountains Regional High School meet on Friday. From left to right are Dylan Gilbert, Joey Flanagan, Jonah Cote, coach David Herr, Colin Carlson, Jeremiah Zybas and Kirby Judd. Missing from the photo is Skyler Brown. (Jake Mardin photo)
---
Colebrook Agrees to Abate $12,300 on 2012-13 Balsams Property Taxes
By Jake Mardin
While the public continues to wait for news concerning the Balsams Resort development plans, Balsams View and the Town of Colebrook reached an agreement earlier this year to abate approximately $12,300 in taxes from 2012 and 2013.
In August of last year, Balsams View LLC and Balsams Resort Amenities, LLC, through attorneys at Waystack Frizzell, petitioned for abatement of taxes assessed as of April 1, 2012. According to the petition, the town assessed the Panorama Golf Course and Country Club parcel at a sum of $2,639,563, which Balsams View felt was a high amount. The taxes totalled $56,249 for the parcel, which contains an 18-hole course and several buildings.
The Balsams applied for an abatement and was denied in June of 2013. While the Balsams group considered only the golf parcel as part of the appeal, the town, through attorney Shawn Tanguay, argued that any and all taxable property owned by Balsams View serves as the subject of the appeal.
According to the settlement agreement, the town will reduce the assessment of the property to $2,339,563 for the 2012 tax year. Unless there are changes to the property that require a reappraisal, the town will adjust the assessments of the property, including the 2013 tax year, to $2,339,563 until the general reassessment of the town.
That reassessment is set for the 2014 tax year, and pursuant to the agreement, the town agreed to set the value for the subject property at $1,666,000 for the 2014 tax year. In doing so, the Balsams or any successors will waive the right to contest the assessment for 2014 and 2015. The town also agreed to process the requested abatements, with the Balsams agreeing to waive the statutory interest owned.
The agreement states that "the Balsams and the town shall employ good faith to carry out this settlement agreement" and to "amicably resolve any disputes or disagreements hereunder." At a selectboard meeting last month, the town abated roughly $12,300 in accordance with the settlement agreement.
(Issue of October 22, 2014)
---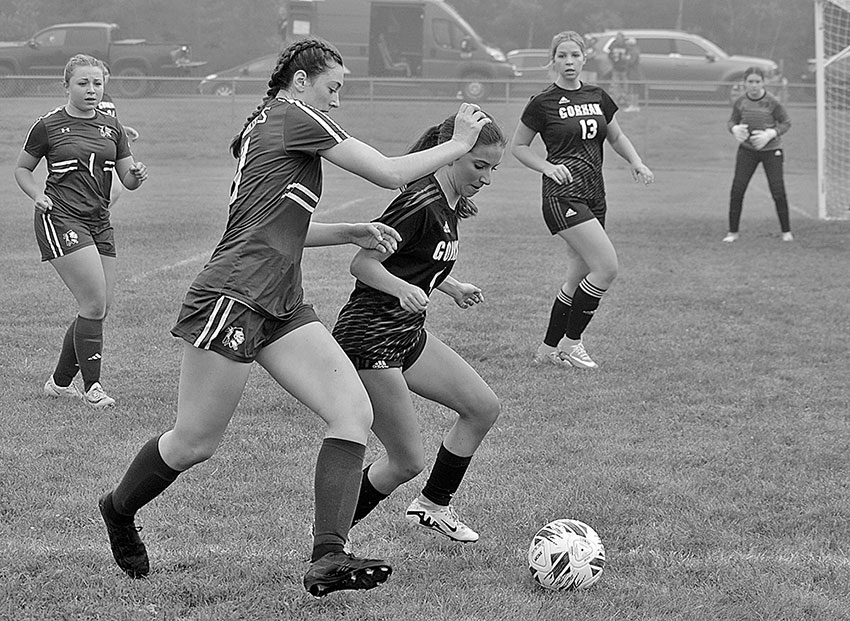 4-H ACHIEVERS

Millsfield 4-H members Amelia and David Sweatt took a moment away from chores at their family farm on Saturday, Oct. 11 to show off Amelia's prize-winning Hereford beef heifer Abigail. Amelia currently oversees the well-being of 11 beef animals, and she recently received a 4-H Best Herdsman award at the Lancaster Fair. (Rob Maxwell photo)
---
Middle School Mandarin? Colebrook Committee Envisions the Possibilities
By Rob Maxwell
Following a summer-long hiatus, the Colebrook School District Facilities Planning Committee gathered in the CES library last Thursday evening, October 16. The group of school officials, teachers, students and citizens engaged in a 90-minute discussion focused on developing a wish-list of programs and classes to be considered for inclusion in Colebrook schools now and in the future.
The group began meeting last year to explore possible improvements and additions to existing school programs and curriculum, and to discuss the potential for combining grades K-12 in one building. The district completed a major addition and renovation project at the site of the K-8 school site on Dumont Street in 2001.
The project was funded in part by a bond that will be paid off in July of 2017. The consensus at the time was for that initial, Phase I project to be followed by a second, Phase II round of construction in which Colebrook Academy would be closed and the CES facility would house all grades.
The Colebrook school board began holding public planning sessions in the fall of 2013. Participants took tours of both schools, discussed whether the Academy building should continue as an operating high school after 2017, and gathered input from parents, teachers and students about how best to improve the school's curriculum and programs.
School board member Brian LaPerle was designated to chair this committee, and he called last week's session to order at 6 p.m. with SAU 7 superintendent Bob Mills, principals Dan Gorham and Mark Fiorentino, board members Greg Placy and Rick Brock, and 20 members of the public in attendance.
After a few minutes of preliminary discussion concerning school expansion logistics, the role of the local economy in the planning process and the continuation of cooperative efforts with neighboring districts, Mr. LaPerle narrowed the group's focus to a conversation on school programs. The gathering spent some minutes talking about Advanced Placement (AP) classes and Running Start courses, and Mr. Fiorentino clarified the difference between the two programs.
"Advanced Placement allows a student to test out of having to take a college course later," he said. "Running Start gives students credits for completing college-level classes while in high school."
Responding to an inquiry, Mr. Mills further explained, "There are no requirements that a public school must offer these classes, and there are no requirements about sending kids out of district if they want to take AP classes that their school does not offer." Mr. Fiorentino added, "Also remember that any student can take an AP final exam and get credit if they pass."
At this point, the group began making a list of programs and classes. Suggestions came from all those in attendance and after 30 minutes, the list included classes in nursing, hospitality and tourism, culinary arts, environmental sciences, foreign languages including French, Spanish and Mandarin, graphic arts and CAD, media and broadcasting technology, early childhood development, firefighting and EMT training, small business administration, teaching and the arts. Mr. LaPerle noted, "This is a long list and in the future we will have to decide which ones we think will be most beneficial to our kids."
He also observed that during compilation of the list, several said they'd like to see many of the proposed classes at lower grade levels. "What I'm hearing here is we feel that focus on the middle school receiving many of the classes on our list is important." Teacher Gina Dagesse concurred, adding, "That's why we need to get all our students and teachers in the same building as soon as we can."
After the meeting, Mr. LaPerle said he was pleased with the turnout, especially the number of teachers and staff, "although I would have liked to see more parents in attendance. The next step is taking our wish-list and beginning the winnowing-down process to make it more workable. I was particularly happy to hear people start to consider what we can be doing right now apart from the Phase II considerations."
The planning committee will meet again at 6 p.m. on Thursday, November 20 in the Colebrook Elementary School library and Mr. LaPerle said that all are welcome to attend.
(Issue of October 22, 2014)
---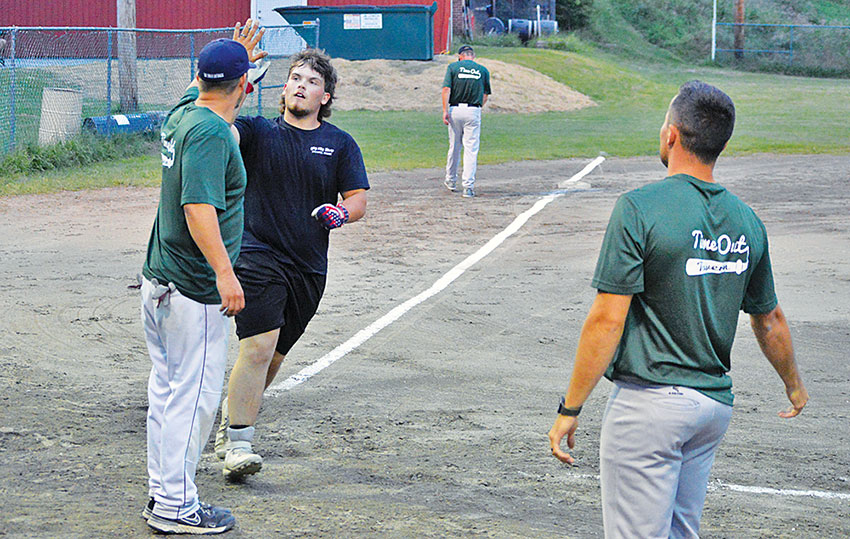 STEALING THE SHOW

Young Brayden Goudreau challenged kid wrangler Alexis Owen and stole the limelight from the Harlem Rockets during the halftime show of Monday night's Pittsburg High School freshman class fund-raiser. Tafara "Big Shot" Stewart looks on in the background as team funny man James "Speedy" Williams keeps Brayden's eyes on the ball. (Karen Ladd photo)
---