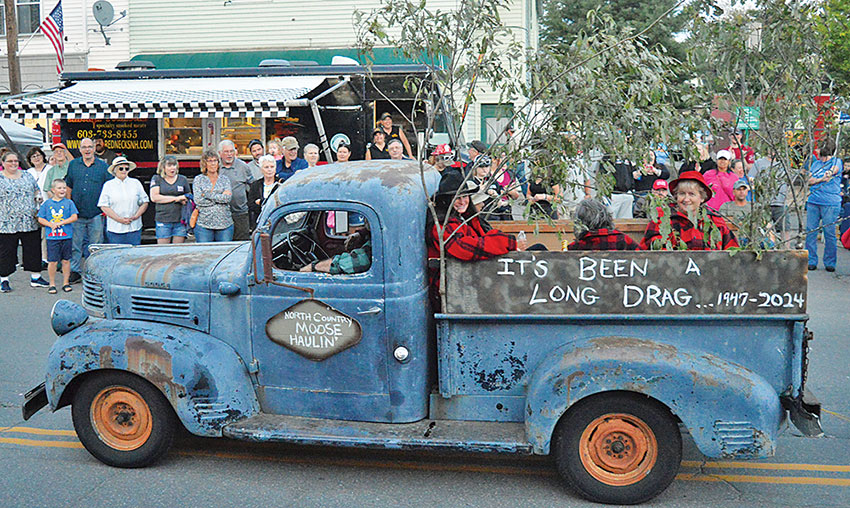 FIGHTING THE FIRE

Several local fire departments responded to the MacDonald home on Baldwin Street in Stratford for a fire. The cause of the fire is unknown but it does not appear to be suspicious, and the occupants were home but got out safely. (Jake Mardin photo)
Fire Claims North Stratford Home

By Jake Mardin
Fire heavily damaged the Clayton MacDonald residence on Baldwin Street in Stratford on Monday morning, drawing a response from six area fire departments.
Stratford Hollow Fire Department assistant chief William Zanes said the residents were inside having breakfast when the fire broke out, at around 9 a.m., and they got out of the house without any injuries. Asst. Chief Zanes said the back third of the house was showing smoke and flames when personnel arrived.
While Colebrook Fire Department personnel stretched lines, members of SHFD tagged hydrants to give them a water source about 600 feet from the house. Firefighters attacked the blaze from inside and outside the two-story home.
He said the firefighting effort was pretty standard, although there was some difficulty getting it out of the eaves, which were boxed in with timbers on the second floor. All personnel had cleared the scene by around 12:30 p.m.
About 30 firefighters assisted at the scene, coming from Groveton, Lancaster, Colebrook, Beecher Falls and Stark as mutual aid. Groveton Ambulance also responded. Asst. Chief Zanes said the home appears to be a total loss and the cause is undetermined at this time.
(Issue of April 23, 2014)
---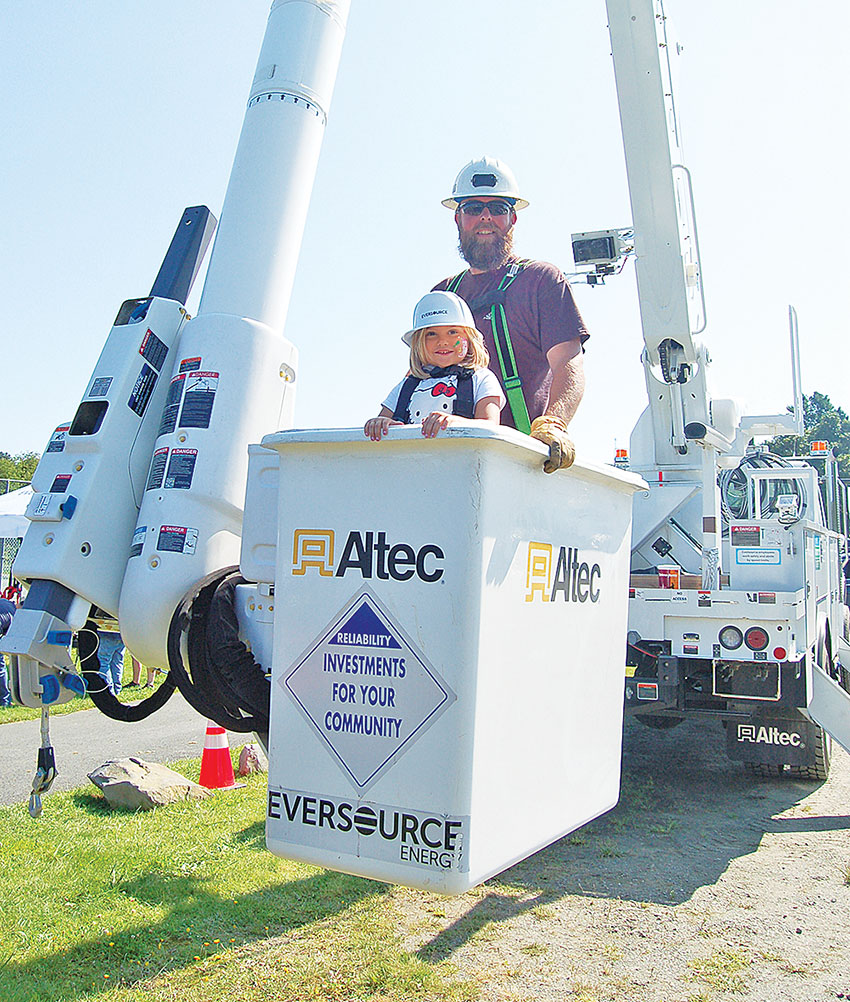 DAMAGE UNDER HOWARD'S

The Mohawk River pounded the retaining wall underneath Howard's Restaurant in Columbia and created a large hole last week. The town has submitted paperwork to FEMA for federal aid. (Jake Mardin photo)
---
Codet Plans Expansion at Colebrook Facility that Would Add 20-30 Jobs

By Rob Maxwell
Codet, Inc., plant manager Stepane Lefebvre confirmed on Monday that pending approval of a site plan filed with the Colebrook planning board, his firm plans an 11,000- to 11,500-square-foot expansion of the company's building on Gould Street. This growth will allow for the addition of a new line of apparel and the creation of 20 to 30 new jobs.
Codet is a third-generation clothing manufacturer, headquartered in Coaticook, Québec, and has been in operation since 1946. The company has operated a manufacturing facility in Colebrook since 1992. Mr. Lefebvre explained that the site plan proposal calls for an expansion of the present building in a northerly direction on a footprint of 70 by 163 feet.
A N.H. Dept. of Resources and Economic Development press release issued Monday quoted business retention specialist Benoit Lamontagne as saying, "Colebrook's strong cultural ties to Québec and the town's business-friendly climate demonstrate that we welcome Québec companies with open arms."
Mr. Lefebvre said he is pleased with the development and realizes, "This is going to be a pretty big deal for this community." He said the company will work on hiring with New Hampshire Employment Security, where Jules Kennett may be found at 118 Main Street in Colebrook, reached by phone at 603-237-5859, or by e-mail to Jules.A.Kennett@nhes.nh.gov.
(Issue of April 23, 2014)
---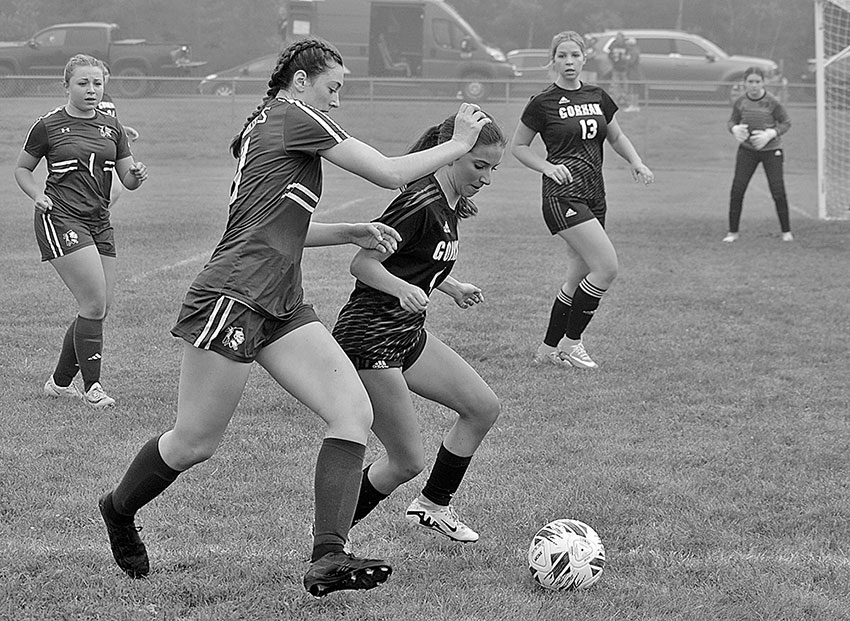 ENSURING EQUAL PORTIONS

Jim Dube of Dube's Pittstop watches as young kitchen hopeful Pierre Allard spoons some scratch made chocolate pudding into serving bowls during the preliminary round of the Teen Cook-Off competition held at the Pittsburg School earlier this month. The final round took place last Wednesday, and the winners will be announced on May 6 in this collaboration with local culinary professionals. (Rob Maxwell photo)
Area Students Work with Restauranteurs in Healthful Cook-Off

By Rob Maxwell
Teams of students from Colebrook, Stewartstown and Pittsburg have completed two rounds of competition in the first annual regional Teen Cook-Off, with the first, second and third finishers to be announced during a reception to be held at 6 p.m. Tuesday, May 6 at the Tillotson Center.
Pittsburg physical education teacher Emily Bernhardt originated the idea for a competition, with teams assigned to plan, practice and prepare a lunch consisting of a healthy sandwich, side dish and dessert that falls within specific parameters for caloric and sodium content. Mrs. Bernhardt enlisted the help of local restaurants, whose cooks, chefs or owners mentored each team through the process from beginning to final competition.
The entire process consumed several months of planning and coordination, and was sponsored in part by Harvard Pilgrim as part of each school's wellness program. Mrs. Bernhardt also recruited panels of judges, including chefs from the Abbey Group and the Omni Mount Washington Grand Resort. They were asked to judge the entries on flavor, plate appearance and the level of knowledge of the students.
Colebrook Academy and Pittsburg High each entered two teams of competitors, while Stewartstown Community School entered a single team. Tony Havalotti from the Dancing Bear Pub and Carol Pires from Moose Muck Coffee House coached the C.A. teams, while David Santamaria from the Northland Restaurant mentored the Stewartstown entrants. Georgie Lyons and Chef Jono Lasting of Murphy's Steak House, and Jim Dube of Dube's Pitt Stop worked with the Pittsburg students.
The teams from Colebrook and Pittsburg competed in a preliminary round on April 7 and 8 to reduce each school's entry in the final round to one, while Stewartstown got a bye of sorts and proceeded directly to the final round. Both the prelims and the final were held in the kitchens or home economics classroom of each school.
Completion of the first round saw the Moose Muck team from Colebrook and the Murphy's Steak House team from Pittsburg advance to face Stewartstown in the final round, which was held on Wednesday, April 16.
Mrs. Lyons explained that as her team of Pittsburg youngsters began to plan their menu, they had to do so while staying below a total of 850 calories for everything plated and presented to the judges.
The Murphy's Steakhouse team eventually decided to prepare a turkey sandwich with an orange and cranberry sauce, roasted kale chips and a pomegranate granite for dessert.
We were pleased to learn that we were low enough in our caloric content that we could also serve eight ounces of one-percent milk, observed Ms. Lyons.
Rather than having the three finalists compete in a single location, they were allowed to cook and be judged in their own school environment. "We decided to let them prepare and serve in a place where they might be a little more comfortable," Mrs. Bernhardt explained.
The Moose Muck team from Colebrook prepared a roast turkey blaster with vegetables, tortilla chips, hummus and a strawberry dessert, while the Northland kids from SCS entered turkey-cheddar tacos, an orange-cucumber salad and brownie pie.
The winning team, to be announced on May 6, will receive personally embroidered chef jackets. Their sandwiches, sides and desserts will be featured for public enjoyment on the menu of the that team's sponsoring restaurant, and the Abbey Group will make the winning team's entry part of its daily school lunch menu for a designated amount of time.
Mrs. Bernhardt noted that each of the five teams "really bought into the program. They all put in a lot of time to get their entries from the planning stage to actually plating the finished product for the judges. Everyone involved in the project from students to mentors to judges enjoyed the process, and I hope we get a good turnout for the announcement of the winner on May 6."
(Issue of April 23, 2014)
---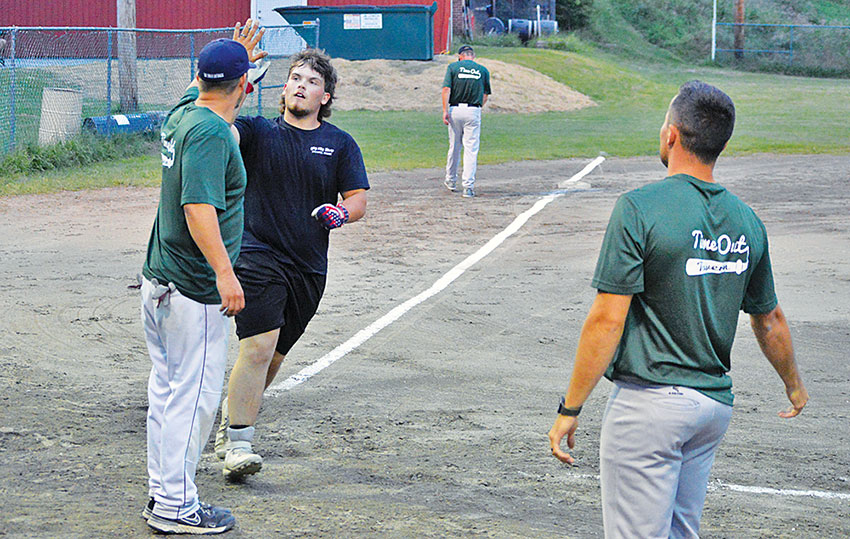 BUCKET OF EGGS

Logan Phinney filled his bucket with eggs at the Colebrook Recreation Department Easter egg hunt, held at the North Country Community Recreation Center on Thursday night, April 17. (Jake Mardin photo)
---