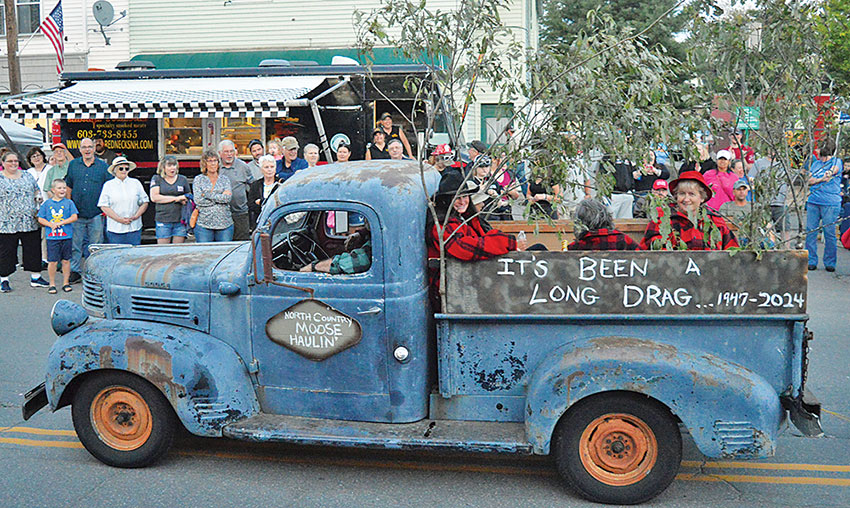 FAMILY GATHERING

The Stratford Public School presented "Disney's 101 Dalmatian Kids" last Wednesday and Thursday to a packed house. In this happy scene the family is at home with their dogs: (front) Amanda Newman as Perdita, Bennett Brooks-Avery as Roger and Evan McAllister as Pongo, (back) narrator Summer Ronish, Jasmine Noyes as Anita, Kylee Lachance as Nanny the maid, and narrator Kayla Rose Howland. (Alan Farnsworth photo)
---
Amendment Moves SB 30 to House Finance Committee, New Hearing

By Karen Ladd
Due to a proposed amendment, yesterday's N.H. House Municipal and County Government Committee hearing on Senate Bill 30 was cancelled, and the bill will now go before the House Finance Committee later in the session.
A group of local businesspeople, high school students and public officials planned to travel by bus to Concord yesterday in order to testify in favor of the bill, which would allow for Tax Increment Financing in unincorporated places. As originally submitted the bill would also have raised the ceiling for state-guaranteed bonds from $25 million to $28 million; the Senate Finance Committee last month held that piece back for further study, but it has been re-introduced with this new amendment.
Les Otten of Dixville Capital, LLC has said both components are critical to the development plans for the Balsams resort property. For that reason, the North Country Chamber of Commerce has led an effort to support the bill in Concord, taking a bus down last month to speak with the Senate Finance Committee chairman and preparing now for a second trip to testify in the House.
The date for the hearing has not yet been set, but updates will be posted on-line at www.chamberofthenorthcountry.com. The full text of SB 30 and updates on its status may be found on-line at www.gencourt. state.nh.us under the State Legislation Dashboard and "Find a 2015 Bill."
The Tillotson North Country Foundation is funding the bus to Concord so that citizens may ride for free. Anyone who would like to reserve a seat may contact Chamber president Wayne Frizzell, at wfrizzell@ granitebank.com or 603-237-7030.
Those who cannot be there in person may contact a member of the Coös County Delegation (www.cooscountynh.us/delegation) to express their concerns, or get their letters to Mr. Frizzell for delivery on the day of the hearing.
(Issue of April 15, 2015)
---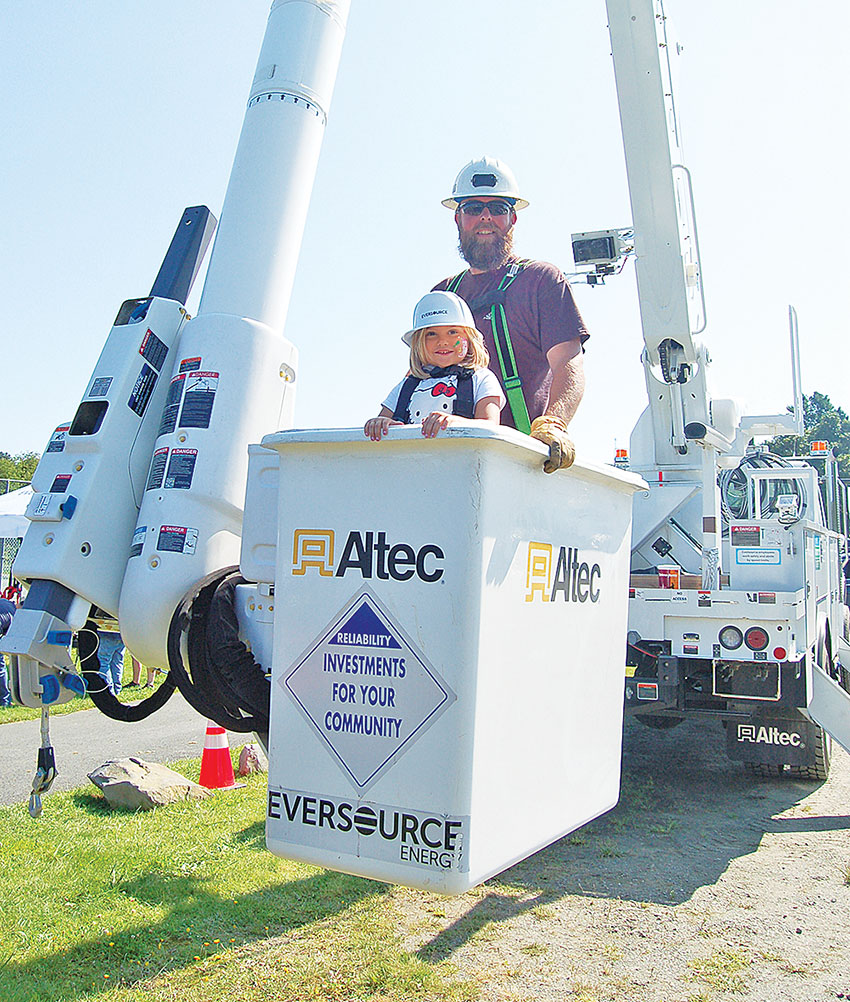 LEAVING A LEGACY

The proceeds from this load of pulpwood, which DC Trucking of Colebrook transported last week to Verso Paper in Jay, Maine, will benefit a Colebrook Academy scholarship that LandVest established last year in memory of David Howe. Area contractors are invited to donate one load to fund the annual scholarship; this year David's father-in-law Mike Grandmaison cut the wood on LandVest-managed land in Pittsburg, while DC Trucking hauled it and Roy Amey donated the value of a day's excavating services for the project. Christa Howe explained that the $500 scholarship in her late husband's memory will go to a graduate entering the field of agriculture, forestry or law enforcement. Christa is seen here with daughters Samantha (left) and Savannah, operator Mark Kenney, and John Steward of LandVest. (Karen Ladd photo)
---
Full N.H. Delegation Seeks Expanded Comment Period on Northern Pass EIS

By Jake Mardin
All four members of New Hampshire's Congressional Delegation have signed a letter to the U.S. Department of Energy, asking that the comment period for the Northern Pass draft Environmental Impact Study be extended for at least 90 days.
Senators Kelly Ayotte and Jeanne Shaheen and Representatives Annie Kuster and Frank Guinta say that the study is due to be released this spring. "The draft EIS will likely contain multiple volumes, detailed maps and appendices that will include approximately 2,000 pages of materials," the letter states.
The current process allows for a 60-day comment period, but the delegation members are requesting that all public hearings be scheduled at least 90 days after the release of the study, and that public comments be accepted for at least 90 days after the final public hearing. "This will ensure that New Hampshire stakeholders will have the necessary time to analyze, process and comment on the draft EIS," the letter states.
The EIS is part of the federal permitting process for the direct-current, high-voltage transmission line via which Northeast Utilities proposes to deliver power from Hydro-Quebec to southern New England. In 2010 Northern Pass submitted a Presidential Permit application--required for the line to cross the Canada-U.S. border--and in 2013 submitted an amended application with a new proposed route. The project will also require approval from the N.H. Site Evaluation Committee, and that process will likely begin sometime this year.
The current proposed route includes 40 miles of new right-of-way in Pittsburg, Clarksville, Stewartstown, Dixville, Millsfield and Dummer, with about eight miles below ground. The remaining 147 miles from Stark to Deerfield would utilize an existing right of way.
More information, including a project journal, may be found on-line at www. northernpass.us.
(Issue of April 15, 2015)
---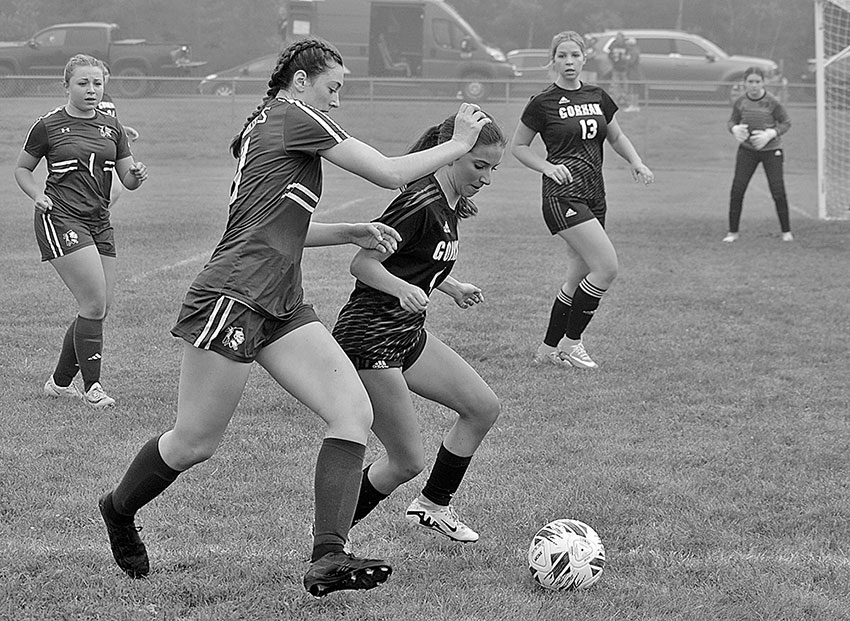 REMEMBERING THE MIGHTY QUINN

Randy Pierce and Quinn cross the finish line of the 2013 Boston Athletic Association 5K, where the marathon bombs detonated the very next day. Randy will run the Boston Marathon next week in honor of Quinn, who died last January; those who wish to log in "Miles4Quinn" or support the effort can visit www.2020visionquest.org. (Courtesy photo)
---
Canadian Officials Seize $10 Million in Cocaine at East Hereford Port of Entry
By Jake Mardin

A Coaticook man faces importing and trafficking charges, having reportedly been discovered in possession of 93 kilograms of cocaine at the East Hereford-Canaan border crossing last Monday, April 6.
The Canada Border Services Agency and Royal Canadian Mounted Police report that Stephane Boutin, 47, arrived at the Hereford Road crossing in a black pickup truck with Québec registration. Upon inspection of his vehicle, CBSA personnel discovered 52 packages of cocaine in the back of the truck that were hidden in maple syrup containers. A member of the RCMP said the seizure was one of the largest in the area and the estimated street value of the drugs is around $10 million.
Mr. Boutin was arraigned the following day and is currently being held in jail. His next court hearing is scheduled for this Friday, April 17.
(Issue of April 15, 2015)
---