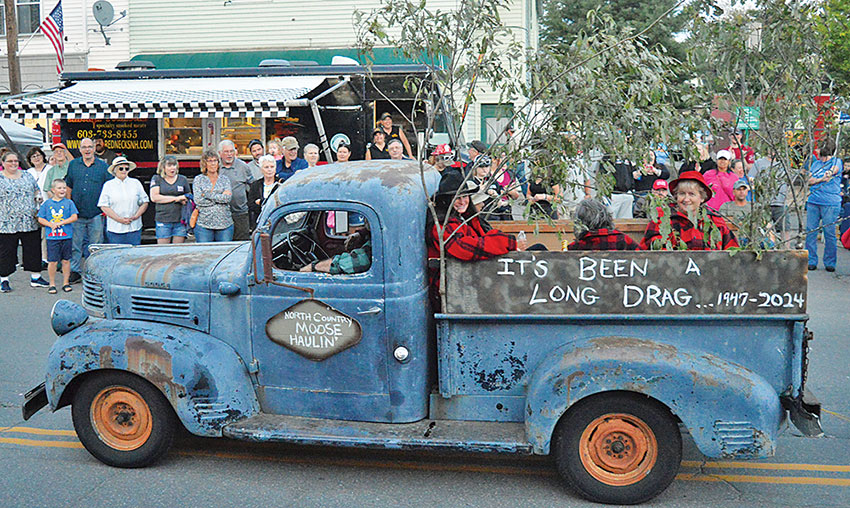 STANDING POST

Patriot Guard Riders Duncan McDougall of Campton and Dick Baribeau of Pittsburg (along with Mike Rouleau of Clarksville, not pictured) stand outside the entrance to White Mountains Regional High School in Whitefield, greeting arrivals to the Welcome Home Vietnam Veterans event on Saturday. Sponsored by the State of New Hampshire, the N.H. National Guard and the State Veterans Cemetery, the gathering included a group from the state veterans' home in Tilton, remarks from the governor and all members of New Hampshire's U.S. Congressional Delegation, and an opening address by the NHNG Adjutant General, Maj. Gen. William Reddel. (Karen Ladd photo)
---
Colebrook Citizens Discuss Police Coverage Issue with Selectboard

By Jake Mardin
After a discussion with several citizens on Monday night, Colebrook's board of selectmen voted to offer police services to Stewartstown at the previous rate, with no charge for backup responses at times when State Police are working for the town on a paid detail.
Selectman Bob Holt opened the meeting with some remarks on the issue, relating that members of the board met with N.H. State Police officials last week. "I believe the board is in favor of backing up State Police as we've done in the past in the area," he said. "That was the State Police's main concern." He said he met for two and a half hours with Col. Robert Quinn to discuss the issue, assuring him that "the Town of Colebrook will never leave State Police in harm's way."
Selectman Ray Gorman met with Col. Quinn over the course of two days, and said he also spoke with Department of Safety Commissioner John Barthelmes. "At the end of the conversation, it was clear I was going to support backing up State Police as we've always done in the past," he said.
Chairman Jules Kennett met separately with Col. Quinn and Troop F commander Lt. Todd Landry, and he agreed safety was their biggest concern. "I too support backing up State Police, as they back us up," he said.
Mr. Holt noted that the agreement in place with State Police is that, "We will back up State Police, and they will back us up. That agreement is between State Police and Colebrook Police Department."
He submitted a motion to offer Stewartstown the same services that were offered in 2011, at the same rate of $225 per call, with the stipulation that Colebrook will not charge Stewartstown when responding to a call for backup by a trooper on paid detail. (Because Stewartstown has no police department, the town contracts with State Police for two, four-hour details per week.)
Mr. Holt noted that under this proposal, Stewartstown would be billed for other backup calls and first responses, such as when a situation arises and State Police are responding from outside the area. He said that if Stewartstown wants the service, they may respond in writing by April 30.
"If they do not want this gesture, we will no longer respond to Stewartstown for police coverage," he said, noting that backup calls for state police are different than coverage calls.
Mr. Holt pointed out that Colebrook has a half-million-dollar police budget and is under no obligation by state law to provide police service to other municipalities, but will do so to help other police departments. He noted that $423,000 of the budget is payroll-related, while the remainder is for operations, and it includes the cost of a new cruiser this year.
"This is a gesture by the town of Colebrook," he said. "I don't think we should have a contract. He also said the agreement could be terminated at any time. "I think it's fair," he said. "The other towns think its fair, and like the ability that CPD can be the first responder if State Police are away. I think it's worked out well for the other towns."
Town manager Becky Merrow said last week was "very tense" and said that she personally is committed to assisting the State Police. Mr. Holt said that if a major incident occurs in Stewartstown that is not a day-to-day issue, it is between dispatch and CPD to determine what response is warranted.
Mr. Kennett expressed concern about workers compensation if a Colebrook officer were to be injured while on a call in Stewartstown. Mr. Holt said that during budget season they can look at the charges and see if it would be appropriate to adjust them. Mr. Gorman said he understood Mr. Kennett's concerns but said, "I think it's one of those things you have to absorb by being a larger community."
When it appeared the vote would take place without public input, Clay Hinds asked if whether the attending townspeople 'about a dozen in all' could speak before the board voted. After a brief discussion, the board postponed the vote to hear comments from the public. "There are people who have something to say and we need to hear it," Mr. Kennett said.
Mr. Hinds asked for more information on the State Police details. Mr. Holt said the town was not aware of them when the 2011 agreement was offered, and learned about them later. He said if an agreement between the towns is reached, Colebrook should receive a weekly or monthly report of when State Police are scheduled to be on details.
Pam Frizzell said the proposal seemed fair. "As a Colebrook citizen I'm sick of supporting towns who don't pay for the services they receive," she said. Mr. Holt said he learned a lot from his meeting with Mr. Quinn. "It shouldn't have gotten this far," he said. "My mind is with CPD and the taxpayers of Colebrook, and at the same time being fair to other towns that don't have police departments."
Wayne Frizzell said he is "all for" Stewartstown paying its fair share, saying they are different from other towns that Colebrook responds to because of their busy Main Street, and there should be a written agreement. Mrs. Frizzell and others agreed that any services agreed upon between the two towns should be covered by a signed contract.
Mike Pearson pointed out that if Colebrook responds for coverage to one crisis situation but not another, that could create a legal issue. "The person you don't serve could cause a problem," he said.
When asked for his thoughts, police chief Steve Cass said that prior to the 2011 letter, Stewartstown was billed when Colebrook responded in lieu of a Trooper or to stabilize a call until Troopers arrived; the problems arose, he said, when Colebrook began billing for backup calls.
Regarding State Police, he said, "Those guys help us out immensely, and they are always available to help. Col. Quinn said our relationship up here is a model for the rest of the state. We have a good working relationship and I think it's something we need to cultivate."
John Fothergill suggested that a group of citizens that does not include the selectmen should sit down with the area towns, determine the value of the services and to work on an agreement. "We need to take a big step back and find the value of all the things we are doing," he said.
Mrs. Frizzell said she would like to see any agreement reviewed by Colebrook's lawyers, and Mr. Holt said that would happen. Mr. Kennett said he looked at Mr. Holt's motion as "a band aid" that it would give the board more time to study the whole issue. "Right now, we need to make sure public safety is number one, not just for Colebrook but for our neighbors."
Following the discussion, the board voted to pass the motion, which offers coverage at $225 per call, and no charge for backup during State Police details.
(Issue of April 9, 2014)
---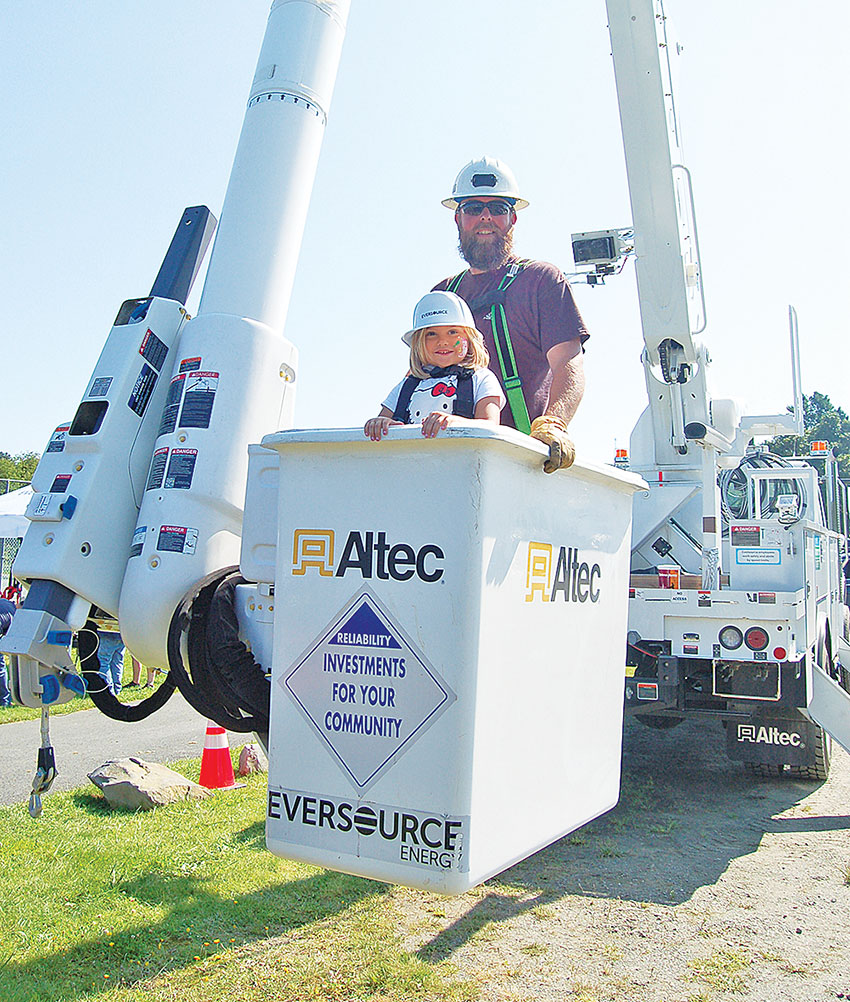 THE VICTORS RETURN

Parents and members of the Colebrook Kiwanis Club turned out Sunday night to greet the Canaan, Pittsburg and Colebrook Key Clubs as they returned from the New England and Bermuda District Educational Conference, held in Springfield, Mass., over the weekend. The clubs all earned top awards, and received a fire truck escort back into town. (Karen Ladd photo)
Local Key Clubs Bring Home Bevy of Convention Awards

By Rob Maxwell
Service-minded Key Club members from Pittsburg High School, Canaan Memorial High School and Colebrook Academy traveled to Springfield, Mass., over the past weekend for the annual New England and Bermuda District Key Club Convention. They returned with an unprecedented number of individual and group awards, including the nomination of Colebrook's Jessi Frechette for the office of Key Club International President.
The Key Clubbers brought their awards and reports on the convention to the Colebrook Kiwanis Club's regular Tuesday morning meeting, where president Laurie Cotnoir said, "We are all very proud of you and what you were able to accomplish over the past year... it is truly awesome."
The Pittsburg club captured a blue ribbon, first-place award for presenting the best overall traditional scrapbook at the convention. "We spent at least 20 hours on the project and I'm proud of everyone who contributed," said outgoing president Sage Purrington. She also reported that the Pittsburg club earned distinction for being at a Distinguished Club level.
Both the Canaan and Colebrook clubs were lauded for being Diamond Level Distinguished, which is the highest level a Key Club can attain. Members of the Canaan club received two prestigious individual awards: Kevin Arias garnered the Sandy Ninninger Award, given to an individual who overcomes greater than usual personal challenges; and Erin Marchesseault received a $500 Timothy Daley Scholarship.
The Canaan club was also honored for having the second-best non-traditional scrapbook, and won second place for Annual Achievement and their digital poster. "We had a great time in Springfield," said club advisor Renee Marchesseault, "and I'm pleased and proud that we managed to be recognized for the work done by our kids."
Colebrook's Brittnie Strickland was recognized as the district's Outstanding Secretary, and C.A. junior Jessi Frechette earned Outstanding President distinction. "I'm proud to be a part of a great club and I hope I have represented them well," said Ms. Strickland. "The award isn't really mine; it belongs to all the club."
Mr. Frechette noted, "I think our continued success at these district conventions comes from good leadership from our advisors and from lots of hard work from the club members. We have set a high standard for what we want to achieve every year, and lots of effort goes into maintaining that standard."
(Issue of April 9, 2014)
---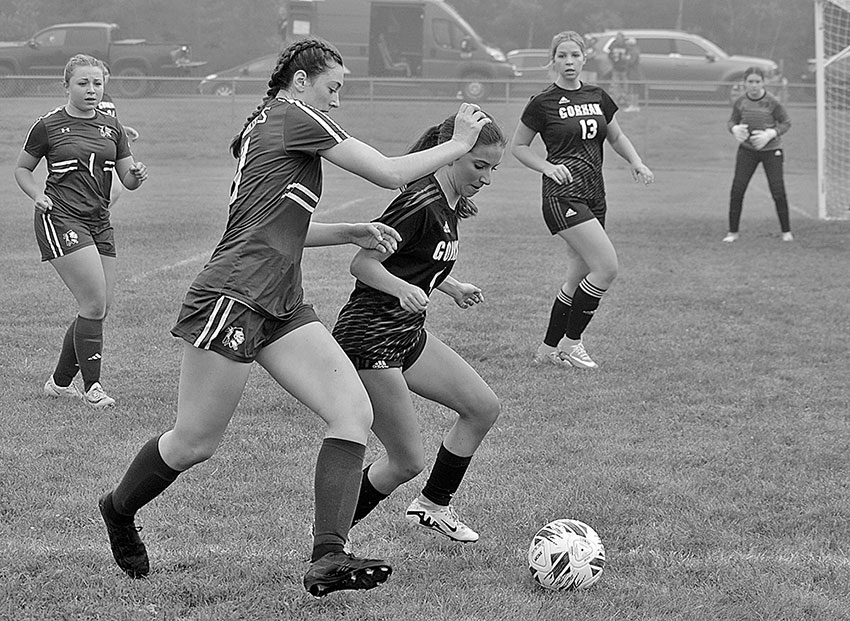 HARD WORK RECOGNIZED

Colebrook town clerk Sheila Beauchemin was surprised to receive a special award during the planning board meeting on Tuesday, April 1, in recognition of her work on the town s master plan. On hand to congratulate her were her husband Keith, son Arthur, granddaughter Sarah Collins, and daughter Katie Collins. At right is planning board chairman David Brooks. (Rob Maxwell photo)
---
Company Developing Show for Cable Network Seeking Local Personalities

By Jake Mardin
A content development team based in New York City is looking for locals who embody the "old-time Vermont, old-time New Hampshire mentality" for casting in a reality TV show.
Bryan Severance, vice president of development at Crybaby Media, said a "male-skewing" cable network has taken an interest in northern New Hampshire and Vermont's Northeast Kingdom, and hired Crybaby Media to find people with big personalities around which a show can be built.
He said the company will be in the area during the week of April 21, and they hope to meet as many people as possible. He said they are looking for "the kind of people that don't abide by the normal nine-to-five," and will conduct interviews that Crybaby Media will later review for development.
Mr. Severance described Crybaby Media as a "glorified independent producer" whose job is to find people and shows, after which the networks will team them up with a production company. They just developed a show called "Down East Dickering," which recently premiered on The History Channel.
The show follows four groups of New Englanders who make a living by going through the pages of Uncle Henry's Swap or Sell It Guide. Crybaby Media has also worked on projects for other networks, such as A&E and NatGeo.
Mr. Severance said the team has already spent some time in Franklin County and the Northeast Kingdom. "There's no place that's too far out of the way for us to get to," he said, and anyone who wishes to reach him may call 732-673-2456 or send an e-mail to mbseverance@gmail.com.
He asked that people interested in being interviewed should send him a picture, contact information, and two or three sentences describing who they are and what they do.
(Issue of April 9, 2014)
---