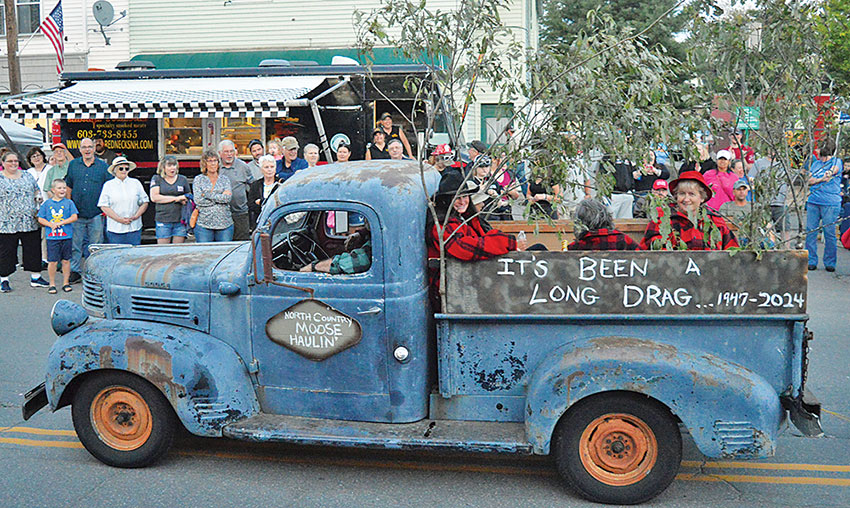 PLEASED TO MAKE YOUR ACQUAINTANCE

Aimee Poulin and her daughter Lilly, grade 1, were greeted at the front entrance to Colebrook Elementary School on Thursday, August 27 by new school resource officer Scott Stepanian. Officer Stepanian is being employed as part of Project Aware, a five-year, multi-million-dollar project intended to provide mental health services to students and families and to promote positive relationships between local law enforcement officers, students and adults. (Rob Maxwell photo)
---
Balsams Reps Meet with Colebrook Selectmen to Discuss Project Plans

By Jake Mardin
Developers of The Balsams resort met with the Colebrook board of selectmen on Monday evening, to introduce themselves and speak about the project. While most of the property is located in Dixville, the Panorama Golf Course and a portion of Golf Links Road is located in Colebrook.
Burt Mills reported that developers are currently working on a Planned Development Subdistrict Concept Plan and will meet with the Coös County Planning Board next Wednesday. The resort is seeking the creation of a new zone which will have its own set of land use and site plan review standards.
The Balsams has received a 401 Water Quality Certification from N.H. Depart-ment of Environmental Services that will allow water withdrawal from the Andro-scoggin River in Errol and its transport to Dixville for snowmaking purposes, and the final appeal period passed over the weekend. Mr. Mills said they are also in the final stages of a DES wetlands permit process and that it "seems to be coming along pretty well."
Mr. Mills said a portion of Golf Links Road is owned by the Department of Transportation and there are tentative plans to upgrade it. One point of interest is a portion of road that extends toward Kidderville, and he said they would like to discuss the possibility of taking over the road so they can develop it.
He further discussed the concept plan that has been submitted to the county, and associated with that are site plans dealing with the ski area and the Hampshire and Dix Houses. He said that as the process moves forward they would bring different "pieces" to the county planning board. "We think the Colebrook side of that process will probably go down a similar road," Mr. Mills said, noting that some changes to Colebrook regulations would probably be recommended.
He said during construction, there will be a certain number of people moving to the area on a "semi-permanent basis," and as the operation unfolds, managers and supervisors and others would live in the community full-time. He said that influx of people could start to come in next summer.
In talking about construction, Mr. Mills said developers see the Hampshire and Dix Houses as the first two projects that will get underway, and those will likely be the first two buildings that will become open to the public. They hope to have the ski area open in the fall of 2016 with a limited number of lifts and trails.
Mr. Mills said the developers envision the renovation of the golf course and clubhouse as the initial work that will be done in Colebrook next summer. Developers are meeting this month with several golf architects to see what is required to restore the course to its original design.
(Issue of September 2, 2015)
---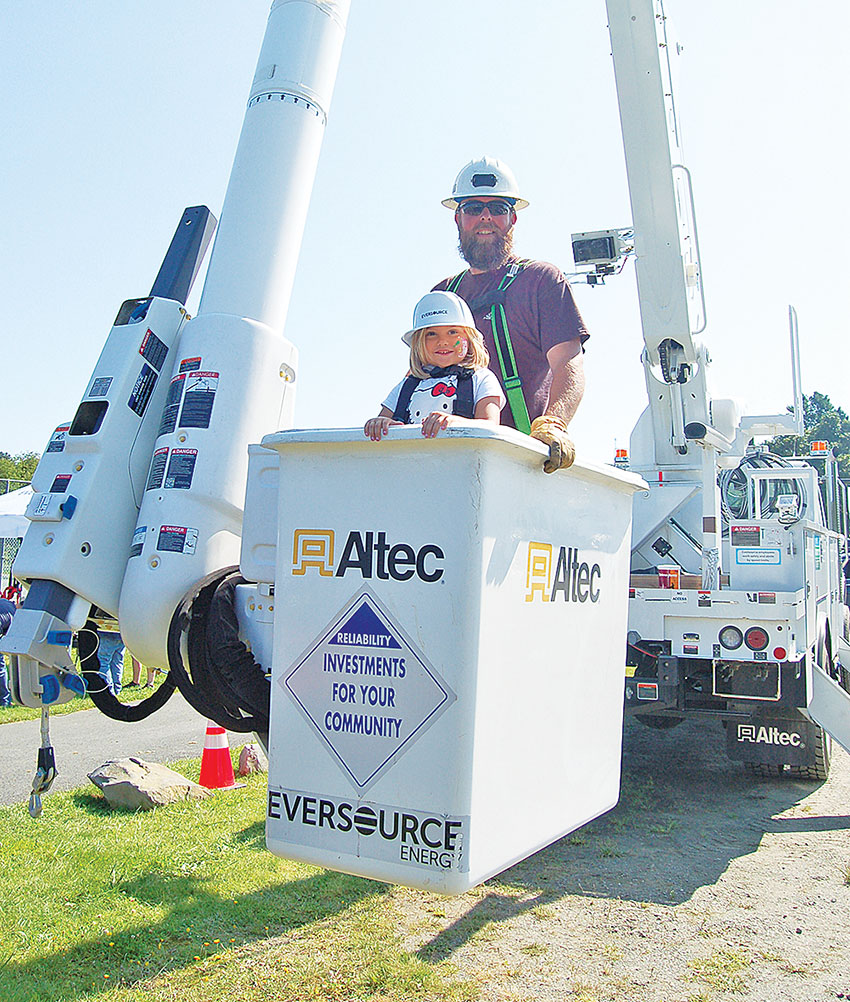 CITIZEN OF THE YEAR

Having missed her traditional ride in the July 4th parade, Colebrook's 2015 Citizen of the Year Sheila Beauchemin led the way in the familiar vintage 1957 Chevrolet with Anthony Young at the wheel in Friday night's Moose Cruise of classic autos following the Moose Festival Street Fair. (Alan Farnsworth photo)
---
Northern Pass' Job Creation Fund Awards $150,000 in Local Grants


The Coös County Job Creation Associa-tion announced Friday that it has awarded more than $150,000 in grants to local schools, businesses and organizations, aimed at furthering job creation and economic development in the North Country.
Applications for the funds were solicited in the spring and were reviewed by the local CCJCA board members. The board looked for projects related to job maintenance or creation in the area, including job training and work force development, expanding or supporting existing businesses, promoting a start-up or related project.
"We are very pleased to be able to make these seed money grants with the funding provided by Northern Pass," said Allen Bouthillier, CCJCA vice president and owner of A.B. Excavating, Inc. "The board is thrilled to be able to help job retention and creation throughout the North Country by working with these fine organizations, schools and businesses. We believe that through these grants at least 10 full- and part-time jobs will be created in Coös. The White Mountains Regional High School simulator grant alone will train a number of students every year for local jobs, which pay very high wages. It is very hard to find qualified operators that can run today's high tech equipment."
Funding for the organization comes from a $7.5 million pledge from Northern Pass Transmission LLC, a subsidiary of Eversource Energy, and these grants are funded from the $200,000 seed money that has already been received. The CCJCA will receive $1 million at the time Northern Pass receives acceptable federal and state permits and actual construction commences, and $500,000 each year thereafter, until it has received $7.5 million total.
"We are committed to doing what we can to help ensure the growth and stability of the North Country economy," said Paul Ramsey, Vice President of New Hampshire Operations for Eversource. "We applaud the board members for the work they have done to identify and support initiatives that will grow and sustain employment in Coös County."
The following are among recipients of the Seed Money Grants:
• North Country OHRV Coalition, Inc., in Colebrook received a grant for the Ride the Wilds direct marketing initiative;
• The North Country Community Recreation Center in Colebrook, to hire a part-time coordinator for marketing and administrative support;
• Kelli Poulin of Greetings Jewelers in Berlin, to purchase a desktop laser welder for her jewelry repair business;
• Enriched Learning Center and ELC Outdoors in Berlin received a grant to hire two seasonal employees who will work as whitewater guides and perform other duties;
• The Dancing Bear Pub at River's Edge and Colebrook Hospitality Holdings, LLC, in Colebrook (matching grant), to fund an exterior siding project to improve the look of the facility and make it more appealing to tourists;
• White Mountains Regional High School in Whitefield, to purchase a construction excavation simulator trainer, which can be used for timbering, in the Career and Technical Education program;
• Tillotson Performance Polymers in Colebrook, to purchase package sealing equipment and materials, and for two new employees;
• Centennial View Childcare and Enhancement, LLC, in Lancaster, to fund the expansion of its day care facility.
The CCJCA is an independent, non-profit organization that was incorporated in January of 2014 with the purpose of promoting and supporting job creation in Coös County. The group is led by local volunteers and its board members include former State Senator John Gallus of Gallus & Green Real Estate in Berlin, chairman; Mr. Bouthillier, owner of AB Excavating in Lancaster; David Atkinson, math teacher and former manager of the Wausau Paper Mill in Groveton; Chris Diego, managing director of the Mountain View Grand in Whitefield; Ted Burns, co-owner of the Grand Ole Lodge in North Stratford; and, Berlin area businessman John Holt.
(Issue of September 2, 2015)
---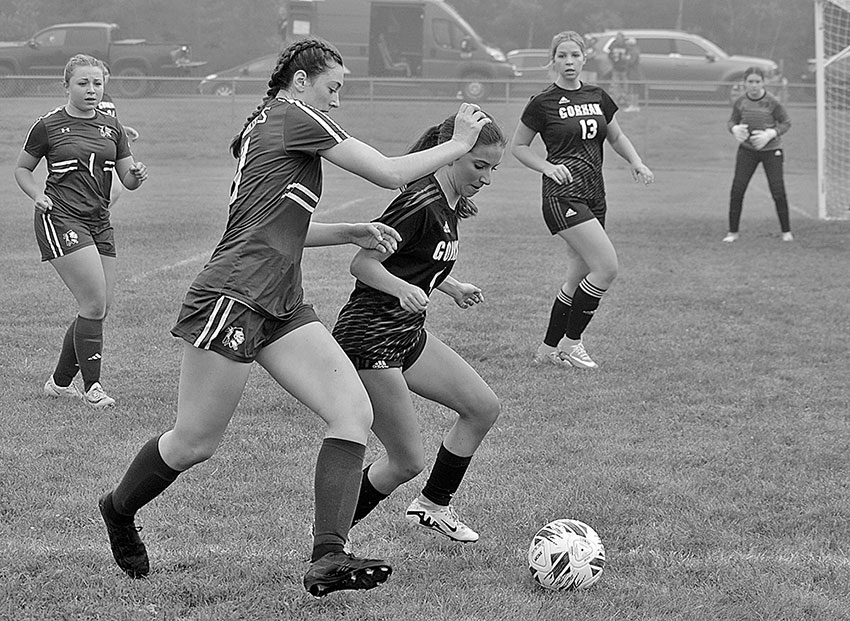 THIS AIN'T EASY

Donald and Joan Dickson spent Saturday morning in Canaan, wandering among all the venues, activities and performances during this year's Moose Festival sponsored by the North Country Chamber of Commerce. The Dicksons were among the prime movers in establishing the original Moose Festival in 1992, and Joan noted that their moose hats were purchased at Hill's Department Store "that very first year." (Rob Maxwell photo)
---
Vt. Supreme Court Overturns Tracy's Conviction for Altercation with Coach
By Jake Mardin

A Pittsburg man who was convicted of disorderly conduct by the use of abusive language in an exchange with his daughter's basketball coach in Canaan in 2012 has had his conviction reversed by the Vermont Supreme Court.
The Essex Superior Court convicted David Tracy, 47, in 2013 for using abusive or obscene language toward junior high basketball coach Stephany Hall. Accord-ing to court documents, Mr. Tracy talked to Mrs. Hall while she was sitting in her car and asked why his daughter didn't play in that evening's game. Mrs. Hall and her daughter testified that Mr. Tracy was calm at the start of the conversation but soon became more agitated. She testified that he used profanity several times and said, "This will never be over."
The trial court found that Mr. Tracy's language was not protected by the first amendment because it constituted "fighting words." The defense argued on appeal that "the abusive language prong of Vermont's disorderly conduct statute is overbroad and impermissibly chills a substantial amount of constitutionally protected speech without serving a compelling state interest," and that "even if the statute is constitutional on its face, the speech for which he was convicted in this case is constitutionally protected."
The Supreme Court voted 5-0 to overturn the conviction, with Justice Beth Robinson writing in the decision that Mr. Tracy's speech was "beyond the abusive language prong of the disorderly conduct statute."
In finding Mr. Tracy guilty of disorderly conduct by abusive language, the superior court ruled that he used "fighting words" by using epithets toward Mrs. Hall, that there was "an escalation of anxiety" and that the situation "kept escalating…until it crossed the line." On the appeal, the defense argued that the term "fighting words" is "an inherently vague and now-obsolete doctrine," and that Mr. Tracy's language did not constitute fighting words, but rather, constitutionally protected speech.
In its analysis of the statute, the higher court construed that "fighting words" are "a category of speech that is not synonymous with threats or tumult," and in a different category as "true threats," which are "those statements where the speaker means to communicate a serious expression of an intent to commit an act of unlawful violence to a particular individual or group of individuals."
In the decision, Justice Robinson wrote that "in this day and age, the notion that any set of words are so provocative that they can reasonably be expected to lead an average listener to immediately respond with physical violence is highly problematic," and "in a society in which children are admonished to 'use your words' rather than respond to anger and frustration by physically lashing out--and are taught the refrain, 'Sticks and stones will break my bones, but words will never hurt me,' as an appropriate response to taunts--the class of insults for which violence is a reasonably expected response, if it exists at all, is necessarily exceedingly narrow."
Justice Robinson wrote that Mr. Tracy's language was "vulgar, boorish and just plain rude…but his expression cannot be said to fall in the exceedingly narrow category of statements that are reasonably expected to cause the average listener to respond with violence." She stated that he "did not lob heinous accusations against the coach, or taunt her to fight him," and that the court "cannot conclude on this record that an average person in the coach's position would reasonably be expected to respond to defendant's harangue with violence, [and] for that reason, defendant's conviction of disorderly conduct by abusive language cannot stand."
(Issue of September 2, 2015)
---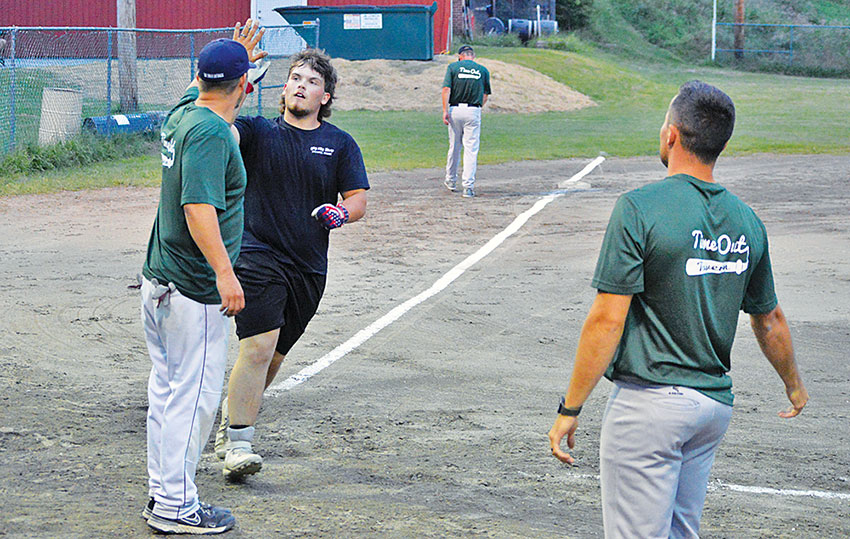 IN CAPABLE HANDS

Pittsburg's Sarah Parker and horse Sonny seemed to be in agreement about looking their best for a photograph, while Sonny's harness-mate Rock appeared to have other things on his mind as the three of them got ready to show folks around Tabor Road on a warm Saturday afternoon. (Rob Maxwell photo)
---
22nd Coed Lob Pitch Tournament to Be Played This Weekend in Canaan


The 22nd Annual Canaan Border Riders Lob Pitch Tournament will be played this Friday through Sunday in Canaan, with 42 teams coming to compete from Rhode Island, Vermont, New Hampshire and Massachusetts.
The preliminary round of the tournament begins on Friday at 5:30 p.m. across all four fields. The 6:15 p.m. games will also be played on all four fields, and action moves to the A Field beginning at 7 p.m. Two-time defending champion Bad Company will play at that time as they begin their quest for a three-peat. The final game of the evening is scheduled for 10:45 p.m.
The tournament resumes on Saturday at 7 a.m. Games will start at approximately 45-minute intervals across all four fields, with the final slate of prelim games scheduled for 11:30 a.m. The double-elimination portion of the tournament is scheduled to open at 1 p.m. Saturday. Games will go throughout the day and the championship game will be played on Sunday afternoon.
(Issue of September 2, 2015)
---