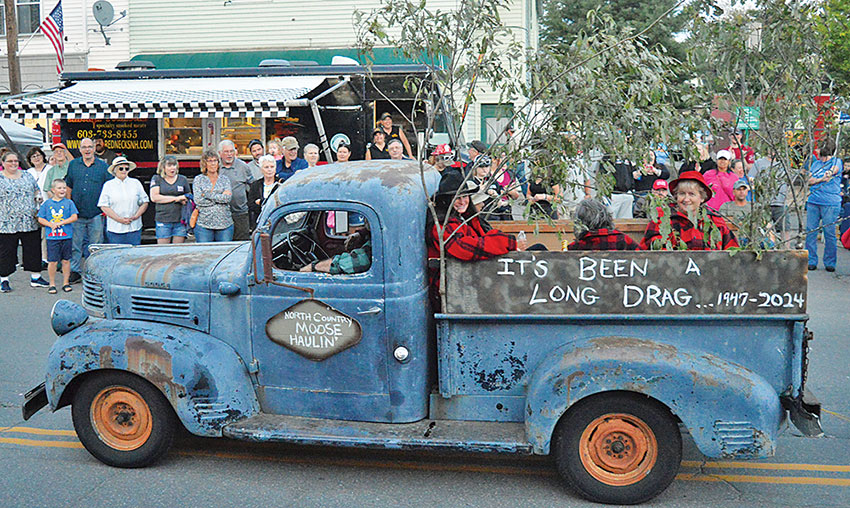 BOIRE ON THE MOVE

Colebrook's Marik Boire moves past Canaan's Samuel Giroux during the 42nd Annual Harry Corrigan Basketball Tournament in Gorham on Saturday. Canaan won 21-7 and went 2-2 on the weekend. (Jake Mardin photo)
---
Colebrook Fire Precinct Boundary to Encompass 41 More Properties

By Jake Mardin
At their meeting on Monday night, the Colebrook selectman voted to revise the boundary lines of the Colebrook Village Fire Precinct. The move adds 41 new properties to the precinct, situated primarily in the northern part of town where the new wells were installed, and results in $8,810 in additional revenue.
In November the board received a petition from the precinct to change the boundary lines. According to chairman Jules Kennett, if a property is within 1,000 feet of a hydrant it will fall under the jurisdiction of the precinct. Town manager Becky Merrow noted this is a linear measurement from the hydrant to any part of the property.
When asked what advantages there are to being a part of the precinct, fire warden Wayne Frizzell said homeowners should see a reduction in their fire insurance premiums. Mr. Kennett did some research, using the example of a house fully covered with $300,000 liability insurance, sitting within 1,000 feet of a hydrant or within five miles of a fire department. He said that if the home was over 1,000 feet away from a hydrant, the yearly premium is $450 higher, and another $839 if the home is over five miles away from a fire department.
Mr. Kennett noted that households of the precinct will get no bills for service, and Mr. Frizzell explained they are essentially part owners of $1.5 million worth of equipment.
Mr. Frizzell said he and Ms. Merrow began talking about the issue when the hydrant system expanded north to the area near Kheops. He said the lines have not changed since 1979 and in that time they discovered that there were some properties that were never added to the precinct that should have been. He said that the precinct tax goes towards running the fire department and by taking on more properties and keeping the budget level, the tax rate would drop by around 20 cents.
?One resident asked about expanding the precinct to encompass the entire town. Mr. Frizzell said Mr. Kennett has brought it up, but there have been no serious discussions so far.
(Issue of January 28, 2015)
---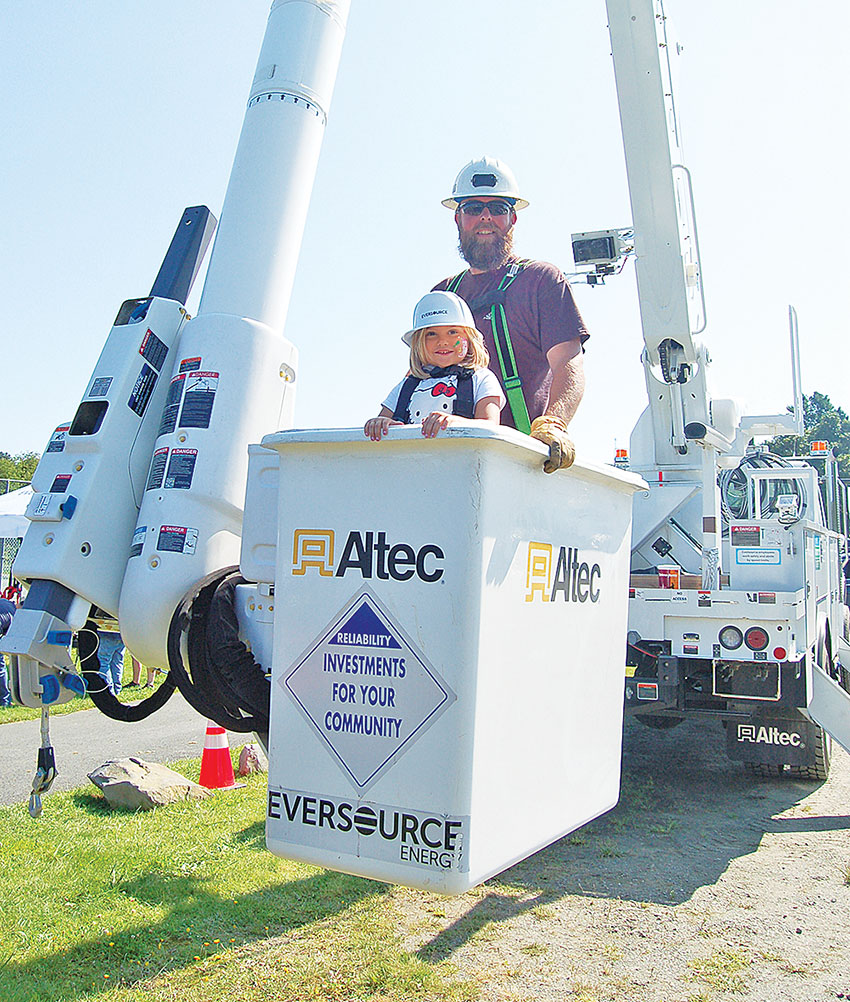 GAUDETTES GO FOUR-WHEELING

Ronnie Gaudette of Hudson, N.C., was visiting his family in New Hampshire last week, and rode along with Jeff Gaudette on the ATV Poker Run and Scavenger Hunt hosted by the North Country ATV Club on Saturday in Stratford. Ronnie said it was much warmer down south, so he appropriately bundled up for the ride. (Rob Maxwell photo)
---
Citizens Suggest Taking Appearance Improvements Out of Main St. Project

By Jake Mardin
Around 20 people attended a hearing Monday night on a proposal to raise $3 million in bonds and notes toward a $6.5 million rehabilitation of Colebrook's Main Street from the intersection of South Main Street to the base of Cooper Hill.
Voters will decide the question in a warrant article at the annual town meeting on March 10. The bond would be paid for by taxation, not by water or sewer user fees, and the warrant article also asks voters to withdraw up to $800,000 from the Main Street Capital Reserve Fund, and to authorize the selectmen to obtain federal, state or other aid.
"Our infrastructure underneath Main Street is going to fail someday," said selectboard chairman Jules Kennett. "We don't know when. It's a ticking time bomb." The water and sewer mains are over 100 years old and in some places are situated right next to each other.
The town is experiencing 70 percent water loss due to leakage in the system. At previous public hearings on the project, engineers have stated that digging up the street to access the lines would give the town the opportunity to reconstruct the street and address traffic and pedestrian issues while also enhancing its appearance.
Mr. Kennett said if a major failure ever occurred on Main Street, the town would effectively be "shut down" until repairs could be made. He said the U.S. Department of Agriculture realizes the situation with the mains, and the fact that 80 percent of the downtown water users consist of low- to moderate-income residents.
The USDA has offered a $2.1 million grant and $4.467 million loan package, and town officials just learned last week that Colebrook received a $639,000 Transportation Alternatives Program grant. The town will provide a 20-percent match.
Mr. Kennett said town officials traveled to Concord in November to meet with state representatives, commissioners and the Executive Council. He said the town asked the N.H. Department of Transportation to contribute funding for road repairs, and that the town is also looking to get on the state's 10-year highway plan.
Town manager Becky Merrow said that to lock in the USDA grant and loan, the town needs permission to bond. She said once the town gets the USDA funding it can keep it for five years, but if voters do not approve the bond, the USDA may give the money to someone else. She said the USDA funding goes directly toward the water and sewer portion of the project, while the TAP grant is mainly for reconstruction of sidewalks.
The town is also seeking a U.S. Department of Transportation TIGER grant. The town applied for one last year which was denied, but Ms. Merrow said the town's application was one of only 30 percent that made it to the second round.
Resident Fred King said the first thing the town should do is get a bill into the legislature for funding to repair Main Street. He said he would not vote for the bond the way it is currently written, and when it is time to vote he wants to see something in writing.
Mr. Kennett said at town meeting voters will see a breakdown of the numbers. He also noted that residents will make the final elementary school bond payment in 2016. He said that payment is $368,000 a year and his understanding is that the Main Street bond payment would be $150,000 a year.
Some in the audience felt that the bond should be paid by users of the water system. "This project will never be cheaper than it is this year," Ms. Merrow said. Clay Hinds asked for clarification on the total bill, and Mr. Kennett said it would not exceed $6.5 million and that would cover the project from start to finish.
John Zavala asked how the town determined the area of the project. Mr. Kennett said CMA Engineers came up with an area that would address water and sewer lines along with issues facing vehicle and pedestrian traffic. Ms. Merrow said that the town Web site has several documents on the project, including a 100-page USDA report that looks at the entire system. "This is the worst area in the whole system, and it's the main artery," Mr. Kennett said.
When asked if the water would be shut off during the project, Mr. Kennett said it would be shut off in phases, and it would be similar to when Littleton rehabilitated its Main Street and used temporary lines to keep businesses open. Concerning the option to bury utility lines, he said that would cost another $1 million that isn't included in the $6.5 million total project cost.
Mr. King said that the biggest problems are the water and sewer mains and suggested that the town concentrate on fixing those. Selectman Bob Holt said Mr. King made a good point, but noted that some parts of the sidewalk are in poor shape, and since the sidewalks would be torn up while repairing the mains anyway, the whole project should be done at once.
Noting that he lives outside the precinct, Mr. Zavala said he doesn't like the idea of putting money into the project, but would consider it "because I consider it helping my neighbors." He said he wanted the town to "trim the fat" off the project. "I do not want beautification thrown into this," he said. He said people in Colebrook are "hardworking folks" who pay their taxes but have to sacrifice other things. He said if businesses wanted items like trees, they should pay for them. "I depend on elected officials to look out for where my money is going," he said.
Mr. Kennett agreed that people are hurting, and the board made budget cuts as a result of that. He also said the project would not be able to go forward if only precinct users paid for it. "Nobody wants to see downtown in that situation," Mr. Zavala said. "But I don't want to see the fluff added to it."
electman Ray Gorman said the town needs to "jump all over" Mr. King's suggestion of getting a bill in the legislature to appropriate money for the project. He also said that the work should be done all at once. "Let's try to put this thing together somehow," he said. "We need this."
Mike Pearson, who owns Jenkins & Newman Funeral Home on Main Street, spoke in favor of the project. "This system will fail," he said. "It's not a question of 'if.' It's going to happen."
Ms. Merrow said if the warrant article passes, there will be an entire year of planning and surveying, and the construction period will last for about a year and a half.
(Issue of January 28, 2015)
---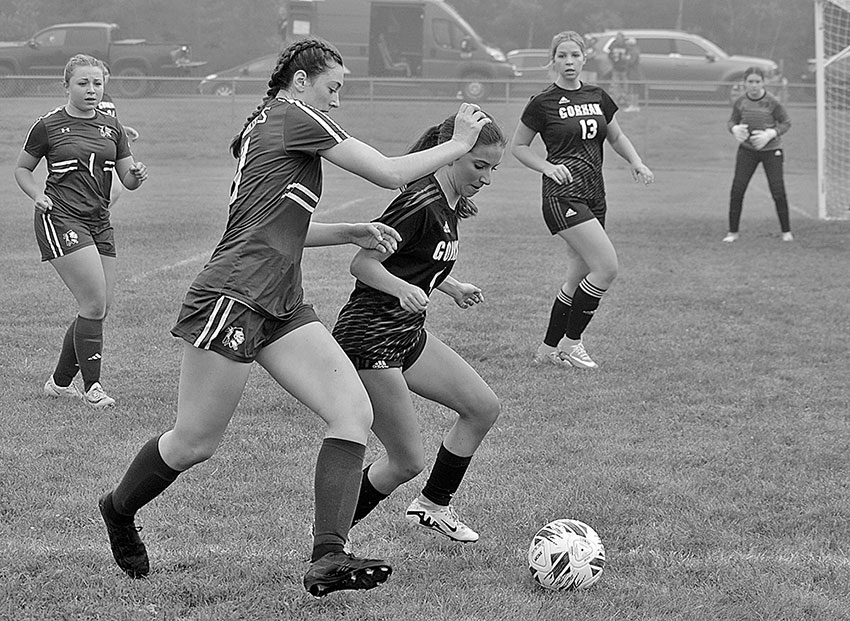 PASSING ON A TRADITION

Matthew Ducret receives from his father Philip the gavel that his great-grandfather George Ducret used as Master of the Parkrose Lodge in Portland, Oregon, in 1979. The presentation was made following Matthew's installation as Master of Evening Star Lodge #37, Free and Accepted Masons on Thursday, January 22 in Colebrook. (Alan Farnsworth photo)
---
Ken Heath Released after Serving Six Years for Mother's 2008 Killing

By Karen Ladd
Kenneth Heath, who pled no contest to a manslaughter charge for killing his mother in Canaan in September of 2008, was released from prison last month after serving six years.
Canaan police chief Jeff Noyes confirmed that Mr. Heath was freed on December 22, and he is now residing in Derby. "He is still a high risk to reoffend," Chief Noyes said. "He's under community supervision and may not enter Essex County."
Mr. Heath's probation officer, Arthur Gibney, said he could not go into detail concerning a particular case but that he has "complied with his case plan at this point," and that he was released "under standard furlough conditions."
Mr. Heath's restrictions will be reviewed after six months, and Mr. Gibney said they may be reconsidered "if it were brought to my attention that he needed to go to an area that was restricted."
Now 66, Mr. Heath was arrested on September 24, 2008 after shooting 80-year-old Christina Heath outside his Canaan apartment. He was charged with second-degree murder but entered a plea agreement in June of 2011, convicted of manslaughter "committed under extenuating circumstances that would mitigate, but not justify the killing, to wit, the defendant was under the influence of a mental disability which did not rise to the level of insanity."
Mr. Heath's defense attorney argued that his client's mental state was affected by the prescription drug Chantix, and State's Attorney Vince Illuzzi stated at the time that trial would be a risk due to the defense's strong case. Mr. Heath was sentenced to six to 15 years in prison, and was incarcerated while awaiting resolution of his case in court.
In order to be notified when a defendant is to be released from prison, residents can register with Vermont's Victim Automated Notification (VAN) system. "If anyone has any concerns they can call me, or the victim services person," said Mr. Gibney, who said those with safety concerns can request a no-contact order as part of a person's furlough restrictions. He may be reached at 802-334-4310, and Amy Holloway of Victim Services is available at 802-951-5064.
(Issue of January 28, 2015)
---