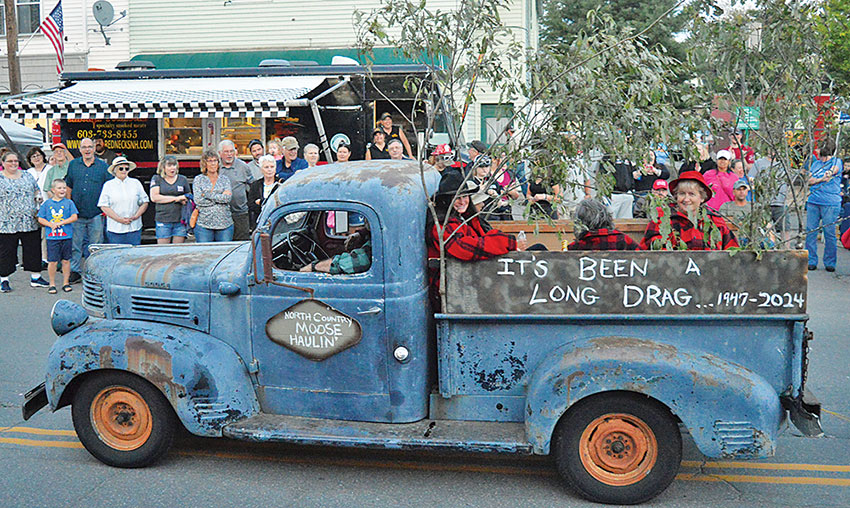 EARLY BIRDS

André Bessette of Columbia had his Christmas tree crew hard at work early Saturday morning, loading two trailers with trees headed for destinations such as New York, New Jersey and Virginia. André is seen here with Gerry Poulin transferring two or three trees at a time from a crane operated by Jeff Masters, and stacking them tightly in the trailer. (Rob Maxwell photo)
Veterans' Retreat, Assistance Center Proposed for Shrine Property Options

By Jake Mardin
A meeting to discuss the future of the Our Lady of Grace Shrine in Columbia and to gauge interest in the forming of a non-profit entity was held at St. Albert's Church Hall in Stewartstown on Saturday.
The meeting was organized by Haven Haynes Jr. of Beecher Falls, a National Guard veteran and the Commander of the Sons of the American Legion Squadron 47 in Canaan, with Fr. Craig Cheney of the North American Martyrs Parish and a handful of others in attendance. The Oblates of Mary Immaculate, headquartered in Lowell, Mass., own the property which used to house a junior novitiate and prior to that the Hampshire House inn.
The 57.9-acre shrine property, which includes the buildings and land on the west side of the road and the land on the east side, is for sale for $523,000. All religious fixtures and statues are excluded from the sale, and the property includes the chapel, residences and a workshop. The OMI celebrated the final mass at the Shrine in July, ending a 92-year presence in Columbia.
Fr. Cheney said there is a desire from different groups to maintain the property, and said that if anyone is serious they should move before it is sold. "It really comes down to who has the money," he said, noting that there are some costs involved in maintaining the property.
Mr. Haynes said he is interested in using the west side of the property--including the buildings--as a retreat for veterans suffering from post-traumatic stress and a transition shelter for homeless veterans. He said that it can be difficult for veterans when they come back to civilian life, and they need a place to get away from everything.
Lucie Fillion Daley of Lemington asked about the statues on the east side of the road, and Fr. Cheney said his understanding is that removal of the statues is on hold. She said she wants to see the statues remain, and said the area can still be used for events like the motorcycle blessing. Mr. Haynes said keeping the motorcycle blessing means bikers will be in the area longer and spending their money locally.
Sharon Ellingwood White, also of Lemington, said she wants to see the spiritual aspect of the property remain intact.
Fr. Cheney said that getting a meeting organized was the right way to start looking into the future of the property, and the next step should be to check with the real estate agent to seek more information. He also said the group should look at available resources such as grants and other funding, and observed that professional staff would be required for a veterans retreat.
Richard Baribeau, Commander of Northland American Legion Post 47 in Canaan, said if the national Wounded Warriors organization were interested, the project could work. He also suggested that politicians in New Hampshire should be contacted. Mr. Haynes has set up a Facebook page called "Save Our Lady of Grace Shrine" and said people can visit the page for updates or to contact him.
(Issue of November 26, 2014)
---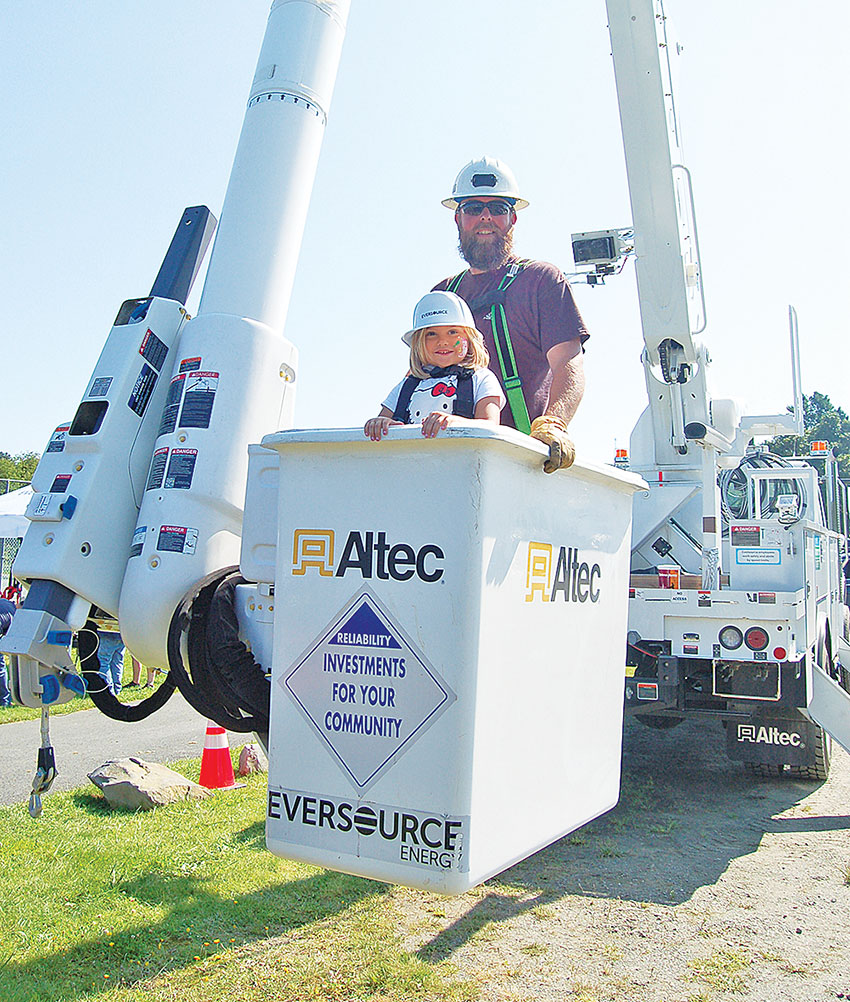 BIRTHDAY CONGRATULATIONS

Bernice Fish, Pittsburg's oldest citizen, poses by a table loaded with a cake and numerous presents and congratulations during her 99th birthday celebration on Saturday, November 22 at Dube's Pittstop. (Alan Farnsworth photo)
---
Colebrook Considers Dispatch Options, Proposes Mediation among Core Towns

By Jake Mardin
After a lengthy discussion at their meeting on Monday, the Colebrook selectmen voted on a new budget figure proposal for the Colebrook Regional Dispatch Center.
At the dispatch center meeting in Canaan on November 13, representatives of the five core towns--Colebrook, Canaan, Stewartstown, Columbia and Pittsburg—passed an operational budget of $271,079. Colebrook balked at a proposal to use a formula based on calls from the five core towns to determine the percentage each town would pay on the budget, arguing that would make Colebrook responsible for 69 percent ($187,044) of the costs. Town officials instead suggested incorporating all calls that came into the dispatch center (including those from non-core and non-member towns), which would lower their share to 53 percent. Colebrook's representatives were outvoted, and the formula using calls from the five core towns was used.
At Monday's selectboard meeting, town manager Becky Merrow provided a list of options for the town to consider. Selectman Bob Holt said he likes the option of hiring a mediator to work with the core towns to develop an inter-municipal agreement. He also brought up the option of Colebrook paying 45 percent of the budget, which would equate to $120,457.
Ms. Merrow rhetorically asked why calls are counted, suggesting this task constitutes "busy work" for the dispatchers. Mr. Holt said the dispatchers are Colebrook employees, and the dispatch center committee believes that it should be able to give dispatchers pay raises.
electmen Jules Kennett said his main problem with using calls in the formula is how they can be interpreted. "They want to change the interpretation to benefit the other four core towns, and not Colebrook," he said. Mr. Holt noted that if the formula were based strictly on population, Colebrook's share would be $104,000.
Selectman Ray Gorman expressed favor of an option that would remove over $21,396 from the budget for costs in rent, town manager services, payroll and benefits, and agreed with Mr. Holt that hiring a mediator is also worth trying.
Mr. Holt brought up another option, to put all core towns on notice that Colebrook is looking into leaving the dispatch center. Mr. Kennett, a former officer with the police department, said Colebrook used to dispatch for everyone but still owned and ran the dispatch center. Mr. Holt said that the dispatch center also has a large antenna system and Colebrook does not own the antennas. He said he has no problem with hiring a mediator, but he said he could foresee it costing $10,000 at the start, and said the cost should be divided evenly among the core towns.
Mr. Kennett said that there has not been an inter-municipal agreement since 2006. "We're not doing it right," he said, noting that Colebrook wanted to get its attorney involved but there was resistance from the other towns. He said he'd like to see a formal agreement that would lock a formula in place. "People are upset with their taxes, and dispatch plays into it," he said.
The board discussed what options to pursue, and amendments to the options, and at the end the board agreed on a motion that included three items: 1) advise the other towns that Colebrook will pay 53 percent ($132,332) of the reduced operating budget of $249,683, with the remaining $117,351 to be divided by the other four core towns in a manner of their choosing; 2) set up a mediator to work with the five core towns to develop an inter-municipal agreement, with the cost to be split five ways equally by the core towns and with Colebrook requesting an answer from the other towns by January 1; and 3) if mediation fails, notify the other core and non-core towns that Colebrook is looking into "unwinding (leaving)" regional dispatch participation for the future, and to advise the other core towns to look at their options. Ms. Merrow will draft a letter and present it to the selectmen for their signature.
(Issue of November 26, 2014)
---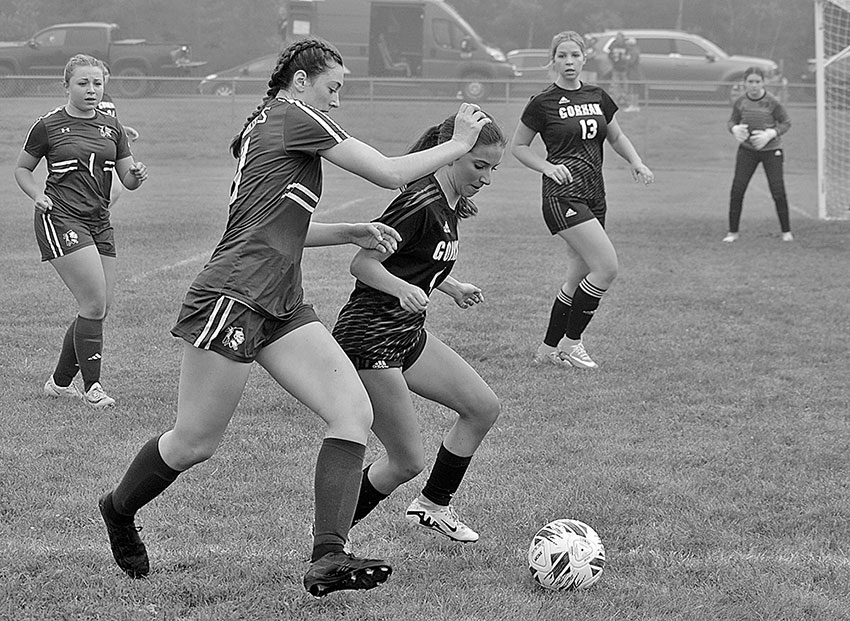 BROM'S ADMIRERS

The Colebrook Academy Players presented "Sleepy Hollow, the Musical" last Thursday through Saturday, November 20-22 at the Tillotson Center. In this scene, the local girls portrayed by Natasha Bresette, Sophie Coderre and Brianna Davis admire the strength of Brom Bones (Benjamin Smith), as Megan Hamel and Adam Reeves look on at left. (Alan Farnsworth photo)
---
Colebrook School Board Puts Study of Single-Campus Consolidation on Hold
By Rob Maxwell

The Colebrook school board has decided unanimously to halt its investigations into the plausibility of consolidating the district's two schools at a single location, known as Phase II of the school construction project.
Board member and Facilities Planning Committee chairman Brian LaPerle announced the decision at a regularly scheduled committee meeting last Thursday, November 20 at the CES library. He cited recently released property tax bills, and plans for a major construction project to upgrade the downtown water and sewer infrastructure.
"We've all received our tax bills and the board decided that the water and sewer project is probably more important than adding to a school building right now," Mr. LaPerle said. "As far as planning for a Phase II addition goes, we're going to put the process on hold." Mr. LaPerle said the planning committee's work thus far suggests "benefits for having all students and staff in one location, but in terms of asking for a large bond when the town is also, the board thought it best to wait."
The planning committee has been meeting in public sessions since last fall to explore the possibility of expanding the elementary and junior high school building on Dumont Street to accommodate the addition of grades 9-12. This integration would see the closure of the Colebrook Academy building and complete a long-range, two-phase school facilities plan whose first phase saw construction of the CES building.
Board member Lisa Whittaker noted that another factor in the board's decision involved uncertainty surrounding the proposed development of the Balsams Resort in Dixville. "There are too many unknowns, including the Balsams, which would make school expansion planning difficult," she said.
John Falconer agreed that the future of the Balsams entered into the board's deliberations, noting that developer Les Otten "spoke of a possibility of 1,500 employees out there, but this is still up in the air and whatever happens in Dixville, it won't happen overnight."
Mr. Falconer suggested that when the current, approximate $300,000 annual payments on the Phase I bond are finalized in 2017, "perhaps we could ask the town to continue putting aside that amount every year toward future construction."
A substantial portion of the planning committee's discussion has focused on developing a "wish list" of programs, classes and curriculum additions that would best serve both students headed for higher education and those who intend to enter the work force following high school. This emphasis on program development was pursued as a precursor to the planning for the amount of physical expansion that would be necessary to accommodate the programs, student and staff deployments and technological upgrades required to fit the agreed upon curriculum for a one-campus, K-12 school. Elementary school principal Dan Gorham addressed the focus on curricular development, saying, "I hope we won't waste the year and a half we have already invested by having to start all over again later."
When asked if a cost analysis had been undertaken of the two-building status quo, versus consolidating at one campus, SAU 7 business administrator Cheryl Covill said an approximation of annual C.A. expenses has been determined. However, she did not have those figures at hand, and she observed that a comparison with possible expansion costs would be complicated to determine. "There are a lot of variables," she said.
Mr. Falconer said this avenue of investigation had not been pursued and, "now we're into budget development so there won't be time to focus on a comparison study until next spring." Mr. LaPerle told the group that the school board's curriculum sub-committee will be "honing down the wish list provided by the planning committee, and perhaps we should involve the public to see what we can do now within reasonable cost levels." Mr. Falconer suggested that the curriculum committee might become a committee of the public, meet at designated times and advertise its activities. Mr. LaPerle assured the gathering that efforts to improve local education, collaborate with other districts and provide for varying student needs will continue. "There are things that can be done," he said, "and we will work in those directions."
(Issue of November 26, 2014)
---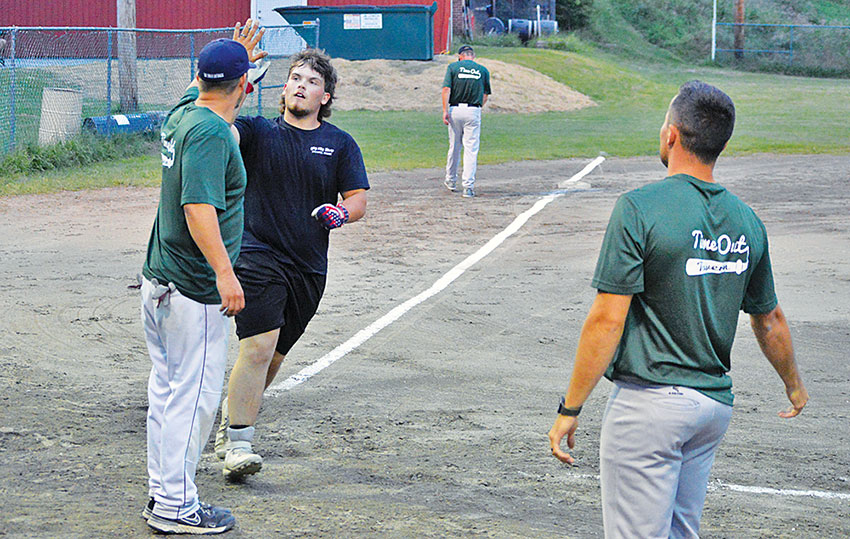 FINDING THE RIGHT STANCE

Players in Colebrook Recreation Department's basketball league were working with Megan Hamel on their defensive movement on Saturday. From left to right are Konrad Becker, Shaylah Haynes, Sierra Riff, Tyler Young (partially obscured), Keenan Hurlbert (green shirt) and Liam Connell. (Jake Mardin photo)
---
Hearing of Motion in Grave Robbing Case Continued for a Second Time
By Jake Mardin

The Coös Superior Court has continued its hearing on a motion to suppress statements made by Melanie Nash, who along with three others is charged with disturbing her father's grave at the Colebrook Village Cemetery this past May.
At the hearing in Lancaster on Thursday morning, Ms. Nash appeared ill while her attorney, William Albrecht, and county attorney John McCormick conferred with Judge Peter Bornstein at the bench. After her condition was checked, the attorneys went back to the bench for another conference, and Judge Bornstein granted the defense's oral motion for a continuance "based on the defendant's present physical and mental condition."
This constitutes the second delay of this motion hearing, which was continued from its originally scheduled date in October. A new hearing date has not been set.
Ms. Nash is charged with Class A misdemeanor abuse of a corpse and felony charges of criminal mischief, interference with a cemetery or burial ground and conspiracy to commit the crime of interference with a cemetery or burial ground, for her alleged role in the disturbance of her father's grave in Colebrook on May 11.
According to the indictments, Ms. Nash, aided by Michael Day, Ginette Dowse and David Grey, destroyed a concrete vault housing Mr. Nash's casket, broke into and removed contents from the casket, and searched through Mr. Nash's clothing. The complaints also allege that Ms. Nash held a flashlight while Mr. Day and Mr. Grey smashed the vault with tools.
Mr. Day and Mr. Grey face the same charges as Ms. Nash. Ms. Dowse is charged with conspiracy to commit the crime of interference with a cemetery or burial ground, and as an accomplice to the crimes of criminal mischief, interference with a cemetery or burial ground and abuse of a corpse.
In September, Mr. Albrecht filed a motion to suppress statements that Ms. Nash made to Lt. Paul Rella at the Colebrook Police Department on June 11. In an affidavit, Lt. Rella stated that he read Ms. Nash her Miranda rights, that she understood them and agreed to speak with police. She reportedly said she believed that her father's original will was hidden in the coffin, and that Mr. Day had agreed to help. She also said she asked Ms. Dowse to drive and she agreed, and a man she identified as Mr. Grey also agreed to help.
She said that on May 11 she and Ms. Dowse picked up Mr. Day in Columbia and they drove to the cemetery, where Mr. Grey was waiting. She said Mr. Grey and Mr. Day dug up the grave and removed the coffin from the ground. She stated that Mr. Day took out items and she placed them in a bag. She said these items included a fifth of vodka, papers in an envelope, photographs and cigarettes. She reportedly told Lt. Rella that no will was found, and that "her father would have wanted her to do this."
In her written statement, Ms. Nash said she held the flashlights during the incident. "All that was done for the right reasons and I know my father would be ok with it," she said. "What we all did was to dig up my father's coffin, Eddie Nash, looking for documents. We did it with respect."
In his motion, Mr. Albrecht requests that any statements made after Ms. Nash's arrest and before she was advised of her Miranda rights should be excluded to protect her right against self-incrimination, along with any comments made after she was read her rights as involuntary. Mr. Albrecht states that before she was read her rights, Ms. Nash had a conversation with Lt. Rella concerning the case and interviews he had with the other parties involved.
In his objection to the motion, Mr. McCormick argued that any statements made by Ms. Nash prior to her arrest were voluntary, and that she turned herself in and agreed to speak. "Such facts in no way suggest that defendant's statements were made involuntarily, but rather show her free will in coming into the police station, waiving Miranda and freely speaking with Lt. Rella.
ll four defendants are free on bail, and the court has final pretrial hearings scheduled for January.
(Issue of November 26, 2014)
---