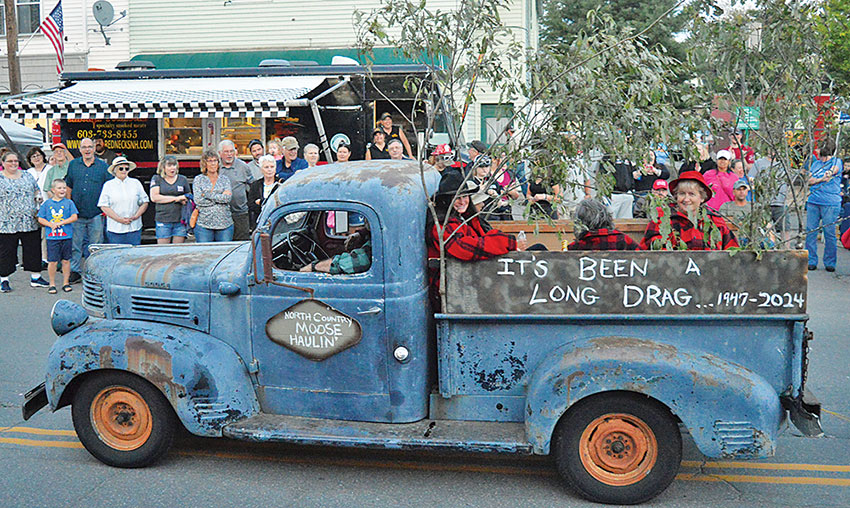 FIRE AT SCOTT NASH & SONS

A fire broke out at the Scott Nash & Sons garage on Route 26 in Colebrook Tuesday morning, drawing a response from the Colebrook and Beecher Falls fire departments, the 45th Parallel EMS and Colebrook Police. The garage was heavily damaged, along with multiple vehicles parked inside. (Jake Mardin photo)
---
Fire Damages Garage, Burns Vehicles at Scott Nash & Sons Garage Tuesday
By Jake Mardin
A fire destroyed a garage and several vehicles at Scott Nash & Sons on Route 26 in Colebrook on Tuesday morning.
Colebrook fire chief Brett Brooks said no one was at the garage when the fire broke out, and when firefighters arrived there was smoke coming out of the doors and eaves. Mr. Nash arrived at the scene and used an excavator to knock down the front doors, which allowed the smoke to clear so the firefighters could get to the source of the fire.
Chief Brooks said the fire appears to have started in the engine compartment of a pickup that was up on a lift, and from there it had spread up the wooden walls, across the ceiling and into the insulation. The fire also spread to three vehicles and a skidder, which were all destroyed, along with a raised portion of the structure where around 50 tires were stored.
Chief Brooks said firefighters pulled more insulation down and extinguished the vehicle fires and had everything extinguished without many problems. Firefighters used a tanker to pull water from a pond next to Mr. Nash's home.
About 15 members of the Colebrook Fire Department and another dozen or so members of Beecher Falls were on scene, while 45th Parallel EMS stood by and the Colebrook Police Department provided traffic control. Groveton Fire Department send an engine to Colebrook's station for coverage and the Pittsburg Fire Department was put on standby to cover any calls in the Beecher Falls territory.
No injuries were reported, and the scene was cleared at approximately 11 a.m.
(Issue of January 18, 2017)
---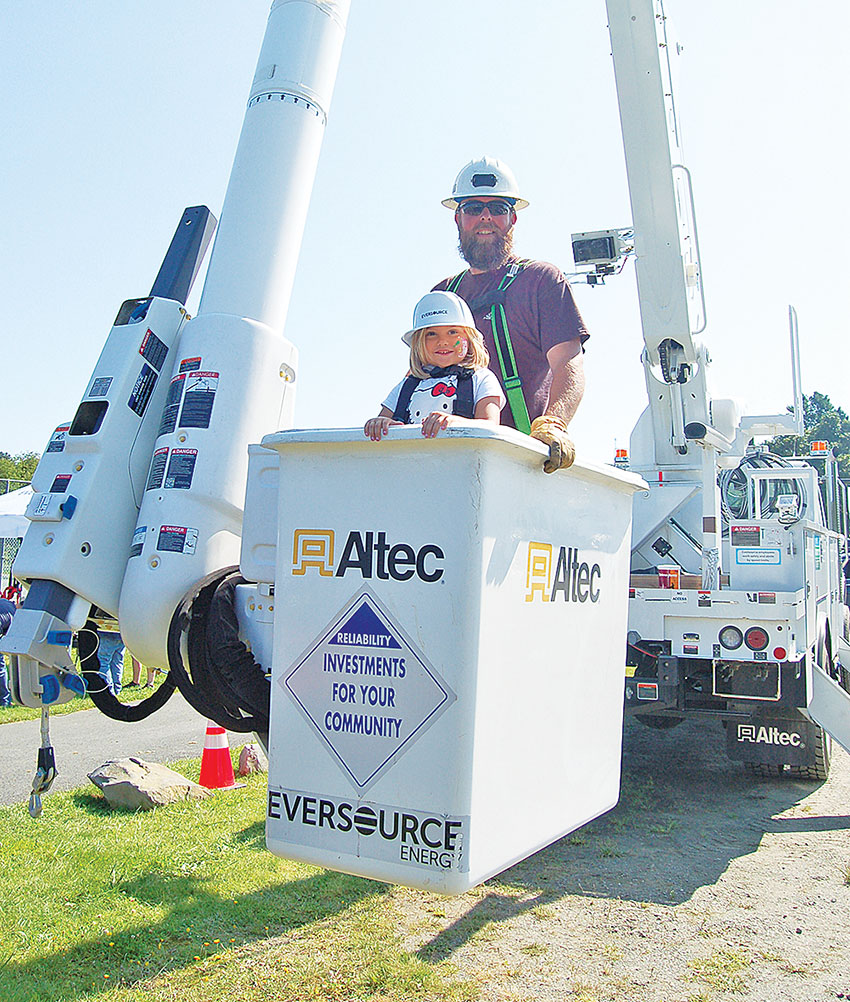 LONGTIME NORTH COUNTRY VISITOR

Wesley Szlachetka of Chicopee, Mass., pulled off the trail Saturday morning in Pittsburg to have his snowmobile blessed by Methodist minister Yoo Cha Yi, as Lisa Maccini (left) of the Pittsburg Ridge Runners looks on. Wes said he's been traveling north to spend weekends in Pittsburg for 55 years at a camp on Lake Francis. (Rob Maxwell photo)
---
ENSU Superintendent Chris Masson Retiring, Returning to the Classroom
By Jake Mardin
Chris Masson is set to retire from the Essex North Supervisory Union's position effective June 30, and will return to his former role as a classroom teacher after the summer break.
"Administration was never meant to be a permanent position for me," he said. "I always intended to return to teaching, and with the age of my children, now seems like the best time to do it."
ENSU is comprised of the Canaan, Bloomfield, Brunswick, Lemington and Norton school districts, and Mr. Masson has been superintendent for nine years, starting with the 2008 school year. He formerly served as principal for two years at Canaan Schools, where he taught science for seven years, and before that he taught in Pittsburg for four years. "The major condition [for taking the superintendent position] was that I could still be highly involved with the school, which I have been," he said. "It's been a privilege to have this job. There are a lot of responsibilities, but there's also potential to get a lot of different things done."
He said one of the rewarding aspects of the job was being involved in increasing several programs at a time that the student population was shrinking and the school was receiving less funding. "We went from half-day to full-day kindergarten, we went from ten hours of preschool to over 22 hours, we've doubled the amount of career technical education options and are now career and technical center for northern New Hampshire and northeastern Vermont," he said.
He also talked about getting the Run-ning Start dual enrollment program up and going, and pointed out that some students in Canaan's 2016 class earned an average of 18 college credits. "I think we've gotten quite a bit done," he said, noting that challenges included keeping up with state legislature and frequent law changes.
"I've been very fortunate with the school boards I've worked with," he said. "They're great, hardworking people who care about their communities. I think the teaching staff is rocking right now--just a really good staff. We've had steady leadership in the principal's office--Debbie [Lynch] and I have worked very closely together, and I've appreciated our working relationship."
Mr. Masson said there were a couple of factors that led to the change in jobs. "I'm excited to have more time at home, and that's mostly what this is about," he said, saying he looks forward to spending more time with his three children. "I also like change, and I like to be doing new things." He will teach two science classes a year and oversee the natural resources/diversified agriculture CTE program in the afternoon. "We have a really awesome science teacher right now in Sherry O'Bara, and I'm looking forward to working with her," he said.
The superintendent's position has been posted on www.schoolspring.com, and Mr. Masson expects interviews to start by the end of this month or early next month. A hiring committee comprised of Mr. Masson, Mrs. Lynch, business administrator Stephanie Lassonde, teachers and board members will be organized and the ENSU board will have the final decision. "I'm appreciative of the job I've had and I'm very excited about the next one," he said. "There are no negatives here."
(Issue of January 18, 2017)
---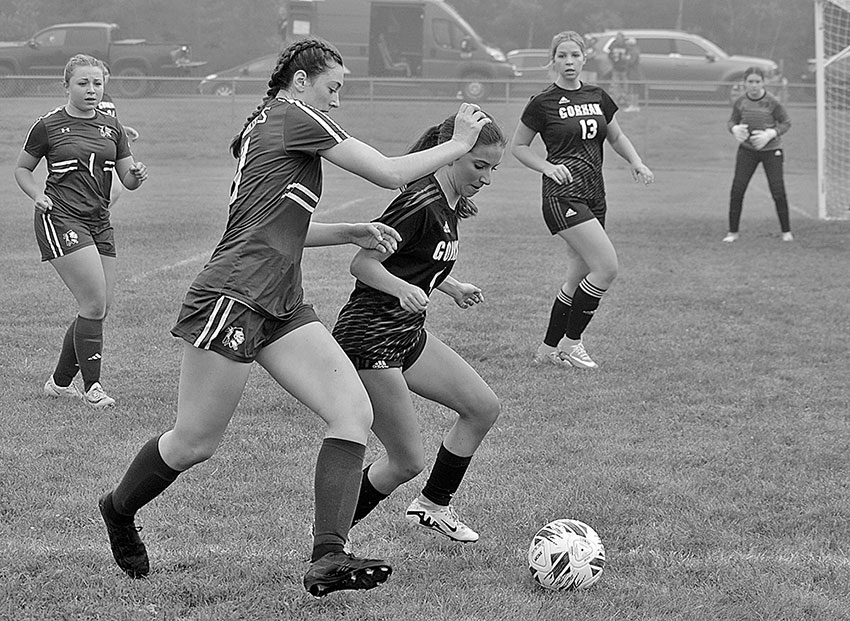 KEEPING HER BALANCE

Reagan Ward works on staying upright while Lena Crawford looks on, when students from Canaan Schools and Errol Consolidated School participated in the Learn to Skate program at the North Country Community Recreation Center last Wednesday. (Jake Mardin photo)
---
Swift Diamond Riders Announce Change of Location for 25th SnoDeo
By Jake Mardin
The 25th Swift Diamond Riders SnoDeo will be held at a new location this year, moving down the road from Coleman State Park in Stewartstown to the area behind the club's warming hut on Diamond Pond Road for events on Friday and Saturday, March 3 and 4.
"We were in the park for 23 years," club president Tim Anderson said. "It's just time to do something different." He said the major advantages to being near the clubhouse include more space and less need for transportation of materials to the park.
Event spokesman Kurt Muhlfelder of South End Media said about four acres of land have been cleared behind the warming hut, with more space available for expansion if needed. He said the area had previously been used for parking, and snowmobilers often stop there to gas up their machines.
"The biggest changes will be that some of the demo ride trails will change, because some of the access routes will be different," he said. "Most will be pretty close to where they were in the past."
Mr. Muhlfelder said the club has been talking about moving for a few years and that at the new site, they will no longer have to pay the state fee and will have more control of the event. He explained that a change in policy on state park usage for groups would have led to a loss of "a significant portion of our revenue," including a percentage of sponsorship money and gate fees, but the club and state were able to negotiate terms and move on.
He said there have been requests for the club to pay for N.H. State Police details, which they did on their own in 2011 due to threats made against the event after the announcement that Northern Pass was going to be a sponsor. He said State Police coverage has always been appreciated, but it created an additional cost. The club has always paid for overnight security, but he said organizers have always felt that having N.H. Fish and Game Conservation Officers on-site as exhibitors offered enough security during the SnoDeo.
"It was a tough decision to move, because you're breaking tradition," Mr. Muhlfelder said. "It's a great park," but the new location will allow for new opportunities. "The footprint of the new site is bigger than the footprint of the old site," he said.
At Coleman State Park, the event would utilize a portion of the park and the lake for helicopter rides, vendor and snowmobile parking and the Rave X snowmobile stunt show. "We were maxed out on space up on the hill," he said. Putting more events on the lake was not viable because it would have spread things out too far.
Mr. Anderson noted that in previous years, the Rave X stunt ramp was made out of snow on the lake and would take 35-40 hours of steady grooming, but the ramp on the new location is made out of dirt and was done all at once with a bulldozer. Mr. Muhlfelder said the new location of the ramp will also benefit vendors, who often saw a drop in business during the Rave X performance on the lake.
Mr. Muhlfelder said when this year's SnoDeo is taking place, organizers will have a better idea of what other activities they can add in the future, such as vintage or cross-country snowmobile races. A new fund-raising event this year is a beer tasting that will be hosted by Log Haven in Millsfield, with White Mountain Distributors providing the product.
Another new addition is a video loop, running in a location yet to be determined on site. The loop will feature promotional videos from all four snowmobile manufacturers, Rave X movie trailers and other sponsors, and is being produced by sponsor NSN Sports.
The price of admission for this year's events is $10 for adults, and free for children under ten. Mr. Muhlfelder said he has advocated for an increase for a few years, and when looking at costs for similar events he found the new prices are still a bargain. "It's pretty much the biggest and only fund-raiser the club puts on," he said. "We hope people can see it's for the benefit of the club, which maintains the trails."
He also noted that it is the first event east of the Mississippi where riders can try out next year's snowmobiles. New sponsors for this year's SnoDeo include Moto-Trax, which manufactures snow bikes. "I think the club has a lot to be proud of," he said. "The SnoDeo is 25 years old, nationally recognized, and people come a long way to our event."
Details about the event can be found on-line at www.nhsnodeo.com and on Facebook. More information about the Swift Diamond Riders and their Warming Hut is available at www.swiftdiamondriders.com or 603-237-5845.
(Issue of January 18, 2017)
---