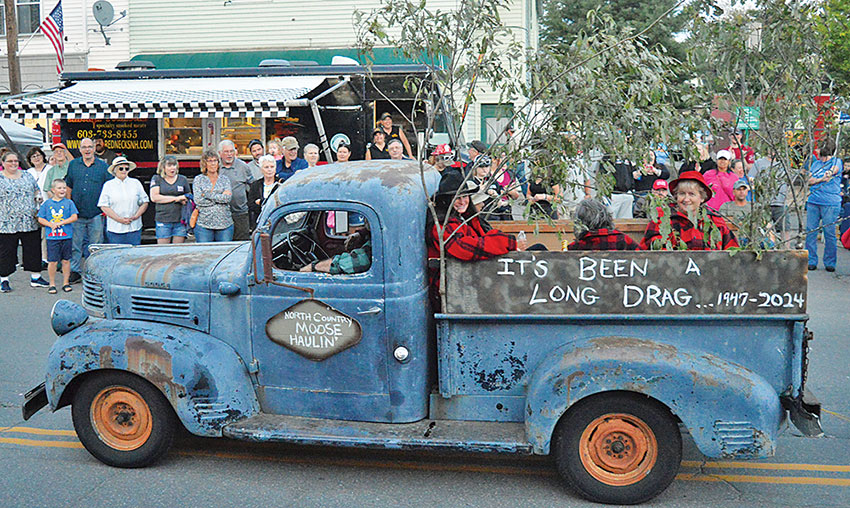 LOTS OF CHOICES

Fifth-graders Emma McKeage, Kaydence Ouimette, Liam Shaw and Konrad Becker look over one of several tables of donated books during the book swap on Friday, January 29 at the Colebrook Elementary School library. For each book a student donated they received a ticket for another book, with a limit of ten books per student. The event involved 138 students swapping 827 books. (Alan Farnsworth photo)
---
Maine Administrator Bruce Beasley Hired as New SAU 7 Superintendent
By Rob Maxwell
In a press release distributed on Friday, chairman John Falconer announced that the SAU 7 board had selected Maine School Administrative District #15 superintendent Bruce Beasley for appointment as superintendent of SAU 7. During a telephone interview the same day, Mr. Beasley confirmed that he has agreed to the terms of a three-year contractual offer from SAU 7 and plans to begin his employment on July 1.
The supervisory union first began searching for a new superintendent in 2014 after longtime school administrator Bob Mills announced his intention to retire in June, 2015. This process came to naught when the selected candidate declined a contract offer, and the board subsequently entered a one-year contract with Mr. Mills so the search could begin again.
The SAU 7 Search Committee announc-ed on January 14 that with assistance from executive director Ted Comstock of the New Hampshire School Boards Associa-tion, an initial field of 10 nationwide applicants for the position had been winnowed from five to two, including Mr. Beasley and Colebrook Elementary School principal Dan Gorham.
The SAU 7 board made the decision to employ Mr. Beasley at a meeting on Tuesday, January 26. Five days earlier on January 21, a panel of school board members from Pittsburg, Clarksville, Stewartstown, Colebrook and Columbia interviewed both candidates. By statute the interview sessions were held in nonpublic session.
Last Tuesday's meeting, when each board member voted in public session to approve the contract offer to Mr. Beasley, was unattended by the press although Mr. Falconer noted the following day that proper posting of this meeting was made, "on the SAU Web site and at the site of the meeting."
Mr. Beasley has a bachelor's degree from the University of Maine, a master's from the University of Southern Maine and is a graduate of the American Association of School Administrator's National Superintendent Certification Program. He taught mathematics for 17 years in Richmond, Maine, and has been employed as an administrator in District 15 for the past 17 years as an assistant principal, principal and superintendent.
He also coached soccer, basketball and baseball in the District 15 system and officiated basketball in Maine for 20 years. He is a member of both the Maine and the National School Superintendent's Association.
Mr. Beasley said on Friday he does not anticipate any immediate, large-scale changes to the operation of the SAU 7 office or the daily operations of SAU 7's four schools. "I'm planning to do a lot of listening," he said, "including a meeting on Thursday with [principals] Mark Fiorentino, Dan Gorham, Jenn Mathieu and Elaine Sherry." He added that this and future meetings with principals and other school staff will, "help me learn what's working well already, so these best practices can be sustained."
The new superintendent reported that his educational philosophy includes involving students in large and small group instruction along with individual learning. "Education today is not just about achievement, but is equally about giving every student an opportunity to achieve," Mr. Beasley said. "I want SAU 7 to be a unit that is dedicated to making all students better."
He also noted that schools work best when faculty and support staff communicate, share and generally work together. "Professional development is of paramount importance," he stated.
The newly chosen 56-year old educator says he is an active hunter and fisherman and enjoys snowmobiling. He noted that although he and his wife will be renting a home to begin with, "We will be looking for a property to purchase so we can build a home."
In his press release, Mr. Falconer stated, "We are indeed fortunate to have an experienced superintendent of Mr. Beasley's caliber join in an administrative leadership role for our districts. We look forward to working closely with him in the years to come to move our districts forward."
(Issue of February 3, 2016)
---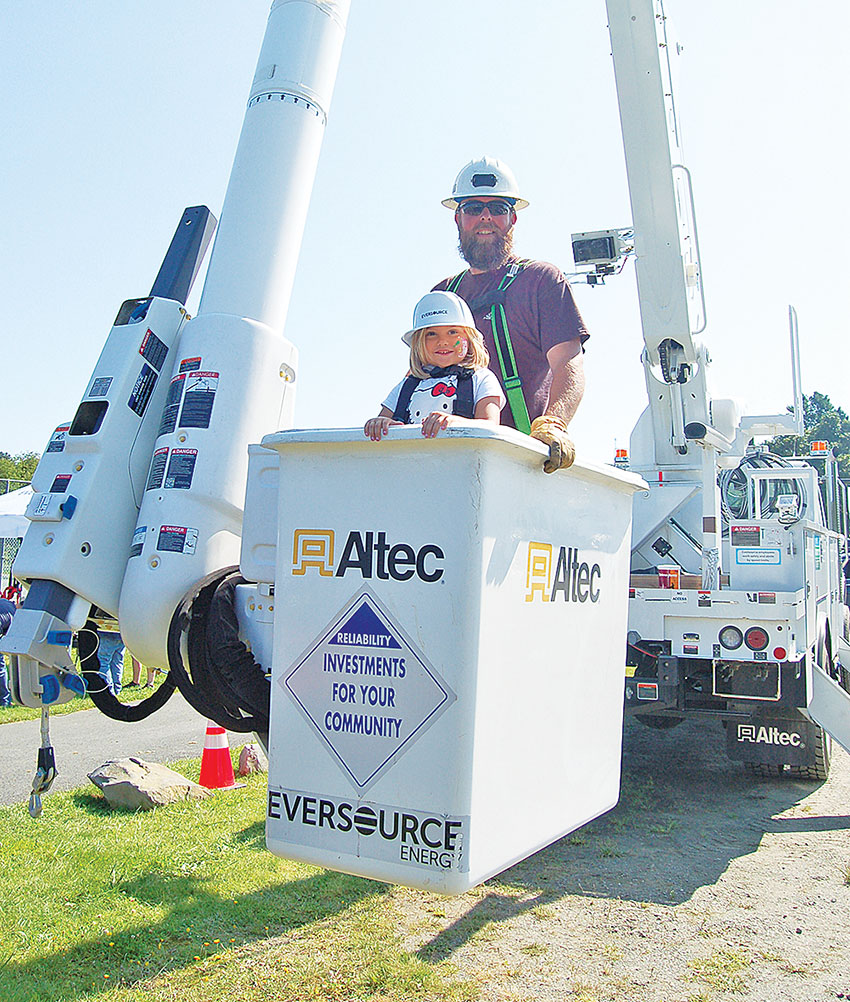 Chief Sandy Young and Assistant Chief Dwayne Covell

---
Former Chiefs Once Again Elected to Lead Pittsburg Fire Department
By Rob Maxwell
The Pittsburg Fire Department received an infusion of stability and leadership experience on January 13 when firefighters nominated and elected Sandy Young as chief, Dwayne Covell as assistant chief and Steve Kiley as deputy chief.
Both Young and Covell have served as chief of the department in the past--Chief Young from 1998-2008 and Mr. Covell from 2008-11. Now Deputy Kiley is returning to his previous position after recently serving as acting chief. The election filled vacancies created by the resignation of Kevin Lassonde and Arnold Gray in late 2015 for reasons that were not made public.
Chief Young and Asst. Chief Covell took some time from a busy Saturday morning, January 30 to stop by the station and explain some of their personal history with the PFD, and provide an overview of what is demanded of an officer in a small-town fire department. They both noted that Mr. Kiley was absent as he was "out plowing snow for the town."
Both men credited the late Chief Lesley Lord's mentorship during their early days as firefighters. "Chief Lord told me to take Level One training," Dwayne recalled, "and he said it, so I did it." Sandy added, "Chief Lord's leadership always included taking care of younger guys and he always advocated for higher standards of training."
Chief Young acknowledged that his office will entail an average of about 20 hours of work per week, and the assistant and deputy chiefs will likely spend about the same amount of time. "It takes as much time and effort to make a small department run right as it does for a big one--maybe more," said Chief Young. "I was at the station from 3:45 in the afternoon until 12:30 in the morning on Thursday doing paperwork and answering the phone for non-emergency calls."
He noted that the station receives daily inquiries about household safety issues, building codes and, "lots of calls in the winter from people down below wanting to know how the snowmobile trails are doing."
Chief Young reported that the department in Pittsburg is not a "top-down" organization. Rather, the officers "take our direction from the department membership and the community," he said. "We value the input we get from all our members and it isn't unusual for us to take advice from a firefighter concerning the purchase of new equipment."
Both gentlemen were effusive in their admiration for the job done by former chiefs Lassonde and Gray. "I don't know precisely why they chose to leave," said Chief Young, "but there is no question they both did an exemplary job including the protection of life and property in our community, upholding the safety of all firefighters, proper maintenance of equipment and gear and their representation of our town in their work with the New Hampshire Firefighters' Association."
Asst. Chief Covell made note of the continued cooperation among North Country departments such as Beecher Falls and Colebrook. "We all work together," he said, "and all it takes is one phone call to get them here to help with training or anything else we might need." He also expressed gratitude to Deputy Kiley for stepping in as acting chief last fall, saying, "He took on a big job at a hard moment and did an admirable job--we cannot thank him enough."
(Issue of February 3, 2016)
---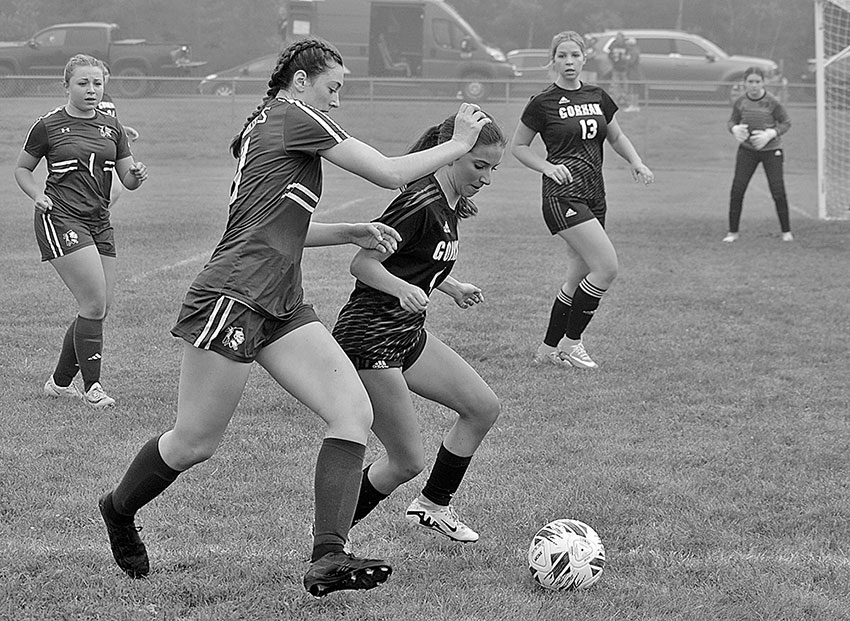 SHOWING THEIR AGE, PLUS A FEW YEARS

Okay, a lot of years. Teachers Wanda Merrill, Bridger DeWitt and Karen Pariseau gave everyone a laugh when they showed up at Pittsburg dressed as centenarians on Friday, January 29 to celebrate the 100th day of school. (Ann Gray photo)
Large Crowd Hears Details, Options on Colebrook's Main St. Utility Work
By Jake Mardin
About 60 people, many of them representing downtown businesses, filled the Colebrook Elementary School cafeteria on Thursday evening to learn details about this summer's planned work on the Main Street rehabilitation project and to offer input.
The idea of renovating Main Street has been around for several years, and for the last three years the town has been working with CMA Engineers of Portsmouth on planning, financing and design. Phase I construction is slated to begin this summer, and will involve replacing the outdated water and sewer lines under the street and on some side streets, while Phase II will involve upgrading the sidewalks and roadways.
Bill Straub of CMA Engineers explained that the water pipes are cast iron and over 100 years old, and that the town has the largest leakage rate of any public water system in the state. The sewer mains are also old and have outlasted their service life.
Funding for Phase I is coming from a grant and loan package from USDA Rural Development. For Phase II funding, Mr. Straub said the town has a "firm commitment" from the N.H. Department of Transportation for all sidewalks and curb lines, and learned last month that the street portion is included in the DOT's 10-year plan. The Phase I design is being finalized and will be reviewed with the town and regulating agencies this week, with bidding packages set to go out in March.
Mr. Straub said the water and sewer portion of the job is targeted for completion in 2016, while work on the side streets would be finished in 2017. Phase II design is expected to start in 2017, with construction taking place in 2018-19. Mr. Straub said the intention is to have everything done in 2018, but it could spill into the next year.
Joe Ducharme of CMA said they are "pretty locked in" on where they think utilities will be going. He noted that items on the project change weekly or daily and they are currently working with DOT on traffic control. He said the DOT wants two-way traffic at all times and said that is the preferable method. He said there will be some rerouting of traffic but most of it will remain on Main Street. Sidewalks may need to be torn up in some parts in order to accommodate two-way traffic.
Mr. Ducharme explained there are two ways the project can be done: block by block, with both water and sewer completed in that section; or by utility, making one pass for water and then coming back through for sewer. He estimated that if work was done on the block from Colby Street to Bridge Street, it would take about four to five weeks. Each segment would have a different time frame based on variables, such as the number or density of connections. With the sewer line replacement, construction typically involves starting at the lowest point and working higher so the grade can be controlled. Because the water mains are under pressure, the locations where construction starts and stops are less critical.
Town manager Becky Merrow advised the group that Greg Marchand of the public works department has been going to buildings on Main Street and side streets to see where connections are, and asked people to set up an appointment if he hasn't stopped by. He has been out during the week and is also planning to work on Saturday, February 13.
Ms. Merrow also said DOT has informed the town that if a building has a flat roof, drainage can no longer go into the sewer system, so some reconfiguration will be necessary.
Donald Knapp of Spring Street asked what could be expected for outages once construction began. Mr. Ducharme said the contract will provide for a temporary water system, and the only disruption should be for about an hour when they make the change to the temporary system. He also noted that communication with the public will not end when construction begins, and said they want to know about any concerns. Updates will be distributed regularly, someone will be on site to observe, and engineers will hold weekly meetings with contractors and staff.
The town is seeking funds to upgrade the service connections, as there are 110 service connections with a total cost of over $100,000, and without grants the landowner would have to pay if they choose to upgrade.
Ms. Merrow said she and the selectmen have conference calls every other Monday at noon with the engineers, and the public is invited to join them. Any comments may also be sent to her attention at b-merrow@myfairpoint.net or by calling 237-4070
(Issue of February 3, 2016)
---
DOE Schedules Local Hearing on Northern Pass

The U.S. Department of Energy has announced the dates of public hearings to receive comments on the Draft Environmental Impact Statement for the proposed Northern Pass transmission line project.
The DOE and cooperating agencies, in conjunction with the N.H. Site Evaluation Committee, will hold public hearings to provide the public with information on the proposal. The hearings also represent an opportunity for the public to provide oral and written comments and to ask questions about the project.
Hearings will be held at Colebrook Elementary School at 5 p.m. on Monday, March 7, and in Concord on March 10. Additional hearings will be conducted by the DOE and cooperating agencies to receive oral and written comments on the Draft EIS, including one at 5 p.m. Friday, March 11 at the Mountain View Grand Resort and Spa in Whitefield.
(Issue of February 3, 2016)
---