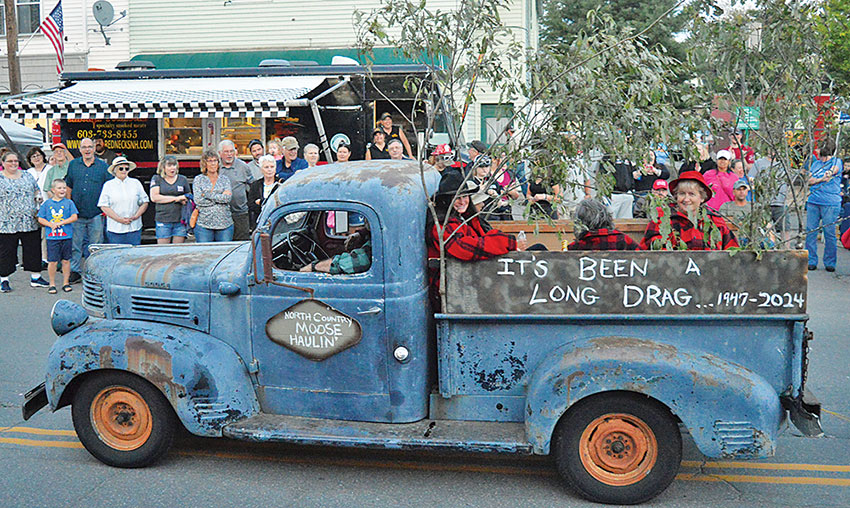 DRIVING IN TANDEM

Jackie Low of Jefferson and Stewart Phillips enjoy driving King along the road in front of Maple Ridge Farm in Pittsburg on Saturday, August 23. The Amey family hosted their annual Day at the Farm exhibits, demonstrations and hands-on experiences as part of the North Country Moose Festival. (Alan Farnsworth photo)
---
Colebrook School Board Approves Automotive Course at the Academy

By Rob Maxwell
The Colebrook school board has approved the use of $60,000 for curriculum development, staffing and equipment for an automotive technology program, slated to begin in the spring semester of 2015 at Colebrook Academy.
The funds include $25,000 from the Tillotson North Country Foundation, $20,000 from the Cogswell Benevolent Trust and $5,000 from the Stannard and Dorothy Dunn Trust, with an additional $10,000 to come from the school district's technology education fund.
The decisions to utilize the funding and begin developing the course of study were made during a brief public hearing held on Tuesday evening, August 19 in the CES library. Attending the hearing were boardmembers Greg Placy, Lisa Whittaker, Eldonna Brooks, John Falconer and Brian LaPerle; SAU 7 superintendent Bob Mills and business administrator Cheryl Covill; CES principal Dan Gorham and C.A. principal Mark Fiorentino; and four members of the public.
Mrs. Covill explained that exploration into the availability of grant money for the program began last year. Mr. Mills noted that his office and former C.A. principal Joanne Melanson, with help from prospective instructor Rick Johnsen of Columbia, initiated the search. Mr. Mills also said the move was prompted by input from the public during school facilities meetings held last winter, and comments madeduring the annual school meeting in March.
At last Tuesday's hearing, Academy technology and vocational teacher Richard March asked if a specific curriculum for the course has been established, who would teach the class and for what purposes the designated funds would be used. "Rick Johnsen will instruct the class," Mrs. Covill responded, "and the money will be used to pay his salary, purchase equipment, books, make necessary renovations to the shop building and pay for field trips."
Mr. Mills added that the curriculum will be developed during the upcoming fall months in preparation for the spring semester. "So what you're saying," said Mr. March, "is that right now, you don't know what will be taught or how. I'd also like to know if Mr. Johnsen is certified to teach and if he will be offered a full-time position." Mr. Mills explained that Mr. Johnsen is currently pursuing certification, and the existing plan includes his employment as a full-time teacher with benefits.
Mr. Fiorentino, who was attending his first school board meeting as principal, said, "I just came on board, but I recommend that you consider making Mr. Johnsen's position part-time to begin with, because my initial observation is that the benefits money of his payment package could be used for other technical education purposes that you really need."
Mr. Mills said part of the board's and SAU's long-range plan includes "opening up this program to students from Pittsburg and Canaan, with the hope that students from those schools can attend our automotive classes while our students can attend technical classes at their schools on an exchange basis without tuitional considerations."
When asked the following day why Mr. Johnsen was not in attendance at the Tuesday hearing, Mr. Mills said, "He did not ask to attend and we didn't feel it necessary for him to be there."
Mr. Fiorentino has spent his career in technical and career education, and in a follow-up interview on Wednesday morning, he made it clear that his philosophy revolves around the belief that using the word "vocational" constitutes "old language, and isn't really useful today. At the high school level, we should be focusing on promoting career- and college-ready education. This means that students who don't plan to go to college should be prepared to offer their employers work-ready skills."
Mr. Fiorentino added that he believes students should receive focused, in-depth, hands-on technical education following the newly established Common Core guidelines.
When reached on Wednesday following the school board's approval of the automotive technology course, Mr. Johnsen explained how he became involved in the process, what equipment will be required and his thoughts on course curriculum development. Mr. Johnsen has been employed as a substitute teacher in the Colebrook school district for some time, including work within the technology department at C.A. During this time he says he encountered a student interest in automotive repair.
Rick is well known around the North Country for his many years as the proprietor of a successful car repair business that specialized in small, foreign models. Rick says he began exploring the possibility of an automotive technology program at C.A. with Principal Joanne Melanson during the 2013-14 school year.
"There is a nationwide shortage of qualified automotive technicians," he explained, "and I believe high school graduates should be equipped to be work-ready in this field." Mr. Johnsen said he worked with Mrs. Covill to obtain funding to cover the expenses of beginning a one-semester course that would not result in a school budget increase.
He noted that the grant funding for the course includes the 2015 spring semester and another semester in the 2015-16 school year. "After that," he said, "the possibility exists that the course could be continued with funding from tax-raised revenue. Now that the board has approved using the grant money, I'm planning to establish an equipment purchasing committee, and I hope school board member and auto-repair businessman Brian LaPerle will take part," Mr. Johnsen said. "The preliminary list of equipment we'll be needing includes a lift, a non-toxic parts washer, tire and wheel balancing gear and a full set of auto mechanic's tools; computer diagnostic gear and other necessary tools and equipment."
With regard to curriculum development, Mr. Johnson said he will model the C.A. program on the automotive technology classes now offered at Littleton High School. "Littleton has a wonderful automotive program, so I plan to spend a lot of time there this fall learning what and how they teach their students."
Rick said he envisions the C.A. class to cover a wide variety of contemporary automotive repair skills, including "worker safety, electronic systems, brake and exhaust repair and replacement, general tune-up work; tire, wheel and suspension repair skills, but at this point there are no plans to incorporate body work in the class." Rick observed that his plans eventually include having his students employ their learned skills on vehicles brought to the school's shop by the public, "where we'll fix their cars and trucks at no expense other than the cost of replacement parts."
"I've been working with kids for a long time, and they are our future," declared Mr. Johnsen. "The plan is to generate some initial interest among the students and grow the program year-by-year."
(Issue of August 27, 2014)
---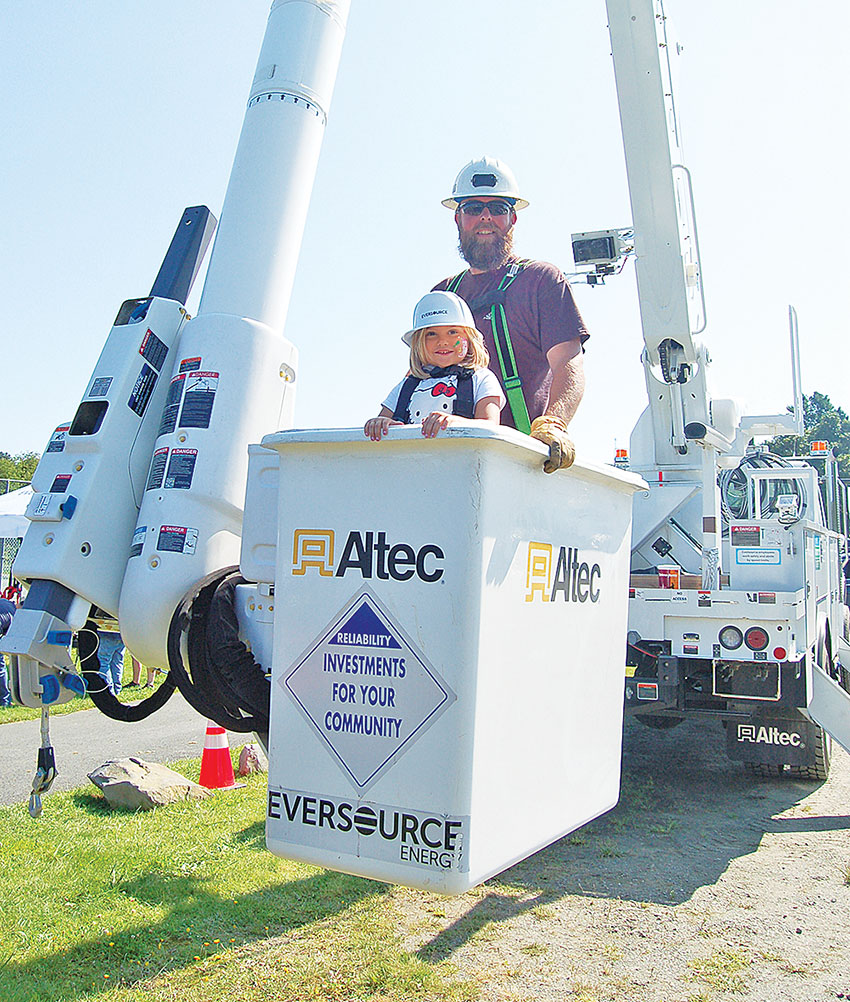 BEHIND BARS

Colebrook police officer Brendan McKeage angrily shakes his fist against the injustice of his temporary incarceration in the Two Rivers Habitat for Humanity's Jail & Bail holding cell, in a fund-raiser held Friday afternoon during the Moose Festival Street Fair in Colebrook. It was all in fun and proceeds will help renovate a home for a family in need, at a reduced rate and with a 30-year, interest-free mortgage. (Rob Maxwell photo)
---
Defendant in Grave Desecration Case Seeks Dismissal of Criminal Charge

By Jake Mardin
One of four individuals indicted in the Eddie Nash grave vandalism case is asking the court to dismiss one of the charges against her.
Melanie Nash, 52, of Beecher Falls, has filed a motion through her attorney, William Albrecht of Albrecht and Weegar, PLLC, seeking dismissal of a misdemeanor abuse of a corpse complaint. In addition to thatcharge, Ms. Nash is charged with felony counts of criminal mischief, interference with a cemetery or burial ground, and conspiracy to commit the crime of interference with a cemetery or burial ground.
Michael Day, 37, and David Grey, 52, both of Colebrook, are charged with the same offenses, while Ginette Dowse, 72, of Clarksville, is charged with conspiracy to commit the crime of interference with a cemetery or burial ground, and as an accomplice to the crimes of criminal mischief, interference with a cemetery and abuse of a corpse.
The complaints allege that at the Colebrook Village Cemetery on May 11, Ms. Nash, Mr. Day and Mr. Grey smashed the concrete vault that housed Edward Nash's casket, removed the casket and pried it open, and disturbed Mr. Nash's remains by searching through the casket and his clothing and removing several items. Ms. Dowse allegedly drove the others to and from the cemetery.
In the motion, Mr. Albrecht states the indictments do not allege that the defendants "concealed or destroyed Mr. Nash's corpse or a part of his corpse." Rather, he writes, they allege only "that the participants 'removed' the casket in which Mr. Nash was buried from the ground by destroying the encasement around the casket, broke into the casket and removed certain contents of same, including the decedent's clothing. However, the state does not allege that the decedent's corpse was ever removed from the casket or that the casket was removed from the property."
The state objected to the motion on August 18, with Coös County Attorney John McCormick stating that the indictment alleges Ms. Nash, "along with accomplices and co-conspirators, in fact unlawfully removed Edward Nash's remains from the grave where they lay, removing them from the grave and bringing them to the surface."
No decision has been made by a judge on the matter and no hearing has been scheduled. Ms. Nash pled innocent to the charges on August 7 and is free on $7,500 cash bail.
Mr. Day and Mr. Grey have also pled innocent to their charges. Mr. Day is free on $2,500 cash bail and Mr. Grey is being held at the Coös County House of Corrections in lieu of $10,000 cash bail. Ms. Dowsepled innocent to the charges against her and is free on $5,000 personal recognizance and $1,000 cash bail.
Dispositional conferences are scheduled for September 18 and final pretrial hearings are slated for January. The target trial date is the week of April 14.
(Issue of August 27, 2014)
---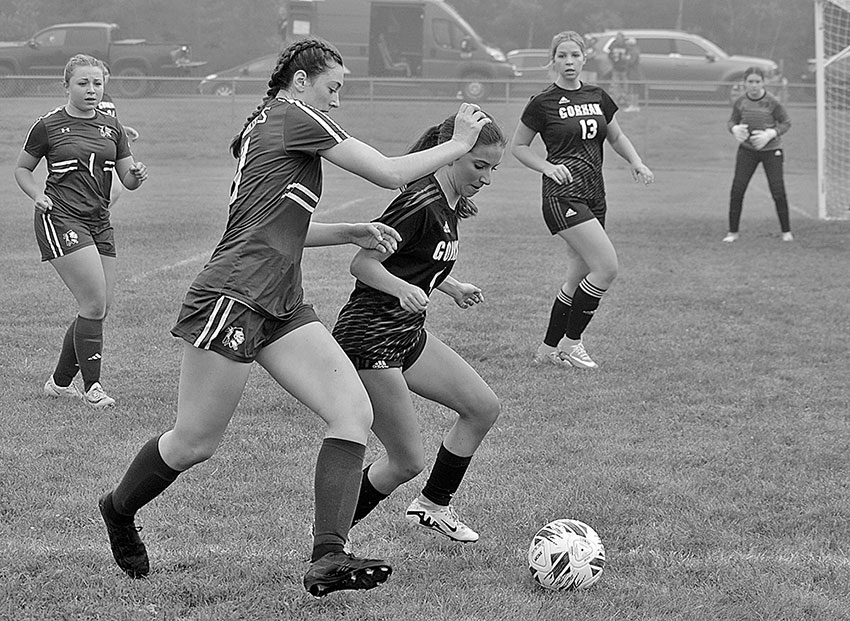 DEVOST UP TO BAT

Canaan Petrol's Gerry Devost takes a swing during the semifinals of the Canaan Men's Softball League playoffs last Wednesday. Devost was recognized the following night for his 50 years in the league. (Jake Mardin photo)
---
Grand Jury Indicts Smith for Thefts

By Jake Mardin
A grand jury has indicted the former treasurer of Colebrook Fire Department and Colebrook Booster Club on charges relating to unauthorized withdrawals from the bank accounts of both organizations.
Doreen Smith, 51, formerly of Cole-brook, is charged with two felony counts of theft by unauthorized taking and four misdemeanor counts of tampering with public records or information. The indictments allege that Ms. Smith made unauthorized withdrawals from the accounts of the fire department and booster club in excess of $1,500 between January, 2010 and June, 2014; and that on or around January 1 from 2011-14, she presented the fire department's financial records, knowing that they were false.
An affidavit by Colebrook police chief Steve Cass relates a May 20 report from Booster Club members Nancy Call and Gilman Ladd Jr. stating that Ms. Smith had taken a large amount of cash out of the club's account, and during January and February wrote 12 checks to herself totaling $2,304.64. Ms. Call stated that there was no reason for Ms. Smith to write checks because there were no corresponding bills or invoices, nor any documentation that she had permission to remove funds.
Based on a letter and bank records received June 2 from Colebrook fire wardens David Woodard and Earl Bunnell, police allege that over five years, Ms. Smith wrote 109 unauthorized checks to herself totaling $28,869.42, writing checks to herself or to cash and drawn from the First Colebrook Bank—where she was an employee—that did not have the fire department's account information on them.
Ms. Smith is scheduled for arraignment at Coös County Superior Court in Lancaster on September 8.
(Issue of August 27, 2014)
---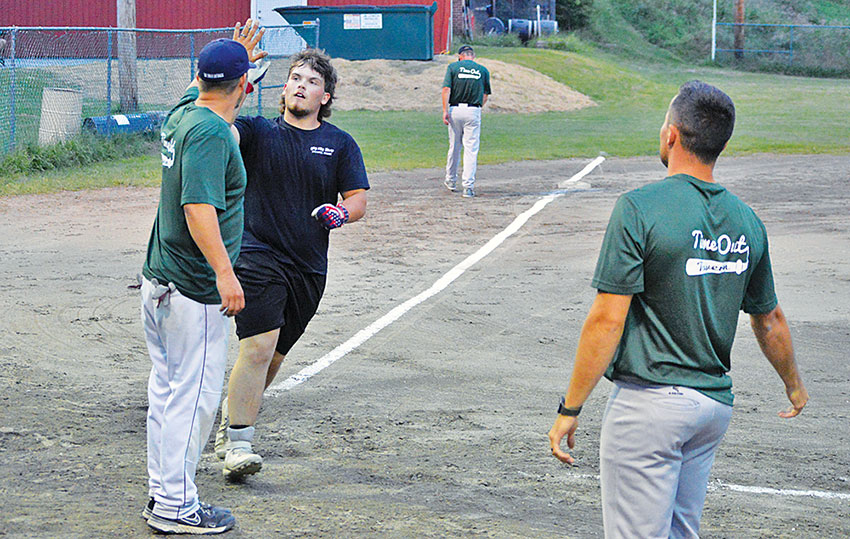 ??FIRST DAY IN FIRST GRADE

Tuesday, August 26 was the first day of school in Stratford, where teacher Sarah Gray welcomed first-graders Aubree Lamothe (left) and Patience King. (Rob Maxwell photo)
---
Sanborn's Motion to Set Aside Guilty Verdict in BlackMag Case Is Denied

BY Jake Mardin
A judge has denied Craig Sanborn's motion to set aside the verdict in the BlackMag explosion case.
Mr. Sanborn, 68, formerly of Maid-stone, was sentenced in November to 10-20 years in N.H. State Prison on two counts of manslaughter. He was also convicted of two counts of negligent homicide stemming from the May, 2010 explosion at his gunpowder manufacturing business in Colebrook that killed employees Donald Kendall and Jesse Kennett and seriously injured David Oldham.
Through his attorney Mark Sisti, Mr. Sanborn, filed a motion on June 3, seeking to set aside the verdict. "Since his trial ended…Mr. Sanborn has received documentary evidence that an important material witness for the state made material misrepresentations during his testimony that reasonably call into question that witness' truthfulness," Mr. Sisti wrote in his motion.
The witness in question is Giovanni Brus, the president of Magkor, which held the patent to the Black Mag powder. Mr. Sisti argues that Mr. Brus provided a profile indicating he attended Michigan State University between 1965 and 1968. Mr. Sisti said a registered letter from the registrar at Michigan State University indicated that the school had no record of Mr. Brus attending.
Mr. Sisti also said that in his profile and testimony, Mr. Brus stated he was an Army paratrooper with the 82nd Airborne Division from 1968-73. Mr. Sisti states that according to National Personnel Records Center records, Mr. Brus was in the National Guard during those years. "The documents from Michigan State and the U.S. Government prove beyond question that Mr. Brus lied about his background," Mr. Sisti wrote. "The documented untruths must now cast new light on the rest of [his] testimony."
Mr. Sisti said Mr. Brus "was evasive about the fact that the gunpowder that Mr. Sanborn was manufacturing for Mr. Brus' company had been involved in at least three different accidents…[or] why the machinery being used in Colebrook had been returned by the General Dynamics plant…or even whether Mr. Sanborn had ever been told that the process he was using was safe."
Mr. Sisti said Mr. Brus' "misrepresentations of his background should cast grave doubt on his evasiveness regarding the extent to which Mr. Sanborn was advised of the volatile nature of the material he was manufacturing, and thus on the degree of his negligence."
In his response to the motion, Coös County attorney John McCormick noted that the state called 33 witnesses and introduced over 100 exhibits, and introduced diagrams and other documents explaining how the facility should be set up. He also argued that Mr. Brus' testimony was "scrutinized thoroughly" at trial, and Mr. Sisti's closing remarks highlighted "perceived discrepancies" concerning Mr. Brus' collegiate and military history. "The 'newly discovered' evidence is not material to the merits of the case," Mr. McCormick said.
The county attorney also said other witnesses corroborated Mr. Brus' testimony concerning the safe set-up and manufacture of the gunpowder, and there is no reasonable probability of a different verdict had the defense obtained the new evidence before trial. He also noted that Mr. Sanborn had documents in his possession following the explosion that outlined the proper manufacturing process.
Judge Peter Bornstein ruled on the motion on August 7 and determined that the defense failed to satisfy all three points of the new trial test. "The court finds that the defendant was at fault for failing to discover the evidence at the former trial," Judge Bornstein wrote, adding that the defense received a copy of Mr. Brus' executive profile in 2012 and could have obtained the letters from MSU and the military prior to trial.
Judge Bornstein also determined that the defense "failed to establish the materiality and non-cumulative elements of the second prong of the new trial test," and that the defense "has not shown that the evidence on which he relies is of such a character that a different result will probably be reached upon another trial."
Mr. Sanborn has appealed his conviction to the N.H. Supreme Court, which has not scheduled any proceedings in the case. According to court personnel, Mr. Sanborn has 30 days after the date of Judge Bornstein's ruling in which to appeal his decision.
(Issue of August 27, 2014)