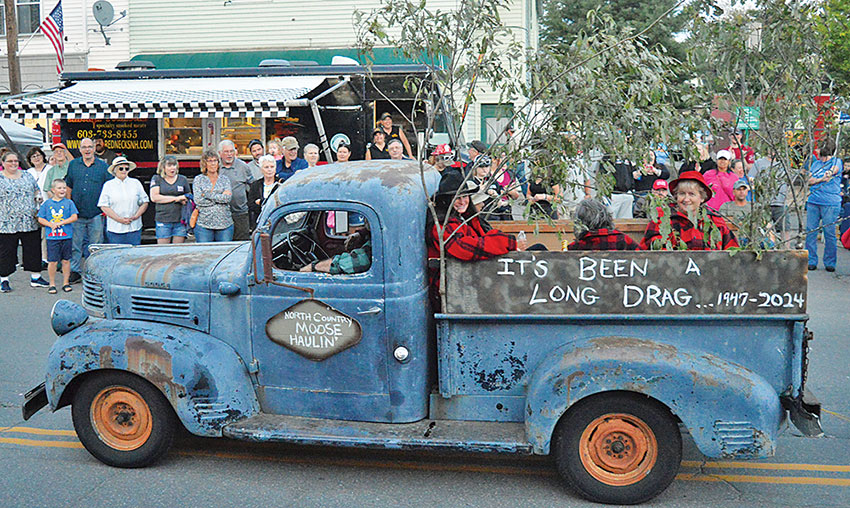 A MIGHTY BLOW

Lumberjack Richard Jordan of Canterbury, Conn., makes solid contact as he tops a pole during the Lumberjack Contest held as part of the Errol Heritage Day festivities on Saturday, September 27. (Rob Maxwell photo)
---
Input on Wind Farm Road Widening Plan to Be Accepted until October 23

By Jake Mardin
Following a site visit to the Granite Reliable Power wind farm in Millsfield and Dixville last month, the N.H. Site Evaluation Committee has issued a procedural order and has received testimony from interveners and other parties concerning a proposed widening of roads.
Granite Reliable Power filed a motion with the SEC in March, seeking to amend its state-issued Certificate of Site and Facility by removing a 12-foot limitation on access road widths. "Granite agreed to re-vegetation requirements and to limit certain access road widths, but the project has proven to require maintenance by vehicles unable to navigate roads of the specified width," GRP stated in the filing.
Last August, a turbine experienced a bearing failure and crane components had to be transported to the tower site. "After further engineering and operational evaluation, it is now apparent that the Mt. Kelsey turbines will require periodic maintenance, and that this maintenance necessitates a roadbed wider than 12 feet," GRP stated in the motion, adding that if the roads remain 12 feet wide, then the company will have to re-vegetate the area after each job.
GRP worked with the Appalachian Mountain Club and N.H. Fish and Game on the issue, and is seeking to expand the road to 16 feet wide while planting vegetation in alternate areas to remain in compliance with the site's High Elevation Restoration Plan.
John Cyr, operations and maintenance supervisor for the wind park, said in pre-filing testimony that the proposed plan is to widen the Mt. Kelsey road to 16 feet with widths of 18 to 26 feet at six corners, while moving the crane to a turbine may also require a temporary expansion of the roadway to 34 feet. He also said cranes would be necessary for any issues involving turbine blades, which weigh seven tons, and 26-ton gearboxes. Mr. Cyr said the restoration plan was developed with assistance from Cianbro Corporation, which has performed maintenance at the site.
In his pre-filing testimony, Appalachian Mountain Club research director Kenneth Kimball said that "ideally, the AMC would prefer that the roads remain at 12-foot width with the least amount of forest cut back," but said that based on discussions with Fish and Game and others, widening the roads "may be preferable to repeatedly disturbing roadside vegetation and reseeding with erosion control grass to form linear prey rodent habitat corridors, which in return could attract additional predators into this once intact old growth sub-alpine forest ecosystem on Mt. Kelsey."
Tyler Phillips Jr., senior project manager at Horizons Engineering, also testified on the behalf of GRP. "After several years, it is clear that the vegetation planted along the roadbeds is very unlikely to reach maturity if periodically disrupted by maintenance vehicles," he stated. "Further-more, if maintenance requires erecting large cranes and walking them to turbines, this will further hamper efforts to restore the project's high elevation forests. The best way to keep the project in good working order and to foster meaningful growth of re-planted vegetation is to permanently widen the roads and to re-vegetate in other areas of need within the high elevation restoration area."
Industrial Wind Action Group executive director Lisa Linowes also submitted pre-filed testimony and questioned the frequency of needed repairs. "The likelihood of a turbine on Kelsey experiencing a failure and for that failure to require a large vehicle for repairs appears very small," she stated. "Additionally, the chances of the failed turbine being located at the farthest point on the turbine string along Mt. Kelsey is limited." She also noted that in his testimony, Mr. Cyr said it is unlikely that every turbine will need service at some point by a large crane. "Yet the proposed plan calls for an extensive length of road on Mt. K
elsey to be left devoid of trees," she said, adding that up to 50 percent of the road would not have seedlings when including the corners that are proposed for widening. "It is difficult to believe that a company with such extensive experience could fail to understand the impact on operations if required to re-vegetate the roads on Mt. Kelsey to 12 feet wide," she said. "The issue of road width and access would have been paramount from the outset since turbine manufacturers impose specific requirements for access."
University of Vermont biology professor Dr. Charles William Kilpatrick submitted testimony after he was retained by Peter Roth, Counsel for the Public for the N.H. Attorney General's office, to perform an independent study. In his report, Dr. Kilpatrick concluded that "the adverse impacts of this wind park on the populations of American marten and Bicknell's thrush on Mt. Kelsey were unreasonable. The mitigation agreement does nothing to address most of the factors that have adversely impacted the populations of these two threatened species."
He also expressed doubt that any restoration plan, whether involving 12- or 16-foot roads, would have a "substantial effect on the rate of reforestation of the disturbed areas." Some of his suggestions included funding studies on developing a restoration plan to increase the number of new trees planted, and post-construction impacts on the American marten and Bicknell's thrush.
A site visit for the involved parties was conducted on August 29, and last Tuesday, SEC chairman Thomas Burack set a new procedural schedule. A technical session will be held on October 9 at the SEC offices. All supplemental testimony must be received by October 23 and an adjudicative hearing will take place sometime in November.
More information may be found on-line at www.nhsec.nh.gov.
(Issue of October 1, 2014)
---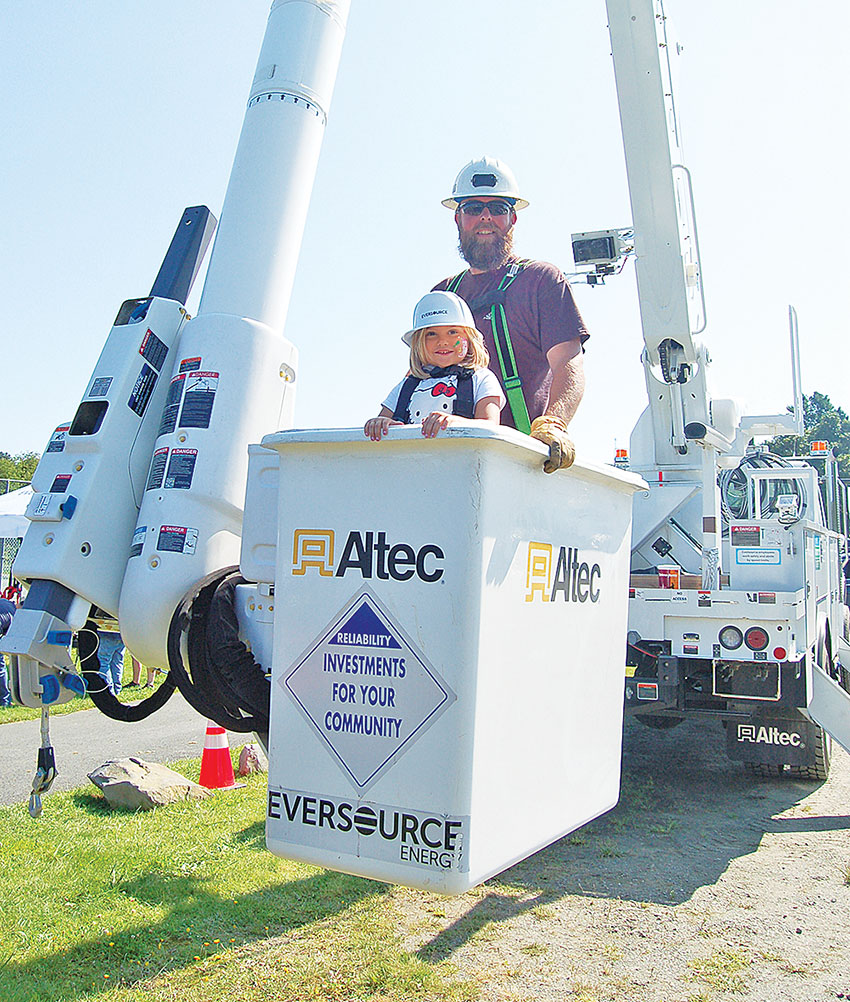 CAPTURING THE COLORS
Peggy Deyette of Stratford was out at Little Diamond Pond this past weekend, painting a scene of the beautiful, bright fall foliage and its reflection in the water. (Courtesy photo)
---
Pittsburg ATV Trails Close Today, Colebrook's Open until the 15th


The Bureau of Trails reminds riders that the OHRV trails in Pittsburg are closed for the season as of today, October 1. The closure includes the connection across the Connecticut Headwater Working Forest on Halls Stream Road and Deadwater Loop.
The Canaan Border Riders' trails are likewise closed as of today, and the Metallak ATV Club's trails in the Colebrook area will close Wednesday, October 15. The Kelsey Notch Trail is temporarily closed from October 6-10, according to the club's Web site, from the wind tower junction to the junction with the Diamond Peaks Trail, but will reopen for the Columbus Day weekend.
The North Country ATV Club trails and the Millsfield ATV Club trails are open all year, except for the end of March to mid-May during mud season.
(Issue of October 1, 2014)
---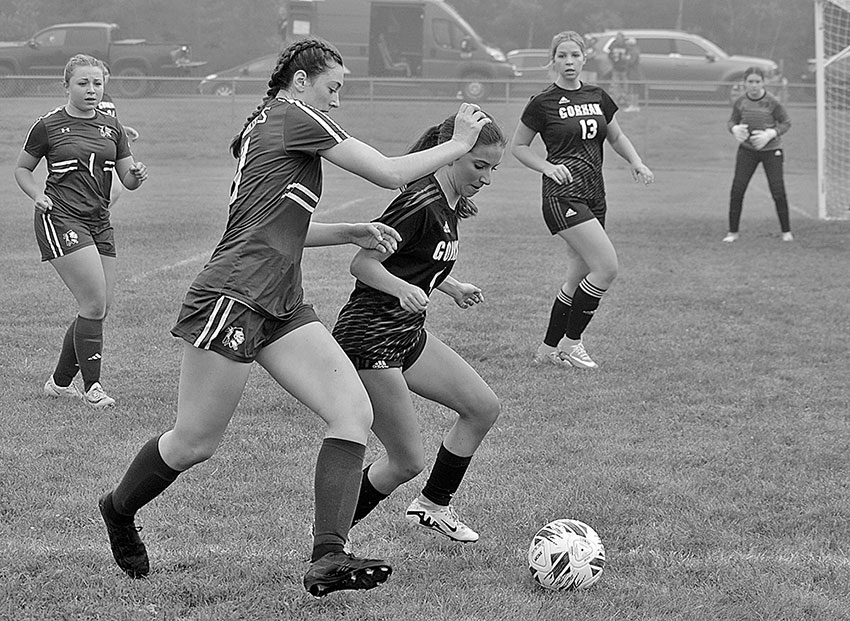 A GENEROUS GIFT

A field of 57 individual runners and 26 relay first-leggers start off on the 13.1-mile course in Saturday's 36th annual Dixville Half-Marathon event, which took place on a warm, sunny day and with foliage at peak. For their third year since the Balsams Hotel closed, the races started at Coleman State Park and ended at the North Country Community Recreation Center in Colebrook. (Karen Ladd photo)
---
Easements Protect Wetlands, Fields & Forests at Ameys' Maple Ridge Farm

Citing "the good of wildlife, working forests, productive farmland, and public access for fishing, hunting and other low-impact recreation" in a press release issued last week, the Society for the Protection of New Hampshire Forests announced that it has purchased conservation easements on two parcels of land belonging to Roy and Laurel Amey in Pittsburg's Indian Stream Valley.
One easement covers 262 acres on the Amey family's Maple Ridge Farm, well known locally for its "A Day at the Farm" events during the North Country's annual Moose Festival. The farm straddles Tabor Road and includes two thirds of a mile along Indian Stream, an important native eastern brook trout fishery that is a focus area for habitat protection and restoration efforts led by Trout Unlimited, one of many partners in the easement purchases. The farm also features managed woodlands punctuated by vernal pools, and lush hayfields where endangered northern harriers (marsh hawks) are known to hunt.
The other easement covers seven acres of hay land and wetlands, and runs about 2,000 feet along both Indian Stream and the Connecticut River to their junction just south of Route 3. Both easements guarantee public pedestrian access and permanent protection from development while retaining the Ameys' ownership of the land.
"This project was exceptional in the way it brought so many conservation partners together with far-sighted landowners to protect this special place where Indian Stream flows into the Connecticut River," said Forest Society president and forester Jane Difley. "The Connecticut River watershed has long been an important focus area for conservation, and these pieces are spectacular additions to the network of conserved lands in this region."
Funding to purchase the easements came from the Land and Community Heritage Investment Program, the Open Space Institute's Transborder Fund, the Russell Farm and Forest Conservation Foundation, the Hunt Foundation, three local chapters and the statewide New Hampshire Council of Trout Unlimited, and private contributors.
The conservation of this land adds to the mosaic of protected lands in the area, including the 171,000-acre Connecticut Lakes Headwaters tract conserved by a statewide coalition in 2003, which protects Indian Stream north of the Amey land. Other nearby blocks have been added since then, including the Forest Society's Washburn Family Forest, directly across the Connecticut from the Amey easements.
Roy Amey's brother John Amey has also conserved the farm and forestland his family owns south of Maple Ridge Farm. The conservation of land across the border in Canada, including the 13,000-acre Mount Hereford Forest, further strengthens this region's ecological importance, according to the press release.
"Maple Ridge Farm is a key piece within the larger connected landscape," said Jennifer Melville, vice president of grants and loans with the Open Space Institute. The institute's Transborder Fund supports projects that help to create protected corridors across international boundaries that will enable wildlife to move across the landscape, adapt and survive as the climate changes. "Wildlife species don't care about boundaries. Preliminary science and mapping supports conserving this area for species such as lynx, bobcat, American marten, showshoe hare, bear and moose, in the face of climate change," Ms. Melville said.
?The Forest Society notes that the success of this project hinged on the commitment of landowners Roy and Laurel Amey to work toward a successful conservation outcome. Both Roy and Laurel grew up in the Indan Stream Valley and have deep farming roots there going back three generations. Their motivation for conserving the land, though, has more to do with looking ahead than looking back, the release states. They are the parents of four children and the grandparents of six, and they enjoy opening their farm to kids in the community to share with them a connection to and love for the land. "I decided a long time ago I was just a steward of this land and I wanted to take the best care of the land and buildings I could for the next generation," Roy said.
Taking the best care includes the conservation easements, which will ensure that the land stays intact and undeveloped forever, and will continue to provide access for fishing, hunting, walking and other low-impact recreation to the community. "As you get older you see what's been destroyed, developed, changed," Mr. Amey said. "I want this place to stay beautiful."
Founded in 1901, the Society for the Protection of New Hampshire Forests is the state's oldest and largest non-profit land conservation organization. Supported by 10,000 families and businesses, the Forest Society's mission is to perpetuate the state's forests by promoting land conservation and sustainable forestry. The organization owns 53,000 conserved acres of land in New Hampshire and holds conservation easements on another 130,000 acres.
(Issue of October 1, 2014)
---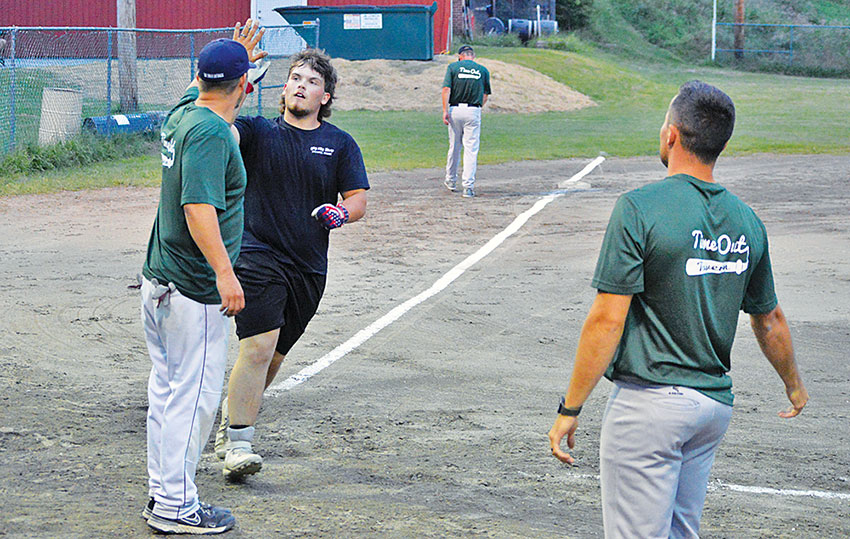 FILMING FOR PUBLIC TELEVISION

New Hampshire Public Television's "Windows to the Wild" program was at Bear Rock Adventures in Colebrook on Tuesday to film a segment about the Ride the Wilds interconnecting trails. Host Willem Lange is seen here talking with North Country OHRV president Harry Brown and his sidekick, Leroy Brown; at left are cameraman Steve Giordani and producer Phil Vaughn. Following the interview, the camera crew and a large group went out for an ATV ride, where the crew interviewed riders and captured some footage. One of the topics was how Ride the Wilds provides a chance to explore the backwoods, especially for those who may not otherwise get that experience. Mr. Lange did not yet have an air date for the show, but updated schedules are posted at www.nhptv.org; the link to "Windows to the Wild" is at the bottom of the page. (Jake Mardin photo)
---
New Vendors Join Familiar Favorites at Colebrook Harvest Fair Saturday


The ever-evolving Colebrook Harvest Fair welcomes new vendors, products, foods and crafts—along with familiar favorites—to this year's event, taking place from 9 a.m. to 2 p.m. on Saturday, October 4 at the Colebrook school gym.
This annual autumn festival hosted by the Colebrook Downtown Development Association offers locally made crafts and produce, live music by Carolyn's Friends and the Fireside Fiddlers, samples of local cooks' creations in the chili and chowder challenge, and concessions of desserts, wraps, chips and drinks.
Shoppers will find fresh farm produce, organic, dairy and maple products; delicious baked goods; needlework and wool items; furniture and other fine woodcrafts; handmade baskets, bags, jewelry and other accessories; screen printing, matted prints and photography; seasonal decorations, wreaths and gift items; music and books for children and adults; polar fleece clothing; jams, jellies, relish and mustards. Commercial vendors include Scentsy, Tupperware and Discovery Toys.
Indian Stream Health Center will offer flu shots, and several agencies will be on hand to provide information: Upper Connecticut and Androscoggin Valley hospitals on specialty services; the Division of Children, Youth and Families on foster care; and Northern Human Services on its Referral, Education, Assistance and Prevention programs; and Relay for Life on fund-raising for cancer research.
The day will also include a 50/50 and quilt raffles, and a chance to win a basket full of donations from participating vendors. Those who enter the hand-carved pumpkin contest by 10 a.m. will get a chance at a cash prize. Visitors should also check out the downtown shops competing for best-decorated window displays.
All proceeds from the Harvest Fair benefit the CDDA, which works to promote local shopping and the vitality of Colebrook's downtown area. The CDDA is on-line at www.colebrookmain-street.com.
(Issue of October 1, 2014)
---