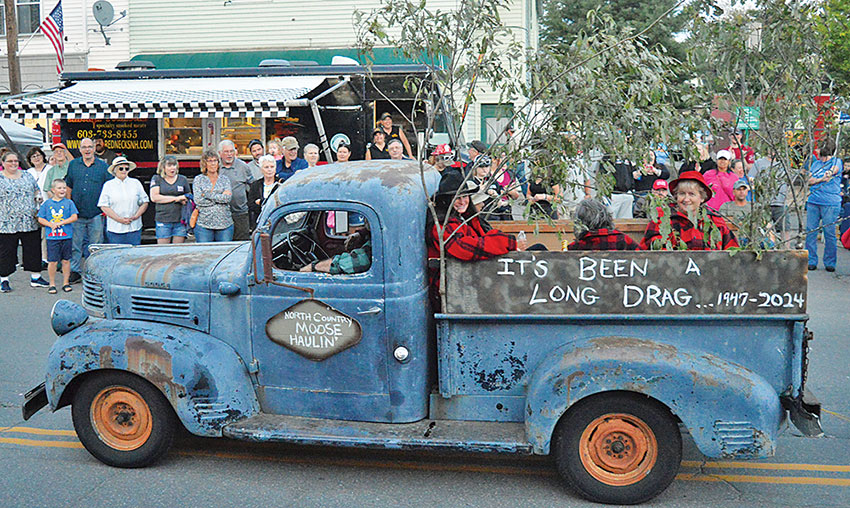 HIS GREATEST ADVOCATE

Priscilla Dustin received the Mentor Pin from grandson Dakota Fogg in recognition of all her support during his Eagle Scout Court of Honor on Saturday, August 22 at the Monadnock Congregational Church. (Alan Farnsworth photo)
---
Balsams Developers Continue Work with County Planning Board on Subdistrict

By Jake Mardin
The Coös County planning board and members of Dixville Capital, LLC spent over three hours discussing a Planned Development Subdistrict Concept Plan during an application review held at the Tillotson Center last Tuesday. The planning board went through the application and pointed out areas where more information is needed.
Two pre-application hearings regarding the application have been held. Once the board accepts the complete application it will declare regional impact, and the public will have the opportunity to comment and attend a public hearing.
David Norden of Dixville Capital said the desired outcome is the creation and adoption of a new zone with land use and site plan review standards, by which all future development would be judged. Developers are also seeking a clearly identified vesting period, and Mr. Norden said they hope to file a final development plan for the Hampshire and Dix houses soon, along with a site plan review application for the ski area.
Mr. Norden presented some PowerPoint slides summarizing the approval process. The concept plan chart for the subdistrict begins with stage 1 plans for the Hampshire and Dix houses and the stage 2 ski area. He said Stages 3 and 4 will be determined based on visitation and market response. Each stage will go through the site plan review process with the county planning board.
Another slide explained the subdistrict approval process. Once the planning board recommends the plan to the commissioners, it will go to the delegation for approval. If the delegation approves the zoning change, the planning board will issue a concept plan permit.
Developer Burton Mills explained the developer's intent to the board.
"We saw an opportunity to make a proposal that was very bold to bring that resort back on-line and take a shot at economic viability," he said. One important component of the project, he said, is "proof of concept," the notion that gives investors a certain degree of confidence that the project will be built. He said the vesting component is critical to getting funding for the project, which requires collaboration and cooperation.
Chairman John Scarinza said that the planning board has an important role that involves working within its guidelines and thinking outside the box where appropriate. He said part of the review process has been to hire Tara Bamford of North Country Council, a planning director with 30 years of experience, and attorney Bernie Waugh, who has over 30 years of experience in municipal and planning law, to assist the board and provide feedback to the developer. When the concept plan arrived at the county offices, it went to Ms. Bamford to review it for completeness while Attorney Waugh reviewed the legality of the concepts that are proposed.
The board moved on to the 12 different application requirements. The first was a description of the property boundaries proposed for the development district, including a statement of present and proposed ownership. Board member Mike Waddell said he was concerned about ownership patterns, saying that the application makes reference of the right to sell any or all of the property to other parties. He said the board must plan for success and failure, and asked what would happen if the project failed with half of the work done. Attorney Waugh said he didn't see it as a situation where the applicant had to provide information they didn't know about yet, and felt that Mr. Waddell's concerns were too specific.
Mr. Brisson said development will include single-family homes, multi-family units, condos and hotels. He said the plan is for the owners or condo associations to maintain the roads. In regards to utilities, he asked the board to rely on developers to supply them with the state permits.
One of the requirements of the application is a preliminary development schedule and construction program that indicates when the project and stages will begin and end. The schedule also must specify what percentage of the total project is represented by each stage, and what buildings, floor and land areas are present in each stage.
Ms. Bamford's comments noted that only a general description of the first steps was indicated. Mr. Brisson said the developers didn't want to provide misleading information and asked if the board needed more detailed information. Mr. Scarinza said the information for the development around Lake Gloriette and the Hampshire and Dix Houses was well defined, but asked developers if they could provide what was realistic in the next three to five years.
"I think we're getting into a lot more detail than we need to approve a concept plan," said board member Leon Rideout. Board member Fred King said the developers have a long-range plan for the property, and it's "crazy" to expect the developers to explain what they will do ten years from now. Mr. Norden said if Phase I is approved and built, the developers will come to the board with Phase II.
"We're not asking for carte blanche approval on every phase," he said, noting that Phase I is a $145 million project, and often phases cover much smaller amounts. "By most standards, this is a build-out at most resorts," he said.
Another application requirement are "general statements to satisfy the board that the project is realistic and can be financed and completed." Mr. Norden said zoning regulations must be approved before developers can secure capital for the project.
During discussions about a preliminary statement of the environmental impact of the project, developers said a number of environmental analyses are being done, and Mr. Norden referenced an exhibit showing the state and federal agencies involved.
Members of the board asked if they could have more information on traffic counts. Colebrook town manager Becky Merrow said traffic counts are under consideration as part of the town's Main Street project and North Country Council could provide information. Mr. Brisson said detailed traffic studies have not been done, but it is anticipated that there will be less traffic than what there was when the resort and factory were in operation.
At the tail end of the meeting, the board voted to authorize telephone conversations between Attorney Waugh and the developers, and to allow Ms. Bamford to work with the applicants on the board's behalf. The board voted to continue the meeting until September 2, to be held at 6 p.m. at the Tillotson Center in Colebrook.
(Issue of August 26, 2015)
---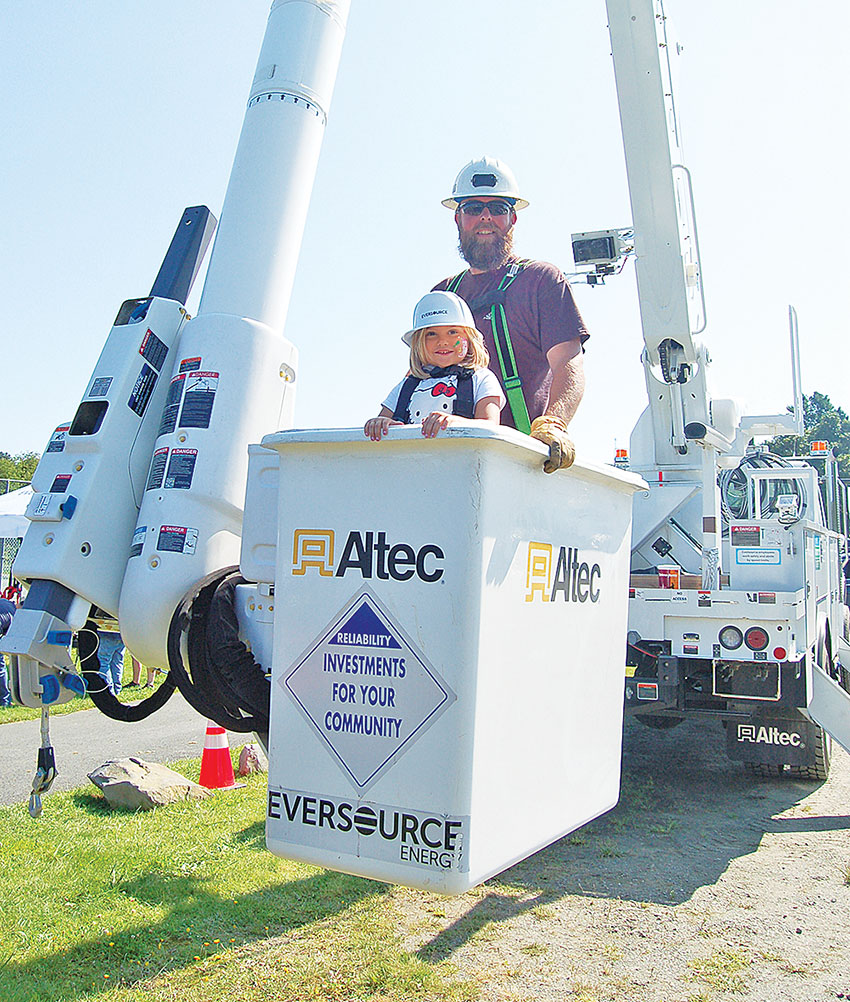 SOCCER SEASON IS HEREG

Colebrook's Michaela Fournier looks for an opportunity up the field against Groveton's Brooke Routhier during the Groveton's soccer jamboree on Saturday. Groveton will open the season at home against Canaan-Pittsburg on Friday, while Colebrook's first game is next Friday at Littleton. (Jake Mardin photo)
---
Author Richard Carey's Book on 1997 Shootings to Be Released on Sept. 1

By Jake Mardin
A book about the shootings that occurred in Colebrook in 1997, and the region's response to the tragedy, is due to be released on September 1.
In the Evil Day: Violence Comes to One Small Town by Richard Adams Carey looks at the August 19 incident in which Carl Drega shot and killed Vickie Bunnell, Dennis Joos and Troopers Scott Phillips and Les Lord in Colebrook, and injured other law enforcement personnel before he was killed in a shootout in Brunswick. The book examines the events leading up to the shooting, and describes the lives of the victims and their co-workers, families and neighbors who were affected.
Mr. Carey lives in Sandwich and has written several fiction and non-fiction books, and he has spent considerable time on this project. "I first thought of writing this book in the wake of the mass shootings at Columbine in 1999," Mr. Carey said. "Suddenly, the sort of event that had shocked the world in 1997 seemed to be on its way to becoming all too commonplace--the signature crime of our time, in fact. And like most people, I felt it was a shame that all the perpetrators of these crimes received so much attention, while the victims remained mostly anonymous. More than Columbine, Virginia Tech or any of the many subsequent shootings, this incident provided an opportunity to redress that balance."
Mr. Carey began working on the book in 2002, and over the past 13 years has conducted around 300 interviews and read 3,000 pages of police reports, along with newspaper and magazine accounts and North Country history books.
He said Vickie's late parents, Earl and Irene Bunnell, were an invaluable resource and agreed to help after getting to know him. "Their only condition was that the book not focus on Vickie," he said, relating their observation that other people died that day "who were just as fine as she was." John Harrigan became involved in the project after the Bunnells did. "He told me once that he knew sooner or later someone would write a book about this, and he wanted it to be someone he could trust," Mr. Carey said. "I hope I've rewarded that trust."
With their assistance, Mr. Carey made contact with others who were involved, and witnesses to the tragedy. With the exception of an occasional trip to Fish and Game or N.H. State Police headquarters, Mr. Carey traveled to and from the Colebrook area, and the Bunnells took him in as a houseguest during his visits. "They became like a second family to me," he said, "and I miss them terribly."
The book's focus is understandably a tough subject for many people, Mr. Carey acknowledged and sympathized with. "I learned that people in the North Country--including those in law enforcement--are still grieving over this incident, and that people do so in different ways and at their own speed," he said. "Some people were still too stricken to agree to an interview, and some of those disapproved of the whole project. Many who did speak with me seemed to welcome the opportunity, even if sometimes it meant more tears. The interviews were often cathartic, and always painful."
The book goes into great detail in describing the lives of all involved, including their stories and what they were doing in the hours leading up to the shooting. "I never met any of the four victims, but through the memories of friends and loved ones, I came to love them all myself," he said. "Three died more or less by chance, but Drega could not have chosen four individuals who, each in their own way, was more productive, respected and admired. These were good people, in every sense of the phrase, and brave."
Mr. Carey said public readings he has done across the state over the past ten years have all gone well. One of the few people who has read a completed manuscript is Mel Allen, editor of Yankee magazine. Mr. Allen stated in December that the book "is so good, and heartbreaking, and so well told."
"Perhaps the most astonishing thing I learned in combing through the fine details of this incident was all the courage that was on display throughout, from law enforcement, bystanders, potential victims, colleagues and loved ones," Mr. Carey said. "From the very first shot, Colebrook was never a passive victim of gun violence. Instead, and almost unfailingly, people stood up and offered each other help, protection, support, and love. In the end it becomes, at least to me, a story even more inspiring and reassuring than it is sad."
Mr. Carey will be a guest of the Colebrook Area Historical Society, presenting at 7 p.m. Wednesday, September 9 at the Tillotson Center. In the Evil Day is published by the University Press of New England, and details may be found at www.upne.com.
(Issue of August 26, 2015)
---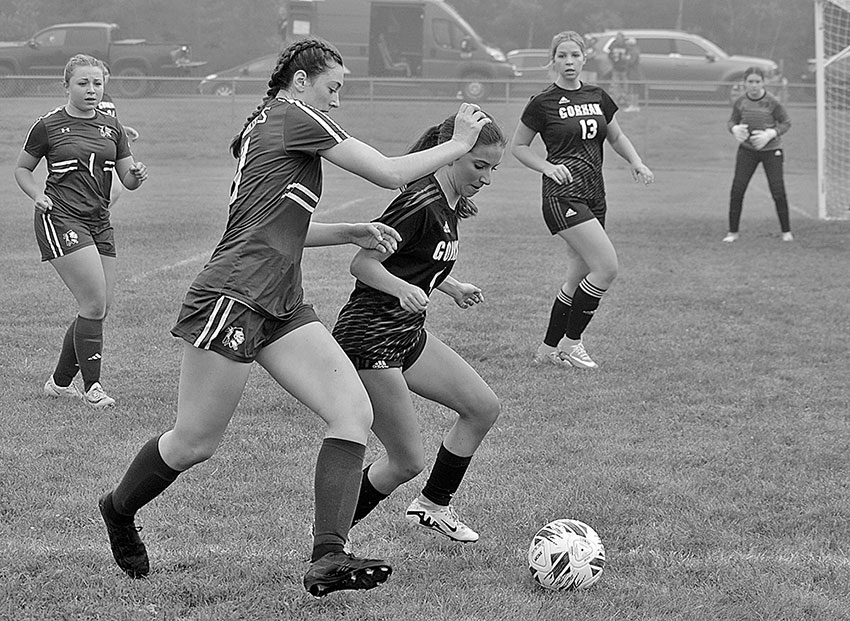 THIS AIN'T EASY

Pittsburg High School valedictorian Devin Rodrigue took a mighty swing with his somewhat less-than-high-tech driver on the second tee during Saturday's Pasture Golf Tournament in Pittsburg. Despite all the effort, Devin managed to advance the ball only about 20 feet. (Rob Maxwell photo)
---
Balsams' Unique Residence Ownership Option Draws 161 Potential Buyers
By Jake Mardin

A key component of The Balsams revival is the Century Club, a real estate option that allows people to reserve a residence inside the Hampshire House.
According to developers, at least 161 people have reserved a position to purchase a Century Club residence. "People are very excited about The Balsams' rebirth," said Les Otten, who is leading the project. "Through the Century Club program, they can own part of it and enjoy access to our vast, spectacular wilderness and then pass it down to family members like an 11,000-acre heirloom."
The Century Club was created to celebrate the 100th anniversary of the Hampshire House in 2016. Members have the opportunity to own a fully furnished, one- or two-bedroom residence, and membership includes up to 100 nights a year of lodging and access to ski, golf and spa privileges.
"This is the first of its kind in the industry," spokesman Scott Tranchemontagne said, noting that other resorts offer real estate and timeshares, but that the Century Club is a unique product. "What it boils down to is typically when you buy a timeshare you have to pay carrying costs of the condo, like ongoing taxes and maintenance," he said. "The Century Club is unique in that you can buy a share, like a quarter share, and for the days you don't use it you can 'sell' those days back to management and they will rent it out."
The first 150 members will be designated as founders, receiving access to special events and lifetime free valet parking. According to the company Web site (www.thebalsamsresort.com), reservations for inclusion in the Century Club are available for a non-binding, refundable deposit of $1,200. The reservation brings "priority position for ownership and room selection in the Hampshire House Condominium"; an invitation to a first-look weekend at The Balsams; and "an insider view to see how our plans are progressing."
Mr. Tranchemontagne said guests want different things from the resort industry than they did 20 years ago. "Les and David Norden and others on the team have been in the resort business for decades, and have seen what works and what needs improvement," he said. Developers are working with the Coös County planning board to create a development district (see related story) and working on zoning regulations and obtaining the necessary permits including a wetlands permit application with the N.H. Department of Environmental Services. Mr. Tranche-montagne said they still hope to break ground this fall, and construction would last 12-18 months.
(Issue of August 26, 2015)
---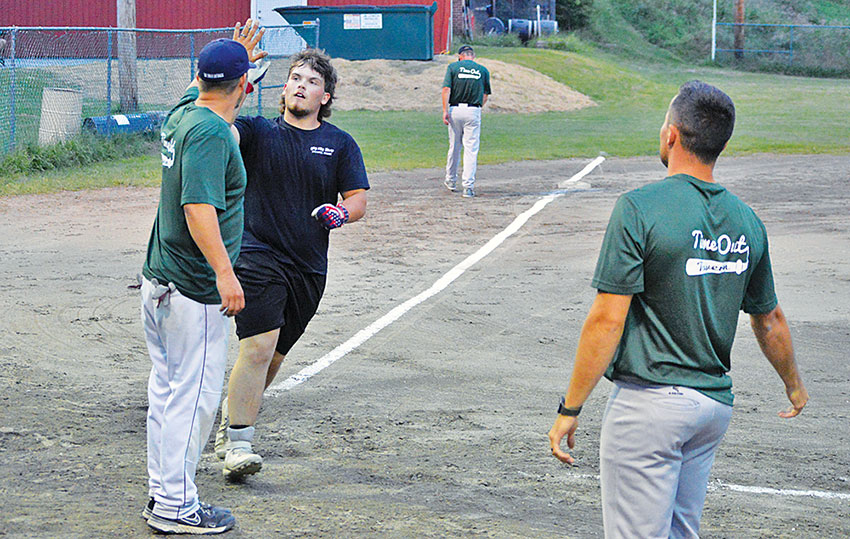 DANCING WITH FIRE

Will Cunningham of the Phoenix Bazaar Fire Dancers, with associate Isaac Vars in the background, performs a dance routine to the music of the band Hornbeam during the Poore Fest on Saturday in Stewartstown. (Alan Farnsworth photo)
---
New Setup, Earlier Detour in Colebrook when Moose Festival Opens on Friday


The 24th Annual North Country Moose Festival kicks off this Friday in Colebrook, continuing with events on Saturday in Canaan and Pittsburg and concluding back in Colebrook on Sunday. The festival is hosted by the North Country Chamber of Commerce, and a full schedule is available at www.chamberofthenorthcountry.com.
In downtown Colebrook the traffic detour will begin at 10 a.m. to allow for vendor set-up, sending vehicles from Main Street via Colby Street to Route 3 south; barricades will be placed at each corner of Main Street and Colby Street. Only local traffic will be allowed on South Main Street, and Titus Hill Road traffic will be routed via Spring Street to Route 26. Signs will be in place to guide traffic.
Parking is available at the "old Rite Aid" parking lot at the southern end of Colby Street, and at Colebrook Elementary School parking lot via Dumont Street, the latter after 3:30 p.m., as school is in session. Handicapped parking will be available downtown at Rite Aid. The northern end of Main Street, where the festival usually takes place, will also be available for parking, visiting sidewalk sales and other activities happening around town for the afternoon.
"Uptown" events include the annual quilt show from 1 to 6 p.m. at Trinity United Methodist Church on Bridge Street; a guided tour of the River Walk from the North Country Community Recreation Center from 1 to 3 p.m.; and Wildlife Encounters at the Tillotson Center at 2 p.m. The center will be open for tours from 2 to 7:30, and the Colebrook Area Historical Society Museum is open from 1 to 4 p.m.
The festival street fair will open to the public at 2 p.m., with vendors selling crafts, food and wares, along with live entertainment and demos. Classic car owners are welcome to display their cars free of charge, and should register at the southern entrance of the festival between noon and 6 p.m. ReMax will offer tethered hot air balloon rides from 5 to 7 p.m. The "Moose Cruise" classic car parade will mark the end of the event, as the cars travel north on Main Street at 7:30 p.m.
The fun continues in Canaan and Pittsburg on Saturday, starting with a Moose Watchers Breakfast from 7 to 10 a.m. at Canaan School. The Moose Country Fair is open from 9:30 a.m. to 3 p.m. at the Canaan Recreation Park, and the day includes horse-and-wagon historical tours, more tethered balloon rides, maple syrup tasting, the Kids' Corner Carnival, a moose stew lunch, the 13th annual dog show, music by the Fireside Fiddlers, and the always-popular moose-calling contest.
Historic Maple Ridge Farm on Tabor Road in Pittsburg hosts A Day at the Farm from starting at 11 a.m., with hayrides, antique engines and tractors, and tours of the Indian Stream School House. The Pittsburg Historical Society Museum is open from 2 to 5 p.m., the Pittsburg Education Association will serve a ham and bean supper at 5 p.m., and the evening closes with a bluegrass concert at the Amey farm from 7 to 10 p.m.
For those riding ATVs, the Metallak ATV Club is hosting a steak feed and ride-in at Diamond Peaks on Route 26 in Colebrook from 1 to 4 p.m. The cost to participate is $20 per adult in advance or $25 the day of, with a free kid's meal available. Details are available on the club's Facebook page, and those who wish to reserve a ticket may call 603-702-0109.
The Moose Festival culminates with a picnic and concert in Colebrook on Sunday evening. Two Rivers Habitat for Humanity will host the picnic starting at 5 p.m. for $10 per person at the Tillotson Center. The Bob Amos Band will perform a bluegrass concert at 7 p.m. inside the center, and tickets are available for $15 each at Fiddleheads, 110 Main Street in Colebrook, or at the door.
In addition to the Web site, flyers listing a full lineup of Moose Festival events will be available at the North Country Chamber of Commerce booth starting Friday. The booth will be set up near the head of the festival in front of Rite Aid on Main Street. In the meantime, questions may be directed to the Chamber office at 603-237-8939; from Friday through Sunday, questions should be directed via message at the North Country Moose Festival Facebook page.
(Issue of August 26, 2015)
---