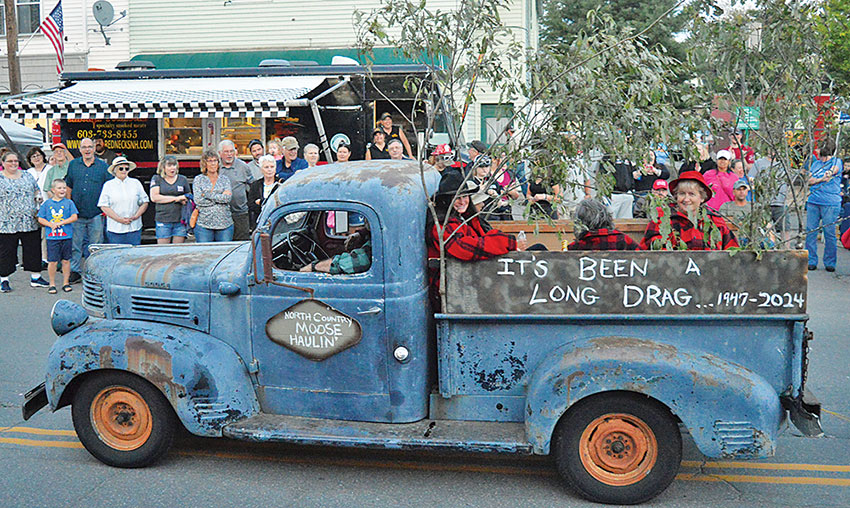 MEETING A FIREFIGHTER

Frederick Wiswell and Saygen Fuller of Colebrook Area Head Start take a close look at Fire Explorer Ben Adair, who suited up in full gear so the kids would know what to expect in case of a real fire. The experience was part of an October 10 visit to the Colebrook fire station in observance of National Fire Prevention Week. Local fire departments will continue to host and visit local schools and day care children over the next week or two, providing information about fire safety and prevention. (Alan Farnsworth photo)
---
SAU 7 School Districts Begin Search for Superintendent after Mills Retires

By Ron Maxwell
School boards from the five districts in SAU 7 have taken preliminary steps toward finding a successor to 16-year superintendent Bob Mills, who has announced his intention to retire at the conclusion of the current school year.
SAU 7 encompasses the Clarksville, Colebrook, Columbia, Pittsburg and Stewartstown districts, which contain two elementary schools, a high school and a K-12 school. Each school board's delegates form the SAU 7 board, which has begun the search process for a new superintendent.
John Falconer of Colebrook , who chairs the SAU board, explained the process and some of the possible hurdles the board members may face. "We have contracted with the New Hampshire School Board Association to help with the search process," he said. "They have connected us with Bill Lander, who is currently an interim superintendent in the Alton district. Mr. Lander will coordinate and facilitate with us to run advertisements, and do preliminary vetting of applications that will include background checks and reference checks." Mr. Falconer noted that the SAU will pay the NHSBA "about $9,000, plus expenses," for this service.
He also observed that there may be some challenges to overcome during the search process. "The problem is that 10 or 12 years ago, you could count on receiving 15 to 20 qualified applicants," Mr. Falconer said, "but in the current environment, we may only get six or eight. The pool of qualified applicants is very shallow."
Mr. Mills agreed, saying, "There are four other SAUs just in the North Country that are looking for a qualified superintendent, and as many as 13 statewide. That thins out the pool of applicants and makes it incumbent on the SAUs to be competitive in what they offer to applicants. In terms of salary, I would say that we will have to offer at least $95,000 annually to attract any applicants."
Mr. Mills noted that he is finishing a 16-year stint as superintendent, and his predecessor Paul Allen served for 15 years. "Nowadays the average superintendent spends about three years in an SAU office before moving on or retiring," he said. "That means we will likely receive applications from those looking to build their resumé, and from administrators who are nearing the end of their careers and are looking to work for a few years before retirement. In this area of the state, you hope you can find someone who wants to be here, rather than working toward building their resumé."
Mr. Falconer says a beginning step of the process involves forming an eight-person committee made up of two board members from Colebrook, Stewartstown and Pittsburg (which have schools) and one each from the sending districts of Columbia and Clarksville. "Mr. Lander suggested this approach," he said, "because he felt that a smaller, more streamlined committee would work best in the search portion of the process." He said when the field of applicants has been reduced to two or three people, "the entire SAU board will become involved in applicant interviews and resumé evaluations."
In the event that the board is unable to find a qualified person for the superintendent position, Mr. Falconer explained that an interim superintendent would have to fill the position as the search continues. "The problem with interim superintendents is that because they are almost always retired, their retirement funds restrict them to working only 32 hours each week. After you subtract all the district board meetings held during evening hours that they are required to attend, there isn't much time left for them to spend in the office."
Despite the prospect of these challenges, Mr. Falconer is optimistic that a qualified administrator can be found. "I'm very hopeful and I think we will find someone, and that someone will be the right person for the job."
(Issue of October 15, 2014)
---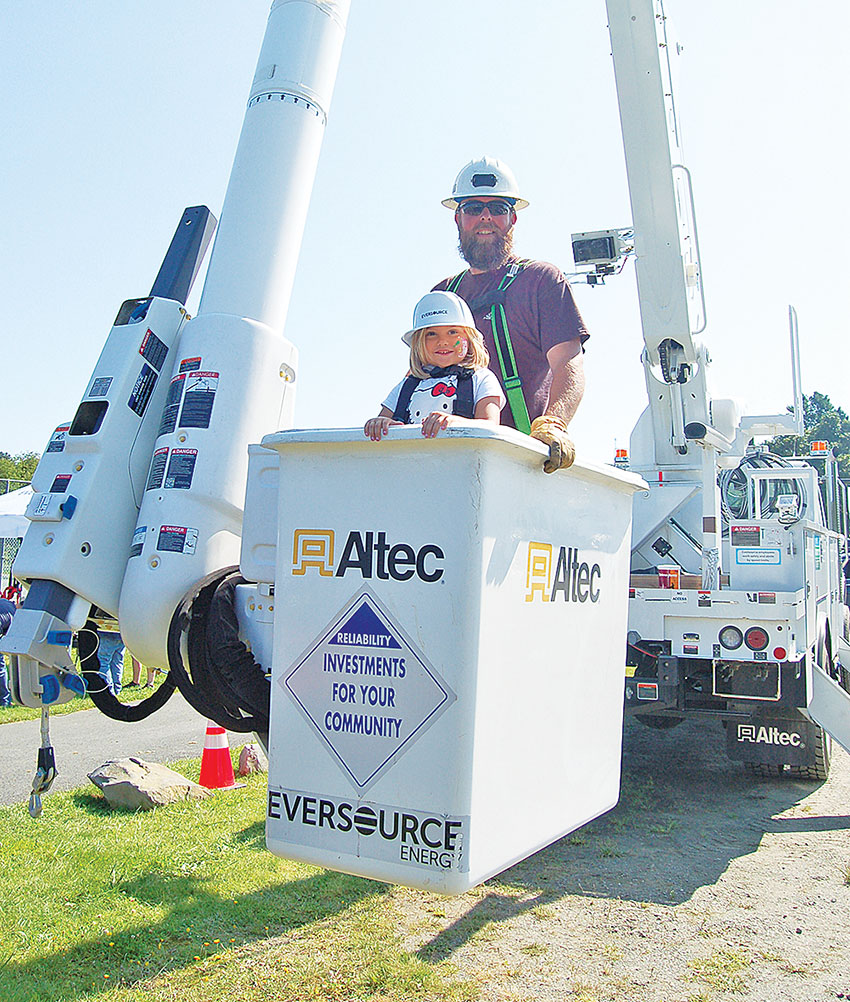 FIGHTING FOR THE BALL

Colebrook's Richard Davis and Canaan-Pittsburg's Ian Pfaff both go for possession of the ball during Saturday's game in Canaan. The Mohawks won 5-0. (Jake Mardin photo)
---
Main Street Project Likely to Go Before Town Meeting as Bond Issue in March
By Jake Mardin
Over 30 residents attended a meeting at the Tillotson Center in Colebrook on Thursday evening to hear about the Main Street rehabilitation and Safe Routes to School projects. Town manager Becky Merrow, selectmen Ray Gorman, Jules Kennett and Bob Holt, and Bill Straub and Josh Bouchard of CMA Engineers were on hand to present information and answer questions about both projects.
Main Street Plans
Mr. Straub explained that CMA has been involved with the Main Street rehabilitation project for about a year and a half, starting when the town received grants from the N.H. Department of Environmental Services and the USDA to conduct studies on the water and sewer systems.
Mr. Straub said the water mains date from the late 1800s and are suspected as the source of excessive leaking. Mr. Straub said a town typically has a water loss of 10-20 percent, but Colebrook's is in the 60-70 percent range. The original sewer lines date from the early 1900s, are poorly aligned and situated too close to the water lines. The plan for Main Street is to dig up and replace the water and sewer lines from the end of South Main Street to the bottom of Cooper Hill (about 2,700 feet) and the immediate side streets.
The fact that the town will be digging up the streets to replace the sewer line, Mr. Straub said, presents an opportunity to address streetscape issues. He observed that Main Street is very wide, with some sections 60 feet or wider. He said they can "put the road on a diet," narrow it down and still have enough space for good traffic circulation.
At each intersection, he said, engineers are looking at having "bump outs," or areas that come out from the sidewalk. This will allow them to create crossings with less distance for people to walk through traffic. Ms. Merrow said the current sidewalks are in poor condition and are not compliant with the Americans with Disabilities Act.
Pat Griffin asked how parking would be affected. Mr. Straub said the current concepts include some changes, but there will have to be a lot of discussion on it. Planning board chairman David Brooks said that one safety concern is southbound drivers and making left-hand turns--essentially U-turns--to park in the northward-diagonal spaces on the east side of the street.
Mr. Straub said the parking lines are nearly perpendicular, and they are looking at decreasing the angle to prevent people from making that turn. Lesser angles would also improve visibility for drivers backing out from those spaces.
Mr. Straub said the concept includes a bike path, about five feet wide and situated between travel and parking lanes. He said including snowmobile and ATV traffic on the bike lanes are questions that must be discussed. Ms. Merrow noted that if a bond vote passes at March's town meeting, the project schedule provides for one full year of final design, so there will be plenty of opportunity for public input. Harry Brown asked about plans for "malfunction junction," the portion of Main Street where Route 26, Colby Street and the Big Apple parking lot intersect. Mr. Straub said they have had preliminary meetings with DOT on the subject, and oneoof CMA's ideas is to channelize Route 26 and perhaps narrow the entrance to the Big Apple.
Ms. Merrow observed there is a lot to think about when it comes to what people want to see on Main Street, including the types of sidewalks, whether they would like to see an archway sign, and lighting schemes.
The total cost of the project is about $6.4 million, with water and sewer repairs accounting for $4.6 million. The town recently learned that USDA has put forth a framework for a grant offer, which is $2.125 million, or 45 percent of the total project cost. The remaining funds would come from the town in the form of a low-interest loan. Ms. Merrow said the loan would be paid back at $150,000 a year for 30 years and equals about $1 dollar per $1,000 on the tax rate.
All reports and associated materials to funding agencies have been completed. The process of applying for funding is ongoing and Ms. Merrow said the funding structure should be established late this year. If town meeting voters approve the bond issue in March, construction will take place in 2016 or 2017.
During a discussion on the funding and bond vote for the project, business owner Rick Nadig mentioned that he had just returned from Sturgis, S.D., where the city came up with the Sturgis Brick Project. Under the program, the city sells personalized bricks that go on the streets, and he suggested that Colebrook could do something similar. "Let's look at a way to generate a little revenue," he said.
Safe Routes to School
Another topic that was discussed at length was the proposal for construction of a sidewalk on Dumont Street. In 2012, the town completed a travel plan that revealed a lack of safe walkways for pedestrians. Last year the town applied for a Safe Routes to School grant and received $96,400 in federal funds. Mr. Bouchard said there is a need to improve pedestrian access from Main Street to Colby Street and Dumont Street, which leads to the elementary school. He outlined a proposal to construct a sidewalk with a seven-inch curb on the north side of Dumont Street and extend all the way to the existing sidewalk in front of the school.
N.H. Rep. Larry Rappaport asked about the entrance to the school from Colby Street that is adjacent to Rite Aid. Selectman Ray Gorman, who is a former school board member, said that the lane is strictly for emergency access. Colby Street resident Christine Charmin asked whether the project includes any provision aimed at getting drivers to slow down, noting that she sees people driving at high speed on Colby Street. Mr. Bouchard said that issue could be looked into.
Linda Corriveau lives on Dumont Street and expressed concern about the sidewalk going onto her property. "It could go right up to my window," she said. She said buses also have a hard time getting past each other on the street, and suggested that an alternate route be considered. Ms. Merrow thanked her for the information and said they will investigate alternatives before proceeding.
The town and engineers will take the input gathered from the meeting and draft preliminary plans and estimates. The next steps would be to prepare a draft engineering study, hold another public meeting on November 5, and submit the final engineering study and environmental documents.
If the plan is approved, construction is expected to take place next summer. Another Safe Routes to School meeting will be held at 7 p.m. on November 5, also at the Tillotson Center.
(Issue of October 15, 2014)
---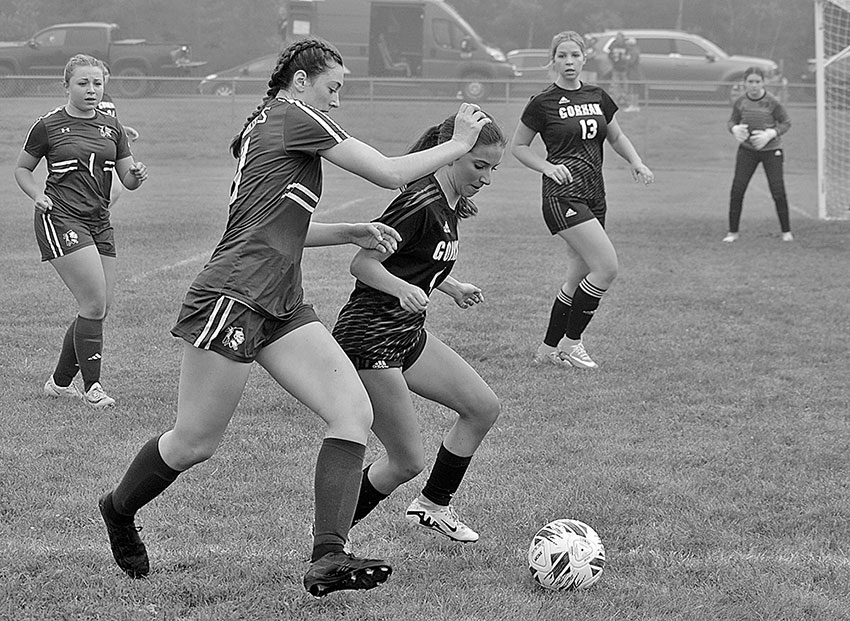 District Treasurer John Falconer

---
Columbia's Special Meeting Nov. 3 on Bridge Project
By Jake Mardin
Residents of Columbia attended a public hearing last Wednesday to learn about plans for a new bridge to be built on Meridan Hill Road, in preparation for raising funds at a special town meeting on Monday, November 3.
The original bridge was damaged in April by heavy flooding, which also caused the road to be closed temporarily. Winterset Construction installed a temporary bridge, for which the town was paying $3,000 a month until recently, when the parties re-negotiated the price down to $1,500 a month until the new bridge is completed.
Selectman Norm Cloutier said after looking unsuccessfully for funds from state and federal sources, including the Federal Emergency Management Agency, the town had to go out on its own. "We've tried every avenue to try and get money from the state," selectman Don Campbell said. The town talked to a few contractors, and VR Concrete of Columbia came up with a viable proposal.
Mr. Cloutier said for the past few years the town has voted to set aside money from the Bridge Improvement Fund (which has a balance of $80,000) and the Road Improvement Fund ($22,000). The town also has about $20,000 left in the summer road maintenance budget.
The town has used some money to allow VR Concrete to get started on drilling seven well casings for the abutments. These will be at least 85 feet deep or down to the bedrock, whichever comes first. Concrete will be poured in and around the pipes, and the beams will be set on blocks.
Mr. Campbell said the town originally looked at a 31-foot span, which was the length of the old bridge, until a hydrology survey dictated a 53.5-foot span. He said rebar and steel have been ordered and are being manufactured, and engineering drawings are done. The bridge width will increase from 16 to 24 feet.
Mr. Campbell said the cost increase to go to a two-lane bridge was about $8,000, and it made sense to go in that direction. The deck will be made with reinforced concrete, and a small amount of work will be done on the road near both sides of the bridge. The new bridge will also have a little more clearance over the river, and ledge will be poured under the bridge, where the river makes a 90-degree turn.
The town will be asking for $187,709 at the November 3 special meeting. With interest included, the town will make annual payments of $40,900 for five years, resulting in a projected increase of 48 cents per $1,000 on the tax rate.
At last Wednesday's hearing Mr. Campbell said state officials originally advised that it would cost the town $1.3 million to replace the bridge. If state funds came from the Department of Transportation's 10-Year Plan, Columbia's share would have been $260,000.
"We've been able to come in under $260,000," Mr. Campbell said. "We're at about $250,000 for a 75-year bridge."
He said the town will still look for additional funding from the state, but construction has to happen soon. He said if they started building the bridge in November it would have been $16,000 a month and in December there would have been an extra $32,000 in concrete costs. When asked whether the old bridge has any scrap value, Mr. Campbell said the steel beams do have value and will be set aside for future use.
At the end of the meeting, Mr. Cloutier thanked the residents of Meridan Hill Road for their patience, including one resident who allowed placement of the temporary bridge on their property. Resident Bob Baker thanked the board and the people who were involved in the repairs, along with the landowners.
The special town meeting takes place at 7 p.m. Monday night, November 3 at the old town hall. Town clerk Marcia Parkhurst said a two-thirds vote is required and polls will be open one hour after discussion. No absentee ballots will be allowed.
(Issue of October 15, 2014)
---