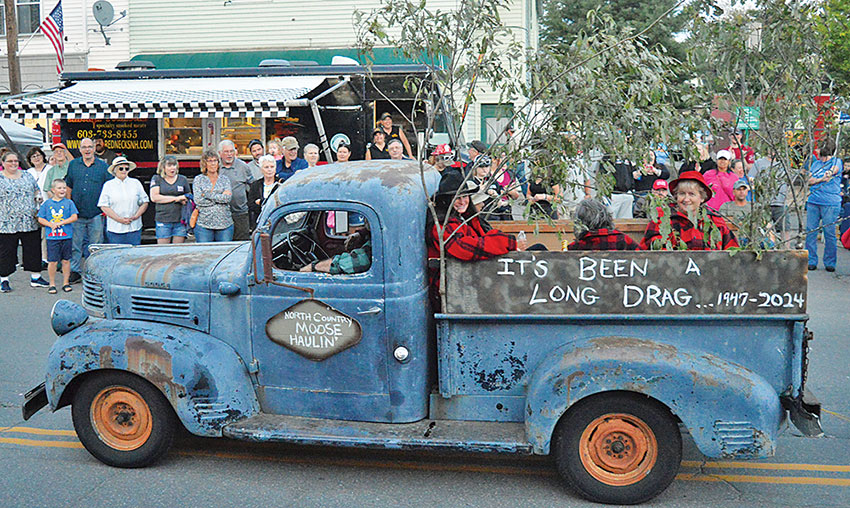 THREE FOR THE ROAD

Melissa (Colby) Boire, her sister Hannah (Colby) Rexford and husband Lance Boire kept together during the annual Two Rivers Ride for Cancer Saturday, September 6 from Pittsburg to Colebrook. All three were members of the Miles for Millie family group who rode in memory of late matriarch Millie Colby, who passed away in January from cancer. This year's ride drew 36 cyclists and raised over $7,200. (Alan Farnsworth photo)
---
16th Annual Two Rivers Ride Raises $7,200 to Help Local Cancer Patients


Thirty-six participants raised over $7,200 in Saturday's 16th annual Two Rivers Ride for Cancer, providing for 14 area cancer patients to receive financial assistance grants throughout the next 12 months.
Riders just escaped the downpour after arriving in Colebrook from the starting point at the Lake Francis boat launch in Pittsburg. The event shared a finish line with the North Country Endurance Challenge at the Dancing Bear Pub.
The board noted that many riders, donors and volunteers made this event possible. Sponsor LaPerle's IGA donated snacks, ice and water, and the Pittsburg and Colebrook police departments assisted with rider safety.
One hundred percent of funds raised at this and all other Two Rivers Ride fund-raisers, go toward relieving the extra expenses and loss of income borne by those afflicted with cancer who live in New Hampshire's North Country, the Northeast Kingdom of Vermont, and neighboring towns in Maine. More information, including how to apply for assistance grants, may be obtained from Rosemary Mulliken at 603-237-4065. Donations may be sent to Ms. Mulliken at 53 Spring Street, Colebrook NH 03576.
Next year's Two Rivers Ride will be held on September 5, 2015, and as always, new riders are encouraged to join with longtime cyclists for this cause.
(Issue of September 10, 2014)
---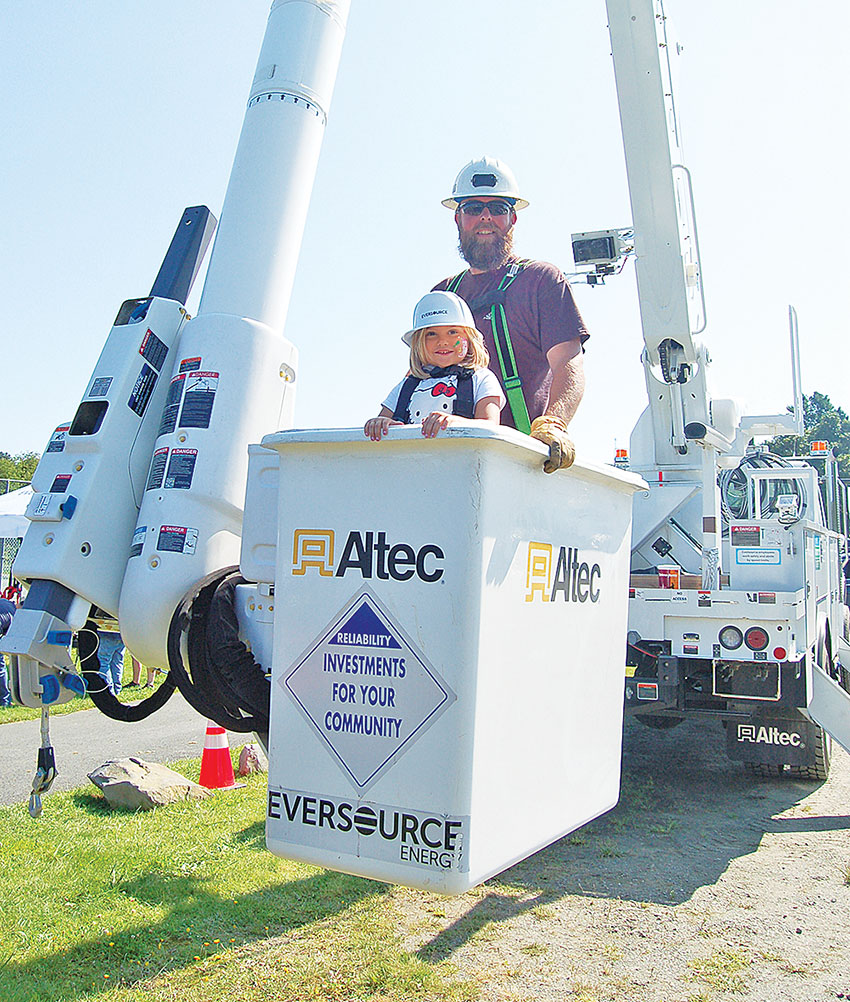 A TOUGH START

Those choosing to compete on the North Country Endurance Race's Sprint Course last Saturday started in Dixville at the Balsams Wilderness Ski Area's base lodge, and were required to run straight up a ski trail before going over Table Rock and descending to the other side of the notch. These intrepid athletes are seen running up the hill shortly after the race began, with local competitors Bridget Freudenberger and Shawn Parker visible in the foreground, and Jim Siewierski, Mandy Hibbard and Roxanne Herres farther down the slope. Results are in the sports section on page 31. (Rob Maxwell photo)
---
Legislators to Speak on Farmstand Bill at Sept. 18 Stratford Grange Supper


The Stratford Grange will host a Bean Supper & Legislative/Agriculture Night at 6 p.m. next Thursday, September 18, offering a chance to meet state lawmakers and discuss agriculture-related legislation.
The evening will feature a discussion about House Bill 1382, aimed at re-defining a farm stand to allow the model currently used by North Country Marketplace and Salvage in Colebrook, owned by Beverly White and Mont Washburn. N.H. Rep. Larry Rappaport (R-Colebrook) introduced the bill last year, and it is now under study by the House Environment & Agriculture Committee.
Guest speakers include Rep. Rappaport, along with Environment & Agriculture Committee vice-chairman Rep. Wayne Moynihan (D-Dummer), and Ms. White. For those who missed the legislators' bus tour stop at North Country Marketplace and Salvage in May, this event offers another opportunity to be heard.
Anyone planning to partake of the supper is asked to RSVP by next Wednesday, September 17 to Stratford Grange Master Stephen Tracy, at 603-237-4565. More information about HB 1382 may be found on-line at www.gencourt.state.nh.us under "Find a 2014 Bill."
(Issue of September 10, 2014)
---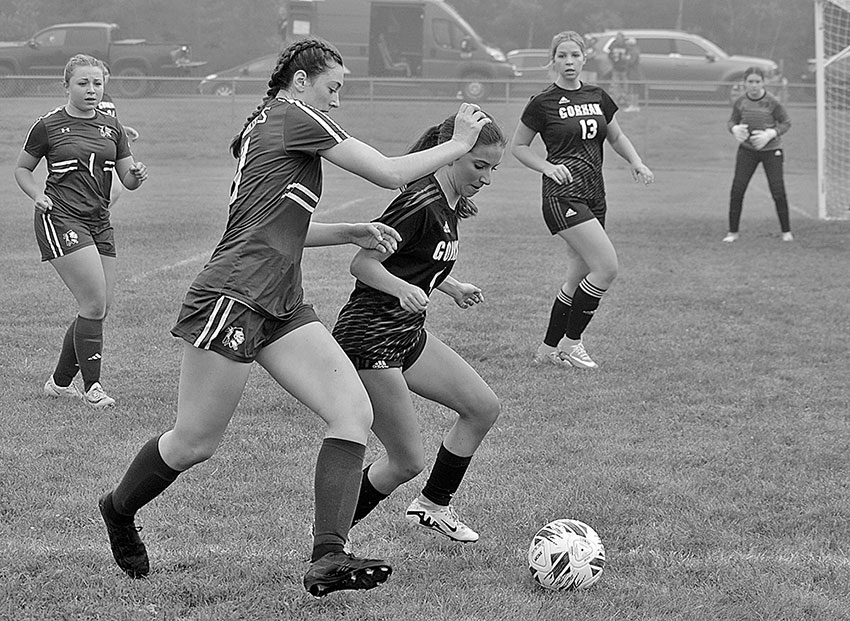 C.A. STAFF TAKES THE ICE BUCKET CHALLENGE

Staff at Colebrook Academy took the ALS Ice Bucket Challenge on Friday after they were called out by the elementary school. The C.A. staff called out Indian Stream Health Center and Canaan Schools to take the challenge next. From left to right are Liz Richards, Stella Edwards, Ron Patterson, Ginette White, principal Mark Fiorentino, Ken Hastings, Tom Allin, Alicia Boire, Mary Trask and Kristin Brooks. (Jake Mardin photo)
---
Colebrook Planning Board Approves Plan for Electronic Cigarette Facility

By Rob Maxwell
The Colebrook planning board has approved a site plan submitted by Vaporium, Inc., allowing the Canadian firm to further its plans to open a largely chemical processing facility on Bill Bromage Drive in Colebrook. Vaporium manufactures electronic cigarettes, and the firm announced its intention last month to employ up to ten workers at the proposed Colebrook plant.
The board's decision to approve the site plan followed a public hearing last Tuesday night, September 2, when company representative Sylvain Longtré and his attorney, Rick Brock of Colebrook, fielded severalquestions from board chairman David Brooks, members Sandra Riendeau, Steve Brungot and selectman Bob Holt, and board alternate John Jolles. Mr. Longtre also answered questions from Colebrook fire chief Brett Brooks and Stacey Dueois, representing the state fire marshal's office.
Early on the board questioned the firm's specific operational plans for the Colebrook facility. "We are not going to be dealing with anything flammable or potentially explosive," said Mr. Longtré. "What we plan to do is bring in some liquid chemicals like vegetable glycerin, do some basic mixing and repackaging. The process produces no waste, does not involve batteries and we hope to be operating by the end of October."
Mr. Brooks asked about staff training, specifically concerning the possibility of a chemical spill. "The chance of a chemical spill is negligible," Longtre said, "but even if something were to happen, the liquids will stay inside the building and everything we will be processing is biodegradable."
Chief Brooks asked about plans for chemical storage and inquired about the company's willingness to share its production procedures. He also asked if the building is equipped with a sprinkler system. Mr. Longtre assured Chief Brooks that all chemicals will be safely stored and his company is willing to provide process information, and noted that the building is equipped with a wet sprinkler system.
Ms. Dueois recommended that the board amend the language of the site plan to include, "submission by Vaporium of written plans concerning chemical storage, types and quantities of component chemicals, a description of the entire manufacturing process and a description and schematic of the fire-suppression system."
Mr. Longtre agreed to this amendment to the site plan, and chairman Brooks incorporated these changes in the final reading of the plan, which the board unanimously approved.
(Issue of September 10, 2014)
---
Kiwanis Grown Up Spelling Bee Set for Friday, October 17 in Canaan


The Kiwanis Club of Colebrook is bringing back a new and improved Grown Up Spelling Bee, which will be held at the Canaan Memorial High School gym on Friday, October 17.
Teams of four will compete to be the best spellers in the North Country. In truth, while it's helpful if there's some spelling knowledge on the team, the real purpose of the event is to have a good time, both for the teams and the audience.
The infamous Kiwanis Jail will be back, and the sheriff and his deputies will patrol the gym to watch for crimes being committed. However, Bail Bonds may be earned in addition to being purchased. Bee Bucks and Bail Bonds will be given as part of the team's registration, and may also be earned or purchased so people can spring themselves from the hoosegow. The teams and the audience will also be invited to play trivia games.
More information is available from Pat Beauregard (802-266-3690), and team registration forms may be downloaded at www.colebrook-kiwanis.org. Forms are also available at Lin-Jo Creations, The News and Sentinel office and Solomon's Store, and can also be found in this year's "Moosely Information" book (the date has been changed from September 19 to October 17 due to scheduling conflicts).
(Issue of September 10, 2014)
---