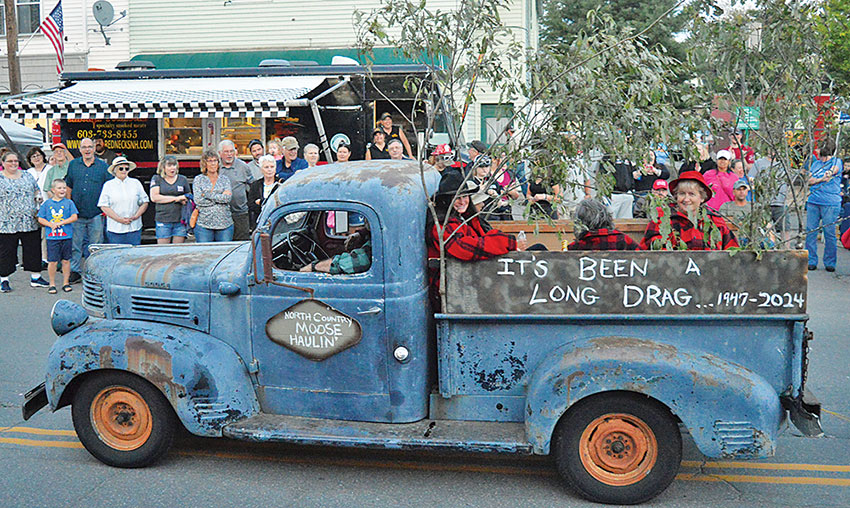 WCAREFUL CONSIDERATIONS

Kade Varney studies a stack of Jenga pieces, cautiously deliberating his next move to avoid being the one to make it all come tumbling down. Several boys in the Colebrook Recreation Department summer program chose outdoor Jenga at the monument park over watching the "Cinderella" play last Wednesday morning. (Karen Ladd photo)
---
Energy Department Releases Draft EIS for Northern Pass Transmission Project

By Jake Mardin
The U.S. Department of Energy released its long-awaited draft Environmental Impact Statement for the Northern Pass Transmission Line Project last Tuesday.
Eleven different alternatives were considered, including Eversource's proposal, full burial of the line, and burial in certain sections. The study concluded that the project as proposed would impose the greatest environmental impacts, but would also cost the least to construct. Both sides of the debate over the project said they believe the information contained in the report supports their cause.
The draft EIS analyzes the potential environmental impacts of DOE issuing a presidential permit for the project, required because the proposed route enters the U.S. from Canada. In preparing the draft, the DOE considered input received from two comment periods that extended from February of 2011 to November of 2013, and comments received during 11 public meetings, the closest of which was held in Colebrook. Agencies participating in the EIS preparation include the U.S. Forest Service, White Mountain National Forest, U.S. Environmental Protection Agency, the Army Corps of Engineers and New England Office of Energy and Planning.
Northern Pass applied for a presidential permit in 2010 and submitted an amended application in 2013 that took into account proposed route changes. In 2011, Northern Pass applied to the Forest Service for a special use permit allowing the line to National Forest. USFS has siting authority for the portions of the line that would pass through the forest.
Alternatives
• Alternative 1 is no action, whereby no permits would be issued and the proposed line would not be built. Regulations call for consideration of the no action alternative, which serves as a baseline against which potential environmental impacts of the proposed action are evaluated.
• Alternative 2 is the current proposal from Northern Pass, which consists of 179 miles of overhead lines along an existing Eversource transmission route. The route would cross into the U.S. in Pittsburg, and approximately eight miles of the line would be buried. New rights of way would be established from Pittsburg to Groveton, and the rest would utilize an existing right of way.
• Alternative 3 involves burying the line for the entire route, with the same alignment as the proposed route except for one section in Deerfield. The transmission capacity for this alternative would be 1,000 megawatts, as opposed to 1,200 MW in the current proposal.
• Alternatives 4a-4c involve burying the line under or adjacent to existing roadway corridors, except for a two-mile portion in Pittsburg and Clarksville, where a new underground route would be dug. Each option includes variations where the line would be buried in the vicinity of the White Mountain National Forest, Whitefield, Franconia, North Woodstock and Ashland.
• Alternatives 5a-5c are similar to the current proposal, except the line would be buried in roadway corridors in the vicinity of the national forest. Under 5a, the line would be buried for 20 miles in the Interstate 93 corridor, and 13 miles would be buried in the Routes 116 and 112 corridors in the vicinity of the forest. Alternative 5c involves burial along Routes 18, 112 and 116 through Sugar Hill, Franconia, Easton and the national forest.
• Under Alternative 6a, the line would be buried under or adjacent to existing roadways for 139 miles, from the Canadian border to the Franklin Converter Station. For 34 miles from Franklin to Deerfield, the line would be overhead. 6b follows the same alignment except in the national forest, where it would follow Routes 112 and 116.
Conclusions
Overall, the project as proposed "would impose the greatest environmental impacts as compared to the other action alternatives, primarily because of visual impacts, vegetation removal and ground disturbance required for the creation of a new 40-mile long, 150-foot-wide route in the northern section of the project," the report states.
The current proposal would also pose an increased risk for operational hazards like extreme weather or intentional acts, but there would be less risk of exposing contaminated soil or groundwater. The proposed line would also have the greatest long-term impact on wetlands, with up to 56 acres affected. The proposal would be the least expensive to construct, at a cost of approximately $1.06 billion, but for that same reason it would also generate the least amount in tax revenues to the towns it passes through.
The alternatives that include burying the line along existing roadways would have the fewest environmental impacts, but also higher construction costs--between $1.83 billion and $2.11 billion—which would provide more local tax revenues.
According to the report, the alternatives involving overhead lines except in the national forest area would require the same vegetation removal and ground disturbance as would the northern section under the preferred alternative. Construction costs would range from approximately $1.15 billion to $1.2 billion.
The underground alternatives would likely produce the most jobs, with between 9,000 and 10,000 short-term jobs over a three-year period, and between 1,300 and 1,500 permanent jobs. The overhead alternatives are expected to product the fewest jobs: 5,000 to 6,000 short-term jobs over three years, and 900 permanent jobs.
The current proposal and Alternative 5b (overhead except for underground through WMNF) would be constructed with 1,200 MW delivery capacity. The report states that those two options would result in a $22 million reduction in wholesale electricity costs in New Hampshire, and reduce CO2 emissions by eight percent across the region. The other options would all have a delivery capacity of 1,000 MW and result in an $18 million decrease in wholesale electricity costs in New Hampshire, and a seven-percent reduction in CO2 emissions across the region.
Reaction
Both sides of the Northern Pass debate reacted to the DOE's study. "After an initial review of the draft EIS, we are pleased with the report and we believe it validates that this is the right project for New Hampshire and New England," Northern Pass stated on its project site last Tuesday. "It reaffirms that the project will address the critical needs concerning New Hampshire and the region's energy supply by providing a diverse, base load supply of low-carbon electricity."
Northern Pass further addressed the study on Friday, noting what it considers the benefits of the project such as economic output during construction, reduction in carbon emissions, and lower energy costs. "The DEIS also outlines some areas that warrant further consideration, primarily regarding the potential view impacts related to overhead lines," the statement says.
The Society for the Protection of N.H. Forests stated, "It comes as no surprise to us that Northern Pass' proposal, a largely overhead line, was determined to be the most environmentally damaging of the 11 alternatives that the EIS studied. It's also no surprise to us that in our view the EIS makes compelling arguments for burying the line along existing roads. This includes a fully buried route that would have the conversion station built in Deerfield instead of Franklin."
Kenneth Kimball, director of research for the Appalachian Mountain Club, released a statement the day after the report's release. "In its DEIS, the Department of Energy's alternatives analysis provides strong evidence that the overhead transmission line or just partial burial in the vicinity of the White Mountain National Forest would cause considerable environmental and scenic damage, compared to total burial of the project," he said. "Furthermore, while Northern Pass has promoted its proposed overhead transmission line as a project that would provide jobs in the region, the DEIS provides clear evidence that full burial of the line would provide almost twice as many jobs, a much smaller impact on property values, and more long-lasting economic benefits to the region than overhead transmission lines or partial burial. Both this DEIS and a review of the Clean Energy Link transmission project in Vermont show that 100-percent burial of HVDC transmission lines is technically feasible, cost-effective, and has fewer societal and environmental impacts."
How to Comment
Written comments on the draft EIS may be sent to Mr. Brian Mills at the Office of Electricity Delivery and Energy Reliability (OE-20), U.S. Department of Energy, 1000 Independence Avenue, SW, Washington, DC 20585; by e-mail to draftEIS comments@northernpasseis.us; on the project Web site, www.northernpasseis.us; or verbally during public hearings. Written comments must be received by October 29, and the subject line should read "Northern Pass Draft EIS Comments."
The DOE will conduct public hearings on Tuesday, October 6 in Concord; on Wednesday, October 7 in Whitefield; and Thursday, October 8 in Plymouth, with specific locations to be announced. Hearing information will be announced in the Federal Register and in local media, and posted at www.northernpasseis.us, where the draft EIS is also posted.
(Issue of July 29, 2015)
---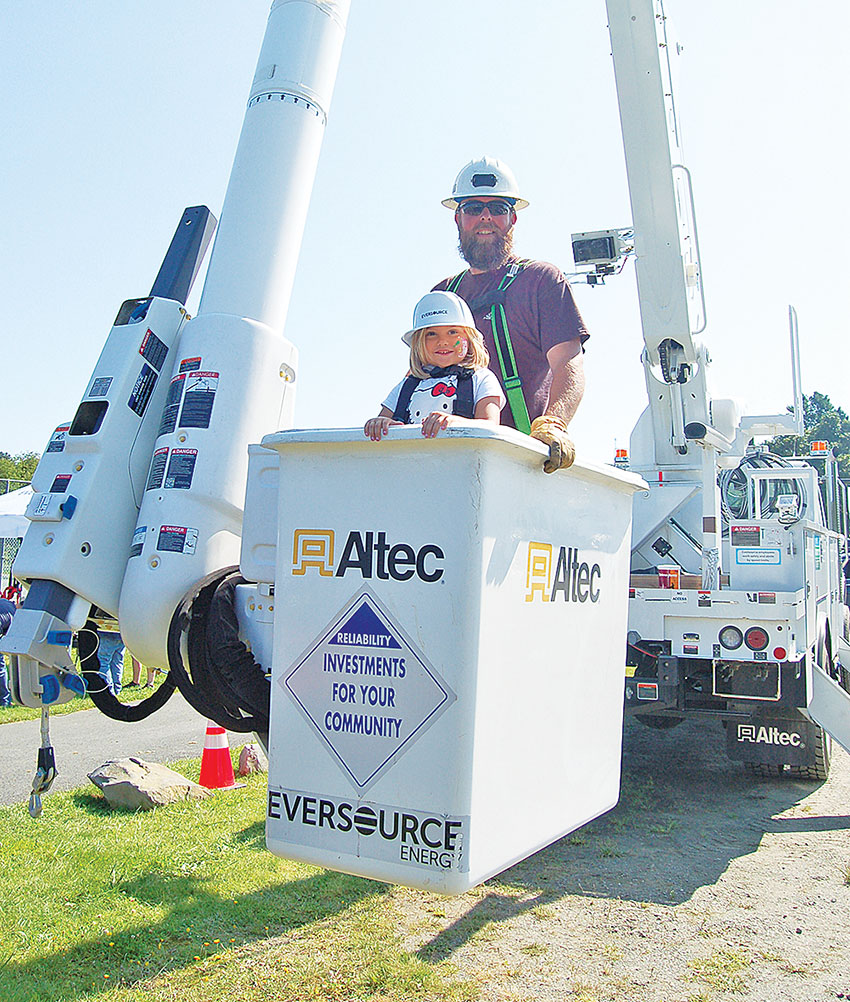 'OUR HOMETOWN' FILMING COMPLETED

Local historian and longtime fireman Arnold Goodrum was among a host of people interviewed this past weekend for a Colebrook-focused segment in New Hampshire Public Television's "Our Hometown" series that will premiere at the end of August. Creative services director Carla Russell's warm smile put her subjects at ease, while Schuyler Scribner kept the cameras rolling. Details about the program can be found at http://www.nhptv.org/hometown. (Karen Ladd photo)
---
Groveton's August Meeting May Bringb An End to School Talks with Stratford

By Rob Maxwell
School board members from Groveton and Stratford met on Tuesday, July 21 for the third time in the last few weeks to gather public opinion concerning the possibility of sending lower grade elementary students from the Northumberland district to Stratford.
The meeting was held in the Groveton High School library and was attended by over 50 citizens, many of whom voiced opinions decidedly against any plan to close the Groveton elementary building or to send students to Stratford.
These exploratory sessions began after Stratford school board chairman Mike Lynch contacted the Groveton board about studying how best to address diminishing student enrollments and accompanying rises in per-student expenses. Stratford closed its high school in 2011 and has been sending between 35 and 40 high school students to Groveton under AREA agreements that call for Stratford to pay tuition for these students based on N.H. Education Department data. Although the Stark school district is also part of SAU 58, the Stark board declined to take part in the study process and has not participated in any way.
At the first of the three public meetings, held on July 2, the boards determined to form three committees composed of volunteers from both districts. They were to look into current and future educational aspects of moving elementary students from Groveton to Stratford, the financial impact on both districts of such a move, and the emotional difficulties entailed with closing a school in Groveton in order to bus around 120 elementary students to and from Stratford.
At a meeting held in Stratford on July 7--which was attended almost exclusively by Stratford citizens--ten people signed up to work on the three proposed committees, after spending about an hour learning from Mr. Lynch and SAU board chairman Bill Everleth what the committees were tentatively designed to accomplish.
Input from the public at last Tuesday's meeting focused on parents' concerns should elementary students from Northumberland be bused to Stratford. Several parents said they were opposed to sending very young students from as far away as the Northumberland-Lancaster line to Stratford every school day. These concerns included the possibility of parents working in Lancaster or other locales having to travel to Stratford rather than Groveton in cases of emergency.
Other public comment centered on questions about the reasons for abandoning the Groveton elementary building in favor of the Stratford school, and the financial impact of sending 40 or fewer Stratford high school students to Groveton, while sending well over 100 Groveton students to Stratford.
"The Stratford school building has a gym and a multi-purpose cafeteria that can easily hold over 120 students," said Mr. Lynch. "The building has been carefully maintained and is fully handicapped-accessible and as far as the financial aspect is concerned, that would be a matter for the finance committee to study."
Following several minutes of sometimes vehement public statements, Mr. Everleth stated, "There must be a commitment from the Groveton board before any committees begin work. The Groveton board will meet at a regularly scheduled meeting on Monday, August 17, and will listen to public opinion on this subject for a final time. If the board then determines that public opinion of Groveton district citizens is not in favor of the Stratford proposal, the three committees will not meet and the study process will cease."
This statement appeared to represent a major shift from the position expressed by Mr. Everleth and other Groveton board members during the two previous meetings. Mr. Everleth was unclear when asked multiple times if this change in position had come about during a Groveton board meeting, as the result of a motion, second and board vote.
"The meeting on the 17th will represent a final forum that will provide the information about public feeling that will determine whether the Groveton board will approve or disapprove continuation of the process," he said. "We agreed to consider Stratford's request to study the issue, and that's all we ever agreed to do."
Mr. Lynch expressed his disappointment with this announcement. "If Stratford gets a 'no' on looking into sending kids from Groveton to Stratford in any form, the Stratford board will begin to explore other options," he said. "We feel that having some elementary students go from Groveton to Stratford School is the best option for both towns, but we won't know for sure if we don't look into it."
When the Groveton board was polled as to whether it would have considered any arrangement whereby any Groveton students would be sent to Stratford, had Stratford not proposed doing so, all five members said they would not have made such a consideration.
During an interview after the meeting, Mr. Lynch said he had not anticipated and had not been informed of the Groveton decision, which could derail the study process on August 17. "That was a change and came as a surprise to me," he said. "It will be too bad if the process is stopped before anybody has a chance to look into it, but if that's what happens then we (the Stratford board) will begin looking at other options although we have no intention right now of closing our school."
Stratford School principal Sandra Adams noted, "I do believe the Stratford school board will seek opportunities--as they already have--to help keep our school open." The Monday, August 17 Groveton school board meeting will be held beginning at 6 p.m. at the high school library.
(Issue of July 29, 2015)
---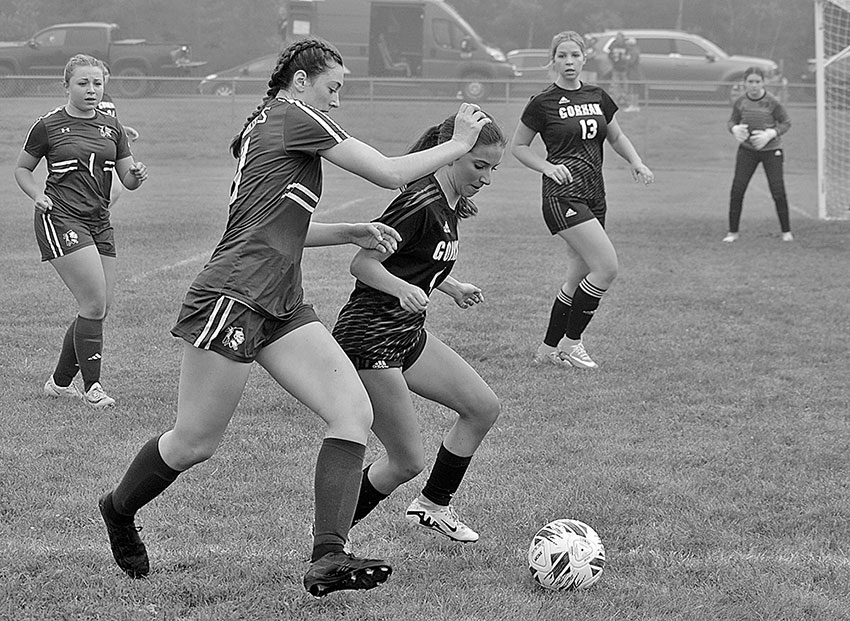 HEADED TOWARD RETIREMENT

UPS driver Steve Mason is retiring this week and says he will miss spending lunch breaks in Pittsburg with his good friend, police chief Richard Lapoint. The two have been swapping yarns since 1980 and folks in Pittsburg will miss them both, as the chief is set to retire in mid-August. (Rob Maxwell photo)
Steve Mason Steps Off the Truck after 43 Years on the Road
By Rob Maxwell

After spending over four decades crisscrossing the highways, byways and not-so-fine ways in New Hampshire's North Country, United Parcel Service driver Steve Mason will complete his route from Colebrook to Pittsburg and back for the final time tomorrow before turning in his keys and heading into retirement.
Steve leaves behind four decades worth of unsurpassed personal attention to his UPS customers that has made his smiling face perhaps the most well-known across northern Coös County. He has forged friendships from his uncounted stops at homes and businesses over his 43-year career and is known for going out his way to drop off or pick up parcels from Stratford to Pittsburg, from Colebrook to Lake Umbagog and all points in between.
"Steve's career includes over 42 years on the job without a single accident and he has never missed a day due to a workrelated injury," said UPS supervisor Bill Peck, noting that during his career, "Steve worked 10,920 days, delivered 1,092,000 packages at more than 700,000 stops and drove at least two million miles."
A visit with Steve last week in Pittsburg during his lunch break included the delivery of a package to his longtime friend Chief Richard Lapoint--who is scheduled to retire from the Pittsburg Police Department at the end of next month. "I got to know Richard back around 1980 and we have become very good friends," Steve said. "We often have lunch together and swap stories about hunting and fishing, and it looks like we will be more or less retiring together."
Steve recalled that his career with UPS began in 1972 when he started working part-time while attending college in Nashua. "I got a full-time job in 1973 and drove from Tilton up through Littleton and back every day. My first time delivering in the North Country came in the spring of 1975 and I didn't know anyone, never mind where anybody lived or worked. My supervisor told me not to worry because everybody knows everybody there and they'll all help you--and he was right."
Steve noted that after the UPS terminal moved from Littleton to Twin Mountain, he moved along and has driven a variety of routes since, with every day's work beginning in Twin Mountain. "I've delivered from Stratford to Pittsburg, Errol, Wilson's Mills but I've had the Colebrook, Stewartstown, Clarksville and Pittsburg route for the past five years," he said. "The day begins around 9 a.m. at the Twin Mountain terminal with a loaded truck, and I usually get back to Twin Mountain around 7:30 at night and make it home between eight and eight-thirty."
Steve says he's proud of his unblemished driving record and as far he knows, he's the only driver to go a whole career without a work-related injury. "I've dodged potholes, snowdrifts, cars, trucks and every kind of wildlife over the years, and I've always tried to be careful about how I lift things and where I put my feet when the ground is slippery in winter. I've had some luck, too."
He observed that making friends from his customers hasn't been really difficult, "if you consider that I'm bringing everybody something they really want. Sort of like Christmas every day, and over the years I've learned enough about who lives and works where that I can bring a package to the place where people are so they get the parcel put right in their hands. All the tracking and other technological stuff we have now helps, too--when I started, you got a list of addresses on a piece of paper that you checked off with a pencil."
Steve says recent partnerships with the U.S. Postal Service have helped make things easier. "When I started, we were not allowed to step foot in a post office, and any parcel marked with a post office box number had to be returned. Now we work together and I can drop off packages there for them to deliver. That's really helpful, because a lot of Canadians have post office boxes in this country and folks in Vermont maintain boxes in New Hampshire."
Frances Sytek maintained a UPS outlet on Main Street in Colebrook for many years and recalls, "Steve probably broke all kinds of rules by running all over the place to find people. As far as I'm concerned, he was the best there was, and on top of everything else he was just a really neat, friendly guy."
Steve made two daily appearances at The Balsams and at the Tillotson Rubber factory for many years, dropping off around noon, heading to Errol and returning to pick up in the middle of the afternoon. John Falconer remembers Steve being "an incredibly accommodating guy who would go out of his way to deliver or pick something up."
Steve says he has not made a lot of retirement plans, although, "We are planning to travel a little to Chicago, Québec City and Maine, and I'll be doing some hunting, fishing and cross-country skiing. UPS has a program that allows retirees to work part-time and I expect I'll take them up on that, so it looks as though all my friends in the North Country haven't seen the last of me after all."
(Issue of July 29, 2015)
---