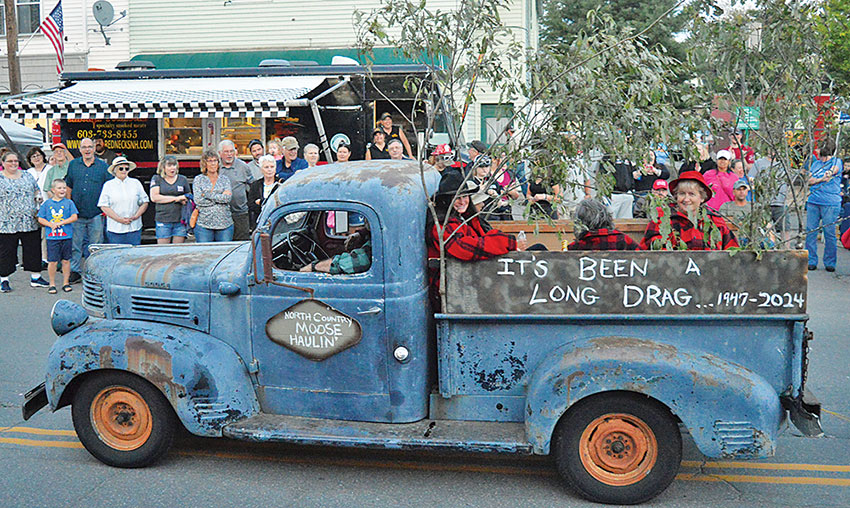 LOCKED UP TIGHT

Pittsburg's Old Home Day parade was themed "Not Every House is a Home," and the Ellis family put together a colorful jailhouse float featuring inmates Xavier Malcolm, Ava Hersey, Justin and Kellie Ellis, Sally Parker, and stern-looking warden Melanie Ellis (with one inmate obscured). Despite the warden's best efforts, the younger jailbirds managed to escape from time to time to plead their innocence with the crowd along Main Street. (Rob Maxwell photo)
---
Colebrook Board Listens to Public on Proposal to Open More Roads to ATVs
By Jake Mardin
The courtroom at Colebrook Town Hall was full on Monday evening as people voiced their opinions on the proposed use of OHRVs on six local Class V roads.
The town roads under consideration are Piper Hill, Golf Links, Munn, Reed, Fish Hatchery and South Hill. All other provisions of RSA 215-A:15 would remain in effect, and OHRVs using the roads would be required to keep to the extreme right and yield to all conventional motor vehicle traffic.
Metallak ATV Club president Craig Washburn said that throughout the summer, people have contacted him and other members regarding the opening of additional roads for OHRV use. He said people are asking for roads to be open so they can leave their home or camp on an OHRV and reach the trails.
Selectboard chairman Greg Placy said there is currently a system in place where a person living on a road that isn't a trail system can fill out a form asking for permission to use the road to access the trail. The board of selectmen review the forms and either accepts or denies permission.
An early topic of discussion was enforcement. Police chief Steve Cass said he had the dispatch center tabulate the number of ATV complaints received this year, and it came out to nine. He said if dispatch gets a call, he would respond to address the complaint. He noted the problem is if an OHRV takes off into the woods, the department has no way of getting to them.
Town manager Becky Merrow mentioned the road rage incident that occurred on Bear Rock Road in Stewartstown over the weekend (see "For the Record," page 2). She noted that Chief Cass went to the scene to verify that the incident took place in Stewartstown, and that Fish and Game and State Police were on their way.
Elizabeth Guerin read a letter addressing a number of concerns. She stated that she is not anti-ATV and recognizes the commerce it brings to the area, but she said parameters must be set. She said while ATV riding brings tourists to the area, people are also drawn here because of the scenic beauty and quiet, along with activities like camping, horseback riding, cycling, fishing and kayaking.
"By not considering the needs of other tourists in the area, we are putting all of our eggs in one basket and shooting ourselves in the foot," she said. Mrs. Guerin also said the dust produced by ATVs on the dirt and gravel roads negatively affect residents who live along those roads, and that homeowners have rights and should be able to enjoy their homes. She said that the dust can also have a detrimental effect on health, and said that the noise is also a concern, along with the deterioration of the roads as they are used more.
She requested that the board put a stop to further use of OHRVs on town roads and consider alternatives. "This is not a private playground," she said. "This is where people live." She presented the board with a petition bearing 95 signatures of people opposed to the opening or expanding of town roads for ATV use.
Harry Brown, who helped put the Ride the Wilds system together, noted that the N.H. Bureau of Trails does not provide insurance for non-trails. He said that resources are also an issue, and while the clubs recently got legislation passed that will generate money to the clubs for maintenance, it won't go into effect until 2018. He also said that the proposal is "contradictory to what Ride the Wilds was about from the beginning," and encouraged the current procedure for individuals receiving permits from the town to reach trails from their homes or camps.
Norman Brooks said that his business of giving horse rides has decreased because of increased ATV traffic. "I'm sick of the dust and noise and night riding," he said. "We got the wild, wild west."
Judy Jacques of Stevens Hill Road echoed many of the topics addressed in Mrs. Guerin's letter. "There are summers of endless dust and noise that make sitting on the porch or opening up windows for a bit of fresh air a thing of the past," she said.
Vincent Roscillo of South Hill Road said he feels the situation is a maintenance and budget issue, because of additional calcium chloride that would have to be used to keep the dust down. He said that it should be voted upon at town meeting, with the options of opening all roads or none of them.
John Harrigan said he has observed many ATVers from his house on South Hill Road the last four years and that 90 percent are "great," but he does not see a need to open the roads. Jil Donovan expressed concerns about safety, citing five incidents in which she has been driving with her pickup and trailer and has nearly hit someone on an OHRV because they suddenly changed
?directions. Bobby Lemieux noted that similar situations happen with normal vehicles on Main Street, and it is not just four-wheel operators who make bad decisions.
Carolyn Foss described her love of ATV riding and as a club member, she felt that many talked about other club members in disdain. "I hope this issue is resolved with common sense, and not emotion," she said. She said the majority of riders are nice people, and she would rather see authorities working to chase down drug dealers and other criminals instead of ATV operators.
Bill Sparklin, who owns Notch View Campground, said he deals with ATV operators and that 90 to 95 percent are "great people," and noted that he also talks to guests about being respectful when they are traveling on roads. He agreed on the need for enforcement and dust control, and said, "ATVers aren't the animals we think they are."
County commissioner Rick Samson talked about the shortage of Fish & Game officers in the area, and felt that the expanded use of ATVs on roads may be too much, too quick. "Maybe it's time to just say, 'Wait a minute—how can we make what we have better?'" He urged the public to pressure their elected officials to obtain more state money for enforcement and maintenance in the region, noting that a lot of money has been spent in the Jericho State Park area.
David Brooks spoke in favor of expanding the use of OHRVs to other roads, and said that opening up the roads could put less pressure on the roads that are currently in use. He also said most ATV riders are responsible, and that he and his wife frequently pick up trash along the trails.
The meeting ended after about 90 minutes, with no decision made by the selectboard.
(Issue of August 24, 2016)
---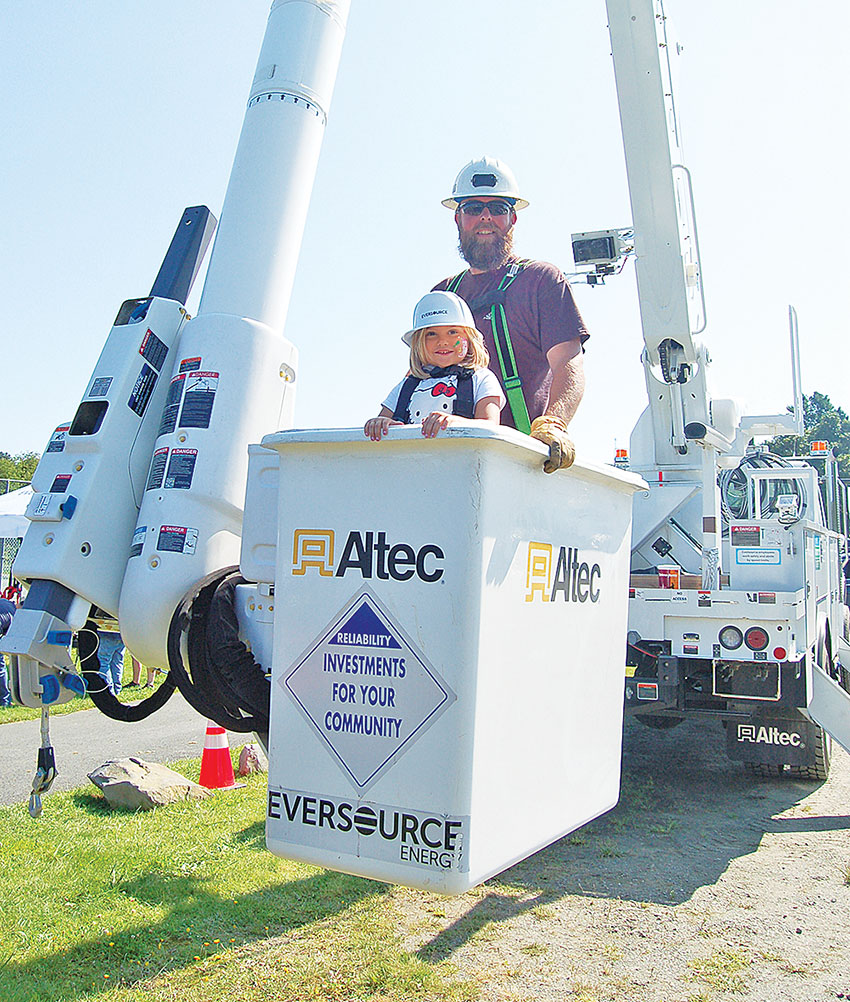 DETAIL WORK

The Colebrook Area Historical Society and the Mohawk Grange have generously sponsored a refinishing of the wood- and ironwork on the old horse-drawn snow roller, on display in Monument Park in Colebrook. Peter Perkins spent several hours over the weekend applying a new coat of stain to the wooden components, and was photographed on Sunday morning while brushing on a coat of rust-preventive paint to the forged iron connective pieces. Peter mused that doing this job likely put him in a very exclusive club saying, "I'll bet more people have climbed Mount Everest than have worked on an antique snow roller." (Rob Maxwell photo)
---
Rally to Save Quimby's Successful, with Plans to Reopen Resort in 2017
By Lucie Fillion Daley
The "Save Quimby" rallying cry was heard, and the resort is currently taking reservations for the 2017 summer season upon its anticipated reopening.
The new shareholder board met in early August and voted unanimously to reopen next season. They released a letter making the announcement and began taking reservations for 2017. "The reservations have been pouring in," said board member Alison Thirkield. "Everyone is so excited."
Shareholders and past guests have already booked three full weeks of guest days, and Ms. Thirkield said she expects the summer season to be comprised of eight weeks "as of now—that may change." The board also plans to offer early spring and fall seasons with housekeeping cabins and weekend meals.
The board felt they needed to announce their intentions and open for reservations now because "people are already planning for next summer," Ms. Thirkield said. The board has not yet set rates but expects they will be comparable to last summer's rates.
The former shareholder board voted to close Quimby Country permanently in February. Past guests and shareholders elected a new board, and are trying to give new life to the 122-year old resort.
The resort began as a men's fishing club, and then after her father's death, Hortense Quimby developed it into a family-centered retreat on over 1,000 acres in Averill. Guests saved Quimby's once before, after Ms. Quimby's 1967 death left the beloved resort to the University of Vermont.
Guests banded together, created a corporation and bought shares, transforming Quimby's into a rustic family getaway. The aging resort was at its peak in the 1980s and '90s, but has recently lost the guest numbers it once enjoyed.
"We are committed to reviving the best of traditional Quimby's experience," Ms. Thirkield said, noting that programming for children and families remains important to the experience. The board hopes to increase connection with local residents and organizations, inviting them to come in for presentations and participate in programs.
The board hopes to expand the offerings for guest programs with a particular focus on outdoor and family activities, along with a continued connection with nature, Ms. Thirkield said. A caretaker is on the premises, and board members are visiting and checking the infrastructure. The board is still in the business plan mode. "We are a work in progress," she said.
The board has many ideas including family reunion and wedding destinations, and encourages more. Ms. Thirkield did not wish to divulge too many possibilities because the board does not want to limit Quimby's.
Members are open to ideas and suggestions, and encourage input via e-mail to quimbycountry@gmail.com or by calling 802-822-5533. Quimby's has an on-line presence on Facebook and at www.quimbycountry.com.
(Issue of August 24, 2016)
---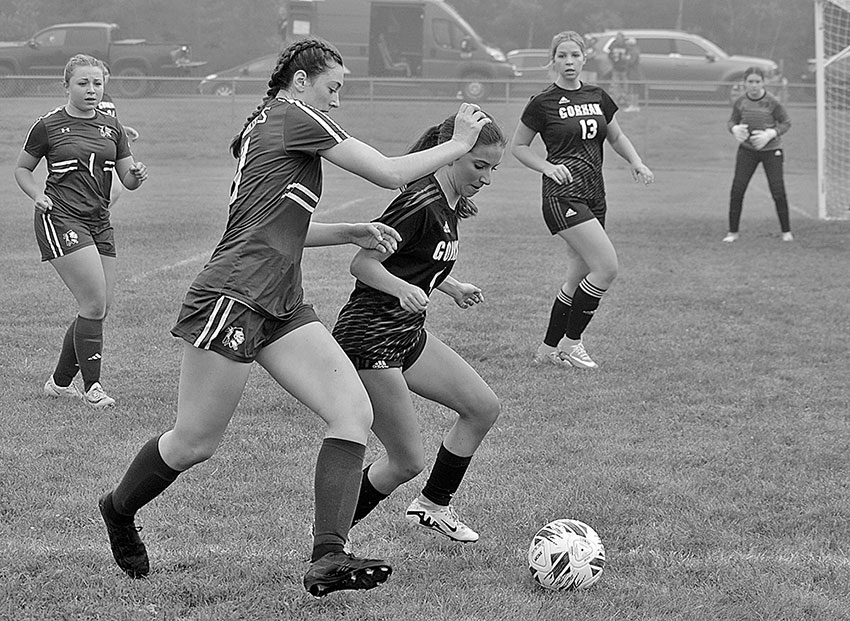 FALCONERS INSTALLED AS KIWANIS DISTRICT, DIVISION OFFICERS

At the 98th Convention of the New England and Bermuda District of Kiwanis, held in Cromwell, Conn., from August 18-21, John Falconer of Colebrook was installed as District Treasurer and his wife, Lindy, was installed as the Division 7 Lt. Governor. Among the over 200 guests were Judy Houghton and Sharon Miller from the Colebrook Kiwanis Club who were there to support them. (Courtesy photo)
---
Site Evaluation Committee Plans 'Tech Sessions' on Northern Pass in Concord
By Jake Mardin
The N.H. Site Evaluation Committee is scheduled to hold a number of technical sessions for the proposed Northern Pass transmission line in Concord next month.
The sessions will start at 9 a.m. each day and will be held in the third-floor conference room at 11 South Main Street, Capital Commons. The posted agenda describes the session as "an informal opportunity for the parties to ask questions of the applicant's witnesses who have filed testimony in this matter."
Sessions will be held on 11 days under the following schedule: September 6, System Stability and Reliability; the afternoon of September 6 and continuing on the 7th, if needed, Public Health and Safety Panel; September 9, Financial; September 12 and continuing on the 14th , if needed, Construction Panel; September 15, Historical Resources Panel; Sept-ember 16, Project Economies and Market Benefits; September 19, Orderly Development Panel; September 20 and continuing on the 22nd, if needed-Environmental Panel; September 21, Project Route Selection, Forward NH Plan, NH-Specifics Benefits, Clean Energy RFP, etc.; September 30, Aesthetics Panel.
Intervener groups will be allowed to ask questions for each witness and panel. Among the intervener groups are Municipal Group 1-North, with Pittsburg selectmen Steve Ellis as its spokesman; Abutting Property Owners (underground portion) in Clarksville and Stewartstown, with Brad Thompson as spokesman; Non-Abutting Property Owners (overhead portion) in Clarksville and Stewartstown, with attorney Alan Robert Baker as spokesman; and a group consisting of Cate Street Capital, IBEW, Coös County Business and Employers Group, North Country Chamber of Commerce, Dixville Capital and Balsams Resort Holdings.
The agenda states that only questions will be taken, which must be non-argumentative, and "should be limited to issues pertaining to the witness' field of expertise, pre-filed testimony, and should be within the scope of the adjudicative proceeding." If a question can't be answered within the session, "the parties will attempt to agree to a date by which the answer must be provided in writing."
(Issue of August 24, 2016)
---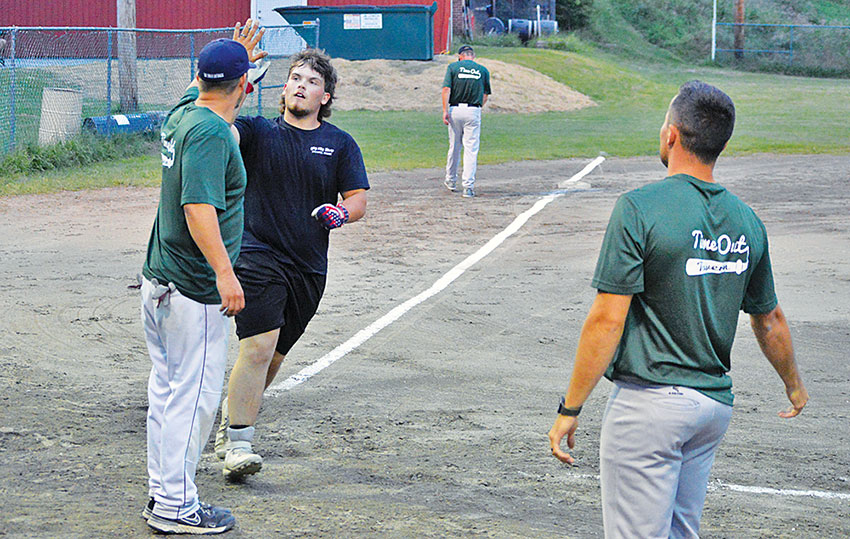 MAKING CONTACT

Corey Lord of the Rymes Propane and Oil team takes a mighty cut during the Canaan Men's Softball League championship game last Wednesday. Rymes defeated Rancourt in two games, 14-4 and 17-5 for the title. (Jake Mardin photo)
---
Special Dedication Before Saturday's C.A. Soccer Games

There will be a brief ceremony before Colebrook's varsity soccer games against Sunapee, scheduled for 1 p.m. this Saturday, dedicating the two scoreboards on the baseball and softball fields in memory of Marguerite Wiswell (C.A. '29) and Donald Frizzell (C.A. '52).
Mrs. Wiswell was a long-time teacher, athlete and coach at Colebrook Academy. Mr. Frizzell, her son-in-law, was also an athlete, and both were avid supporters of Colebrook Academy athletics. The dedication ceremony will take place at 12:45 p.m. near the scoreboard located on the third base side of the varsity baseball diamond.
(Issue of August 24, 2016)
---