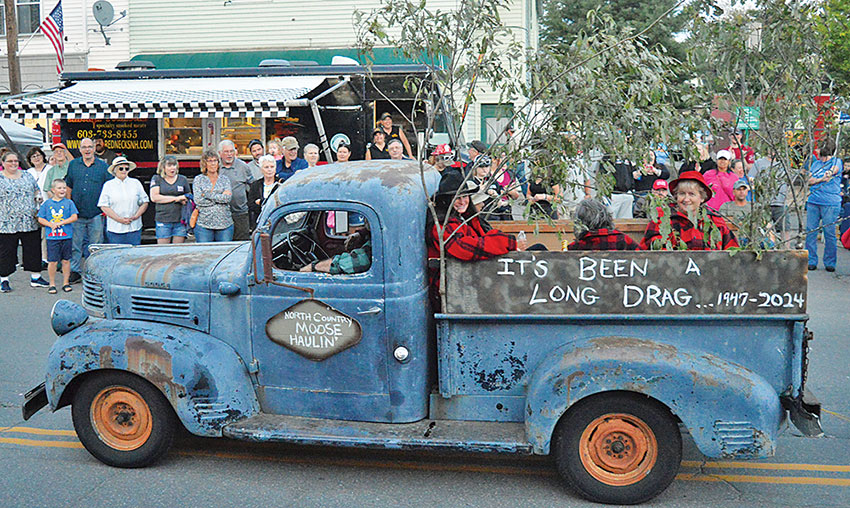 STEPLADDER CONFERENCE

Newlyweds Corie and Paul Bratter, portrayed by Naomi Going and John Quigley, excitedly discuss plans in their new apartment, in a scene from the Carriage Lane Players' debut production of "Barefoot in the Park" this past weekend at the Tillotson Center. (Alan Farnsworth photo)
---
Ride the Wilds Jamboree This Saturday


The first-ever "Ride the Wilds Jamboree: A Fall Foliage Spectacular" takes place at Bear Rock Adventures in Colebrook this Saturday, September 20, offering a day full of events from 9 a.m. to 5 p.m. Proceeds will benefit Court-Appointed Special Advocates of New Hampshire, a statewide nonprofit agency whose volunteers represent the interests of abused and neglected children as their cases make their way through the court system.
The Metallak ATV Club will host an "Extreme Drag Challenge" specifically for ATV and UTV riders, and participants may register starting at 8 a.m. The day includes geo-caching (also with registration at 8 a.m.) by ATV or on foot, guided ATV rides, tractor-pulled hayrides, an ATV simulation from the New Hampshire Off-Highway Vehicle Association, a virtual welding simulator from White Mountains Community College, fishing for kids under 12, and a blessing of the ATVs.
Admission to the jamboree is free, but fees apply for some activities, and food concessions will be available on-site. The day will close with an awards ceremony and the North of the Notches Craft Brew Fest, featuring live music and a taste from three of New Hampshire's finest brewers.
ATV enthusiasts will also be able to enjoy a "Show and Shine" event as spectators or participants, and drag races through a mud pit. An unmanned drone will take high-quality photographs and video of all the action.
In addition to Bear Rock Adventures, NHOHVA and the Metallak ATV Club, event sponsors and partners are Ride the Wilds, the Cabins at Lopstick, Amoskeag Beverages, WMUR Channel 9, and WPKQ 103.7/WOKQ 97.5.
More information about CASA or the jamboree may be obtained by calling Jen Buteau at 603-237-5411 or on-line at www.casanh.org or www.bearrockadventures.com.
(Issue of September 17, 2014)
---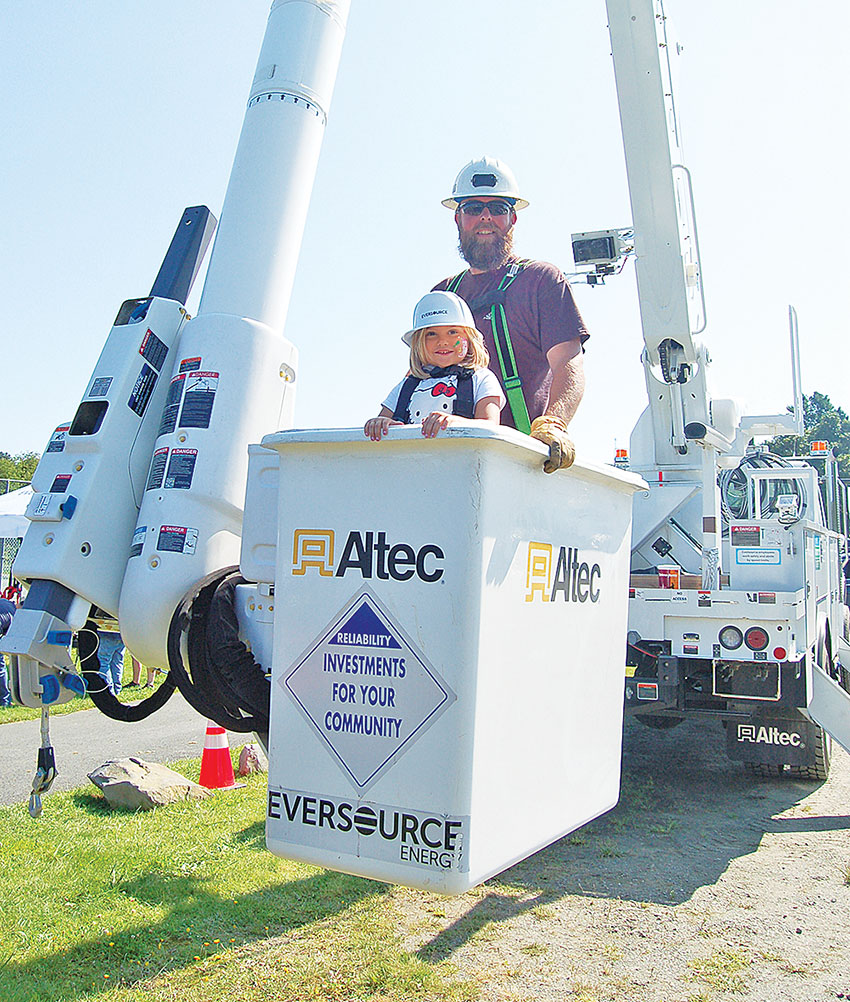 TOOLS OF THE TRADE

Lt. Todd Nichols of the Beecher Falls Volunteer Fire Department goes over the components of a self-contained breathing apparatus worn by Ryan Dupuis, during training at the fire station last Wednesday. Mr. Nichols is one of the instructors at Canaan Memorial High School's Fire and Emergency Sciences course, in which students will learn about various components of firefighting and EMS as they work towards certification. (Jake Mardin photo)
---
Vt. Fire Academy, 45th Parallel EMS Offering Local Fire & EMT Course

By Jake Mardin
Local students interested in fire and emergency services now have the ability to work toward their certifications with the new Fire and Emergency Sciences career and technical education (CTE) course at Canaan Memorial High School.
The course is being taught by three familiar names in the local fire and EMS community. Lt. Todd Nichols is a ten-year veteran of the Beecher Falls Volunteer Fire Department and has been an instructor with the Vermont Fire Academy for two years. He has also been an EMT since 2008 and is a physical education teacher at Canaan Schools.
Chief Rob Darling of the 45th Parallel EMS has over 30 years' experience as an EMT and has been a Red Cross or American Heart Association CPR instructor since 1977. Chief Darling has been a firefighter since 1972 and a fire instructor since 1981. Since 2006 he has been the lead instructor at the Vermont Fire Academy.
Deputy 45th Chief Michelle Hyde is an AEMT, Instructor I and American Red Cross CPR Instructor. She has been with the 45th Parallel EMS since 2008 and is the organization's administrative assistant and training officer.
The two-year program is open to juniors and seniors, and there are currently four students enrolled in the class. According to Lt. Nichols, students completing the program will have their Firefighter I certification, and an opportunity to take the National Registry of EMTs exam.
Lt. Nichols said the course came together because of a need for more technical education programs. Canaan building trades teacher Eugene Reid and the Tillotson North Country Foundation both provided research and support to make the project a reality. Lt. Nichols brought the idea before the fire department, who supported it unanimously. Lt. Nichols and Mr. Reid brought the project to the attention of Chief Darling, who took it to his board and likewise received unanimous support. "We've had excellent support from the word go," Lt. Nichols said.
The class meets every afternoon during the school day from noon to 2:40 p.m., spending Monday through Wednesday at the fire station in Beecher Falls, and Thursday and Friday at the 45th station in Colebrook. At the fire station, students will learn all the basics of firefighting, from understanding protective gear to fire behavior and building construction. While they won't be able to fight live fires, students will have access to the station's equipment for training and can observe controlled burns.
Lt. Nichols said the curriculum mirrors the Vermont Fire Academy and uses the same textbook and skill drills. At the end of the year, students will travel to the academy's burn building. Lt. Nichols said that exercise mocks the experience of a real fire, taking everything they've learned and putting it into a day.
During last Wednesday's class, Lt. Nichols timed Zeb Brigham, Ben Adair, Ezra Carr and Ryan Dupuis while they donned their protective gear. They also used self-contained breathing apparatus and air tanks. Lt. Nichols said Barre Technical Center donated several units that were valued at over $7,000. The class swept up the station with the masks on to get used to doing physical activity while breathing compressed air, and working together as a unit.
On Thursday the class went to the 45th station, and Lt. Nichols explained that this portion of the course gets the students prepared for their EMT certification. "The biggest export we have in the North Country is our youth," Chief Darling said, observing that it would be ideal if students go to college with the experience they got from the program and return to the area to work. He said they are working toward a concurrent enrollment agreement with Vermont Technical College, and that the fire and EMS portion will be readily transferable to VTC and other institutions that accept VTC credits.
Chief Darling said several hours of training are devoted to patient assessment, which he said is "the foundation of their education" because of everything that branches off of that knowledge. Students will also study anatomy and physiology and will learn some technical skills, such as checking blood pressure, vital signs and blood/glucose level, and readying patients for transport. Students who are 18 will be able to get some time riding along in the ambulance as well.
The Northwoods Center for Continuing Education, a division of Weeks Medical Center, has volunteered to bring some "SimLab" dummies to the station. The high-tech mannequins are programmed to talk and react to stimuli.
(Issue of September 17, 2014)
---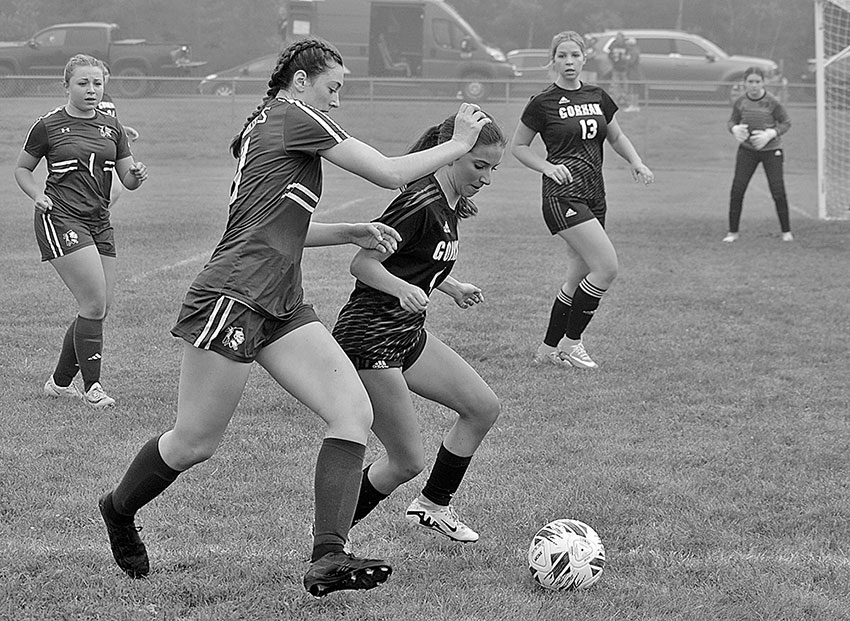 DIGGING OUT THE DAMAGE

This small excavator was lowered down onto a wooden beam floor constructed in the Mohawk River last week. The machine dug out chunks of fragmented foundation from Howard's Restaurant to allow for a restoration of the building's water-side foundation, damaged by spring flooding. (Rob Maxwell photo)
---
Colebrook Homecoming This Weekend


Colebrook Academy and the Booster Club will host the annual Colebrook Homecoming festivities this Friday and Saturday, September 19 and 20, all leading up to the varsity soccer games against Groveton.
The parade steps off at 6 p.m. on Friday from the Academy, where students will build their floats during the day. The parade ends at the former Legion Lot on Colby Street, where a pep rally and bonfire will be held, along with the coronation of the Homecoming Court.
The theme for this year's parade is "World Championships," and each class will create a float to compete for cash prizes from the Booster Club. The Booster Club board selected Bruce Hawes (C.A. '55) as the 2014 Parade Marshal, and he will preside over the evening's festivities.
Mr. Hawes played on the basketball, soccer, baseball and bowling teams for all of his four years at C.A., and was co-captain of the basketball team as a junior and senior. In his junior year the Mohawks made it to the semifinals, losing in overtime to Gorham. He was also a co-captain on the bowling and soccer teams, and competed on the track team as a freshman.
In his junior year Mr. Hawes played in the N.H. Basketball Tournament, and competed in the foul-shooting contest in Durham as a senior. An honor student, Bruce also belonged to the Future Business Leaders of America and was vice president of the Student Council as a senior. As an adult Mr. Hawes has been a faithful supporter of his alma mater, cheering on his children and grandchildren in two generations of C.A. athletes.
The varsity teams will sit down for a breakfast at the Monadnock Congrega-tional Church on Saturday morning, served up by the Booster Club. The Groveton Eagles come to town on Saturday, and the junior high teams will start the soccer action with games at 9 a.m. The varsity girls will play at 11 a.m., followed by the boys at 1 p.m. The rec department teams will play at 3 p.m.
Questions about the C.A. Homecoming events may be directed to the school, 237-8351, or Booster Club president Butch Ladd, at 237-5501.
(Issue of September 17, 2014)
---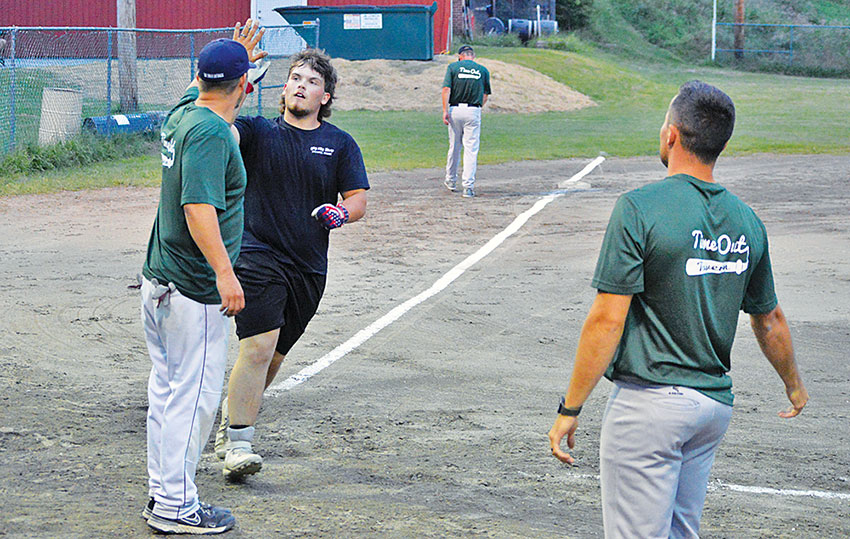 BATTLING FOR THE BALL

Groveton's Cassady Brown and Gorham's Brooke Nadeau fight for the ball during the Huskies' 6-0 win over the Eagles in Groveton last Wednesday. (Jake Mardin photo)
---
Groveton High Makes Top 100 in Two Newsweek Magazine National Rankings

By Karen Ladd
Groveton High School is listed at #90 on the 2014 Newsweek America's Top High Schools, and at #71 on its new ranking, Beating the Odds: America's Top High Schools for Low-Income Students.
The magazine has ranked U.S. high schools for more than ten years, basing inclusion primarily on the ratio of Advanced Placement and International Baccalaureate exams to the number of graduates. The magazine worked with the Maryland research firm Westat to gather the data. A link to the entire section can be found at www.newsweek.com, including a comprehensive explanation of the selection process.
This year Newsweek also published a separate ranking of top high schools for low-income students, which "takes into consideration how well schools serve students from economically disadvantaged backgrounds--measured by the percentage of students qualifying for free school lunches," according to the on-line section. "There is almost no overlap in the top 10 schools on each list. We hope that providing two lists instead of one sheds light on the underlying factors often ignored or submerged in school rankings."
This year's number one on Newsweek's Top High Schools list is Thomas Jefferson High School for Science and Technology in Alexandria, Va., which scored 99.93 percent in college readiness, with 99.22 percent of students college-bound and a graduation rate of 78.48. At #90, Groveton showed a 94.11 for college readiness, 45.65 percent college-bound and a 75.67-percent graduation rate.
Other New Hampshire schools included are Oyster River at 110, and Campbell High School at 142. No Vermont schools were listed. Groveton High School serves approximately 156 students, primarily from the Northumberland, Stark and Stratford school districts.
On the Top High Schools for Low-Income Students list, GHS was ranked #71, with Kennett High School 184th, Lisbon Regional High School 188th, Oyster River 279th, and Oxbow Union High School in Bradford, Vt., at #161.
"We are certainly very proud of the Groveton staff and administration for such an achievement," said Stratford school board chairman Dan Smith. "It makes me proud that we can offer a school that has accomplished what Groveton High School has for our students."
Mr. Smith observed that this ranking is especially notable when considering the high-caliber schools included in the first 100 on the Newsweek list. "People should realize what an honor this is when you see what kind of schools Groveton High was judged against," he said.
Principal Mike Kelley said, "I was extremely proud to hear the news that Groveton High School was selected as one of Newsweek's top 100 schools in the entire country. It is amazing what small communities like Groveton can accomplish when there is a strong sense of pride, support, and involvement from the community. Groveton High School has an amazing staff, students and parents who allow us to be in a position to be one of the top schools in the country."
(Issue of September 17, 2014)
---