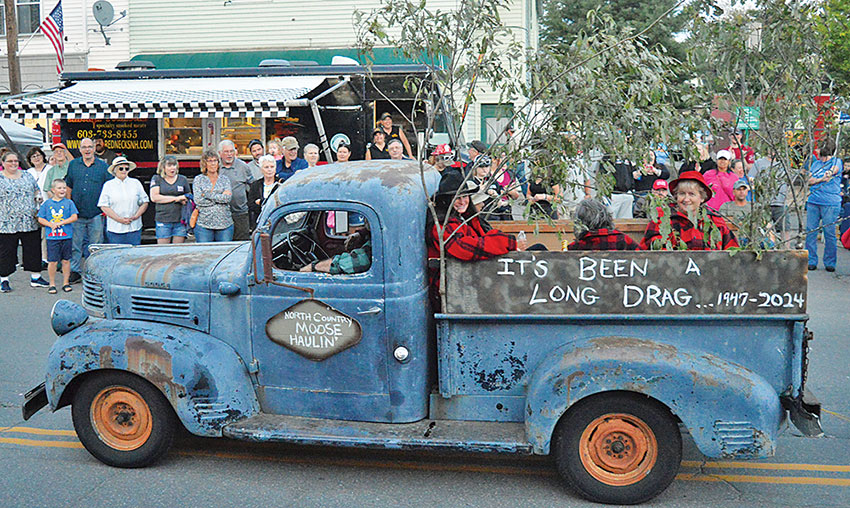 APARTMENT BUILDING FIRE IN STEWARTSTOWN

Ten people were displaced by a fire that destroyed an apartment building in West Stewartstown on Monday morning. Four fire departments responded to the blaze along with 45th Parallel EMS, N.H. State Police and U.S. Border Patrol. The cause of the fire is unknown but it is believed to have originated in the garage. The Red Cross responded to assist the affected families. (Jake Mardin photo)
---
Three Families Lose Homes in Apartment House Fire Monday

By Jake Mardin
Three families, consisting of five adults and five children, were displaced by a fire that destroyed their three-story apartment building in West Stewartstown on Monday morning.
Beecher Falls Volunteer Fire Depart-ment was toned out to the scene at 8:39 a.m., followed by Pittsburg, Colebrook and Stratford fire departments and the 45th Parallel EMS. N.H. State Trooper Jimmy Crossley was at the scene to detour traffic, and U.S. Border Patrol also assisted. About 40 firefighters worked on the blaze.
"It looks like it started in the garage area," said Beecher Falls fire Captain Daniel Lepine, who was fielding inquiries from the station on Monday afternoon. He said the balloon frame structure of the building enabled the fire to move quickly up to the attic and back down through the walls.
"Our first attack was through the front door to try and push the fire out through the garage," he said. With the fire going up into the attic, holes were punched into the roof and a ladder truck from Colebrook was used to push the fire back toward where it originated. Chief Steve Young said firefighters tried to reach the third story, but the floor was already gone and they were driven back by the heat and flames.
Thousands of gallons of water were used in fighting the fire; Capt. Lepine said one 5,000-gallon tanker made eight refilling trips. Colebrook and Stratford refilled on the pump at Paul Cote's garage, and Beecher Falls and Pittsburg went to the Connecticut River across from Wayne's Lanes. An SUV parked next to the building was also destroyed by the fire, as the keys were located in the garage and the vehicle couldn't be moved.
By around 1:30 p.m., Capt. Lepine said, efforts consisted of "basic mop-up duty." Most had left the scene by around 2:30, and all personnel had cleared at 4:30. Investigators with the N.H. Fire Marshal's office arrived in the afternoon, meeting with Chief Young at the scene. As of press time yesterday, no cause for the fire had been determined.
Chief Young had contacted the American Red Cross early on, and they responded with clothing and food and arranged for shelter, working from the 45th Parallel EMS station.
No one was injured, and Capt. Lepine said the adults were inside at the time but believes the children were already at or on their way to school. He said the EMS treated some firefighters. "They were exhausted," he said, noting that the EMS personnel "took good care of people."
Chief Young said they made sure that the firefighters stayed hydrated, and observed that some were working on little or no sleep. The Stratford Hollow Fire Department had been called to a fire in Groveton just after 3 a.m., and members of Colebrook Fire Department responded to cover Stratford's station before eventually going to the scene themselves.
The Beecher Falls department ended up covering Stratford's station, leaving at a little past 4 a.m. and returning at 7:30. They also responded to a vehicle fire in Canaan about 30 minutes prior to the fire in West Stewartstown.
Capt. Lepine praised the mutual aid between the departments. "It's like we're the same department," he said. "It all gels together. Everyone works together and we're fortunate to have that many men on the same side."
Several local businesses have offered to help the displaced families, and there is a money jar for donations at the Big Apple in Colebrook. The adults need clothing in sizes XL-3XL, and the children--all boys ages 8-17--need toys and games. More information is available from Jodi Laflamme, the manager of Big Apple in Colebrook, at 237-4010. Other area Big Apple stores are also contributing to the effort.
(Issue of December 4, 2013)
---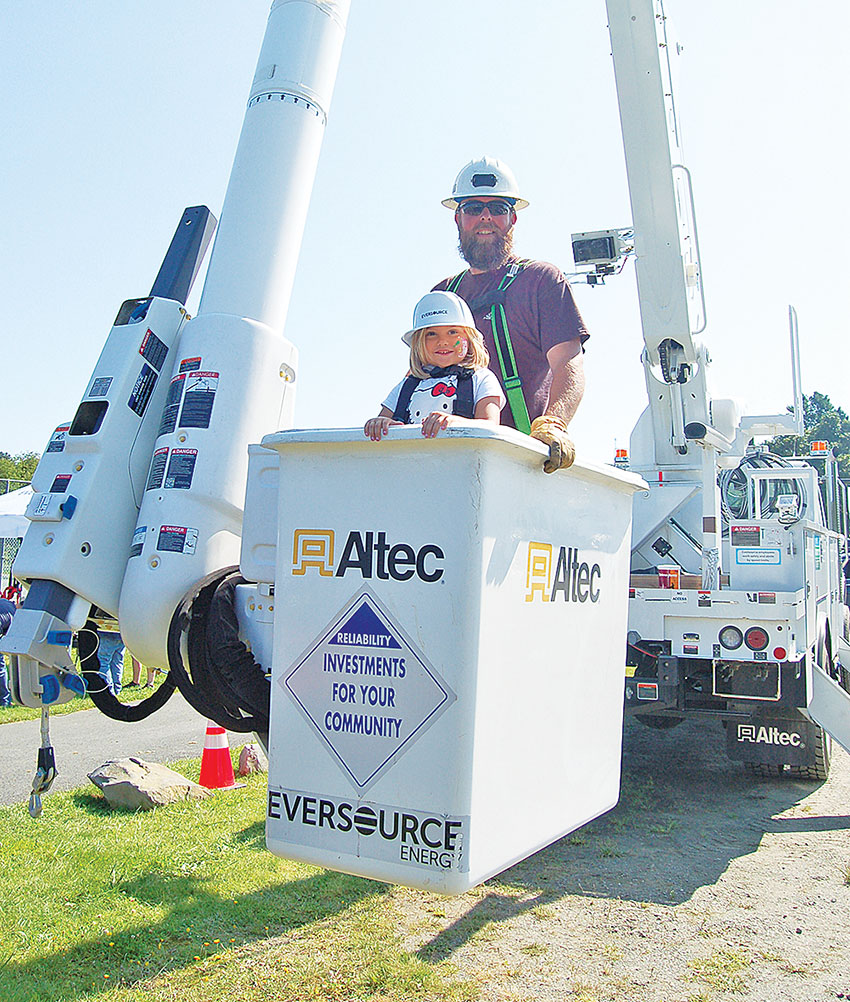 2013 C.A. WALL OF FAME INDUCTEES

Colebrook athletic director Buddy Trask stands with Dylan Leach, Emily Brosseau and Josee Brunault, this year's inductees to the Wall of Fame, which was created in 2003 with funds given in memory of Hercules Lemieux to recognize excellence in Colebrook Academy athletes. All were named to First Team All State, Dylan for basketball and baseball; Emily for softball; and Josee for soccer and basketball. Josee's name was also added to the scorers' wall, having scored 1,226 points in basketball. (Karen Ladd photo)
---
Rollover Accident Claims Canaan Man

By Jake Mardin
Police are investigating a fatal accident that occurred early Sunday morning on Route 102, claiming the life of Randall Riley, 51, of Canaan.
Vermont State Police report that Mr. Riley was heading south from Canaan village in a 2007 Dodge 1500 truck at around 12:45 a.m. when he lost control on the ice near the Leach Stream bridge. He left the west side of the road and struck a culvert head, at which point the truck rolled onto its side and back onto its wheels.
"Mr. Riley was not wearing a seatbelt and was pronounced dead at the scene," stated a press release by Sgt. Larry Smith. Members of the 45th Parallel EMS attempted CPR, but "discontinued once life-saving measures were deemed unnecessary," the release states.
Jenkins & Newman Funeral Home transported Mr. Riley's body to Burlington, where an autopsy will be performed to determine the cause of death. The truck was towed to the Vt. State Police barracks in Derby to be held as evidence.
"Speed and alcohol both appear to be factors and the Department of Liquor Control was contacted to follow up on the location where Mr. Riley had consumed his alcohol," Sgt. Smith said. Anyone with information about the accident may contact Sgt. Smith at 802-334-8881.
Also assisting at the scene were the Beecher Falls Volunteer Fire Department and U.S. Border Patrol. Mr. Riley's.
(Issue of December 4, 2013)
---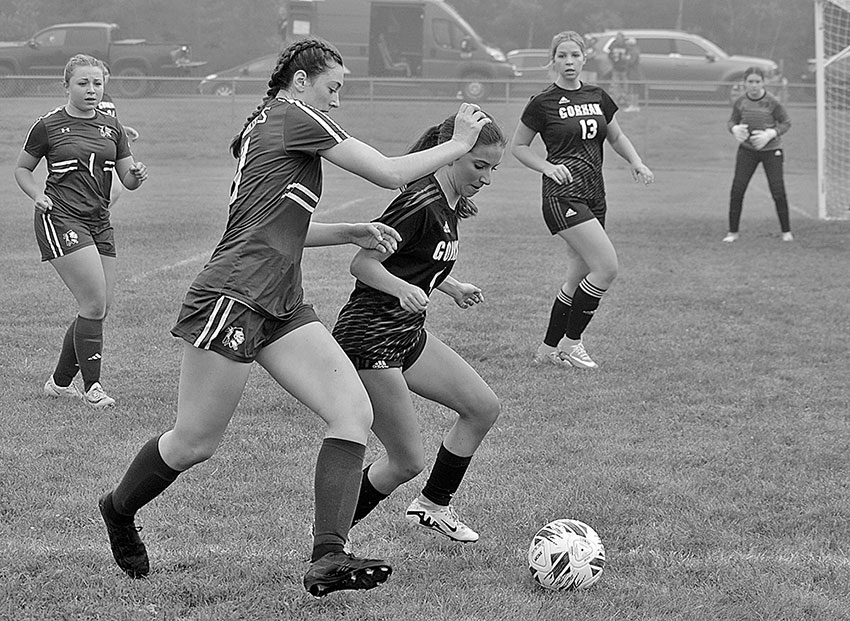 SHIS FAVORITE RUNNER

Four-year-old Kaelin Oxley of Rutland, Vt., dressed for the running festivities on Thanksgiving in Colebrook, posing with grandfather Peter Sutters after finishing the 1K Chicken Run at the North Country Community Recreation Center. Kaelin was one of nine participants in this year's Chicken Run, held in conjunction with the annual 5K Turkey Trot. (Alan Farnsworth photo)
---
Sanborn Sentenced for 2010 Deaths at BlackMag Factory

By Jake Mardin
In a hearing at Coös County Superior Court in Lancaster on Wednesday, Craig Sanborn, 64, of Maidstone, was sentenced to 10 to 20 years in State Prison for two counts of manslaughter in the deaths of Jesse Kennett and Donald Kendall. The two men were employees of the Black Mag gunpowder manufacturing facility in Colebrook, and died in the explosion that occurred there on May 14, 2010.
After a 14-day jury trial, Mr. Sanborn was convicted on two counts each of manslaughter and negligent homicide in October. Mr. Sanborn could not be sentenced on both negligent homicide and manslaughter, so County Attorney John McCormick elected to proceed with manslaughter, the more serious charge, which brings a maximum of 30 years on each count.
Mr. McCormick said the state was recommending 10 to 20 years on each charge, and said he would leave it to the court to determine if they would be consecutive or concurrent. "Clearly Craig Sanborn operated a storage and testing facility in a manner that was reckless," he said. "The loved ones who are left behind will never be the same."
He said family and friends of both men would never be able to see them again, while Mr. Sanborn's family and friends would still be able to have contact with him in or out of prison. Mr. McCormick added that his proposed sentence would allow Mr. Sanborn to still lead a productive life, in or out of prison. "This is much more than Donald or Jesse will have an opportunity to do," he said.
He read an excerpt of a letter from Ruth Kendall, Donald's mother, which stated, "My family and I are trusting that Mr. Sanborn will receive a hefty sentence and Donald and Jesse will receive justice."
Jesse's wife Bethany Kennett addressed the court, and was accompanied by Colebrook attorney Phil Waystack. "On May 14, my life and my daughter's life ended as we knew it," she said. "My husband was a good man and all he wanted to do was go back to work."
She recounted the events of the day, when she was picked up at her home in Stratford and taken to Colebrook and waited for an update at Upper Connecticut Valley Hospital. "When Jesse's brother came through the door without him, that's how we knew," she said. She also talked about her dependency on Jesse. "I have never been alone in my life," she said. "I went directly from living at home to marrying him." She said her daughter was pregnant and her son would never get to know his grandfather. "No matter what happens today, it won't bring Jesse or Donald back," she said.
Among those speaking on behalf of the defendant was former Groveton police chief Lloyd Tippett, who said he has known Mr. Sanborn for 25 to 30 years. "Mr. Sanborn has always been a giver to his community and to his neighborhood on both sides of the river," he said, saying that Mr. Sanborn and his family were there for him at the time of his wife's passing. "I've never known him to do anything that would cause hurt or pain to anyone knowingly for any reason."
Chief William Colborn of Lancaster Police Department said he has known Mr. Sanborn for close to 40 years. "In that time, I've known him to be a civic-minded man, donating to causes he supports," he said. "He's also been very close to his family, something I've always admired about him. There's no way he would ever put friends and family in danger. I've dealt with people with criminal intent...and Mr. Sanborn is not one of those people."
Also speaking in favor of Mr. Sanborn was Gail Tattan-Giampaolo, the executive director of North Woods Home Health and Hospice. She said she has known him and his family since 2000 when he moved to Maidstone Lake.
"He's the kind of guy that when someone was off the road, he would be there to make sure everything is okay," she said. She said he was active in the lake community and in the town. "In the last ten years I've had the good fortune to have him donate nearly $10,000 to the hospice," she said. "I can't tell you how many families that has touched. To this day, he continues to give, not only to the hospice, but for people in the community."
She talked about a neighbor who didn't have much time left and loved the Winter Olympics; Mr. Sanborn organized an Olympics ceremony for her. "He has one heart, one soul and it is a good one," she said. She also said he was distressed when learning of the explosion and was trying to figure out who was in the building. "Those tears were real," she said. "His life will never be the same as well."
After defense attorney Mark Sisti addressed the court briefly, Mr. Sanborn came up to speak. "When the opportunity came to be involved in Black Mag, it looked like it offered an opportunity for a new business and jobs in an area that really needed it," he said, noting that he was at a National Rifle Association show in North Carolina when he heard the news.
"It was endless hours of waiting before I knew I had lost Jesse and Donald," he said. "Not a day goes by that we don't take the time to think about them. They were valued friends and workers." He said he had not been allowed the opportunity to contact any of their family members after the incident. "I can assure you they have been in my thoughts and prayers every day since this tragic accident occurred," she said.
With tears in his eyes and his voice breaking, Mr. Sanborn addressed the families directly. "I would like to take the opportunity to tell the court and their families that I am truly sorry for their loss and my heartfelt condolences go to the families of Jesse Kennett and Donald Kendall," he said.
Mr. Sisti observed that his client has been the subject of litigation for the past three years. "Every waking moment, Mr. Sanborn hasn't been able to ignore what took place at the Colebrook plant," he said. He requested a sentence of 12 months in the county jail, with another 3.5 to seven years in N.H. State Prison suspended for five years with probation for five years, plus 250 hours of community service and an appropriate fine.
Judge Peter Bornstein said he had to consider a number of things, including where manslaughter falls on the criminal spectrum and the statements from both sides. He said manslaughter is one of the most serious charges, falling just short of murder. He said the pre-sentencing investigation report recommended 15 to 30 years, but he felt that was too high, and that he would impose consecutive sentences to reflect two separate losses of life.
In addition to the prison sentence of 10 to 20 years, Mr. Sanborn was fined $9,920 and prohibited from contact with Ruth or Sherry Kendall or Bethany Kennett.
The court then addressed Mr. Sisti's motion seeking Mr. Sanborn's release on bail pending the outcome of his appeal, as he has been free on $250,000 cash or corporate surety bail while awaiting sentencing. Mr. Sisti said Mr. Sanborn does not pose a flight risk and has presented no issues since he was convicted. He said a notice of appeal to the state Supreme Court would be filed shortly.
Mr. McCormick said the surviving family members have waited three and a half years for justice, which granting the defense's request would deny them. Judge Bornstein denied the motion and Mr. Sanborn was accompanied out of the courtroom by a Sheriff's Department deputy.
(Issue of December 4, 2013)
---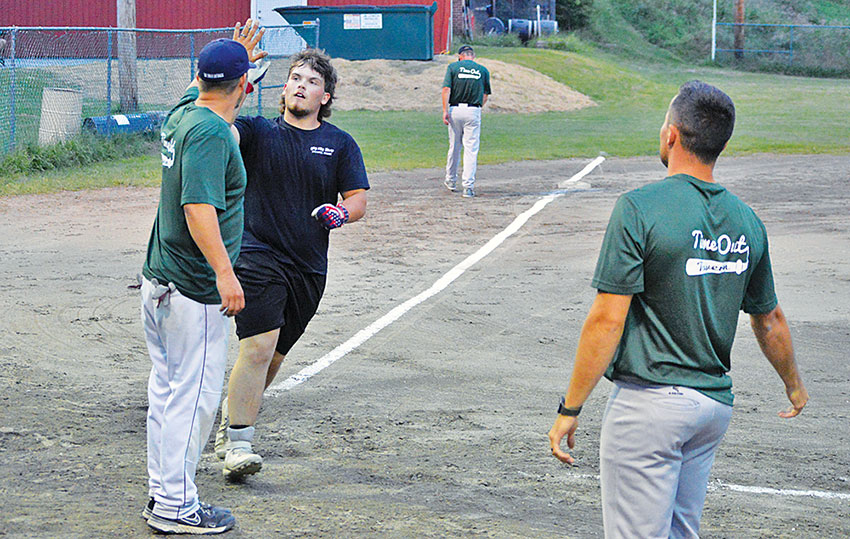 BEST COSTUMES

Nine-year old Thomas Halligan and Teresa Bolton of Norton won first prize, a Christmas wreath, for best costume as a turkey and the turkey cooker on Thursday, November 28 at the third annual 5K Turkey Trot in Colebrook. (Alan Farnsworth photo)
---
Late Nite Madness Kicks off Event-Filled Weekend


Downtown Colebrooks annual Late Nite Madness shopping extravaganza is here, kicking off a weekend full of events to welcome the Christmas season from Friday through Sunday, December 6-8. Santas Workshop takes place at the Tillotson Center on Saturday, and Santa Comes to Town and the Kiwanis Christmas Party are on Sunday.
A Snowflake Raffle is currently underway at downtown stores (look for blue snowflake signs), and tickets may be purchased for $1 each or $5 for six to win cash prizes of up to $150.
Entries in the Holiday Wreath Contest will be accepted at the Williams Building on Titus Hill Road today, December 4, between 11 a.m. and 7 p.m.
Contest wreaths will be displayed during Late Nite Madness events on Friday night and Saturday. During that time, the public will be invited to fill out a ballot and vote for their favorite wreath in each category and fill out a bid slip in a silent auction for a particular wreath.
Both the contest and the auction will close at 1 p.m. Saturday, with the winners announced at 2:30 p.m. at the Tillotson Center. Winners of the Snowflake Raffle will also be announced at this time. Contestants and bidders need not to be present to win. Questions may be addressed to Cindy-Lou Amey, at 603-538-7734.
Friday, Dec. 6 Events
Downtown stores will be open until 9 p.m. for Late Nite Madness shopping, and hot cocoa and cookies are available at the Twinkle Tent next to Golden Locks. As always, the Brady familys beautiful Percherons will offer horse-drawn hayrides and the Colebrook Academy Key Club elves will be out distributing candy canes and Christmas cheer from 5 to 8 p.m. Also during that time, children are invited to visit Jingles the Christmas Donkey, with souvenir photos available for purchase from the Key Club.
Late Nite Madness takes a turn back to the 1800s this year, with two activities also taking place from 5 to 8 p.m.: Spotlight Creations will offer "Old Tyme Victorian Holiday" souvenir photo opportunities for purchase, providing period costumes to wear; and Colebrook Academys drama, band and chorus students will entertain shoppers while strolling along Main Street in Victorian attire. In what is now a familiar Late Nite Madness tradition, Dr. Nathan Drum will be on hand with his antique Gem roller organ music.
St. Brendans Catholic Church will host a $5 supper of soup, bread and dessert from 5 to 7 p.m., and the Ministerium is hosting events at Trinity United Methodist Church (see related article).
Saturday, Dec. 7 Events
Kheops International will host Santas Workshop from 10 a.m. to 3 p.m. Saturday at the Tillotson Center. Admission is free, but charges apply for some activities. Children may work on ornaments and crafts with Santas elves, and participate in face painting and cookie decorating.
Kids may also learn how to make a Christmas wreath and take it home, have their picture taken with Santa, and enjoy a story time with Mrs. Claus. Hot chocolate, coffee and a holiday music CD will be available for sale by the Tillotson Center, along with student-made baked goods and crafts.
The Brady family will be back to offer horse-drawn hayrides from 11 a.m. to 2 p.m., and the C.A. students will be once again strolling and singing to entertain shoppers. Downtown stores will remain open until 3 p.m.
Also on Saturday, the Monadanock United Congregational Church will host its annual Christmas Bazaar & Tea from 10 a.m. to 2 p.m., offering a wide array of hand-crafted items for sale.
Sunday, Dec. 8 Events
The Kiwanis Club of Colebrook delights children each year with Santa Comes to Town and a Christmas party at the school gym. The Colebrook Fire Department gives Santa and Mrs. Claus a ride down Main Street to light the Christmas tree in front of Jenkins & Newman Funeral Home, then the Clauses continue to the gym for the 1 p.m. party.
The Kiwanis and area Key Clubs provide a variety of games and activities, and help writing letters to Santa. Children can sit down one-on-one with the big man himself, sharing their Christmas gift wishes and taking home full stocking of goodies. More information is available from the Kiwanis Club, on-line at www.colebrook-kiwanis.org.
About the CDDA
The Colebrook Downtown Development Association (www.colebrookmainstreet.com) hosts Late Nite Madness with assistance from student organizations and volunteers. More information is available from Promotions Committee chairman Angela Ricker, at 603-237-8650. CDDA is a nonprofit organization whose mission is to promote local shopping and the vitality of Colebrooks downtown area.
(Issue of December 4, 2013)
---