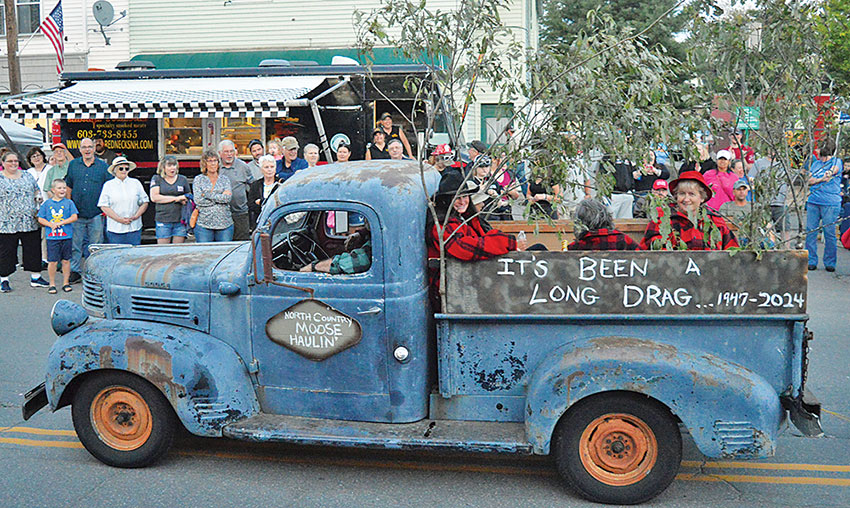 FATAL ACCIDENT IN DIXVILLE

An accident at the construction area on Route 26 in Dixville on Friday afternoon claimed the life of George Heald of Colebrook. Police say his vehicle went off the road and struck an embankment before striking a parked piece of paving equipment. (Karen Harrigan photo)
---
Cause Unknown for Friday's Accident in Dixville that Killed Colebrook Man
By Jake Mardin
A Colebrook man lost his life in an accident on Route 26 in Dixville on Friday afternoon, at the construction site just north of the Colebrook town line.
N.H. State Police report that George Heald, 60, was traveling west on Route 26 in a 2001 Toyota Celica GT at around 3:35 p.m. when his vehicle went off the right side of the highway after striking some traffic cones. The vehicle struck the guardrail, then veered off the left side of the road and hit an embankment before going airborne.
The car came to rest when it struck a piece of paving equipment that was inactive at the time, and parked several feet off the eastbound side of the road. Mr. Heald suffered fatal injuries and was pronounced dead at the scene. State police said neither speed nor alcohol appear to be factors in the crash, the cause of which is still unknown.
Personnel from Troops F and G, the NHSP Collision Analysis and Reconstruction Unit, Colebrook's police and fire departments, 45th Parallel EMS, and Errol Fire and EMS assisted at the scene. The investigation is ongoing, and anyone who witnessed the collision is asked to contact Trooper Michael Petrillo at 603-846-3333.
A local high school graduate and Army veteran, Mr. Heald spent many years at Ethan Allen and more recently worked on construction around the region.
(Issue of October 26, 2016)
---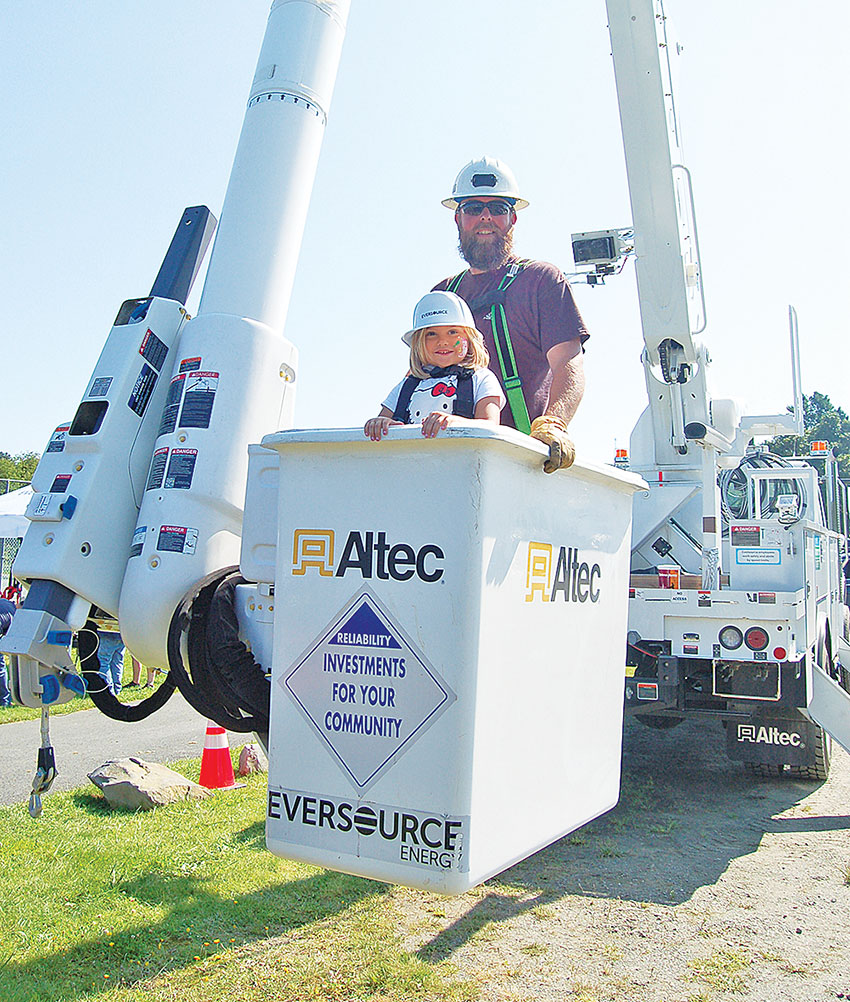 TOUGH START

Fifty-four boys competed in the Granite State Conference Championships meet, held at Murphy Dam in Pittsburg on Friday, and they all had to contend with a hill climb right off the starting line. (Jake Mardin photo))
---
Over Objections of Forest Society, PUC Deems Northern Pass a Utility
By Jake Mardin
In a decision issued last Friday, the Public Utilities Commission of New Hampshire ordered that Northern Pass Transmission is conditionally authorized to operate as a public utility.
"NPT must obtain all necessary permits, licenses and approvals to build the Northern Pass Transmission line, including a certificate of site and facility from the [state] Site Evaluation Committee," the order reads, and "must contribute $20 million over a ten-year period to be allocated by the Commission to energy efficiency programs and other clean energy initiatives, and must hold New Hampshire electric ratepayers harmless from costs associated with the possible regional allocation of costs for a portion of the Northern Pass transmission line."
The decision comes roughly a year after Northern Pass filed a petition with the PUC to commence business as a public utility. The company is seeking to build a 192-mile line from the international border near Halls Stream Road in Pittsburg to a substation in Deerfield. "Because NPT intends to own, operate or manage facilities in the state for the transmission or sale of electricity ultimately sold to the public, NPT meets the definition of public utility as set forth in RSA 362:2, I," according to the order.
The order notes that the Society for the Protection of New Hampshire Forests offered comments during a hearing in July. "The Forest Society requested that any commission order approving NPT's petition to commence business as a public utility include an 'explicit statement' that the commission is not adjudicating any property rights," the order states. "Second, the Forest Society requested that the commission require that regardless of its public utility status, NPT may at no time avail itself of the eminent domain process 'regardless of whether the law changes.' Third, the Forest Society asked that the commission affirmatively find that any public benefit does not violate any rules governing affiliate transactions."
Northern Pass addressed the issues brought up by the Forest Society, according to the order, stating that the company "did not ask that property rights be affected," that "it is committed to complying with the affiliate contract rules and statutes," and affirmed that it "has no intention of seeking eminent domain."
The PUC declined to issue the findings requested by the Forest Society. "Our granting of permission to NPT to operate as a public utility is not an adjudication of real property rights," the order reads. "NPT's status of a public utility subjects it to the full array of applicable laws and regulations identified in the settlement agreement. Like any other public utility, NPT will be required to diligently comply with our affiliate transaction rules. Lastly, whether amendments to the state's eminent domain law will apply to NPT and its proposed transmission facilities is a matter we must leave to the legislature."
To go forward, the project requires a certificate of site and facility from the N.H. Site Evaluation Committee and a Presidential permit from the U.S. Department of Energy. The deadline set by the SEC on issuing a certificate is September 30, 2017. The DOE process is also ongoing, with a final environmental impact statement still in progress, and draft EIS issued last July.
(Issue of October 26, 2016)
---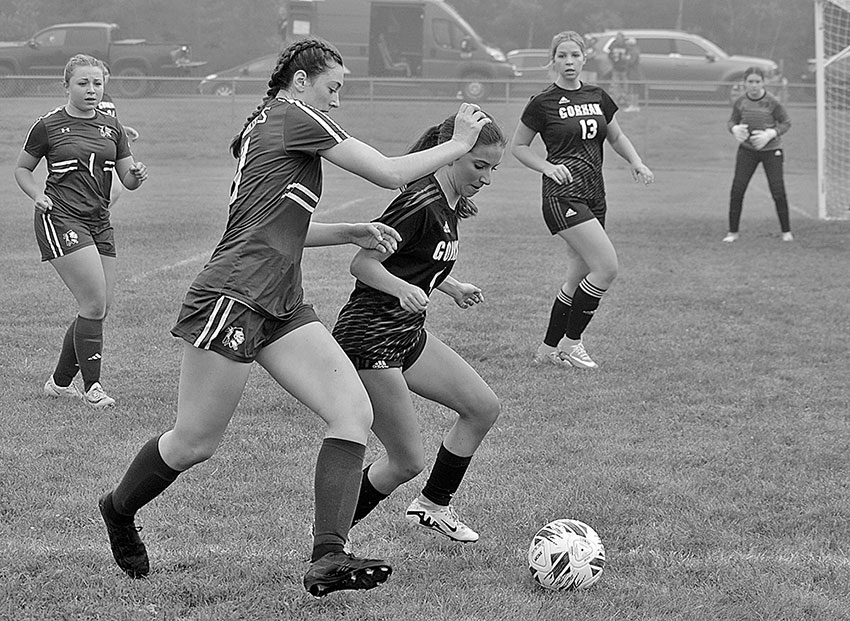 WACKY WAITERS AT THE SPA

A Wacky Waiter Night to benefit Two Rivers Ride for Cancer was held at The Spa Restaurant in Stewartstown on Monday. The event raised $1,250, mostly in tips for Brian Riff, Kelly Grover, Butch Ladd, Debbie Lynch and Tina Fournier, volunteer Wacky Waiters who served customers items from a special Halloween-themed menu. (Jake Mardin photo)
Colebrook, Groveton Teams Playing in Division IV Soccer Tournament

The New Hampshire Interscholastic Athletic Association announced the Division IV soccer playoff brackets on Monday morning, and both Colebrook and Groveton will play in the tournament. Complete information and game results can be found on-line at www.nhiaa.org.
Starting this fall, the NHIAA is implementing a new "70 percent rule," under which no more than 70 percent of teams in any division will be eligible for postseason play. Both the boys' and girls' Division IV soccer tournaments will have 13 teams, with the top three teams receiving first-round byes.
Girls' Playoffs
The #6 Colebrook girls will host #11 Pittsfield at 3 p.m. Thursday, October 27 in Colebrook. The Mohawks finished the regular season with a record of 11-4-1. After starting the season with a 2-3 record, Colebrook went 9-1-1 the rest of the way, winning seven straight at one point. The Colebrook girls have wins over 12-3-1 Profile, 12-3-1 Gorham and 12-4 Littleton.
Offensively, the duo of Michaella Biron and Taylor Siewierski are a dangerous combination, and Chandla Cooney and Missy Collins and goalkeeper Brooke Lawson anchor a defense that has allowed only two goals in their last nine games. Pittsfield went 7-8-1 during the season. Common opponents with Colebrook were Groveton and Canaan-Pittsburg.
#1 Sunapee, #2 Newmarket and #3 Gorham received first-round byes. The winner of tomorrow's game will travel to Gorham for Sunday's quarterfinal game at 2 p.m. The semifinals are scheduled for 4 p.m. on Thursday, November 3, and the Division IV final will be played at noon Sunday, November 6, both at Laconia High School.
Boys' Playoffs
The #8 Eagles were set to host #9 Sunapee on Tuesday, October 25 in Groveton. The Eagles wrapped up their regular season with a 9-6-1 record, with wins over 9-7 Gorham and 7-6-3 Profile. Groveton is an athletic team, and Corey Gadwah, Daegan Lurvey and Austin Woodward are all scoring threats, while Austin Lesperance does a good job in net.
Sunapee went 9-7, with wins over 11-4-1 Newmarket, Gorham, 9-5-2 Pittsfield and 10-5-1 Moultonborough.
#1 Littleton, #2 Epping and #3 Woodsville received first-round byes. The winner of yesterday's game will play at Littleton in the quarterfinal, at 3 p.m. Friday, October 28.
The #13 Colebrook boys travelled to #4 Newmarket on Tuesday, October 25. The Mohawks secured their spot in their playoffs with a win over Canaan-Pittsburg in the regular season finale to end the regular season at 7-7-2, and split their season series against 9-7 Gorham and 9-6-1 Groveton.
They have a lot of speed up front with Jon Scherer, Jose Alvarado and Dylan Carpino, and have a solid midfield presence with Chris Land. Daegan Riff, Brandon Crawford and Spencer Poulin have also been good contributors, along with Josiah Young in the backfield and Garrett Purrington in the net.
Newmarket went 11-4-1 during the regular season and defeated Colebrook 3-1 early in the season. The Mules won seven of their last eight games, including a season sweep of 11-4-1 Portsmouth Christian. The winner of yesterday's game will face the winner of Portsmouth Christian and Concord Christian at the home of the higher seed on Friday, October 28 at 3 p.m.
The Division IV boys' soccer semifinals will be played at 6 p.m. at Laconia High School on Monday, October 31, and the final is scheduled for 11:30 a.m. Saturday, November 5 at Southern New Hampshire University.
(Issue of October 26, 2016)
---