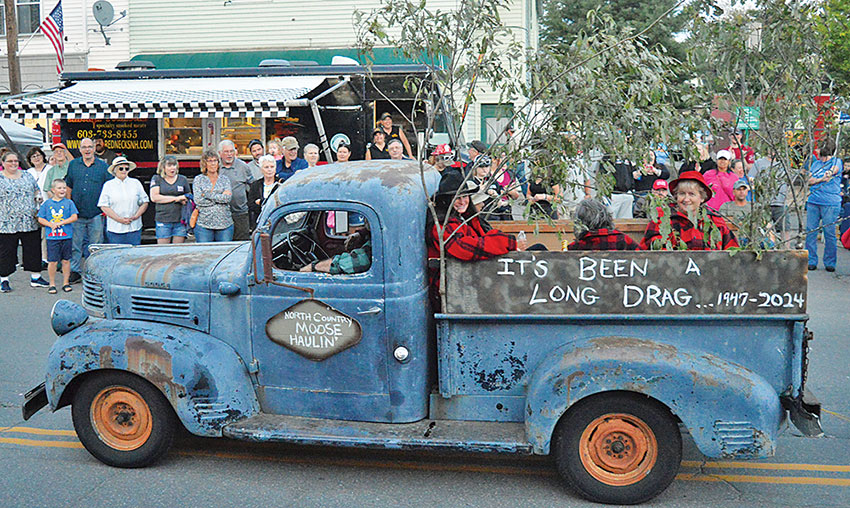 WPLENTY OF MONKEYS

Higgy and Viggo Kardell of Gorham, along with their two-year old poodles Viajero and Zeus, dressed as sock puppets and handily won the Funniest Costume prize during the 16th Poodle Party costume contest on Sunday, September 25 at Crabapple Downs in Columbia. (Alan Farnsworth photo)
---
Noyes' Competency Hearing Cancelled; No New Date Set

A competency hearing for Wendell Noyes that was scheduled to be held at Lancaster District Court last Thursday was cancelled, and as of press time yesterday it had not been rescheduled.
Mr. Noyes was arrested in June on a second-degree murder charge for allegedly submerging his 11-year-old stepdaughter Celina Cass in the Connecticut River in West Stewartstown in July of 2011.
Mr. Noyes was arraigned on the charge this past June at Berlin District Court, one day after being arrested. His attorney told the court that Mr. Noyes was found incompetent to stand trial last year on unrelated misdemeanor charges of simple assault, resisting arrest, criminal mischief and breach of bail.
(Issue of September 28, 2016)
---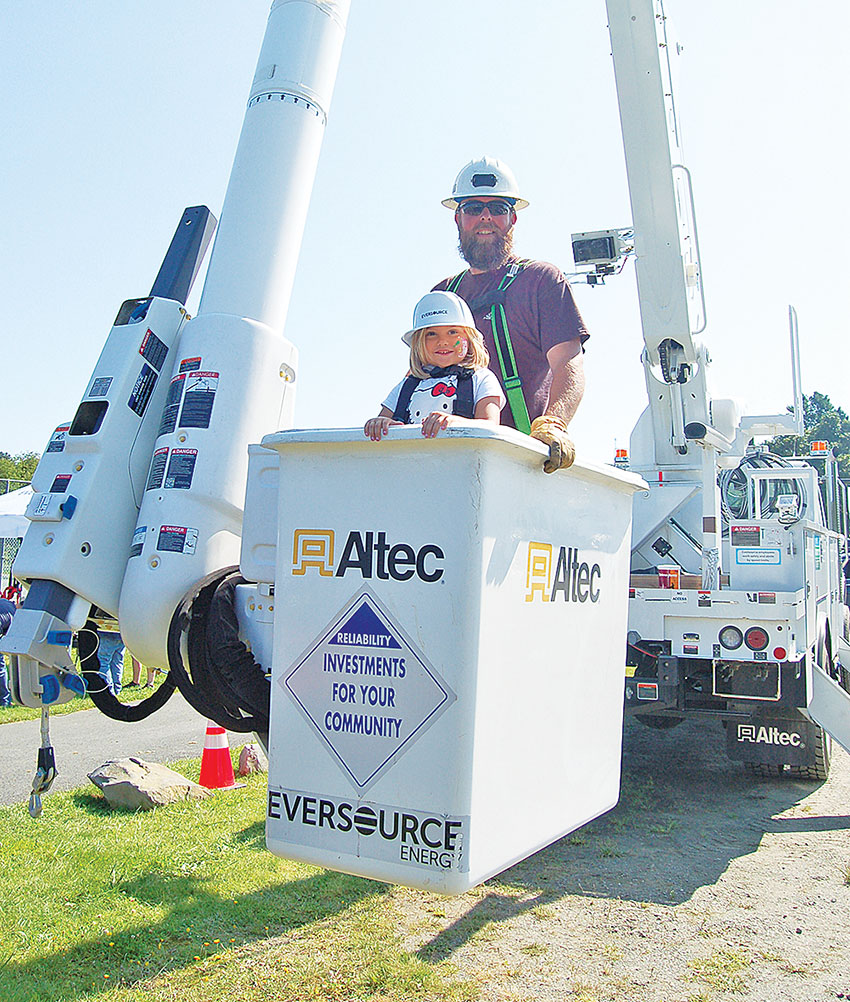 DESCENDENT TELLS THE STORY

A large crowd of Pittsburg residents and visitors from Québec's Eastern Townships gathered at the Pittsburg town common on Saturday for the dedication of a silhouette monument honoring Indian Stream Republic leader Luther Parker. The permanent exhibit allows visitors to hear an audio recording in both English and French about the life and times of Mr. Parker, whose great-great-grandson Richard Parker was on hand to take part in the ceremony. (Rob Maxwell photo)
---
Monument to Author of Indian Stream Republic Constitution Is Dedicated
By Rob Maxwell
A dedication ceremony was held in Pittsburg's town park on Saturday, September 24 for a silhouette monument in honor of Indian Stream Republic leader and constitution author Luther Parker. The interactive monument is the first of its kind in the United States, and joins 20 others found in several of Quebec's Eastern Townships that honor pioneers and leaders from the late 19th and early 20th centuries.
Luther Parker lived from 1800-53, and spent the years from 1827-36 in the area that became the Indian Stream Republic. Residents of both American and Canadian heritage established the republic in 1832 after a lengthy border dispute tracing back to the end of the Revolutionary War. Parker served as the republic's Justice of the Peace and is credited with writing its constitution.
The Republic of Indian Stream functioned as an independent nation that encompassed the First and Second Connecticut Lakes until 1835, when about 50 members of the New Hampshire Militia occupied the territory, and Mr. Parker was arrested and jailed in Sherbrooke, Quebec.
Parker relocated to Wisconsin in 1836, eventually becoming lieutenant governor of that state. The area within the Indian Stream Republic was incorporated as the Town of Pittsburg in 1840, and the Webster-Ashburton Treaty of 1842 officially resolved the land and border dispute, and the town was assigned to the State of New Hampshire.
The Luther Parker monument in Pittsburg becomes part of what's known as the Pioneer Trail, which includes 20 silhouettes situated throughout southeast Quebec Province, all of which honor early people of prominence from the 1800s and early 1900s. Pittsburg Historical Society president David Covill said last week that the addition of the Parker silhouette was initiated by a group from Canada, "who wished to emphasize the long-standing connection between people living on the New Hampshire and Canadian border."
Mr. Covill noted that each silhouette includes a device allowing visitors to listen to a five- to six-minute audio presentation in either English or French, that personifies the life and times of the person honored on each monument. The silhouettes are constructed of steel and stand eight feet high, and each one is placed so that a church steeple or other significant feature can be seen through the cutout of the person being recognized. In Pittsburg, the steeple of Farnham United Methodist Church can be viewed through the outline of Luther Parker.
Mr. Covill noted that most of the funding for the silhouettes in Canada came from the Neil and Louise Tillotson Fund of the New Hampshire Charitable Foundation, and assistance for Pittsburg's project came from the Tillotson North Country Foundation. The Luther Parker silhouette is permanently on display and the audio recordings are accessible year-round except for January and February.
(Issue of September 28, 2016)
---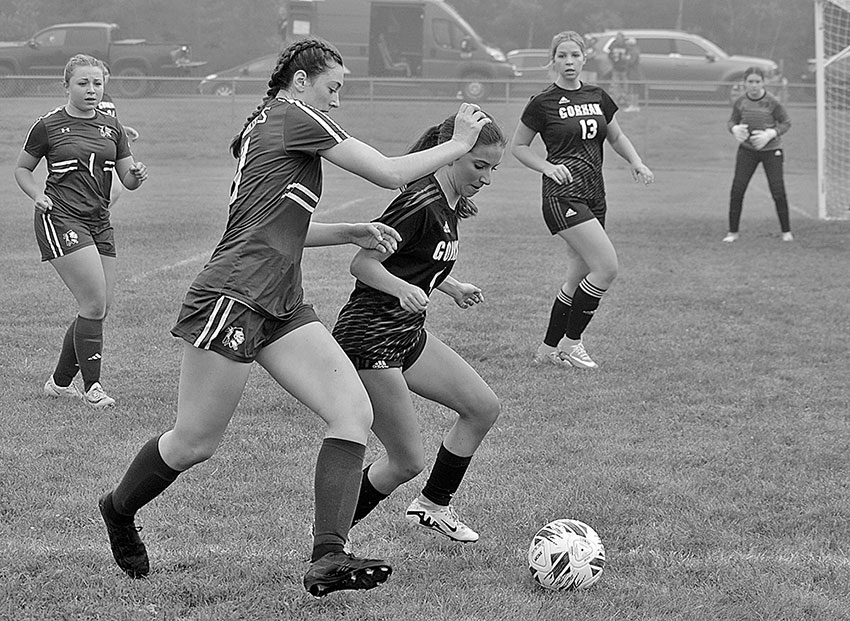 RUN, PAPA, RUN!

Seven-year-old Nicole Lefavour of Southborough, Mass., made this sign to support her dad, Clark, as he ran his sixth Dixville Half-Marathon on Saturday. She and mom Valerie were positioned at the intersection of Diamond Pond Road and Route 26 to cheer Clark on as he turned the corner. (Karen Harrigan photo)
Addiction & Recovery Awareness March This Saturday in Colebrook
By Karen Harrigan
Members of an addiction recovery group and their families have formed a new network of support called TruNorth, and invite the public to join their Addiction Recovery and Awareness March in Colebrook this Saturday, October 1.
The 11 a.m. march starts and ends at the Monadnock Congregational Church, and participants are free to make and bring their own signs to carry and show their support. Following the walk, a vigil will be held to honor those who have lost their lives to addiction, with words from local clergy and a balloon release.
T-shirts bearing the TruNorth logo on the back, and a teal ribbon signifying addiction recovery awareness on the front, will be sold for $10 each. The logo is centered around a compass, with the words truth, empathy, sobriety and wisdom at the four cardinal points, and fortitude, integrity, respect and commitment at the four ordinal points.
The idea for TruNorth and this Saturday's march was generated among members of the grant-funded Intensive Outpatient Program at the Indian Stream Health Center, which started meeting on July 5. Phase One of the program operates from 4:30 to 7:30 p.m. from Monday through Thursday for four weeks; Phase Two consists of one weekly session for ten weeks.
"This is an abstinence-based model, which means participants are required to not use any inebriants including alcohol and marijuana," explains Laurie Connors, who will soon take the position of behavioral health director at ISHC. "This program aims to assist people who are struggling with any dependency-forming substance."
Amanda Parker of Colebrook is participating in the program, and said her mother suggested the awareness walk during a Family Night discussion. "We were talking about how a lot of people have misconceptions that it's not a chronic disease, that you can just say, 'No,'" she said. "There's so much more to it than that."
Susan Allen Davis, who has been in recovery for 16 months, agreed. "The biggest thing people need to be aware of is that addiction doesn't discriminate," she said. "It can affect anybody at any time." Amanda added, "Rich or poor, it doesn't matter. I was brought up in a good family and I wasn't abused. It affects everyone."
Gregory Lamm is the current behavioral health director at ISHC, and has been working with the group to help build the TruNorth community. "When it was first put together, it was about living in the North Country, and those principles of integrity, fortitude, truth," he said. "TruNorth is a direction, referring to being willing to stand as individuals and as a community. People need that social network of support."
He pointed out that TruNorth is not affiliated with ISHC, and expressed hope that the new organization "will stand on its own and be an independent entity." He also hopes people will come to Saturday's walk and "memorialize people they've lost," and that this constitutes a first step toward educating the community about addiction and recovery.
Amanda and Susan are both enthusiastic about this opportunity to engage with the public and hope for a strong turnout from the community. Susan has recently been hired as a peer support specialist at ISHC, and Amanda is interested in speaking to students in local schools. "We need to do something to educate the kids," she said.
More information about the Intensive Outpatient Program and other support services may be obtained by contacting ISHC at 237-8336.
(Issue of September 28, 2016)
---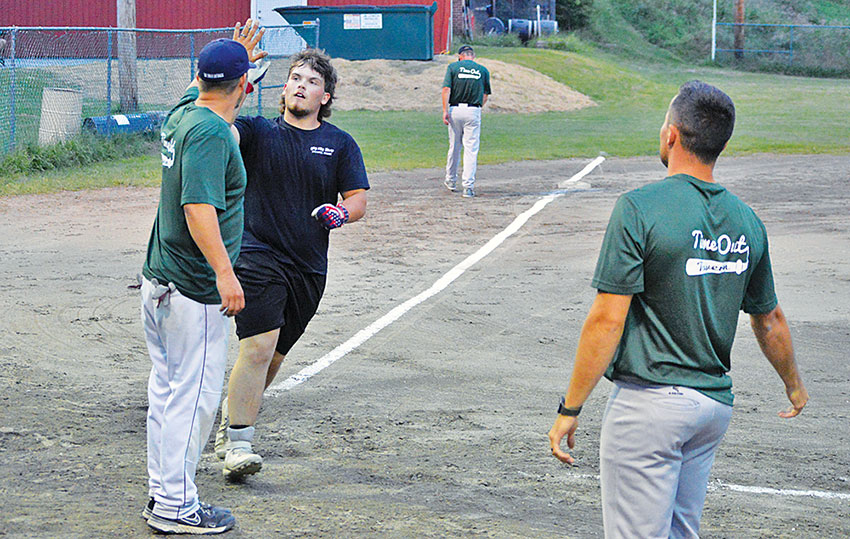 ARTIST RENDITION

UCVH is undertaking a $2 million expansion and renovation project that will include a total makeover of the emergency department. This foursome gathered in the hospital's ER on Friday morning to display a drawing of what the space will look like when work is completed next year. From left to right are PA student Nina Lai, UCVH president Scott Colby, PA Ed Laverty, and nurse manager Amy Lane, RN. (Rob Maxwell photo)
Upper Connecticut Valley Hospital Plans Renovation, Expansion Project
By Rob Maxwell
Upper Connecticut Valley Hospital has announced plans for a $2 million expansion and renovation project in Colebrook. The work will more than double the floor space of the emergency and rehabilitation departments, provide enhanced services and space for specialty medical services, and create more comfortable patient registration and waiting space.
UCVH president Scott Colby, board of directors chairman Greg Placy and North Country Healthcare CEO Warren West provided some details about the project, which Mr. Placy described as, "the largest construction project here since the hospital was originally built."
Mr. Colby noted that preliminary work in the hospital's reception area is underway, although an official ground-breaking is planned for October, and project completion is scheduled for 2017. He said Daniel Hebert, Inc., of Colebrook will be the project's primary contractor, with some sub-contract work to be done by several local firms.
A comprehensive fact sheet and written press release provided by Mr. Colby indicate that upon completion, the project will increase emergency services' floor space from 1,000 to 2,400 square feet, and increase the number of ER private room spaces from two to six, including a large private trauma room. Rehabilitation floor space will expand from 860 to 2,400 square feet, and patient registration spaces will be slightly expanded and made more efficient.
"The project will provide much needed, and more efficient space at the hospital and ensure an even higher level of care and service," Mr. Colby states in the press release. "Most importantly, this project will guarantee that UCVH is ready to meet the future health needs in our region."
Mr. West and Mr. Colby made it clear that financing for the construction project will come from a UCVH capital campaign and from hospital reserves. Mr. West said other hospitals within the North Country Healthcare alliance will play no role in funding the UCVH project. UCVH recently entered a collaborative agreement with Weeks Medical Center in Lancaster, Androscoggin Valley Hospital in Berlin and Littleton Regional Healthcare to improve planning, administration, human resources, marketing and contracting under cooperative efforts.
Mr. Colby explained on Thursday that the hospital has leased the former Poulin Sales building at the southern end of Colby Street in Colebrook, "where we intend to temporarily relocate some clinical space that will be ready for use in early October, while work goes on at the hospital."
Mr. Colby added that the Colby Street location will house outpatient rehabilitation; physical, occupational and speech therapy; some physician specialty clinics; and a few administrative services. "In all, there will be around 10 employees at the Colby Street location and there will be no changes in patient scheduling," he said.
The press release quotes Mr. Placy as stating, "Our hospital is of vital importance to our community. Through the years it has helped keep our families and friends healthy by offering quality treatment for everything from the common cold to medical emergencies. These new facilities will allow us to improve care in a welcoming and modern environment. The overall design will be more efficient, comfortable, and will allow for the better flow of patients and staff. Our community will benefit from all the wonderful new and expanded components of this renovation."
Mr. Colby said anyone currently receiving outpatient rehabilitation and specialty services may call the new location with questions, at 388-4206.
(Issue of September 28, 2016)
---