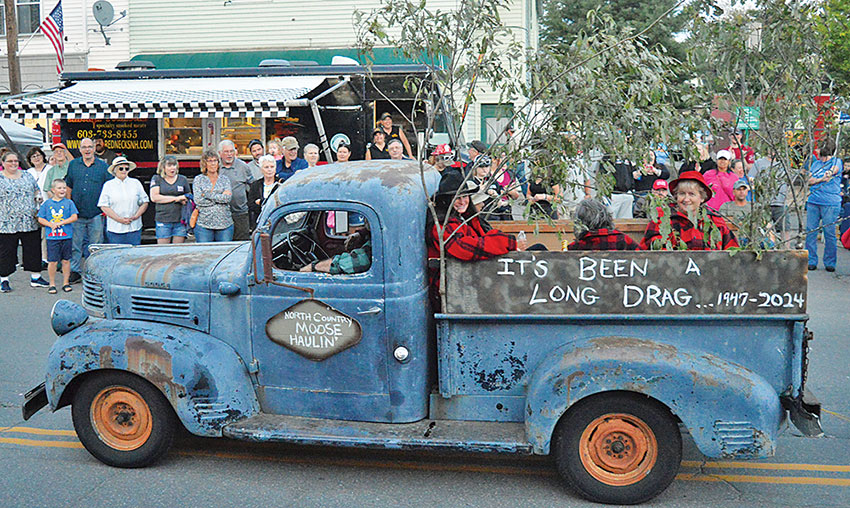 A FRANTIC START

The eleven competitors in the ages 8-11 division of the Kiwanis Winter Carnival soapbox derby take off in icy conditions on the Colebrook Country Club golf course Saturday morning, February 25. This year's competition drew 18 entries for both races. (Alan Farnsworth photo)
Noyes Found Incompetent for Trial on 2011 Celina Cass Murder Charge
By Jake Mardin
In a hearing held at Coos Superior Court in Lancaster on Monday, prosecutors agreed that Wendell Noyes is presently not competent to stand trial, and the court dismissed a second-degree murder charge against him in the 2011 death of his 11-year-old then-stepdaughter, Celina Cass of Stewartstown.
The state had charged Noyes, 52, with second-degree murder for allegedly killing the girl in Stewartstown in July of 2011. Her body was recovered from the Connecticut River less than a mile from her home a few days after she was reported missing on July 26.
Judge Paul Desjardins' order stated that Mr. Noyes was "not competent to stand trial and as demonstrated by clear and convincing evidence that there is no reasonable likelihood that [he] can be restored to competency through appropriate treatment within 12 months." The court also found that he is dangerous to himself and others.
Mr. Noyes, who did not appear in the courtroom, was transported to the state hospital in Concord, where his case will be reviewed every five years. If he is found competent in the future, charges may be brought forward again.
The state's proposed findings of facts and rulings of law states that Dr. Albert Drukteinis performed a competency evaluation on Mr. Noyes and believed that his competency cannot be restored. He had spent time at the state hospital last year and was scheduled to be released before his arrest on the murder charge in June. Defense attorney Justin Shepherd, of Shepherd and Osborne of Nashua, said Mr. Noyes has maintained his innocence.
Associate Attorney General Jane Young stated that "based on the information we had on Mr. Noyes, this was the best outcome," noting the newly unsealed affidavit in support of his arrest lays out what investigators believe happened. "Because of his mental state we weren't able to incarcerate, but that's the system we have," she said.
Investigation Findings Revealed
The 36-page affidavit in support of an arrest warrant prepared by Det. Charles West was unsealed on Monday, offering a glimpse into the timeline of the case and the state's basis for pursuing charges against Mr. Noyes. The following is a synopsis of what detectives state they discovered during their investigation:
Celina Cass was last seen on Monday, July 25, 2011 at around 9 p.m. at her home on Washington Street. An analysis of the family computer showed she was logged onto a social network from 9:05 p.m. until 10:28 p.m. Investigators spoke with several people including Wendell Noyes, his mother, neighbors, Celina's sister and mother, Louisa Cass, and Kevin Mullaney, who was staying at the home.
Wendell Noyes told investigators that he last saw Celina at 9 p.m. in her basement bedroom using the computer, and when he woke up she was gone. In another interview, he stated that he last saw her at 9 p.m. on the couch in the living room.
On Monday, August 1, the N.H. Fish and Game Dive Team located her body abound a quarter-mile north of the home, submerged approximately 15 feet below the surface of the Connecticut River near the hydro dam. An autopsy conducted the following day ruled that her death was a homicide, and the cause of death was drowning. The medical examiner noted that abrasions consistent with sexual activity were found. Her body had been wrapped in a blue comforter, and wrapped or tied up with about 30 feet of twine, along with a plaid blanket. A clear plastic bag of sand weighing over 50 pounds was also found with her body, and she was wearing a T-shirt and bra.
On July 27, prior to the discovery of Celina's body, Mr. Mullaney's truck was searched with his consent. The red Chevrolet pickup was parked in the driveway of the Noyes apartment. Investigators recovered a pair of girls' underwear and pajama bottoms inside the rim of a tire that was stored in the truck bed. Louisa Cass confirmed that the two items belonged to her daughter.
Mr. Mullaney was questioned multiple times regarding the items, and he stated that he did not recognize them and had no involvement in Celina's death or disposal of her body. Rather, he believed that Noyes put the items in his truck to make it appear that Mr. Mullaney was involved in the crime.
On August 2, 2011, police obtained a search warrant for Mr. Noyes' Ford F150 truck. Three sandbags weighing over 70 pounds each were recovered from the bed, and a lab analysis determined that the bag of sand found with Celina's body was similar to the bags found in the truck.
His mother told investigators that she had used four sandbags in her pickup truck to give it extra weight, and when she traded in the pickup she gave the bags to Mr. Noyes. Police concluded that there were four sandbags in his truck prior to Celina's death, and at the time the body was recovered only three were seized from the vehicle, leading them to determine that the fourth bag was likely placed with her body when she was submerged in the river.
While Celina was still missing, investigators seized two pillows from her unmade bed. The pillow shams appear to have had the same pattern as the blanket that was recovered with her body.
Also included in the affidavit are facts and circumstances that prosecutors said established probable cause that Mr. Noyes was involved in her death. In an interview on July 29, 2011, Mr. Noyes abruptly walked out of an interview when confronted about inconsistent statements he'd made to investigators. As he walked from the town hall in Stewartstown, he was followed by two State Police investigators, who saw him walk onto the bridge connecting Stewartstown to Canaan. One of the investigators stated that Mr. Noyes "appeared to be agitated and talking to himself," and that he stopped on the bridge, turned north and repeatedly pointed and yelled at something upstream toward the dam. Prosecutors also note that when interviewed by the Boston Herald before Celina's body had been found and she was still considered missing, he said, "We're in the process of grieving." Prosecutors say it is "extremely unusual for a parent, loved one or family member to use the term 'grieving' that early on in a missing person's case, as to use the term 'grieving' means they know or have reason to believe that the person is dead."
In another incident two days before Celina's body was found, investigators asked Mr. Noyes where they should consider looking for her, and he took them on a route that constituted a circle around where her body was located. Other witnesses said they believed they saw a pickup truck parked on the railway bed by the dam early on the morning of July 26.
Other statements in the affidavit include those from school staff, who noted that Celina was afraid to be around Mr. Noyes when he was off his medication. One teacher noted that Celina was initially excited about the prospect of her mother marrying Mr. Noyes, but her demeanor changed as the school year went along, and on two or three occasions she stated she was afraid of him.
The affidavit lays out contradicting statements Mr. Noyes allegedly made to investigators. On July 27, he told police he last saw Celina at 9 p.m. on July 25 using the computer on the couch. On August 26, 2011, he told police that he last saw her in the basement, where her bedroom was. On March 12, 2012, he said the last time he saw her was walking down the stairs to the basement. He also gave investigators various times at which he got up on July 26.
On June 16, 2016, an inmate interviewed by State Police stated that in the fall of 2015 he and Mr. Noyes were being held at the Coos County House of Corrections in Stewartstown in adjacent cells. He said on two occasions he brought up the subject of Celina with Mr. Noyes and asked whether he had killed her. The affidavit states that Noyes said he had sex with her and choked her while she was in bed, wrapped her in blankets and sheets and submerged her in the river. He also reportedly said there was another person involved, but the inmate was not sure of the name. The other man was also reportedly having sex with Celina, and because they both believed she was pregnant, they "had to get rid of her." The affidavit notes that investigators had not yet established the inmate's credibility.
The defense submitted a motion to dismiss, which was rendered moot due to the agreement and the judge's ruling. The motion argues that Mr. Mullaney's boxer shorts with his DNA and sand on them were found in the bottom of Celina's clothes hamper. "It is fair to say that no DNA testing done on evidence found on Celina's body or the items of evidence attached to her body when it was recovered implicate Wendell Noyes," the motion states, asserting that DNA evidence suggests Mr. Mullaney and at least one unidentified male were implicated. Prosecutors did not charge anyone in the investigation other than Mr. Noyes.
(Issue of March 1, 2017)
---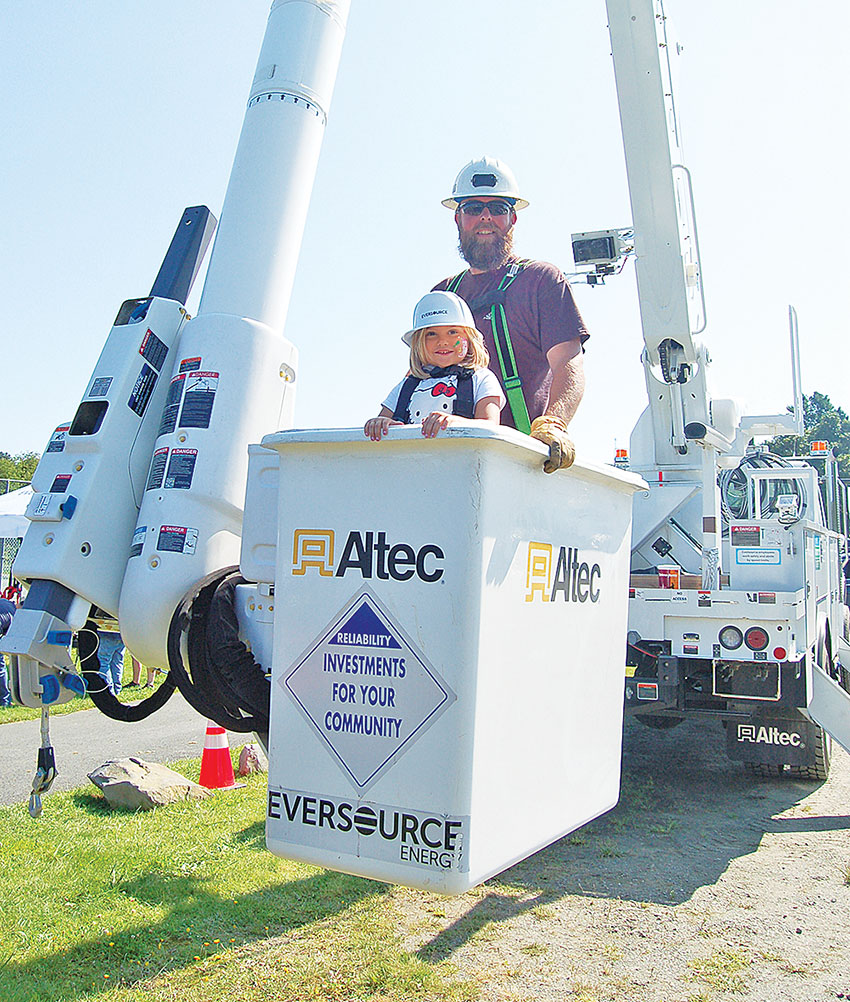 CUB SCOUTS ON DUTY

The Colebrook area's Cub Scout Pack 220 volunteered to help out at Saturday's Mobile Food Pantry distribution event, held at Colebrook Elementary School and funded by a grant from the New Hampshire Electric Co-op Foundation. The six boys pictured here took a minute away from filling bags with a variety of fresh vegetables and dry goods: (in front) Caleb Umlah, Nate Thebarge, Patrick Cushing, (in the back) Zaberie Carney, Robert Weston and Will Cushing. (Rob Maxwell photo)
---
Norton Man's Death Ruled A Homicide, No One Yet Charged
By Jake Mardin
The investigation into the death of 81-year-old Leroy Patten of Norton remains ongoing, with WCAX reporting that he was stabbed in the neck and the death was classified as a homicide.
On February 14 at around 8:15 p.m., troopers from the Derby Field Station responded to a 911 call for a report of an injured person at the Patten residence on Route 114. Upon arrival, troopers and EMTs found Mr. Patten deceased in the residence. The caller was his daughter, Janelle Stanley, 53, who reported living at the residence with Mr. Patten. She said he suffered from dementia and accosted her and was injured during the incident.
There have been no charges related to the incident, which is being investigated by Vermont State Police in conjunction with Essex County State's Attorney Vince Illuzzi.
(Issue of March 1, 2017)
---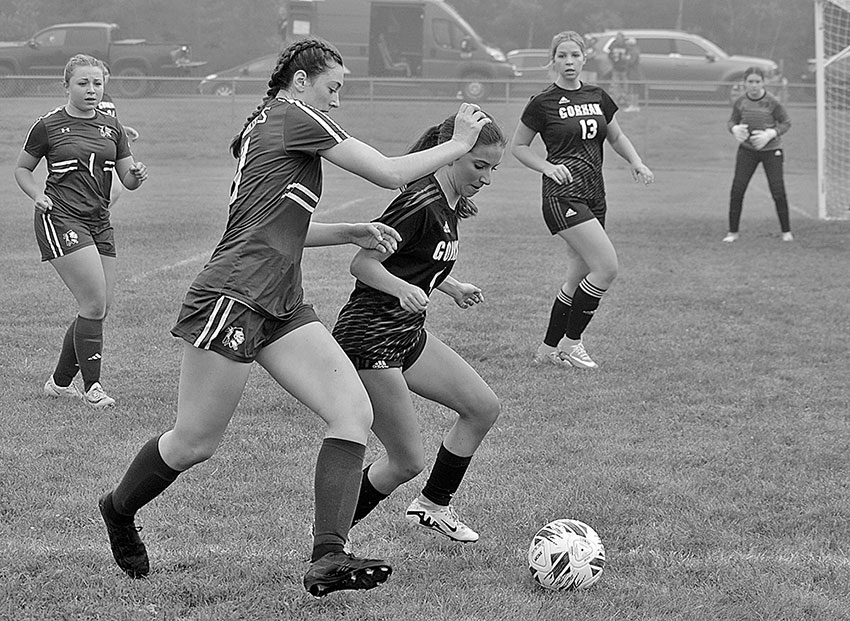 SCS CELEBRATES CHINESE NEW YEAR

Visitors to Stewartstown Community School during Family Night on February 9 might have thought they'd wandered into Boston's Chinatown during Chinese New Year, as the students had transformed the multipurpose room with decorations and a giant dragon paraded around to Chinese music. Karsen Goodreau, Joshua Flagg and John Wade modeled some masks, on an evening that celebrated many facets of Chinese culture. (Courtesy photo)
---
NHIAA Div. IV Basketball: Colebrook Girls Advance to Semifinal, Groveton Loses in Preliminary Round
By Jake Mardin
The #2 Colebrook varsity girls will play in a NHIAA Division IV basketball semifinal game tonight, having defeated #15 Concord Christian in the prelim and #7 Farmington in the quarters to advance, while #14 Groveton fell to #3 Hinsdale in their preliminary round game last Tuesday.
Tonight's game against #3 Hinsdale starts at 5:30 p.m. at Plymouth State University, having been postponed from Monday night due to flooding around the field house. With a win, the Colebrook girls will advance to play the winner of tonight's second semifinal game--to be played at 7 p.m. between #1 Sunapee and #4 Littleton--in the Division IV final at 7 p.m. this Friday, March 3 at PSU.
Tournament updates can be found on-line at www.nhiaa.org and on this paper's Facebook page.
Preliminary Round C.A. 54, Concord Christian 45
Concord Christian gave Colebrook a test in last Tuesday's preliminary round game in Colebrook, but the Mohawks came away with a win thanks to a 17-point run in the fourth quarter.
After Colebrook's Chandla Cooney scored the first three points of the game, Concord Christian's Jade Bell tied the game with a three, and Kara Jarvis made a layup to give the Kingsmen a 5-3 lead. Missy Collins tied the game with a score with 4:10 left at the quarter, and the score remained 5-5 after one.
The second quarter started with a baseline jumper by Michaella Biron, a steal and layup by Samantha Howe and a three-pointer by Taylor Siewierski to give Colebrook a 12-5 lead. The Kingsmen fought back with a 7-0 run, finished off by a three from Bell to tie the game at 12-12. After Siewierski hit her second three-pointer of the quarter, she added a steal and a layup to put Colebrook up by five. Concord Christian would not stay down, and a three-pointer by Becca Johnson and a basket by Jasmine Bell made it a 17-17 game at halftime.
A 5-0 run to start the third quarter put the Mohawks up 22-17. In a recurring theme, Concord Christian would not go away, and after a three by Jade Bell, Jasmine Bell went to the hoop untouched to tie the game at 22-22. A pull-up jumper by Jarvis and a free-throw from Jade Bell gave the Kingsmen a 25-22 lead with 3:42 left in the quarter. After Sage Smith made two from the line, Jade Bell hit a three to make it 28-24. The Mohawks regained the lead and started to bother Concord Christian with their press. They led 31-28 with 45 seconds left, but a basket by Rachel Simmons brought the Kingsmen within two. With one second left, Simmons was left alone underneath the basket and was fouled while attempting a shot. She sank both free-throws to give Concord Christian a 32-31 lead.
Things turned around for the Mohawks in the fourth, as their press hindered Concord Christian and they got several easy baskets. The score was 37-35 in favor of Colebrook after Jade Bell hit a three with 5:26 left, but the Mohawks went on a 17-point tear in under four minutes to go up 54-35 with 1:35 remaining. Time was against the Kingsmen, who finished the game strong with ten unanswered points.
Siewierski had a big game for the Mohawks with 20 points, ten of them in the fourth quarter, while 13 of Michaella Biron's 15 points came in the second half. Cooney had seven points and eight rebounds and Collins grabbed 14 boards. Jade Bell led Concord Christian with 18 points and Becca Johnson scored 12.
Hinsdale 32, Groveton 16
The Groveton girls' season came to an end at Hinsdale last Tuesday with a 32-16 loss to the Pacers in the div. IV prelim.
"We played pretty well in the first and fourth quarters, outscoring them 15-13, but did almost nothing offensively in the second and third, outscored 19-1," said Groveton coach Tim Haskins. "They play an aggressive half-court zone with some big girls underneath, and double hard in the posts and corners. Our shooters were tentative and had a hard time getting good looks, and it was tough getting it inside."
The Eagles fell too far behind by the time the fourth quarter started and they were able to get only within ten. Coach Haskins said his team did a good job defensively against the Pacers, who usually average around 50 points in their wins.
Groveton's Brooke Routhier had eight of her game-high 11 points in the fourth quarter, with Kiana Martin setting her up with a couple nice weak-side passes. Angelina Nardolillo led Hinsdale with ten points and Skylar Leclair scored nine.
"Overall I think we improved as a team as the season went along, and I'm glad we got to .500 in the regular season playing as many young players as we did. But next year we really have to transition back to a 13-plus win team, as several of our opponents will graduate key seniors and we come back as a hopefully more mature and more experienced team," Coach Haskins said. "Next year we want to be playing a playoff round or maybe two at home instead of having to compete for playoff wins in a hostile gym and give ourselves a chance to get back to Plymouth after a two-year hiatus."
The Eagles will return with nearly their entire roster intact, minus lone senior Gabby Caouette.
Quarterfinal Round Colebrook 84, Farmington 69
Michaella Biron had the game of her career and Taylor Siewierski had a triple-double in Friday's 84-69 quarterfinal win over Farmington in Colebrook.
The first quarter saw five lead changes, with Biron leading the way with 11 points. Farmington's Tatyana Long came off the bench and proved difficult to stop, scoring eight points, and the Mohawks led 18-14 after one.
Farmington briefly took the lead early in the second quarter after Katie Martineau drilled a three from the top of the key, but a layup by Siewerski gave the advantage back to Colebrook. Siewierski's basket started a 15-0 run to give the Mohawks a 31-19 lead, which they held onto through the rest of the half and were up 41-32 at the break.
Colebrook dominated the third quarter, with Biron remaining hot and scoring 13 points. Katie Martineau, the top scorer for the Tigers, was kept quiet in the first half but toward the end of the quarter she found her shot and scored 11 points. By that time, however, the Mohawks' offense was well in tune and they were up 65-45 going into the fourth. By the time Colebrook took a 73-47 lead early in the fourth it was apparent that the Mohawks would be on their way to the semifinals.
Biron not only scored 45 points, but she also grabbed 16 rebounds, while Siewierski had 16 points, 12 steals, 10 rebounds and five assists. Sage Smith and Samantha Howe also provided crucial minutes off the bench and played very well, with Howe scoring ten. Martineau finished with 28 points for Farmington, and Long and Gillian Kobbe each scored 16.
(Issue of March 1, 2017)
---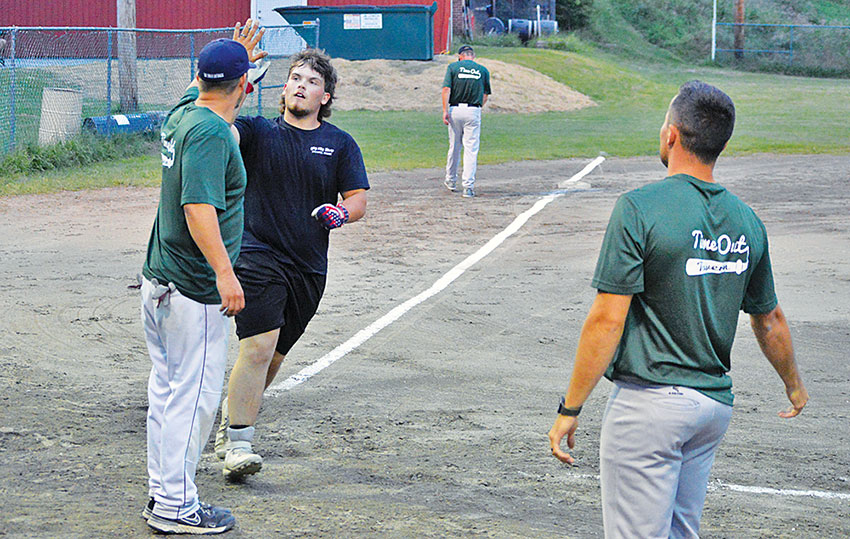 BIG NIGHT FOR BIRON

Michaella Biron had a huge quarterfinal game against Farmington at home on Friday, scoring 45 points and grabbing 16 rebounds in the Mohawks' 84-69 win. (Jake Mardin photo)
---
Colebrook, Groveton Boys Playing in Div. IV Basketball Tournament
By Jake Mardin
The Groveton and Colebrook boys' varsity teams are both competing in the NHIAA Division IV tournament, which opened last night, February 28 with preliminary round games. The quarterfinal games are scheduled for 7 p.m. this Friday, at the home of the higher seed.
Semifinals are scheduled for 5:30 and 7 p.m. next Monday, March 6 at Plymouth State University, where the championship game will be played at 7 p.m. on Friday, March 10. Tournament updates are available at www.nhiaa.org.
#3 Groveton vs. #14 Moultonborough
The Eagles finished their regular season with a 16-2 record, with the two losses coming against top-seeded Littleton. Daegan Perras controls the floor well while Corey Gadwah is one of the division's top scorers. Austin Lesperance is a dangerous perimeter shooter and can put up some big numbers, while Dylan Rogers and Ryan Laverty give the Eagles an inside presence. Matt Mason and Isaiah Stone anchor a deep bench for Groveton.
The Panthers finished with a 7-11 record. They've played Groveton twice and although both were losses, they were decent showings.
The winner of last night's game will advance to the quarterfinal round to face the winner of #6 Epping vs. #11 Farmington.
#7 Colebrook vs. #10 Wilton-Lyndeborough
The Mohawks ended the regular season with a 13-5 mark. Jose Alvarado is one of the quickest players in the division and can be counted on to put up good numbers in points, assists and steals.
Garrett Purrington and Brandon Crawford are the two big men, and the Mohawks will look to get some scoring from Jon Scherer--who has shown the ability to get hot from beyond the arc--and Dylan Carpino.
Wilton recorded a regular season record of 10-8, which included a pair of close losses to #2 Woodsville and to #3 Grove-ton. Colebrook will have to find a way to slow down top scorer Trey Carrier.
The winner of this game will face the winner of #2 Woodsville vs. #15 Lisbon in the quarterfinal round on Friday.
(Issue of March 1, 2017)
---