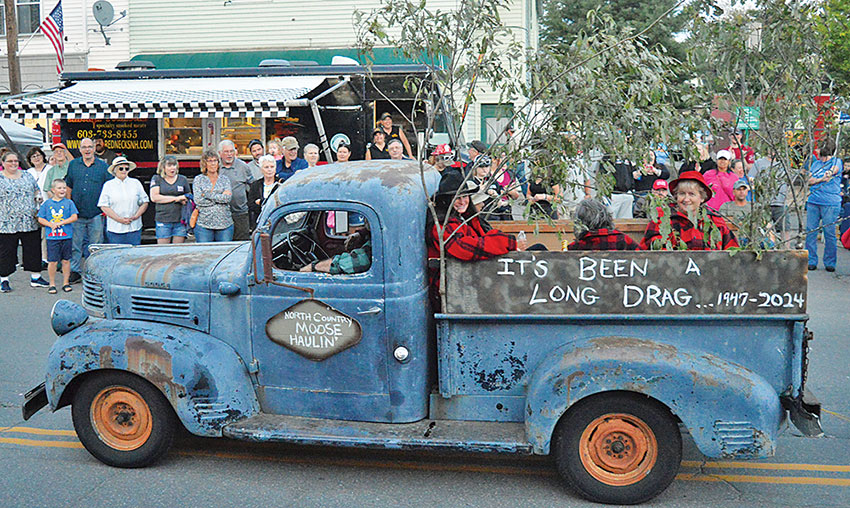 TEAMWORK IN ACTION

Stewartstown Community School students Saidy Placey and Kaedyn Covell put their backs together, carrying a ball without using their hands to the firing station in "Storm the Castle" during winter carnival festivities on Friday, February 17. (Alan Farnsworth photo)
Vt. State Police Investigating Norton Man's Death in Altercation at Home
By Jake Mardin
An investigation is underway in Norton following an incident last Tuesday in which an 81-year-old man died.
Vermont State Police report that at around 8:15 p.m., troopers from the Derby Field Station responded to a 911 call for an injured person at the Patten residence on Route 114. Upon arrival, troopers and EMTs from Lyndon Rescue North found Leroy Patten deceased inside the residence of unknown causes. The caller was his daughter Janelle Stanley, 53, who reported living at the residence with Mr. Patten. She said he suffered from dementia and accosted her on that date, becoming injured during the incident.
The VSP Major Crime Unit and detectives from Troop A BCI East responded to investigate the scene and nature of the incident. Investigators are working in conjunction with Essex County State's Attorney Vince Illuzzi. Mr. Patten's body was taken to the Office of the Chief Medical Examiner for autopsy and the investigation is ongoing.
(Issue of February 22, 2017)
---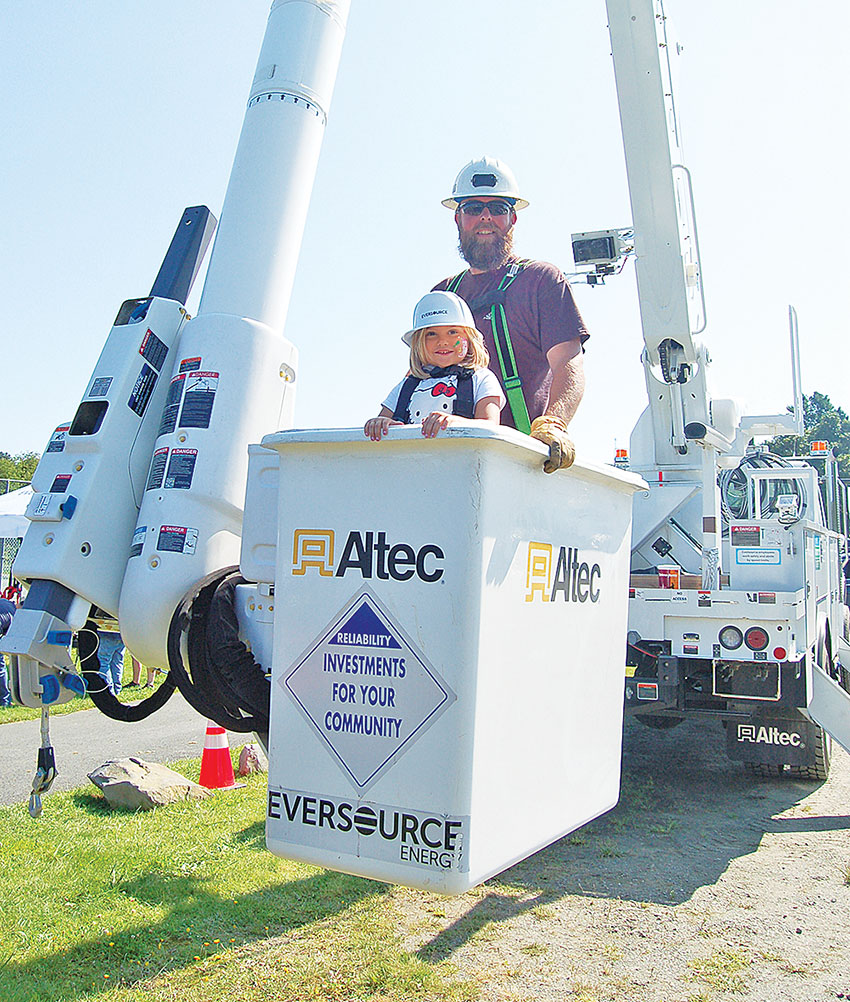 ON THEIR WAY TO MICHIGAN

It was quite a sight on Colebrook's Main Street last Thursday morning, when members of the MichCanSka extreme snowmobiling club stopped for breakfast before resuming their Maine-to-Michigan trip. The group raises money for diabetes awareness and research through group rides, including their current 2,000-mile expedition. Those who wish to follow their progress can check in on the MichCanSka Facebook page. (Gail Hanson photo)
---
Three-Year Teachers' Contract Set to GoBefore Colebrook School District Voters
By Rob Maxwell
Colebrook voters will gather at 7 p.m. on Thursday, March 9 in the Colebrook Elementary School cafeteria for their annual school district meeting. They will consider a nine-article warrant and a budget proposal calling for appropriations of $6,820,033.
This figure does not include appropriations in individual warrant articles: $12,000 for the school bus fund; $75,000 for the building fund; and $27,009 to cover the first year of a newly negotiated three-year contract with the district's teachers.
Should voters approve the teachers' contract, expenses for 2017-18 will decrease by $92,500 rather than increase. School board negotiating committee chairman John Falconer explained that after negotiations with the teachers' union were all but finalized, "We learned that the health insurance package was going up by 24.7 percent. Both sides of the table did some quick and cooperative negotiating to handle this unexpected development, and an agreement was reached to raise the deductible in the insurance policy to keep the overall cost down."
Mr. Falconer went on to say that because the overall budget had not included this adjustment, and because the teachers agreed to a relatively low first-year increase in remuneration, "if the voters approve the bargaining agreement, the overall amount to be raised on the budget will decrease by $92,500. This is the first time in my experience that approval of an appropriation warrant article will actually result in a reduction of the budget."
SAU 7 business administrator Cheryl Covill said if the warrant and the collective bargaining agreement are approved, "The overall budget will result in an estimated increase in property tax of 51 cents per thousand and if the teacher's contract is not approved, taxes will increase by an estimated $1.03 per thousand."
Major variances in the proposed budget include a $408,330 reduction in debt service as the 15-year note to pay for the elementary school renovation project has been paid off, and a $37,412 reduction in operations and maintenance of plant services. Decreased revenue from the state will force an estimated $492,793 increase in the amount to be raised through local taxation. The largest variances from the 2016-17 budget and this year's proposal include a $105,690 drop in expenses for special education programs and a $26,868 increase in regular education programs.
(Issue of February 22, 2017)
---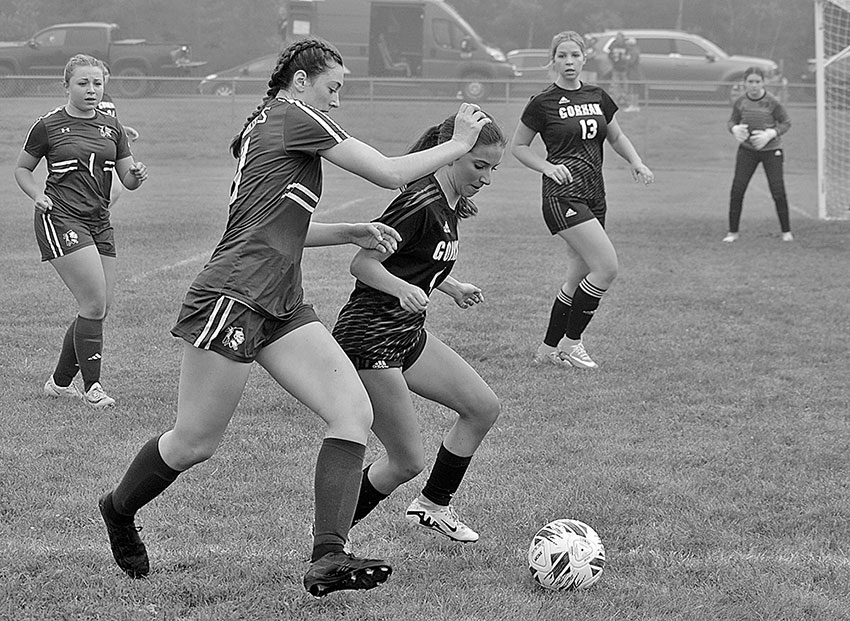 REGAL VISITOR

Paul Kuhn of Clarksville recently butchered one of his cows and put the guts out in the woods, with a game camera watching to see who showed up, and this beautiful bald eagle stopped in for a meal. (Courtesy photo)
---
Informational Meetings Next Week on Act 46 & NEK Choice School District
By Rob Maxwell
At their annual school meetings in March, citizens throughout Vermont's Northeast Kingdom will decide whether to approve consolidation of ten districts that do not operate schools into a new, NEK Choice District.
The new district would share services with Essex North Supervisory Union, which currently administers districts in Canaan, Norton, Lemington, Bloomfield and Brunswick. If the measure is approved in the area's annual school meetings, then East Haven, Granby, Guildhall, Maidstone, Kirby and Victory would join with the four non-operating towns in the supervisory union to form a newly structured ENSU.
All of this is the result of the ACT 46 Education Law, which was enacted in 2015 and calls for small school districts to find ways to merge with neighboring districts in similar circumstances, in order to reduce education expenses, improve education opportunities and create more stable administrative structures. The ten towns and Canaan (which now operates a K-12 school) began the Northeast King-dom Citizens exploration process in late 2015 with three stated goals in mind: to decrease wild fluctuations in local tax rates; to pursue quality educational opportunities for students through school choice; and to promote fiscal responsibility for each of the ten forming districts.
The exploratory group collaboratively wrote Articles of Agreement asking to be assigned to and share services with ENSU. The Articles of Agreement, a financial model and a final report were submitted to the Vermont Board of Education, which approved formation of the NEK Choice School District on January 17, 2017.
Informational meetings concerning Act 46 and the NEK Choice School District will be held in Bloomfield and Brunswick on Wednesday, March 1 at 5:30 and 7 p.m., and in Lemington and Norton the following day, March 2, also at 5:30 and 7 p.m. All four meetings will take place in their local town offices. Background information may be found at the Canaan Schools' Web site, www.canaanschools.org.
(Issue of February 22, 2017)
---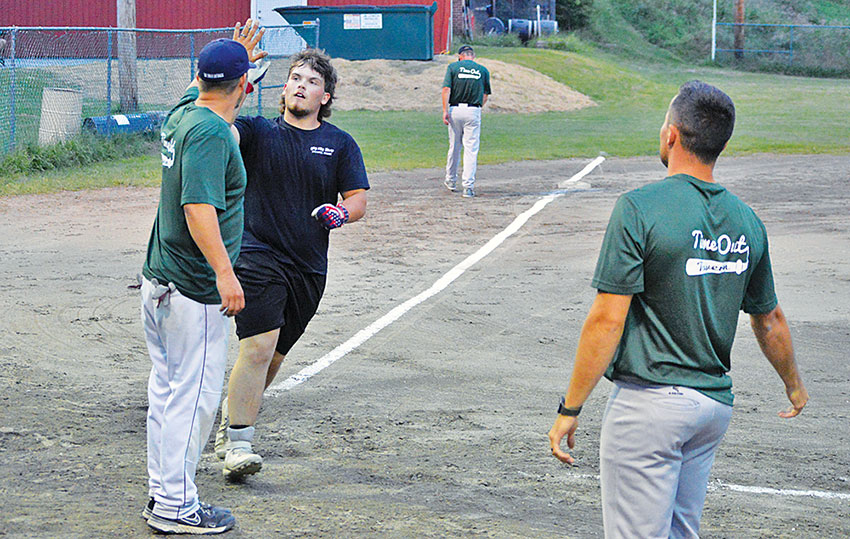 IMPRESSIVE ICE CASTLE

Damian Alcantara stands beside the homemade ice castle he helped his father Kavika and his friend Dakota Flanders build on Sunday, February 19 in Columbia. The trio worked six straight hours from 9 a.m. until 3 p.m. on Sunday using only a snow scoop, shovels, buckets and a saw to create the structure out of very wet, malleable snow. Monday's cold snap has firmed up the castle for the near future. (Alan Farnsworth photo)
---
Colebrook, Groveton Girls Head into Division IV Basketball Tournament
By Jake Mardin
The NHIAA Girls' Division IV basketball tournament began on Tuesday, February 21, with preliminary round games scheduled for 7 p.m. at the home of the higher seed.
#2 Colebrook vs. #15 Concord Christian
The Mohawks finished the regular season with a 16-2 record. Michaella Biron is one of the top scorers in the division, and Taylor Siewierski will be looked upon to make some plays and put up the occasional three. Colebrook lost starter Brooke Lawson for the season a few weeks back, but Chandla Cooney and Missy Collins have stepped up and performed well under the basket.
Concord Christian finished with an 8-9 mark. The two teams played each other early in the season at Concord Christian, with Colebrook winning 42-17. The winner of last night's preliminary round game will take on the winner of #7 Woodsville-#10 Lisbon in the quarterfinal, to be played at the home of the higher seed this Friday, February 24 at 7 p.m.
#3 Hinsdale vs. #14 Groveton
The 9-9 Eagles finished their regular season with a big win over Littleton in the season finale. Players to look for are Brooke Routhier, Katelyn Desilets and Kiana Martin. Eighth-grader Nodia Davenport has given the team a spark in several games this season, and Lauryn St. Cyr has a nice shooting touch that was on display against Littleton.
Hinsdale went 16-2 in the regular season, with both losses to division powerhouse Sunapee. The winner moves on to play the victor of #6 Newmarket v. #11 Gorham in Friday night's quarterfinal round.
Plymouth State University will host the semifinal round games at 5:30 and 7 p.m. on Monday, February 27, and the girls' championship game at 7 p.m. on Friday, March 3.
(Issue of February 22, 2017)
---