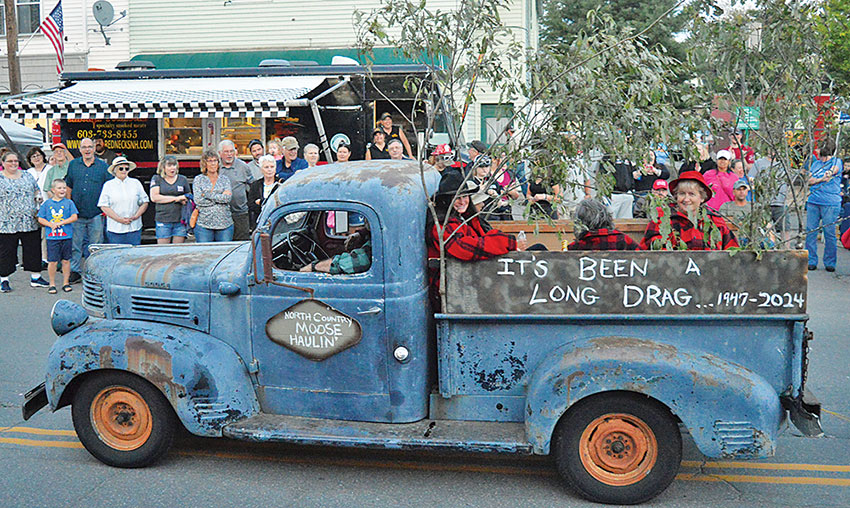 A WOOL-GATHERING SCHEME

Swindlers Doe and Smith, played by Ben Lacaillade and Shawn Haynes, and ranch hand Roman Chambers exchange bags of wool harvested from the local sheep during the Children's Stage Adventures production of "The Emperor's New Clothes" on Friday, April 17 at Colebrook Elementary School. Actor-educators from CSA spent a week at the school, holding auditions and rehearsals to involve students across all grades in all aspects of the production. (Alan Farnsworth photo)
---
SAU 7 Superintendent Search Process to Re-Start, as Candidate Declines Job

By Rob Maxwell
It appears that the search for a new superintendent of schools in SAU 7 will continue, as Hillside Elementary principal Julie King has notified search committee chairman John Falconer that she will not accept the position. Mr. Falconer said Mrs. King notified him of her decision on Thursday, April 16, and did not cite any specific reason for her refusal.
As chairman of the SAU 7 board, Mr. Falconer has led a search committee comprised of delegates from each of SAU 7's five school boards and consultant Bill Lander of the New Hampshire School Boards Association. The committee was established after 16-year superintendent Bob Mills announced plans to retire at the end of this school year. From a pool of applicants, this committee selected Mrs. King and Colebrook Elementary School principal Dan Gorham for the SAU 7 board's consideration.
The board chose to offer the position to Mrs. King following a non-public session on Saturday, March 28, and after a negotiation of salary, voted to offer Mrs. King a contract on April 14. Mr. Falconer said the vote to extend the contract to Mrs. King was not unanimous and that, "about 65 percent of the board voted to approve, with one member abstaining."
Mr. Falconer noted that a meeting of all five district boards' chairmen was to take place Tuesday night, to "consider our alternatives and what next steps should be taken." He added, "There will have to be another SAU 7 board meeting soon, probably within a week to ten days, because we are required to have a credentialed superintendent--even if it's someone on an interim basis--under contract by July 1."
Mr. Mills stated publicly in March that he would consider remaining in the superintendent position for the 2015-16 school year, should the search for his replacement become stalemated. However, Mr. Mills is on vacation this week and is not available to shed light on his intentions. Mr. Falconer says he is unaware of whether Mr. Mills will make himself available for the job while the search for his replacement continues.
(Issue of April 22, 2015)
---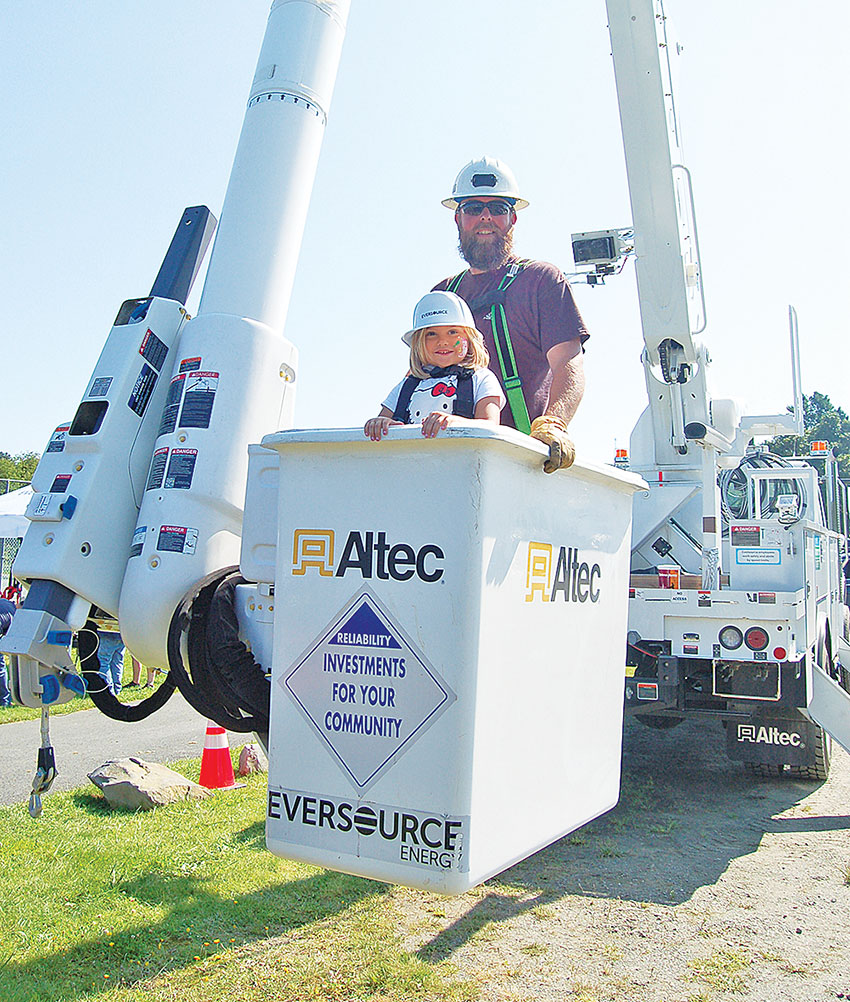 THE OLD-FASHIONED WAY

Sally Hodge of East Colebrook has had quite a few maples tapped along both sides of the road, making a nice, nostalgic scene for passersby. Sally does her sugaring pretty much by hand and reported that the sap hasn't been running very well this year; although it looked like last Thursday, when this photo was taken, was going to be a good day.
---
Hydro Company, Environmental Groups Question Balsams' Water Diversion Plan

By Jake Mardin
Brookfield Renewable Energy Group, the Androscoggin River Committee and the Appalachian Mountain Club have submitted comments to the N.H. Department of Environmental Services regarding Dixville Capital's application for a permit to withdraw water from the Androscoggin River in Errol.
The developers of The Balsams resort property wants to construct a pipeline under Route 16 and 26 that would transport water from the river to the ski area for the purposes of snowmaking. They are seeking to withdraw up to 2.9 million cubic feet of water per day near the Errol Dam.
In an April 3 letter, Todd Wynn of Brookfield Renewable Energy Group wrote that approval of the application "would adversely affect 15 federally licensed hydroelectric facilities that Great Lakes Hydro America, LLC and its affiliates own and/or manage on the Androscoggin River downstream of the proposed project." He states that the withdrawal could cause flows to drop below the minimum level required by the company's Federal Energy Regulatory Commission permits.
"DES should account for such displacement and flow concerns in its review of environmental effects of the proposed project," Mr. Wynn writes. "DES should also take into account the riparian rights Doctrine of Reasonable Use and the longstanding case law applying it, under which landowners cannot use water adjoining their property without due consideration of the usage rights of downstream landowners with rights to that water as it flows to their property."
Mr. Wynn argues that approving the application without an agreement requiring Dixville Capital to compensate GLHA for lost revenues would negatively affect the downstream hydroelectric facilities. "With such a condition, however, GLHA is willing to consent to the requested water withdrawal level of up to 2.94 million cubic feet of water per day intermittently for six months annually," he writes.
Appalachian Mountain Club research director Dr. Kenneth Kimball stated in a letter that the AMC "is supportive of a Balsams reconstruction effort, however, the project (and certifications issued) need to be designed, scaled, and appropriately reviewed so that the project does not negatively impact other long-standing and legitimate interests in the area."
In early February, the Androscoggin River Committee sent a list of preliminary questions to developer Les Otten and his partners about the project, and among their questions was what impact the withdrawal could have on fish entrainment (defined as the U.S. Bureau of Reclamation as "fish being transported along with the flow of water and out of their normal…habitat into unnatural or harmful environments") at the site.
Dixville Capital stated that the DES and Fish and Game have strict requirements concerning fish entrainment they intend to comply with, and that the maximum withdrawal rate is 34 cubic feet per second, which "does not represent normal operating conditions."
Dixville Capital also addressed the potential impact on hydroelectric facilities located downstream, stating that based on data from the USGS gauging station situated nearby, "we have concluded that the proposed withdrawal poses no significant impact." They also estimate that approximately 85 percent of the water will return to the Androscoggin watershed, with the remainder flowing into the Connecticut River watershed.
Dr. Kimball wrote that Dixville Capital's responses "are so general in nature that they offer little additional data or insight into the permit application." He notes that the area in Errol floods frequently, and pumping could jeopardize the Upper Androscoggin River Storage Projects Settlement Agreement, which was negotiated in 1998.
Dr. Kimball notes that the AMC had a lead role in developing the agreement, and that it was "a delicate balance between seasonal water levels in Azicohos, Mooselookgumpic & Cupsuptic and Lake Umbagog and water flows released into the Rapid, Magalloway and Androscoggin downstream of the Errol Dam." The ARC is also supportive of the project, but would like to see more detailed responses as well.
The AMC is requesting that the DES "properly analyze[s] the potential impacts of this proposed water withdrawal on the upper storage projects water management plan and on downstream users" before issuing a final permit.
"We respect the DES review process and those who have asked questions about our application," said Balsams spokesman Scott Tranchemontagne. "The Andro-scoggin is an active working river. It is very well-managed and studied, with more than one hundred years of data on water flows. We are confident the trained environmental scientists who are reviewing our application will rely on that data to render decisions."
(Issue of April 22, 2015)
---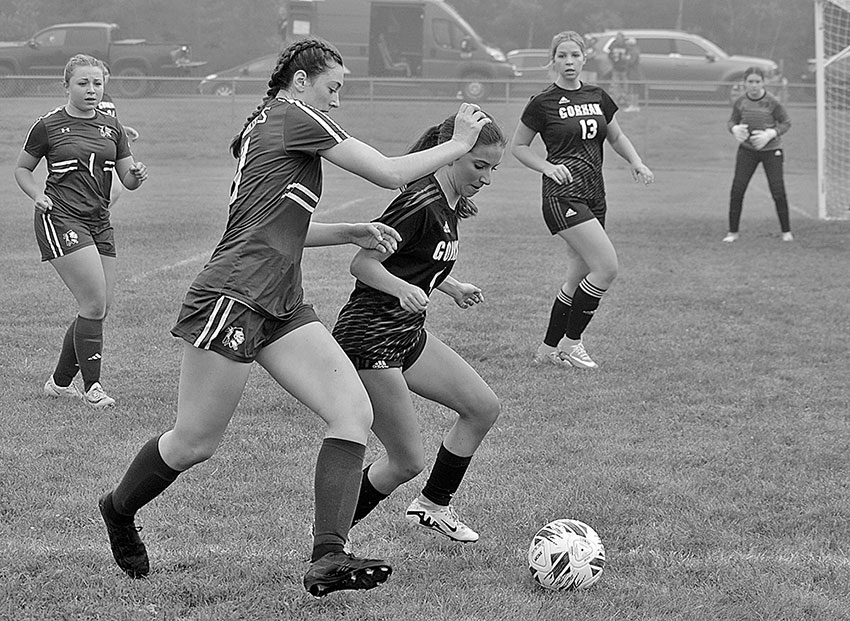 TEN-YEAR RECOGNITION

During the annual UCVH Volunteer Recognition Celebration last Wednesday night, front desk volunteers Eleanor Lyons and Isabelle Parkhurst and activities aide Judy Sullivan received special pins to honor their 10-year milestones of service. (Karen Ladd photo)
---
Colebrook Board Approves Use of Reserve Funds for 4WD Cruiser
By Jake Mardin

At their meeting on Monday night, the Colebrook selectmen authorized the expenditure of up to $32,000 from existing reserve funds for the purchase of a new or used four-wheel-drive vehicle to be used as a police cruiser.
Town manager Becky Merrow said she advised the police department in September not to use the 4WD Tahoe because it would not pass inspection. She also noted that there were times this winter when the department's two-wheel-drive cruiser had to be towed. Chairman Bob Holt observed that he had to pull vehicles out of the snow in the winter, and said the cause is usually the driver and not the vehicle.
Selectman Greg Placy pushed for a 4WD vehicle, noting that during a normal spring, the car wouldn't be able to navigate such places as Reed Road. Mr. Holt noted that the board had removed funds for a 4WD cruiser from the budget prior to town meeting, and that voters approved a budget without putting the funds back in. He suggested that N.H. State Police could help out if needed, as the town supplies them with working space in the police department and responds as backup.
Mr. Placy moved to expend up to $30,000 for a used 4WD cruiser. Selectman Ray Gorman seconded the motion for discussion and said he was "up in the air" about a decision and asked if they could do research and make a decision at their next meeting. Ms. Merrow said she supports a 4WD vehicle for safety reasons. "It's that one time you need it, and the one time that you can't get [to a scene] when you really need it," she said. Mr. Holt said no one has explained why the department needs a second vehicle, and Mr. Placy pointed out that the town has allowed people to build camps and homes beyond Class V highways. "They ought to get something for the taxes they pay," he said. He also said the department may have to provide traffic control during the Main Street project and would need a second vehicle.
Ms. Merrow said the price for a new 2015 Tahoe is $40,415 cash, and a 2015 Silverado 1500 was $31,347. Mr. Placy moved to amend his motion to $32,000. Mr. Gorman said if the town could get a new vehicle for around that price they should look into it. Ms. Merrow said she will gather some proposals and bring them to the board at Monday's meeting. The board passed Mr. Placy's amendment and the motion to spend up to $32,000 for a new or used 4WD vehicle. Each vote passed 2-1, with Mr. Holt voting against them.
(Issue of April 22, 2015)
---