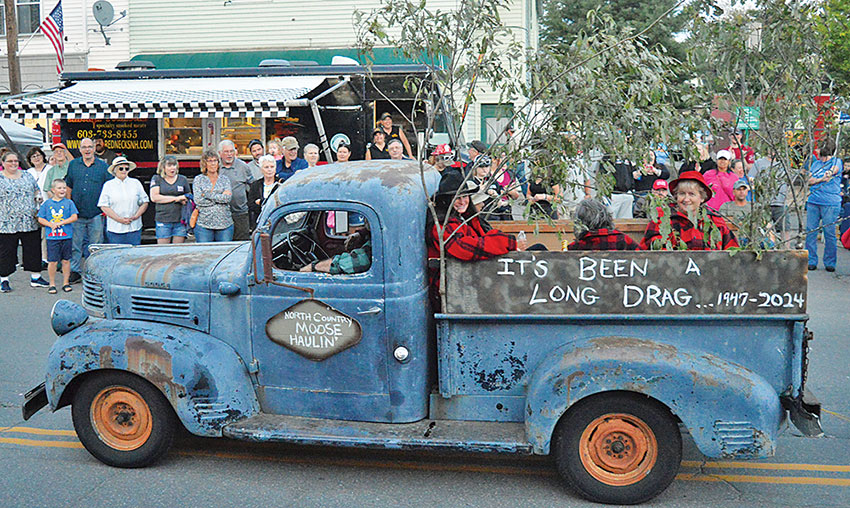 COUTURE NAMED SITE MANAGER OF THE YEAR

At a presentation at Colby Commons last Tuesday, Carol Couture was honored as the USDA Rural Development N.H. Site Manager of the Year. From left to right are former resident Pete Burrows, Matthew Flanders (representing Sen. Kelly Ayotte), Ted Brady, USDA RD State Director for Vermont and New Hampshire, Mrs. Couture, Chuck Henderson (representing Sen. Jeanne Shaheen), Sharlene McEachern, Regional Property Manager for Realty Resource Management, and Brian Bresnahan (representing Rep. Annie Kuster). (Jake Mardin photo)
---
Coös Planning Board Prepares for Upcoming Balsams Hearing

By Jake Mardin
The Coös County Planning Board met with Balsams developers on Tuesday in advance of a public hearing in two weeks.
Planning board chairman John Scarinza went through the steps the board and developers have taken thusfar while working through the complex process. He said that earlier in the year the board had begun to work on updating its zoning ordinances, and during that time Dixville Capital, LLC contacted the board about a pre-application conference for an anticipated concept plan. The concept plan encompassed over 8,000 acres in Dixville and the current zoning ordinance contemplates projects that might go out three to five years as opposed to the twenty or thirty years envisioned by Balsams developers. After efforts were made to make the concept plan work within the existing zoning ordinance, the board decided at its September 9 meeting that it would work on amending the zoning ordinance by adding a resort district and converting the Planned Development District ordinance to a Planned Unit Development ordinance. Mr. Scarinza said a resort ordinance would be developed by the board using information and materials submitted by the developer in its two previous concept plan submissions.
As part of creating the proposed ordinance amendment, Tara Bamford of North Country Council created new definitions for categories such as a ski facility and a conference center. Ms. Bamford is a plan- ning coordinator who has been hired by the board to help it through the Balsams project process. The board has also enlisted the services of attorney Bernie Waugh. Mr. Scarinza, Ms. Bamford and Attorney Waugh worked on crafting the new language while incorporating suggestions and input from the developers.
The board went on to review a working draft of the current zoning ordinance, which contained strikeouts, proposed new language and items to address. This included entries ranging from lodging to ski facilities and driveways.
The board will hold a public hearing on Wednesday, October 21 at 6 p.m. at the North Country Resource Center (DRED Building) on Route 3 in Lancaster to receive public comments on the proposed amendments to the zoning ordinances for the Unincorporated Places.
The first amendment is to create a new Resort District in the area of the former Balsams Resort and surrounding recreation areas, and encourage further patterns of compatible development. The Resort District Subdistrict (DD-Resort) would be added to the list of districts and to the list of development districts regarding sign standards. A new section would be added identifying uses allowed without a permit, uses requiring a permit and uses requiring a conditional use permit. Definitions for conference center, destination resort, lodging, ski facility and recreational lodge would also be added.
Amendment 2 would remove Planned Development as a type of subdistrict requiring commissioner and delegation approval for a zoning process, and instead create a process where the planning board can issue a conditional use permit for a planned unit development. Other sections would be removed, added or replaced. Amendment 3 contains numerous changes to clarify existing wording and requirements, removing inconsistencies from the ordinance and to update the ordinance relative to changes in state law.
(Issue of October 7, 2015)
---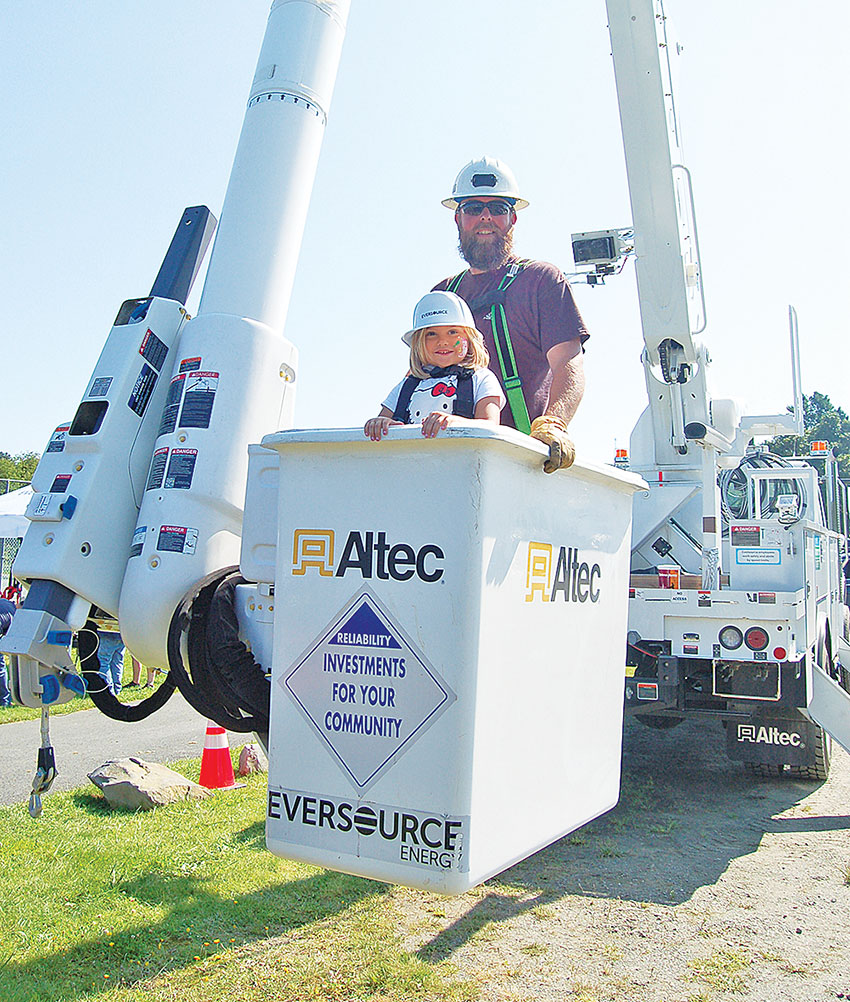 A BALANCING ACT

Former guide Lesley Covell demonstrates "canoe tilting" with an actual pole used during annual Guides Day Shows. The demonstration was part of the Pittsburg Historical Society Open House Saturday, October 3. The vintage Old Town canoe complete with paddles and pole valued at $11,000 is the latest acquisition by the Historical society. (Alan Farnsworth photo)
---
Carol Couture Receives USDA Award for Her Work at Colby Commons

By Jake Mardin
Colby Commons site manager Carol Couture was named the U.S. Department of Agriculture's 2015 New Hampshire Multi-Family Site Manager of the Year at a gathering on Tuesday afternoon.
Mrs. Couture is an employee of Realty Resource Management and has managed Colby Commons since 1998, and has also managed Newport Place in Newport, Vt. since 2000. Colby Commons is a multi-resident rental complex built in 1993 by Colebrook Housing Associates. It contains 28 units of affordable senior housing and currently provides subsidized housing to 28 seniors.
Residents, colleagues and others attended the event on Tuesday. Ted Brady, USDA Rural Development New Hamp-shire State Director, spoke highly of Mrs. Couture. "Though we know she does a great job day in and day out, she was chosen for this award because the residents of Colby Commons took time to tell us exactly how important she is to making their lives better," he said.
Chuck Henderson of Sen. Jeanne Shaheen's office, Matthew Flanders of Sen. Kelly Ayotte's office and Brian Bresnahan of Rep. Ann Kuster's office all read letters from the elected officials praising Mrs. Couture's work. Sharlene McEachern, Regional Property Manager for Realty Resource Management, said that Mrs. Couture "strives for perfection" and "maintains the property in excellent shape." She also said that Mrs. Couture developed the emergency evacuation plans for Realty Resource Management's properties in New Hampshire, Vermont, Massachusetts and New York.
Pete Burrows, a former resident of Colby Commons, spoke about his time there and the work that Mrs. Couture does. He talked about her work in putting up seasonal directions to create a cheerful atmosphere, including three Christmas trees throughout the building. He also spoke about the time when the building lost power during a winter storm and she helped senior meals manager Cindy Hamel prepare a soup and bread dinner using the gas-fired stove and battery-powered lanterns. He also said she worked with the Colebrook Fire Department to provide a fire drill and evacuation plan. He said that she makes everyone who lives there feel like family. "Thanks for making my stay very, very wonderful," he said.
Mr. Burrows and other residents wrote letters to the USDA in support of Mrs. Couture. Resident Gloria Parkhurst wrote that Mrs. Couture keeps the building and grounds clean and makes sure repairs are made promptly. "I know Carol runs another senior/handicap residence but we always feel like we're 'her family,'" she wrote. Cecile Hebert wrote that Mrs. Couture "is always helping when I need her, [has] a great attitude and is a very hard worker."
Lisette Huot wrote that she moved to the building last year and Carol was very welcoming. "Carol would come to my door and see if I needed anything or if there were any questions," she wrote. "I didn't know Carol before coming to Colby Commons and she is now a good friend of mine."
"Carol does excellent work here," Agnes Brooks wrote. "She goes above and beyond for all of us. She is very good at what she does!"
"I really do like my job," Mrs. Couture said after receiving her award. She spoke about the employees and vendors who help keep things running.
"It's humbling. Thank you," she said.
(Issue of October 7, 2015)
---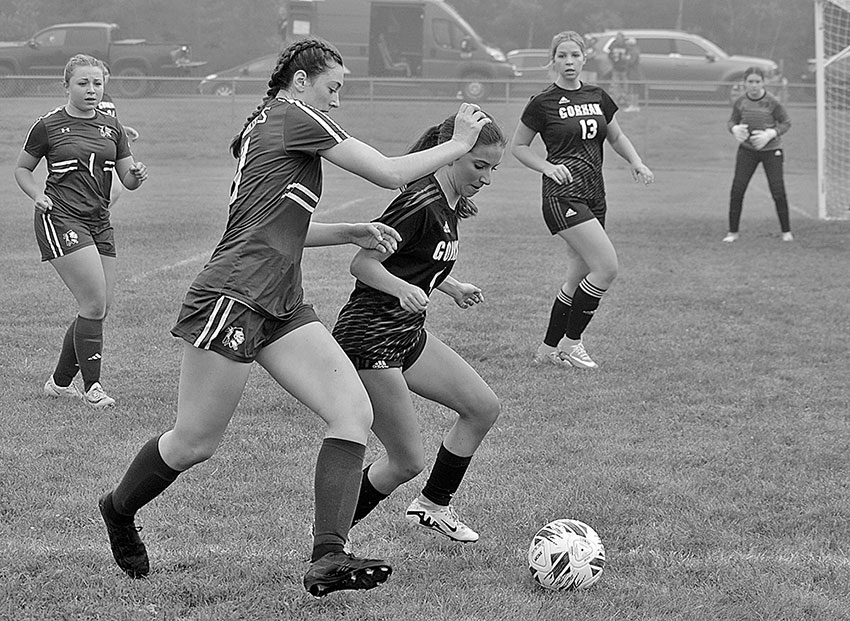 END OF AN ERA

Like a retired fire horse who can't resist the sound of the bell, Paul Cote was first to respond to a customer looking to gas-up at Cunningham's Full Service Station in Canaan on Saturday morning. The Cotes have sold their 43-year old business to the Cunningham family and Paul and Cheryl were busy as bees – what else is new? – helping the new proprietors sort out stock and get acquainted with operating a traditional, full-service gas station. (Rob Maxwell photo)
Cotes Sell Their Gas Station in Canaan to the Cunningham Family
By Rob Maxwell

After 43 years of pumping gas, changing tires and towing disabled vehicles, Paul and Cheryl Cote have sold their landmark service station in Canaan to the Cunningham family. The deal was closed on Thursday, October 1, and Mr. and Mrs. Cote joined the Cunninghams on Saturday morning, October 3 to help with the transition of ownership and Cheryl noted, "They are learning some of the ins and outs of everyday operations."
Cheryl looked back on her family's years of proprietorship saying, "Either Paul or I was here just about every day, seven days a week for the whole time and we really enjoyed being part of the community." Mrs. Cote went on to say that the decision to sell the station, "Has kind of been building up for the last five years. We've had a running joke with Fred Cunningham about when his family would take over the business—usually during encounters at Solomons, and this year it suddenly became a reality."
Operation of a service and retail business will be something new for the Cunning-hams as the family has been involved in Cunningham Logging and Excavation for some time. Fred said on Saturday that, "The name might be changing but the service will pretty much stay the same, with a few additions. We'll be pumping gas and hope to add an off-road fuel pump soon. When the tanks get swapped out in a few years, we'll put in at least one pump with credit and debit card capability so customers can pump their own 24 hours a day."
Fred says the station will be doing brakes, exhaust, and front end work. "We'll be getting an alignment machine very soon and we'll be offering new and used tire sales and installation."
Jon Cunningham noted that taking over a service station, "Will be something very new for us and we are very excited about it. This is an opportunity to bring in money 365 days a year, as opposed to logging and construction which is seasonal. It will be a big challenge, especially as we will be trying to fill some very big shoes." Jon added that the business will be selling Vermont hunting licenses and will be a deer tagging station. "We'll be selling Vermont Lottery tickets too," said Jon.
Mrs. Cote said her family is very happy the business could be passed to another local, well-known family.
"It's time for an infusion of youth and energy and the Cunninghams will definitely bring that to the business. Everyone knows who they are, they have all sorts of contacts and I'm betting they will have a large impact on the town."
Fred says the business will continue to sponsor a team in the Canaan Softball League, "and we'll be having all the local kids use the place for car-washes just like Paul and Cheryl did.
Cunningham's Full Service Station is open for business seven-days-a-week with hours of 6 a.m.-6 p.m. Monday through Thursday, 6-7 on Friday, 7-5 on Saturday and 9 a.m.-5 p.m. on Sunday. The station can be contacted by phone at 802-266-8900 and 24-hour towing service is available by calling 603-359-5317 or 603-237-5440.
(Issue of October 7, 2015)
---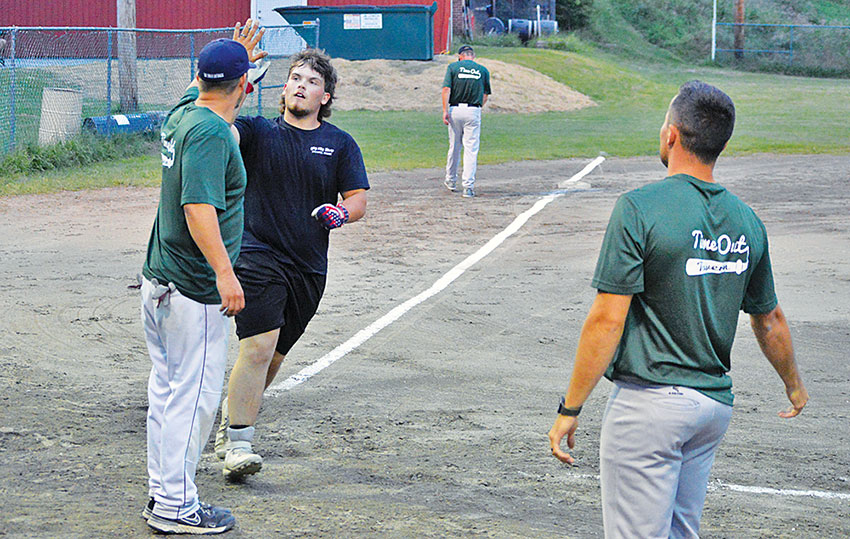 NUGENT MOTOR CO. GARAGE IS COMING DOWN

Clark Jeffers was at the controls of an excavator yesterday morning as demolition of the Nugent Motor Co. garage began just off Colebrook's Main Street. Marc Nugent said the rear wood frame portion of the building would be torn down and trucked away in a day with demolition of the steel frame front part of the building slated for today. Marc noted that no definite plans have been made for the vacant space and he added that demolition of the former Getty station on the corner of Bridge and Main Street has not yet been decided on. (Rob Maxwell photo)
---