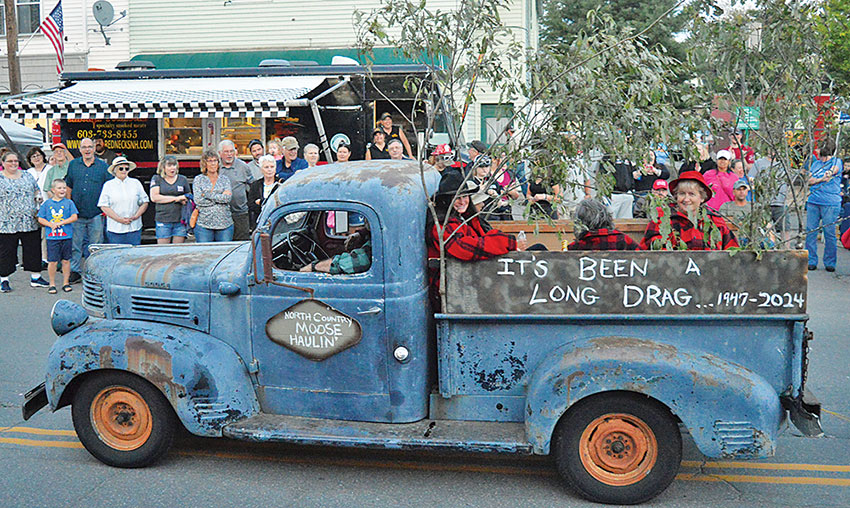 COUNSELORS TAKE AN ICE-COLD SHOWER

Colebrook Recreation summer campers eagerly dowsed counselors Austin Steward, Justin Siewierski and Nick Bouchard last Tuesday as part of the Ice Bucket Challenge to raise funds for ALS research. Colebrook Rec raised about $130 and challenged the recreation programs in Lisbon, Bethlehem and Moultonborough to follow suit. Those who wish to learn more about the challenge and amyotrophic lateral sclerosis, also known as Lou Gehrig's Disease, can visit www.alsa.org. (Rob Maxwell photo)
---
This Weekend, Aug. 22-24: Shuttle Service, Scavenger Hunt Are New Features for 23rd Moose Festival


Several new features and services are being offered at the 23rd annual North Country Moose Festival, hosted by the North Country Chamber of Commerce and taking place Friday through Sunday, August 22-24. Events begin with the street fair in Colebrook on Friday afternoon and evening, and continue with the Moose Country Fair in Canaan and A Day at the Farm in Pittsburg on Saturday, and presentations at the Tillotson Center for the Arts in Colebrook on Sunday.
Vendors, crafters, food concessions, kids' entertainment and demonstrations will be offered at the Moose Festival Street Fair in Colebrook from 3 to 8 p.m. on Friday, August 22. Upper Connecticut Valley Hospitalis providing free shuttle service in Colebrook on Friday from 2 to 9 p.m., so that visitors can park at one of two large lots south of town on Route 3 and just off of Gould Street.
"Hoofin' It at Moose Fest" is a new program this year beginning on August 15, and is essentially a scavenger hunt for adults and families. Those who wish to participate must pick up a card and instructions at the Chamber of Commerce office or participating business prior to the 22nd.
As the festival begins, cards will be available at the Chamber booth on Main Street, on the shuttles, or from any Moose Festival staff member. Participants must visit 18 businesses (indicated by a hoofprint decal on the door), getting their card stamped at each location. Completed cards are submitted for entry in a raffle to win a $100 Visa gift card.
Friday afternoon and evening events include demos from Step by Step School of Dance students, the Wildlife on Wheels Express exhibit, an ATV Safety Simulator for kids to try out, guided tours of the River Walk, live music by Uncommon Folk and the Parker Hill Road Band, a State Police K-9 demo, the annual Quilt Show at the Methodist Church, Kidz Corner featuring Wildlife Encounters, the Montshire Museum science tent and ventriloquism and magic by Dana & Friends, and the Moose Cruise Classic Car Parade.
Saturday brings a full lineup of events at the Community Recreation Park on Route 102 in Canaan, and at the Amey Homestead on Tabor Road in Pittsburg. Those who wish to kick-start their day can join in the Murphy the Moose Trail Run in Colebrook before heading north (register at www.colebrookrecreation.weebly.com under "Summer Camps Brochure), or fuel up at the Canaan Memorial High School senior class Moose Watcher's Breakfast from 7 to 10 a.m. The Moose Country Fair in Canaan takes place from 9:30 a.m. to 3 p.m. and includes all the favorites visitors have come to love such as the Maple Syrup Tasting & Contest, the Moose Stew Cook-Off, Moose-Calling Contest and Classic Auto Show. Crafters and food vendors will be set up all day long, and the crowd will also enjoy live music by a band that has never before played in the North Country: The Kid Jazz Band.
There is a new gate fee for the Canaan fair this year, having been adjusted based on visitor feedback about the old $5 flat fee. Admission costs $4 for seniors, $5 for single adults, $8 for couples, $12 for families of four (two adults and two kids, with $2 for each additional child). Kids are considered 15 and under. Also new this year, the Classic Auto Show welcomes motorcycles and will include a blessing for those interested.
The Kidz Korner will be back, with Dana and Friends returning with a puppet and magic show, in addition to a dunk tank, crafts and games. The WoW Express will also be present, as will the ATV safety simulator. The Habitat for Humanity Dog Show will be back again this year, and is always popular and well-attended.
Festival-goers may browse or participate in the Photography Contest, and take a ride on the historical tour of Canaan atop a hay wagon pulled by Dick Brady's beautiful Percherons. All contest winners will be announced at the end of the day. Registration forms and information can be found at www.moosefestival.com.
Those with an interest in farming and history will love the offerings up in Pittsburg, beginning at 10 a.m. in the Indian Stream Valley along Tabor Road where the Amey family will make everyone feel right at home. A Day at the Farm includes an open house at Maple Ridge Farm, visits with live animals, a farm museum, hayrides and live music. Visitors will enjoy antique household equipment on display, bread and pie baking, homemade ice cream, and demonstrations of old-time fiber crafts such as spinning, weaving and braided rug-making.
The day also includes a guided tour of the Indian Stream School House, a one-room schoolhouse that is still commissioned by the State of New Hampshire and contains many of the original artifacts. Those intriguedby gadgets will like the Antique Engine Show, featuring a variety of old engines used to power equipment for cutting wood, shucking corn, pumping water and more. At the Antique Tractor Show, the owners of early tractors will be on hand to answer questions.
The Tillotson Center in Colebrook will host a band on Saturday evening, with Alex Smith playing a mountain folk concert.
On Sunday the 24th, things quiet down a bit. The North American Martyrs Church will host their annual breakfast at the St. Albert's Church Hall in West Stewarts-town from 7:30 to 11 a.m. Dr. Steve Rogers will host a historic lecture on the Indian Stream Republic from 3 to 4 p.m. at the Tillotson Center in Colebrook, also the location for a 7 p.m. concert by the Lonely Heartstring Band. A summer picnic will also be offered for those who would like a dinner and show.
A complete schedule of the weekend's events can be found on-line at www.moosefestival.com, or by calling the Chamber office at 603-237-8939. This event is organized by the Moose Festival Committee and is a signature event of the North Country Chamber of Commerce. Volunteers are always welcome, as are participants in all the contests and shows.
(Issue of August 20, 2014)
---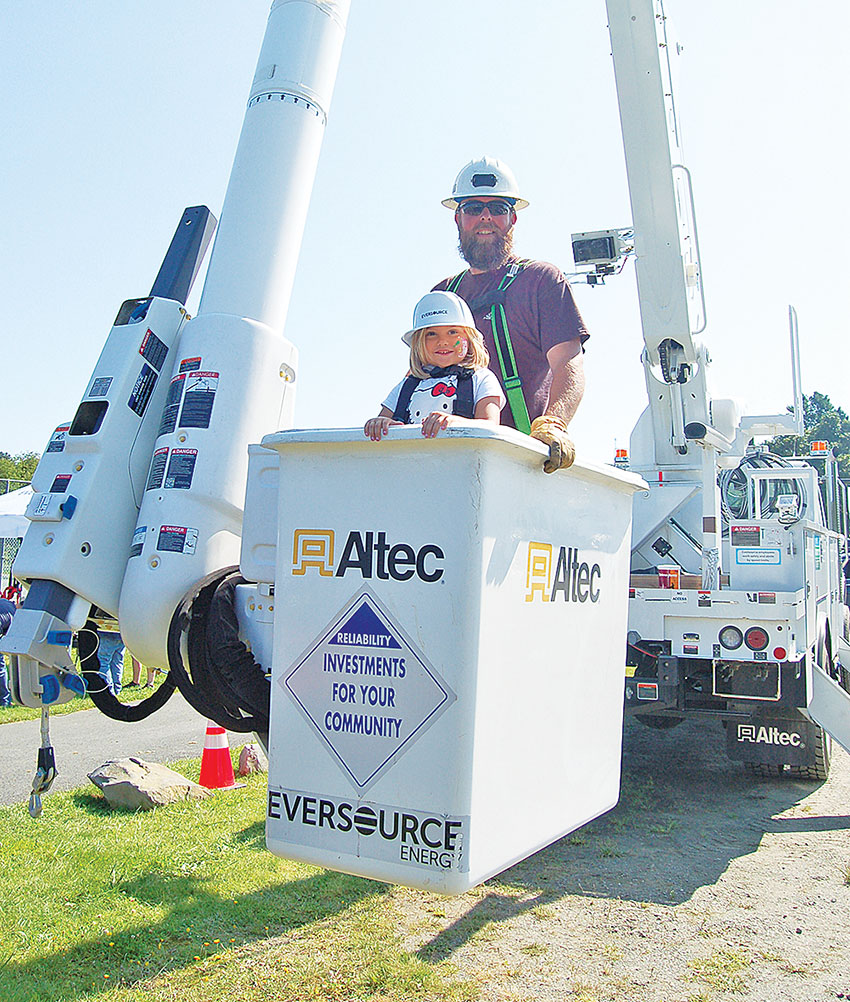 BATH TIME IN THE 'BURG

The theme of this year's Pittsburg Old Home Day Parade was "From the 'Burg…Remember When?" and one of the crowd favorites on August 16 featured Erin and Dale Drake on a float called, "I remember when Saturday Night Baths Were an Event."
---
Jenn Mathieu Heads up Stewartstown School; Colebrook Hires Band Teacher

By Rob Maxwell
Former Stewartstown Community School grade 2-3 teacher Jennifer Mathieu will take on a new position at the school this fall as assistant principal and lead teacher, assuming the administrative position held by former principal Lydia Johnson.
Mrs. Mathieu is a 2002 graduate of Pittsburg High School and earned a bachelor of science degree in childhood education from Plymouth State University in 2006. She has been pursuing a graduate degree from Plymouth State and she noted, "I only have six classes left to take, and the plan is to be done by the fall of 2015 when I hope to become certified to work as a principal."
Mrs. Mathieu has been teaching at SCS since 2006, including her student teaching while still in college. She says she is looking forward to working with the school's 73 students and 30 staff members.
I'm very excited," she said. "I do think I'll miss my classroom at times but I look forward to this new challenge and adventure. We have an incredible team here and an amazing group of students. I have no doubt that we can do great things here together."
Mrs. Mathieu's appointment has led to the assignment of Rebecca Hodge as the grade 2 teacher, while John Kennedy will assume the duties of Title I director.
Elsewhere in SAU 7, superintendent Bob Mills reports that Colebrook has hired first-year teacher Jessica Funk to fill the music position formerly held by Jay Stewart, and she will teach instrumental and classroom music. Mr. Mills noted that there will be no new teachers in Pittsburg School this fall although Pittsburg students will miss retired teacher Dee Young. The district did not fill Dee's grade 2 teaching position,as grades 2 and 3 will be taught in one classroom by Karen Pariseau.
(Issue of August 20, 2014)
---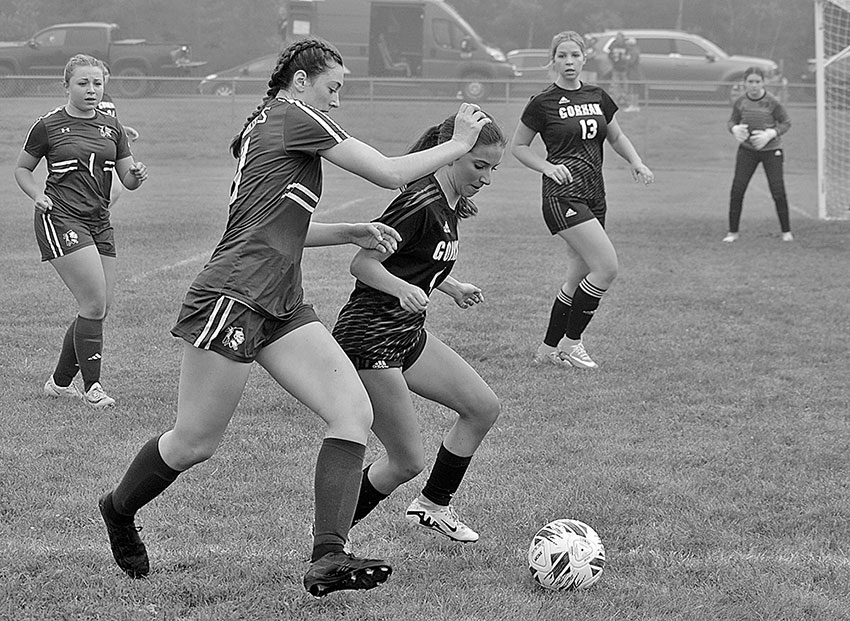 BUILDING CREW

Ralph Weeks (E-6, Ret.) and Jerry Williams (E-4, Ret.), both Army veterans, pose with Wounded Warriors at 45 North director Gary Jobes and mascot Copper on Friday, in front of a soon to be completed bunkhouse at the camp in Pittsburg. (Jake Mardin photo)
---
Volunteers Build 12-Bed Bunkhouse for Wounded Warriors at 45 North

By Jake Mardin
A new bunkhouse being built at the Wounded Warriors at 45 North camp in Pittsburg is taking shape quickly.
The camp provides rest and recreation for deployed or wounded veterans at no cost, and the bunkhouse will accommodate 12 beds in four rooms. Veterans using the camp currently stay in the Northern Goat Locker camp across the road, which will still be used after the bunkhouse is built.
During a visit two weeks ago, Army retirees Ralph Weeks and Jerry Williams were hard at work on the bunkhouse project. The walls had been put up, a screened-in porch was being constructed, and a modified handicap port-a-john with a shower had been donated. Other veterans have come to the camp recently to help work on the bunkhouse, and the Pittsburg Key Club helped clear out the area before work began.
Gary Jobes, who serves on the camp's board of directors, said the Northern Goat Locker kitchen is also being remodeled and the shooting range will see some upgrades as well.
Mr. Jobes said outings at the camp have included snowmobile, hunting and fishing trips. Several local and national businesses have donated everything from food to building materials.
Both visiting veterans talked about the positive impact the camp has had on them. "It's been great for me," Mr. Williams said. "It's like a second home." Mr. Weeks said, "Up here I don't have to watch my back, because everyone else has got it."
Mr. Jobes said the camp hosted a women veterans' week in mid-August, and a new female director is joining the board. More information about the organization can be found on-line at www.ww45n.com.
(Issue of August 20, 2014)
---
Governor to Help Open Final Phase 1 Portion of Ride the Wilds OHRV Trail


New Hampshire governor Maggie Hassan will preside over a ribbon-cutting to open the final segment of Phase 1 of the Ride the Wilds interconnecting trail system next week. The event will take place at 10 a.m. on Thursday, August 28 at the North Country ATV Club gazebo in North Stratford, and will also include special recognition for landowners, public officials and volunteers who have made it all happen.
The governor opened the first segment of Phase 1 during a celebration on June 15, 2013 at Coleman State Park in Stewartstown. Next Thursday, she will also conduct a ceremonial signing of all related OHRV bills that she recently signed into law: SB-230 on UTV Definition; SB -231 codifying that a tractor is not a UTV; SB-231 reducing the trail speed from 45 to 35 miles per hour, and increasing the road speed from 10 to 20 m.p.h.; and SB -240, a ten-day registration for out-of-state visitors.
After the ceremony, the governor will take a short OHRV ride up to the Bear Bait lookout. All members of the New Hampshire OHRV Association, the North Country OHRV Coalition, area clubs and the general public are invited to attend.
(Issue of August 20, 2014)