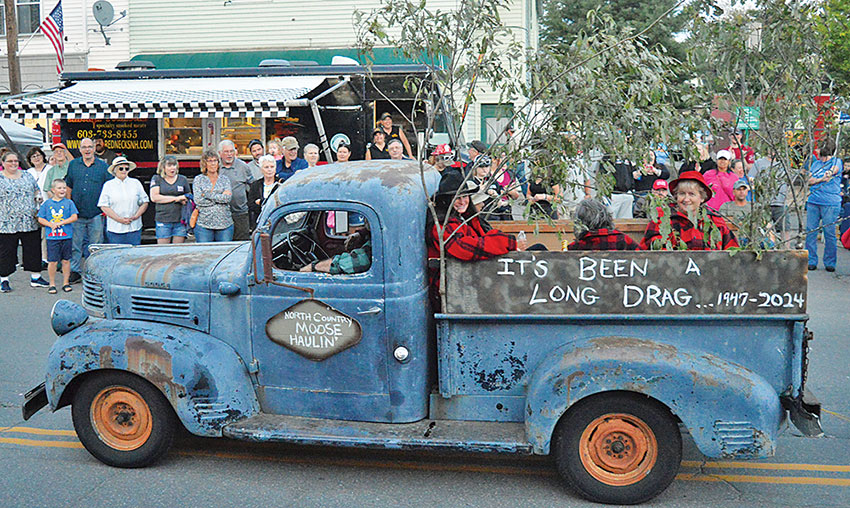 PRAYER FOR THOSE LOST AT SEA

Legionnaires, Auxiliary members and Sons of the American Legion from George L. O'Neil Post 62 in Colebrook and other local vets gathered on the Mohawk River bridge on Memorial Day to launch a wreath honoring sailors who gave their lives in war. From left to right are Justin Collins, Tori Smart, Tony Lebel, Chaplain Robert Siewierski offering a prayer, and Post Commander Stanley Covell. (Alan Farnsworth photo)
---
Water Main Work, Paving Projects Around Colebrook This Summer/b>
By Jake Mardin
There will be plenty of activity in Colebrook in the coming months, with several construction projects already underway or scheduled to start soon.
The N.H. Department of Transportation's paving projects on Bridge Street and Parsons Street have started. Contractors have been installing new sidewalk ramps and catch basins and are expected to begin paving after that. The entire length of Bridge Street will be paved, and Parsons Street will be paved up to the Mohawk River bridge.
The water meter replacement project is nearly complete. Nearly 600 meters were installed in homes and businesses, and the town will be ready to convert to using those meter readings when it can confirm that they are correct. Users will also be able to view their usage on their computers or other connected devices. Selectman Greg Placy said the town can set criteria into the system so that meters will send out alerts if there is a leak.
The years-long water and sewer project should be wrapped up in the fall, upon completion of water main work on Park Street. According to Mr. Placy, the town became aware of the water main condition when the sewer lines were being worked on. The main is not under the road but under lawns, and there will be trenches dug up under the roads to reach homes on the other side of the street.
The federal Transportation Alternatives Program (TAP) project is coming up for a public hearing with a date to be determined. The project involves putting in new sidewalks and correcting some drainage issues, and working with utilities to locate the power, cable and phone lines all on one side of Main Street. J. Hutchins, Inc. of Richmond, Vt., was awarded a bid to pave Hughes Road from where the pavement currently ends all the way to Route 145. Mr. Placy said paving will take place at some point this summer and noted that the speed limit will remain the same.
The N.H. Department of Transportation will hold a public informational hearing on June 8 to discuss work on the Route 26 bridge.
(Issue of May 27, 2020)
---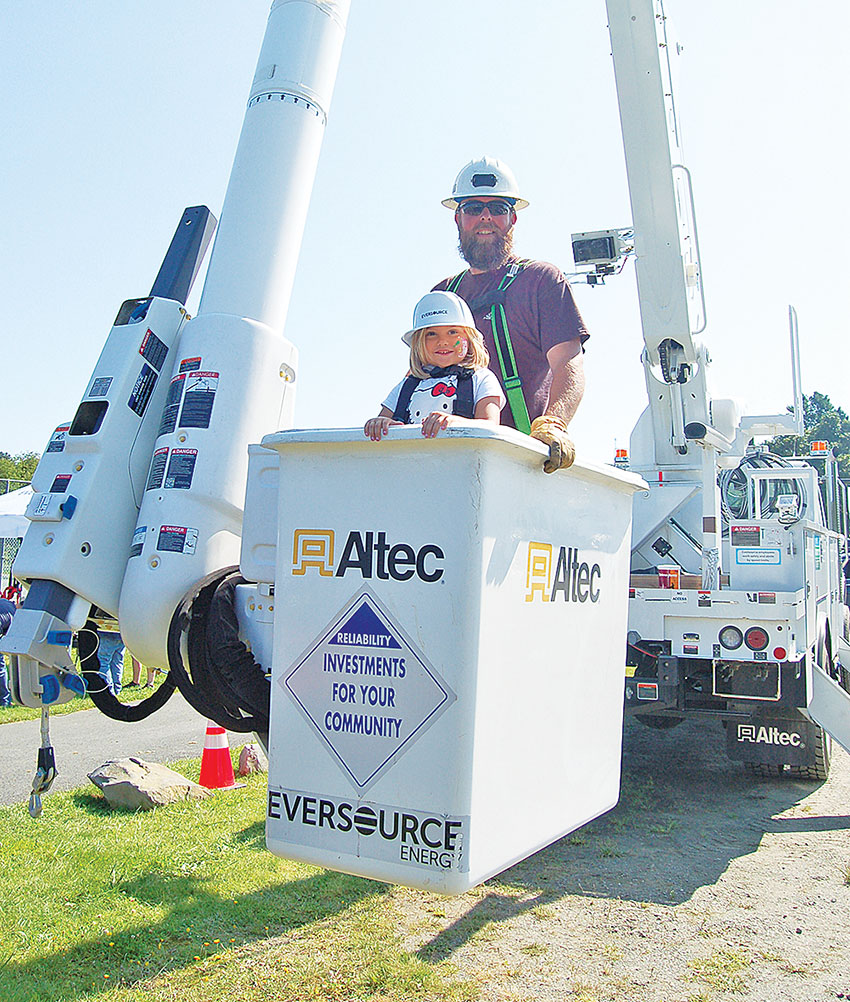 POST 47 MEMORIAL DAY PRESENTATION

Members of Canaan's Northland American Legion Post 47 held a Memorial Day Service on Monday, and are seen here preparing to lay a wreath at the Canaan Memorial Schools. From left to right are Chuck Elliott, Post Commander Scott Leigh, Mike Rouleau, Walter Noyes and Gary Jobes. (Jake Mardin photo)
---
Canaan's Hannah Nadeau Receives Sylvia Evans Youth Leader Award

The Board of Directors of Coös County Family Health Services has selected Canaan Memorial High School sophomore Hannah Nadeau to receive the 2020 Sylvia Evans Outstanding Young Leaders Award. She joins fellow honorees Natalie Williams from Berlin Middle/High School and Anna Roberge from Gorham Middle & High School, and Joan Merrill of Berlin is the 2020 Sylvia Evans Citizenship Award.
For the past 37 years, the Sylvia Evans Citizenship Award has been presented to a local woman whose actions reflect the community-mindedness of Sylvia Evans, a long-time Berlin resident who demonstrated concern for and devoted time and energy to the women and families of the North Country. Ms. Merrill is a longtime English teacher in the Berlin and Gorham schools, and continued to work with students in a variety of capacities after retirement. She has also spent many years volunteering for Response to Domestic and Sexual Violence, at Androscoggin Valley Hospital and at the local prisons; serving on the CCFHS board and retiring as its Past-President; and recently a Certified Recovery Coach helping people to overcome addiction. All three young women receiving the Outstanding Young Leaders Award are extensively involved in school and community life, achieve academically and participate in extra-curricular activities, and serve as exceptional peer role models.
Ms. Nadeau currently serves as president of the Key Club, with which she has completed over 300 hours of community service. She is also the Membership and Development chairman on the Key Club's New England and Bermuda District Board. Hannah is a member of the Empower Coös Youth grant-making committee, vice-president of National Honor Society, and treasurer of her class and the Student Council. She is active in band and chorus, performing in district and all-state festivals, and is a member of the Chamber Choir. She has also participated in the Colebrook Recreation Drama Club for the past five years.
Hannah is currently working toward her private pilot's license. She plans to attend the Vermont Technical College's VAST program after high school, to pursue a degree in the Professional Pilot Technology Program.
(Issue of May 27, 2020)
---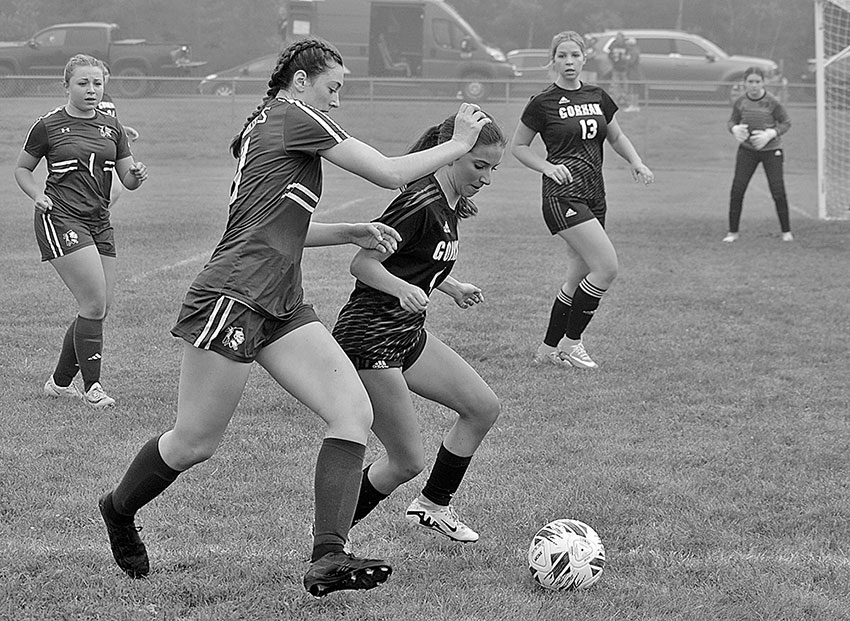 HELPING HONOR THE FALLEN

Scouting siblings Fritz and Aurelia Sallick of Colebrook placed flags at the graves of Willam Henry and Cummings J. Marshall, brothers who served on opposite sides during the Civil War and are buried at the Colebrook Village Cemetery. (Courtesy photo)
---
Colebrook Library Reopens, Offering Curbside Service

Starting Wednesday, May 27, the Colebrook Public Library will be open for curbside service. In order for the staff to get materials quickly and in an orderly fashion, patrons are asked to request materials 24 hours in advance and schedule a time to pick them up. No requests will be taken at the door.
Patrons should use the library's on-line catalog (colebrook.nhais.bywatersolutions.com) for requests, which is at least as easy as shopping on-line. Tutorials are available on the left of the page for placing holds; user name is the patron's 14-digit library card number and the password is "changeme." Requests may also e-mail requests to illatcpl@gmail.com or colebrookpublib@gmail.com, or call 237-4808.
For the public's and library staff's safety, all are asked to wear a mask and adhere to the social distancing of six feet. (Each sidewalk square is approximately that distance.) People not adhering to these rules will be asked leave.
Items will already be checked out, so patrons can just take their bag and go—this is a no-contact service, meaning that staff will not be outdoors. Pick-up takes place at the front door only, by appointment from 10 a.m. to noon and 2 to 4:30 p.m. on Mondays, Wednesdays and Fridays.
Returns may be placed in the book drop in a plastic bag, and should not be left at the door. Materials will be quarantined as recommended by CDC guidelines after return, then wiped down before they are available again. The State Interlibrary loan system is closed indefinitely, but any requests will be kept on file for when they reopen.
Curbside service will remain in place until further notice. "Since our service levels are determined based on a number of public health factors, we do not know when our services or our hours will change," said librarian Julie Colby. Updates will be posted on-line at www.colebrookpubliclibrary.weebly.com and on Facebook.
"Rest assured that library and staff is working on plans for the next phase of reopening," Mrs. Colby said, "and we look forward to serving you further in the future."
(Issue of May 27, 2020)
---