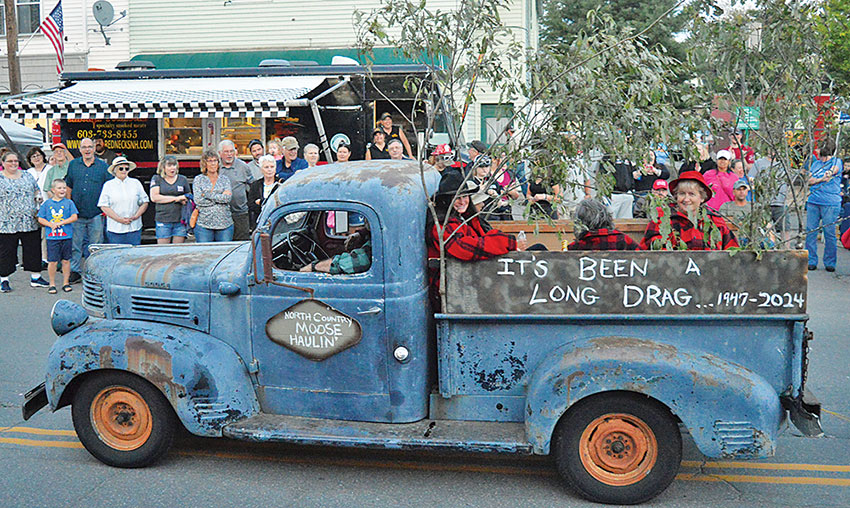 CHAMPION BROWN SWISS

David Sweatt of Millsfield and his Brown Swiss winter heifer Yawnoc Wunder Skype won four championship ribbons as Junior and Grand Champions in both Open and 4-H shows on Friday and Saturday, August 30 and 31 at the Lancaster Fair. (Alan Farnsworth photo)
---
Suspicious Fires Under Investigationat Camp Locations in Avery's Gore
By Jake Mardin
The Vermont Department of Public Safety Fire & Explosion Investigation Unit is investigating two suspicious fires that leveled camps in Avery's Gore sometime between August 24 and September 1. Avery's Gore is an unincorporated area situated just south of Norton.
Vermont State Police Det. Sgt. Michael LaCourse and Assistant State Fire Marshal Tim Angell say the first report of a fire came in on August 25, when State Police were notified that a camp had burned down at 2457 Gore Road. The camp, known as the "Gore Camp," was owned by Dale Sherburne, Roy Leland and Ed Leland. The fire was not reported to Brighton Fire Department and the camp was allowed to burn until it self-extinguished.
Investigators responded to the scene the following morning and determined that one of the owners was present on August 21 and a neighbor had viewed the property on August 23. It is believed that the fire occurred during the evening of August 24 and/or early morning hours of August 25. There were no injuries, but the camp was a total loss.
The next fire was reported to the Fire & Explosion Investigation Unit on September 1, after a camp owned by the Maxwell and Bingham families of Brighton, at 4874 Gore Road near Unknown Pond, was also allowed to burn down. Fire spread around the cabin and burned many surrounding trees but eventually went out. Investigators believe this fire sometime between August 24 and September 1.
Both fires remain under investigation and are considered suspicious, and investigators say there appears to be "direct human involvement." Anyone with information regarding these incidents may contact Det. Sgt. LaCourse at 802-334-8881, or call the Vermont Arson Tip Award Program hotline at 800-322-7766. The program will pay up to a $5,000 reward for information leading to an arrest.
(Issue of September 11, 2019)
---

<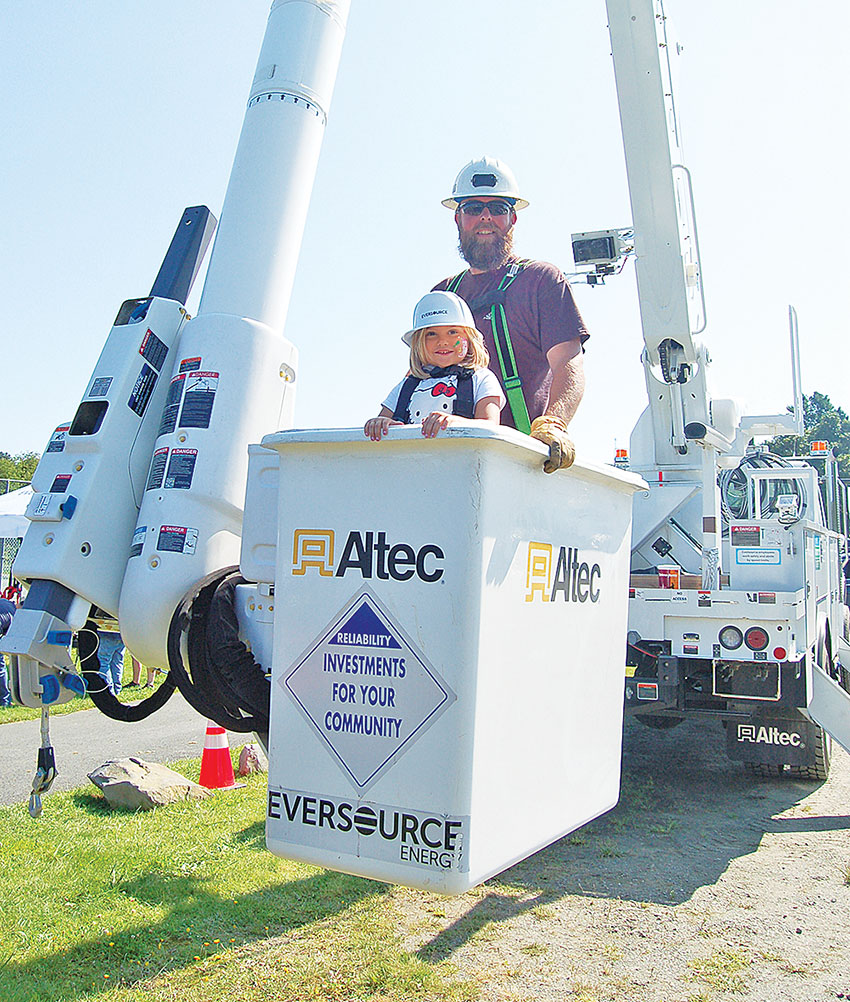 PICKING UP SOME SPUDS

Sisters Eileen Fogg and Jane Cross did some shopping at the Colebrook Farmers' Market on Saturday, August 31 and after visiting with Ray Gorman, they bought a bag of freshly dug red potatoes. The market, operating on Colby Street in front of Colebrook Feeds, is open from 8 a.m. to noon every Saturday through Columbus Day weekend. (Rob Maxwell photo)
---
Beecher Falls Fire Department Plans 75th Celebration for Saturday, Oct. 5

The Beecher Falls Volunteer Fire Department will celebrate 75 years of service with a full day of events on Saturday, October 5.
Formed in 1943 as an in-plant fire brigade by Ethan Allen Furniture, the department eventually started responding to calls outside the factory. Over the years it continued to grow, and now covers all or parts of ten towns in Vermont, New Hampshire and Quebec, encompassing 600 square miles.
The department is a private, non-profit entity and all-volunteer department, with an average membership of 30 to 35 members. It responds to an average of 250 emergency calls a year, including fires, EMS calls and rescues.
Registration for a blind-draw corn hole tournament is at 8:30 a.m., and the tournament starts at 9 o'clock. From 9 a.m. to 1 p.m. at the station, there will be demonstrations, tours, hot and cold hors d'oeuvres, and several activities for kids, including Smokey Bear, Paw Patrol, robots and face painting.
A parade will step off in Canaan and Stewartstown at 1:30 p.m., ending at the Ethan Allen parking lot. At 3 p.m. there will be a truck and station viewing, with the crowd judging equipment for awards, with snacks and drinks served. Following a short presentation at 4:30 p.m., a free meal will be served at 5:15. The festivities will conclude with a dance and music provided by DJ Steve—and possibly a karaoke contest between different fire departments—at 7 p.m.
The department is bringing back the fireman's chicken barbeque for the evening meal. They are able to prepare only 350 chickens, so it will be on a first-come, first-serve basis, but there will be burgers and hot dogs also available. Those planning to attend are asked to RSVP with meal preference by Friday, September 20 by mail to BFVFD, PO Box 326, Beecher Falls, VT 05902; or to Chief Steve Young at sjayoung@localnet.com.
The fire department is also kicking off a capital campaign to replace its rescue apparatus. The current truck is a 2004 model with over 32,000 miles. The rescue truck responds to every call, and since 2004 this has added up to over 3,700 calls. The rescue truck is also used to pull the department's three trailers that it uses for different types of responses, and the department has started to put money into the truck and has outgrown it. The department has sold two older trucks in the last year that weren't being used and those funds will be put towards the purchase of the new rescue vehicle. Donations are tax-deductible and checks should be made payable to the Beecher Falls Volunteer Fire Department, Inc.
(Issue of September 11, 2019)
---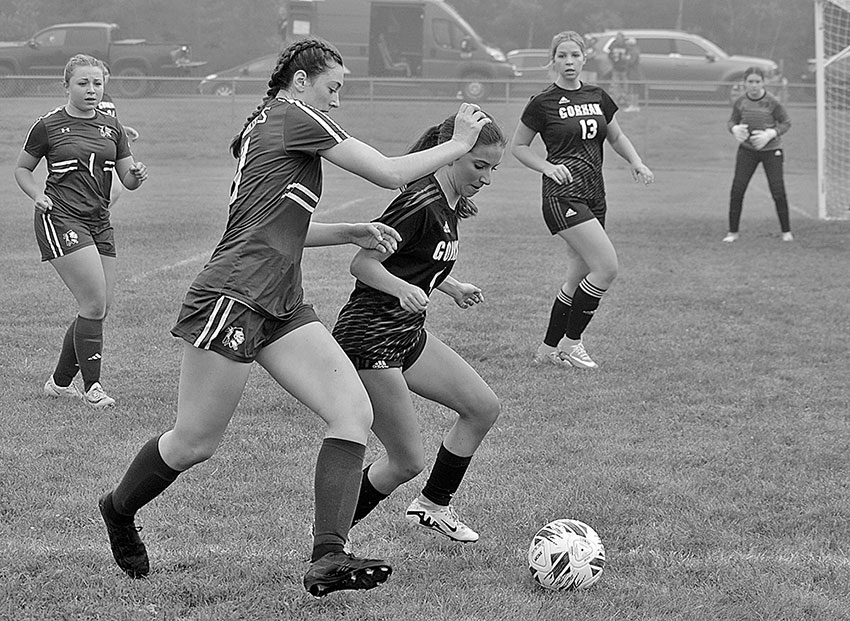 KEEPING POSSESSION

Colebrook's Malik McKinnon holds off a Sunapee defender during the Mohawks' home game on Friday, which the Lakers won 7-0. (Jake Mardin photo)
---
North Country Schools Announce Staff Changes for 2019-20 Year

With the school year well underway across the North Country, students in Stratford, Colebrook, Canaan and Pittsburg are becoming acquainted with new teachers hired over the summer vacation. Meanwhile, Stewartstown Community School principal Jennifer Mathieu was pleased to report that the staff there remains the same for the second year in a row.
Stratford Public School has a new principal in Jason Hook and he says students have welcomed middle school social studies teacher Matthew Woods and special education teacher Patricia Smith. Mr. Hook said the school is searching for a middle school math teacher and he noted that until this position can be filled, science teacher Christine Caouette has been handling both math and science instruction.
At Colebrook Academy and Elementary School, first-year principal Kimberly Wheelock reports that four new teachers have settled in: writing teacher Joanna Rockwell, English teacher Heather Houston, special education teacher Erika Worthing and business teacher Matt Materio. CAES also welcomes Colleen Clogston as the new guidance counselor.
Pittsburg School has three new teachers, according to principal Elaine Sherry. Andrew Merdinyan has assumed math and physics instruction for grades 7-12, Brian Krowl is teaching woodworking—as former teacher Kim Sweatt has moved across the river to take a similar position in Canaan-and Zachary Burrows is teaching English in grades 7-12.
Canaan Schools has seen the largest faculty turnover this year including the aforementioned Mrs. Sweatt. Also new this fall are Dan Phoenix, who is replacing the retired Ed Sullivan in the English Department, and Denise Wood, filling the shoes of retired business teacher Stephanie Lyons, who retired after 36 years of teaching. Emily Cooney is teaching special education in grades 4-7 and Cindy Brucker is taking care of special education for grades preK-3.
Nikkole Wowaka is getting acquainted with science students in grades 7-12, while Kara Sweatt has become the school's new guidance counselor. Mrs. Lynch made note that Cindy Kaiser is the school's new administrative assistant, taking over for Ginette Ladd who has retired after 43 years at that post.
(Issue of September 11, 2019)
---
---