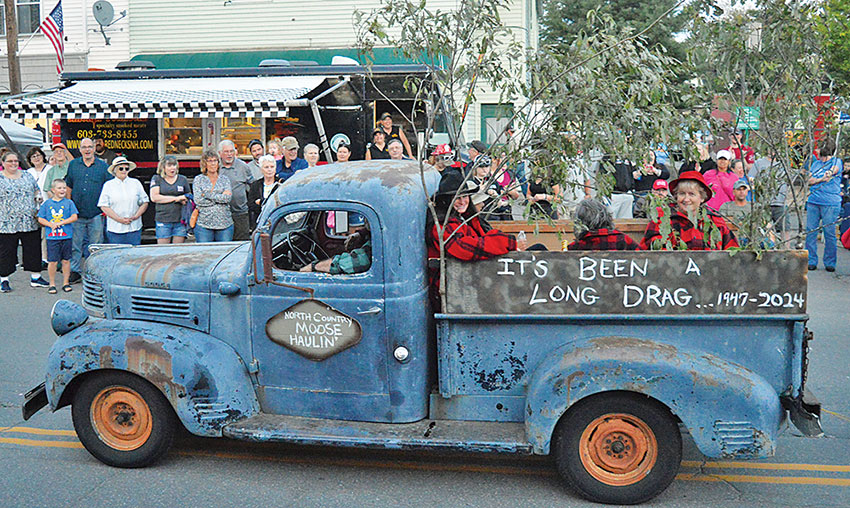 RON'S SCOUT SPIRIT LIVES ON

The Town of Columbia held an open house for its new history museum inside the old town hall on Saturday. Don and Stacey Campbell renovated the former town clerk's office space with help from their daughter Molly and her husband, Patrick, to turn it into a place where people could view pieces of the town's history. (Jake Mardin photo)
---
Coos Planning Board Again Continues Balsams Ski Area Site Plan Application
By Jake Mardin
For the second time in two months, the Coos County planning board has continued its review of the Balsams ski area site plan application, and requested more information from its developers at a meeting held in Lancaster last Wednesday.
The resort developers first presented the application last month, and the board requested further information on the proposed ski-back bridge and gondola, among other items, before it would deem the application complete. At last Wednesday's meeting, developers provided renderings of the gondola and ski-back bridge, noting that these conceptual documents were showed only the preliminary layout, and that the final design will be engineered by others.
For the gondola, a base terminal would be situated on the northwest shore of Lake Gloriette and next to the proposed Lake Gloriette House, an entirely new building that will be used in addition to the Hampshire and Dix houses. The gondola would travel in a southwesterly direction and cross over Lake Gloriette, Spur Road and Route 26 on its way up to the mountain.
The proposed ski-back bridge would follow a north-south path from existing ski terrain on the mountain, crossing over Route 26 just west of the Spur Road intersection, over Spur Road and Lake Gloriette, and ending at the Lake Gloriette House. The preliminary design plan shows that the bridge is approximately 875 feet and supported by three steel towers on the shore of Lake Gloriette, next to Spur Road and next to Route 26, increasing in height as the bridge goes toward the mountain.
The bridge would sit approximately 60 feet above Route 26. The deck will have a two-layer Advantech surface with chain link fencing on both sides and be approximately 20 feet wide. Developer Ed Brisson said the bridge will be used by skiers and pedestrians, and will not support anything too heavy, like a pickup truck.
The ski area site plan also includes trails, lifts, the snowmaking support buildings and service roads. Developers hope to begin clearing land this winter, and proceed with final engineering and obtain the necessary state approvals.
Mr. Brisson said detailed construction drawings for the gondola and ski-back bridge will not be done by the next meeting, but the next conceptual drawings will show more detail than what has been presented thus far.
The board also wants to see some more information on traffic circulation, and board consultant Tara Bamford said members should address what they would like the N.H. Department of Transportation to cover in its studies. The board also indicated that it would like to see a letter from an expert concerning the proposed protocol for trails near the wind farm when icing conditions are present.
Ms. Bamford also noted that regarding some of the more detailed data the board is requesting, the developers will have to provide that information to the DOT for an alteration of terrain permit.
The board will meet again on December 21, and will schedule a public hearing if the application is deemed complete.
(Issue of November 23, 2022)
---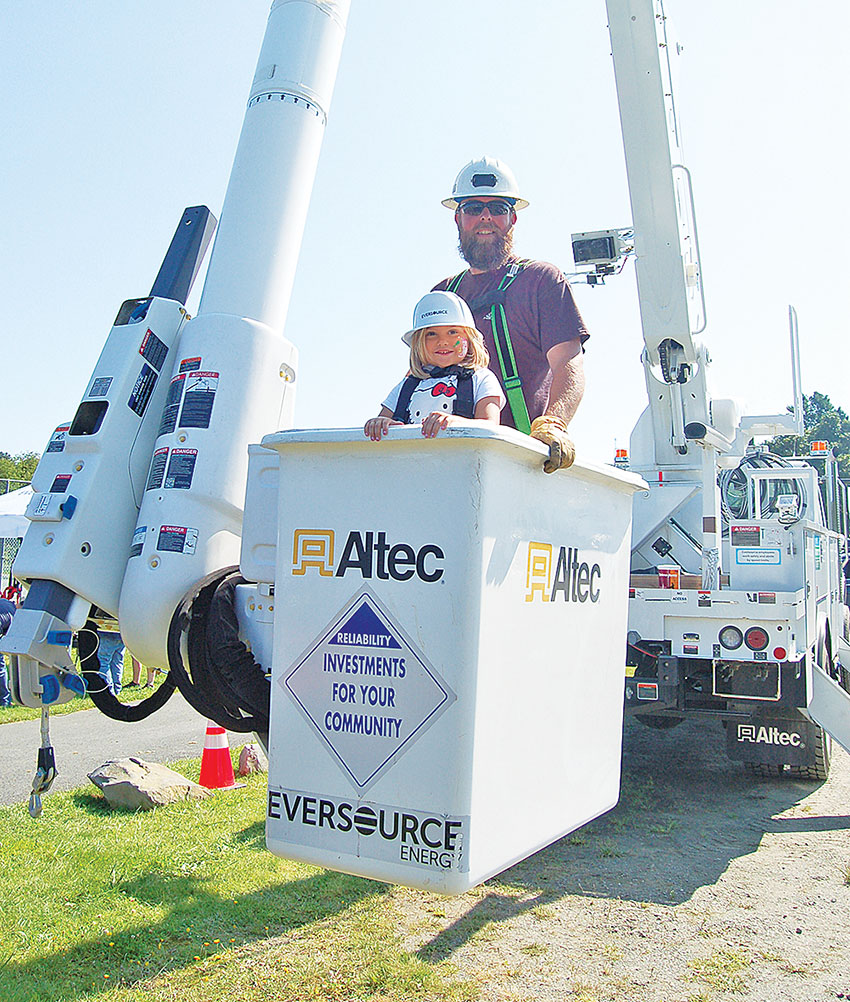 TEA AT THE CHRISTMAS BAZAAR

"The hamburger stew was the best!" was the comment of the day, at the Trinity United Methodist Church's annual Christmas Bazaar and Luncheon in Colebrook on Saturday. Seen here enjoying some social time are Dale Hurlbert, Mia Jaworski, Kim Mitchell, Evie Moder and Sylvia Collins. (MaryAnn W. Neary photo)
---
Donations, Family Applications Being Accepted for Toys for Kids Program

The Kiwanis Club of Colebrook will hold its Toys for Kids drive again this year, having taken on the role of the long-running Toys for Tots program last year.
This year there are a few changes aimed at increasing awareness and participation. There are more locations to collect toys and distribute applications to families, increasing the kids' age cutoff from 14 through high school, and more promotion on the club's Web site and Facebook page.
Applications may be picked up at the following locations: Northern Treasures Thrift Shop, Helping Hands, and the Colebrook Area Food Pantry in Colebrook; the NEKCA office, Alice Ward Library and April's Maple in Canaan; at Solomon's Store in Stewartstown; and the Errol Public Library.
Starting Thanksgiving weekend, donations of toys or financial support may be dropped off at LaPerle's IGA, Don Noyes Chevrolet, Northern Treasures and Walgreens in Colebrook; Solomon's Store in Stewartstown; and at Alice Ward Library and April's Maple in Canaan. More locations are being added, and updated information will be posted on the Kiwanis Club of Colebrook's Facebook page and at www.colebrook-kiwanis.org.
Donated toys must be new, factory packaged, and not gift-wrapped. Checks may be written to the Colebrook Kiwanis Foundation and mailed to PO Box 241, Colebrook, NH 03576. All toy and financial donations will be used within the Colebrook Kiwanis Club's service area in northern New Hampshire and Vermont.
(Issue of November 23, 2022)
---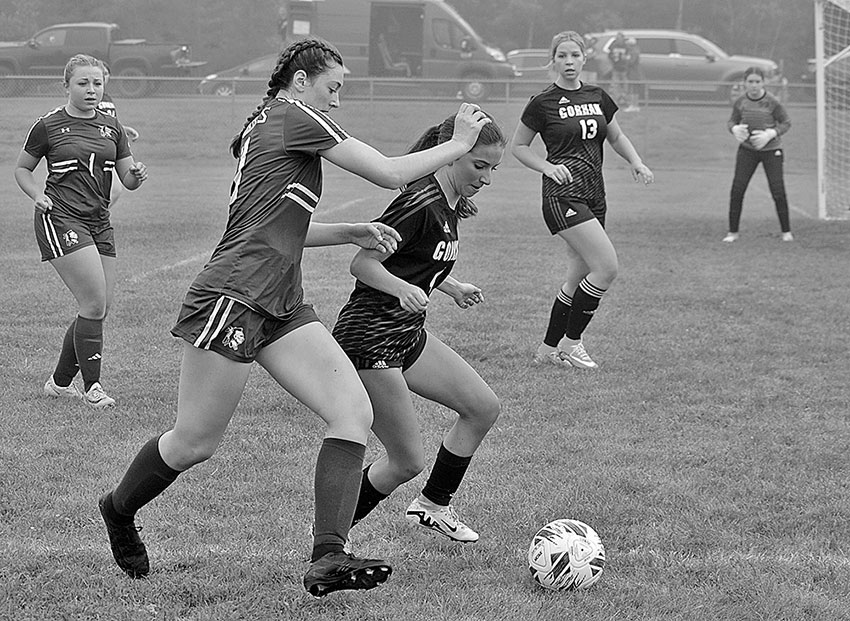 A VISIT WITH SANTA

Evellyn Belair got to meet Santa Claus at the Mohawk Grange Holiday Sale in East Colebrook on Saturday. (Jake Mardin photo)
Ron's Blue Scout Is Still on the Road
By Karen Harrigan
It's been six years since retired Colebrook fire chief Ron Hughes passed away, and a bit longer since friends enjoyed the familiar sight of him tooling around in his blue 1980 Scout II International Harvester. A kindred spirit and fellow Scout enthusiast is now at the wheel, however, after Ron's daughter Stephanie Hughes gifted her Dad's beloved vehicle to Colebrook police chief Paul Rella.
"For me, it means in some small way my Dad is still around," Steph said. "I am thrilled that Paul loves it and he keeps me informed by sending photos. It was a good thing to do."
Paul kept Ron's stickers on it and personalized the plate, and enjoys visiting with people who knew Ron or just share their enthusiasm for old Scouts, and stop to talk with him. Ron served in the Army and Paul is a Marine Corps vet, and Steph was happy to know that a fellow veteran is helping her Dad's memory live on.
"I love driving that thing around," Paul said. "Everybody knew Ronnie and used to see him driving it all the time, and people stop and comment on it." He doesn't take the gift lightly and along with Steph, feels her Dad's presence at the wheel.
(Issue of November 23, 2022)
---
---
---