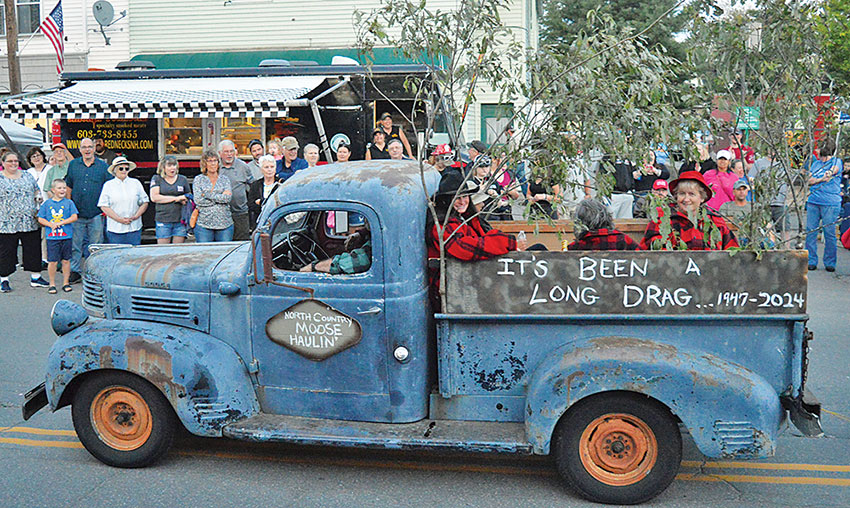 BEDTIME READS

Alleigha Wheeler holds two good choices from a selection offered during Stratford Public School's literacy grant program kickoff on October 6, which included a presentation from storyteller Simon Brooks. The Children's Literacy Foundation (CLiF) selected Stratford for this pilot program targeting smaller schools with a new version of its Year of the Book grants.
(Courtesy photo)
---
Colebrook's Main Street Redesign Still in the Works, Likely Put Off Until 2023
By Jake Mardin
The Town of Colebrook is still working on several infrastructure projects, but the long-awaited streetscape project may not happen until 2023.
The board of selectmen met with CMA Engineers last month to discuss the status of street, water and sewer projects and their funding sources.
Josh Bouchard of CMA Engineers told the board that the N.H. Department of Transportation has given them the green light to proceed to the preliminary design phase of the Transportation Alternatives Program (TAP) streetscape project, and CMA is working on drawings. He noted that the utility relocation portion of the project will take a lot of time.
The project has been ongoing since 2015, and Mr. Bouchard stated that preliminary design and utility coordination will be done in early 2022 and submitted to DOT, which is expected to complete its review that spring. The final design will come after DOT approval, and the project is not expected to be done until 2023.
Mr. Bouchard said the pandemic was to blame, as it halted all DOT projects for over a year. Selectman Greg Placy said once CMA provides the preliminary design, the board can talk about cost increases due to the delays and associated construction costs.
Other projects discussed were pump station upgrades on Edwards Street, the water system in the Colebrook Homeowners' Cooperative park, and the siting of the new water wells. Paul Schmidt of CMA Engineers remarked that Colebrook has more projects going on than some major cities in the state.
(Issue of October 20, 2021)
---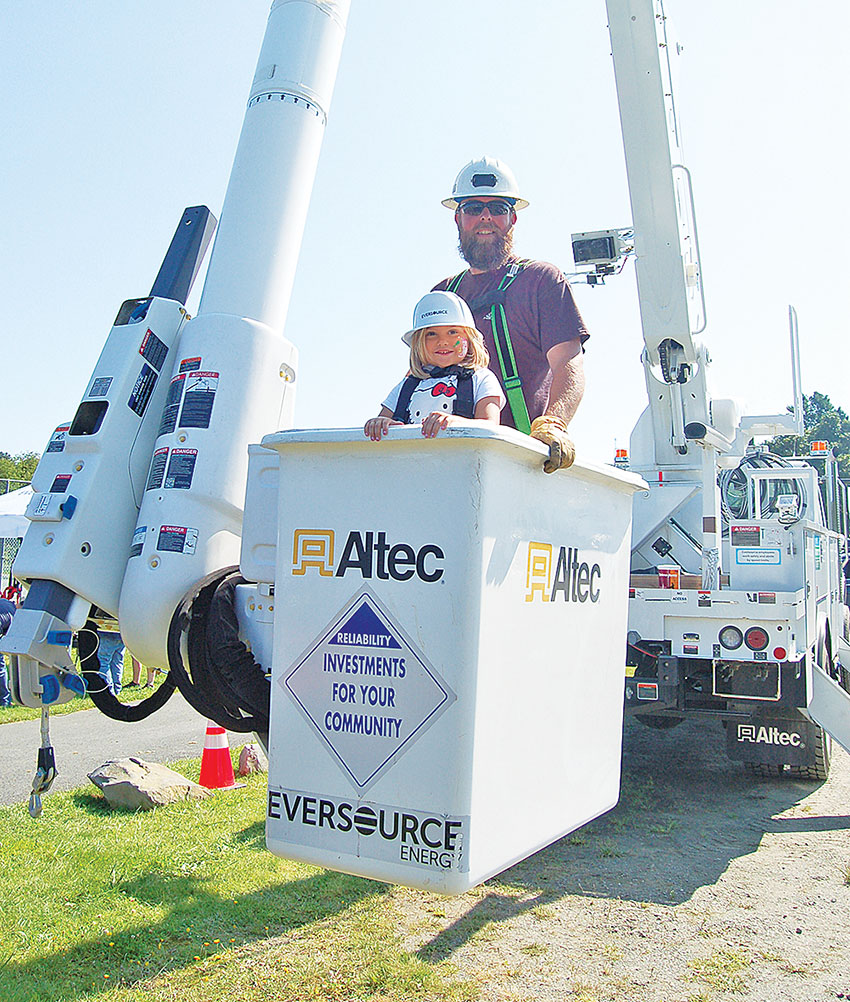 SUCCESSFUL MOOSE HUNT

Shaw Kipp of Salisbury, Vt., bagged a 792-pound bull with a 55-inch spread in Maidstone on Tuesday morning, and drew plenty of attention when his truck was parked on Main Street in Colebrook. He was assisted by the rest of his crew, consisting of Nick Campagna (also pictured), Chris Groman and John Kipp. (Jake Mardin photo)
---
Server Charged with Selling Alcohol to Minor Who Died in Cycle Crash
By Jake Mardin
A Colebrook man is facing charges for allegedly serving alcohol to a minor who died in a motorcycle crash last month.
John Kenny III, 59, was charged last Wednesday with Class A misdemeanor counts of selling alcohol to a minor and selling alcohol to an intoxicated individual, while employed as a server at the Black Bear Tavern in Colebrook.
Andre Dostie, 19, died in a motorcycle crash in Lemington on September 17, and Vermont State Police concluded that speed and alcohol were factors. The crash set off an investigation by the New Hampshire Liquor Commission's Division of En-forcement, with assistance from the Colebrook Police Department.
According to an affidavit written by Investigator Michelle Soares, one person who was interviewed stated that he was at a table with Mr. Dostie and others, and that no one in the group was asked to produce identification. During a search warrant at the restaurant, Inspector Soares noted that owner Rick Nadig was distraught about the incident, and stated that Mr. Kenny had taken a leave of absence and was "extremely upset and emotional about the situation."
Inspector Soares reviewed video surveillance and credit card receipts from September 17 and observed Mr. Dostie being served eight Tito's vodka and cranberry cocktails in a 68-minute period. She also noted that Mr. Kenny did not ask for identification during that time.
She wrote that it was difficult to see clear signs of intoxication from Mr. Dostie in the video, since he was seated with his back to the camera. She said at one point he struggles to put his phone in his pocket. He also appeared to be very animated while engaged in conversation, but one witness described Mr. Dostie as "a very animated and loud person when he is not consuming alcohol."
Mr. Dostie left the tavern at around 5:47 p.m. "As he pulls out of his parking spot, Dostie loses balance of the motorcycle, stops and checks his left foot gear selector before moving at a slow speed out of the lot," Inspector Soares wrote. "This movement (according to a seasoned motorcycle rider) is not normal operation."
Mr. Kenny was released on personal recognizance bail and is scheduled to be arraigned on November 18.
(Issue of October 20, 2021)
---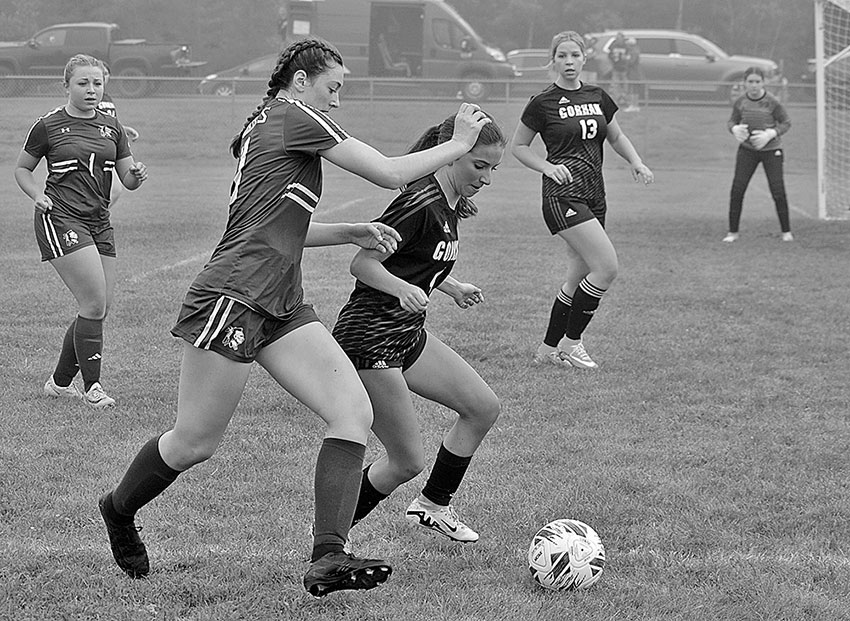 FIRST BIG PUSH

Pittsburg-Canaan's Skyler Brady, along with runners from Profile, White Mountains, Lin-Wood and Berlin, tackle the first hill at the Pittsburg-Canaan Classic cross-country meet, held at Murphy Dam in Pittsburg on Friday. (Jake Mardin photos)
---
Trick-or-Treat Hours, Halloween Events Set for Next Weekend

Some towns have established trick-or-treating hours for Halloween night, and local organizations are hosting events for kids and families on the weekend.
Stratford will not have trick-or-treating this year. Trick-or-treat hours on Sunday, October 31 in Colebrook and Pittsburg are from 4 to 7 p.m.; and in Canaan and Errol from 4 to 6 p.m.
Colebrook Trek or Treat
The Colebrook Recreation Department, Colebrook Community Trails, the Colebrook Public Library and the Kiwanis Club have teamed up to present Trek or Treat from 4:30 to 6:30 p.m. Friday, October 29 on the River Walk. Children will enjoy a fun Halloween-themed story and goodies along the trail, and characters from the story will make appearances throughout the River Walk to visit with the kids.
Start times for families to enter the River Walk will be staggered, and organizers will collect an entrance fee of $3 per child to go toward the maintenance and preservation of the River Walk. Advance registration is encouraged for this event, which is open to residents of all towns. Families can register by contacting the library at chilibcolnh@gmail.com or 603-237-4808, or the recreation department at colebrookrecreation@gmail.com or 603-237-5086.
Haunted Forest in Canaan
The Canaan Key Club will host a Haunted Forest on Friday, October 29 from 6:30 to 10:30 p.m. in the Canaan Community Forest.
Colebrook Halloween Carnival
The middle and high school Student Council will host a Halloween Carnival from noon to 4 p.m. on Saturday, October 30 at Colebrook Academy and Elementary School. Admission costs $5 per person or $20 for a family of five, and the rain date is Sunday, October 31.
The event will include a costume contest, snacks and hot chocolate. Children can play games such as Pin the Skeleton, Pumpkin Bowling, Witch Hat Ring Toss, Hit the Ghost and Spider Darts, and there will be a $2 photo booth, an apple cider station for $2, and the Key Club's Haunted Hallway for a $3 entrance fee.
Canaan Trunk or Treat
The Canaan Naturally Connected group is sponsoring a Trunk or Treat event in the Recreation Park from 2 to 4 p.m. on Saturday, October 30. Trunkers who would like to pass out candy should contact terrie.herr@gmail.com or message the CNC Facebook page to arrange a spot, and should arrive no later than 1:30 p.m.
Halloween Night in Canaan
On Halloween Sunday, Grace Community Church will offer free hot dogs and hot beverages during trick-or-treat hours from 4 to 6 p.m., and new this year is Pumpkins in the Park from dusk to 8 p.m. Everyone is encouraged to bring their lit jack o' lanterns to Fletcher Park on Sunday afternoon, and free pumpkins to carve and lights are available at the Alice Ward Library. Those who plan to participate are asked to RSVP to the library for a "head" count, at 802-266-7135.
Scarecrow Contest
The Canaan Naturally Connected group's scarecrow contestówith entries displayed on people's lawns, at businesses and public parks in Canaan and Beecher Fallsócontinues through the month of October. Each display should be identified with a tag bearing the creator's name and phone number.
Anyone willing to be involved in the judging process may do so via the CNC's Facebook page from November 1-15. After the winners are announced, participants are asked to remove their scarecrows. Awards will be presented for the Friendliest, Scariest, Prettiest, Best Recycling and Funniest scarecrows.
(Issue of October 20, 2021)
---
---
---
The News & Sentinel
6 Bridge Street, PO Box 39
Colebrook, NH 03576