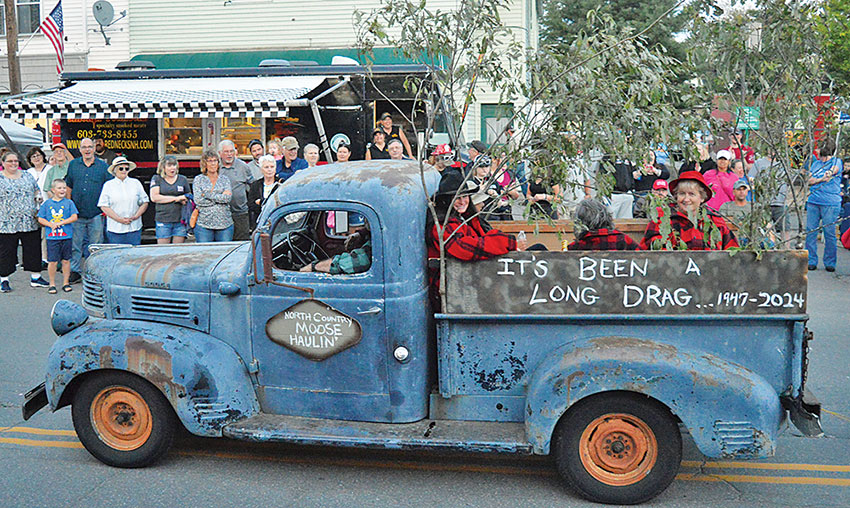 LEADING THE WAY

Members of Northland American Legion Post 47, its Auxiliary and Sons of the American Legion march up Main Street in Pittsburg, marking the first of their three Memorial Day observances on Monday. In front are 2nd Vice Commander Bob McComiskey and Chaplain Robert Siewierski; behind them are Charles Elliot, Al Buckley, Kevin Rice (obscured), Dae Gray, Cecil Hikel and Nancy Marchand. (Ann Gray photo)
---
Berlin Man Dies in Accident While Logging with UTV in Millsfield
By Jake Mardin
A Berlin man sustained fatal injuries when he rolled a UTV into a ditch while pulling a lot alongside Millsfield Pond Road in Millsfield on Monday morning.
Conservation Officer Eric Fluette reported that the accident occurred at around 10 a.m. when Robert Van Vlaanderen, 63, was gathering wood with a friend and using a winch and cable mounted to the front of a UTV.
"They had been winching and gathering wood for approximately 30 minutes in one direction," CO Fluette said. "Mr. Van Vlaanderen then wanted to winch a specific log that required winching in the opposite direction. After repositioning the UTV, he began to drag the log alongside the road. During this time the UTV started to slowly slide towards a ditch."
CO Fluette said evidence and statements gathered at the scene showed that there was "sudden and non-purposeful acceleration" while Mr. Van Vlaanderen was pulling the log, which caused the machine to go over a small rock headwall around a culvert. The machine rolled onto its side, causing fatal injuries. Mr. Van Vlaanderen was pronounced deceased at the scene and was transported by Bryant's Funeral Home.
Errol Fire Department and Errol Rescue responded to the initial call and assisted in the recovery, along with Fish and Game and N.H. State Police.
"Conservation officers believe that there were many factors in this crash, some of which were circumstantial," CO Fluette said. "Mr. Van Vlaanderen was operating a machine that was not his own, he was not seatbelted and did not have a helmet on at the time of the crash."
(Issue of May 31, 2023)
---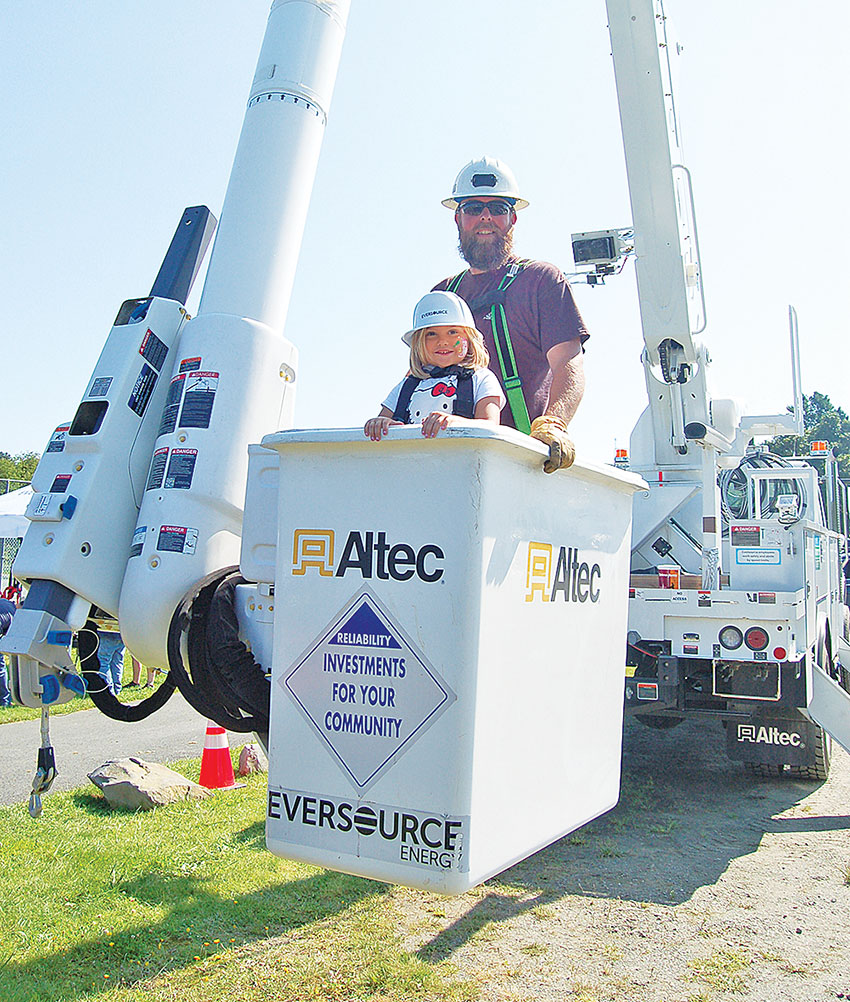 Cheyenne Cloutier, hard at work

---
Ski-Bees Volunteer Cheyenne Cloutier NHSA's Jr. Snowmobiler of the Year
By Jake Mardin
Cheyenne Cloutier of the Colebrook Ski-Bees snowmobile club was named the New Hampshire Snowmobile Association's Junior Snowmobiler of the Year, as announced at the NHSA's annual meeting on Sunday, May 21.
Ms. Cloutier, 14, formerly of Columbia and now living in Montana, was nominated by Ski-Bees trail administrator Peter Hanson. "Our nominee has been involved in the sport since she was able to walk and has integrated herself directly with our club over the past couple of years," Mr. Hanson said. "During this most recent season, she has assisted the trail administrator and has now been recognized as the official Trail Administrator Assistant. That position is not only a landowner liaison with the club and Bureau of Trails' paperwork requirements, but is actively involved in the trail management across those same properties."
Cheyenne is a home-schooled student and worked her eighth grade schedule backwards so that she would be finished around December 15, the unofficial first day of snowmobiling season. She attended school during the week, and on the weekends kept busy with her duties as trail administrator assistant, which included painting trail stakes, organizing landowner lists and organizing club trail kiosk locations.
Mr. Hanson wrote that every couple of weeks, he would receive an updated list of fall tasks that landowners asked for, such as putting up trail stakes, driveway stop signs, airport runway keep-off signs and trail perimeter roping. "After reviewing over 75 fall tasks, Cheyenne took it upon herself to numerically identify each project," Mr. Hanson said.
"During the early fall, she identified each landowners' requirements and assembled the proper materials into the numeric groups," he wrote. "Therefore, when the volunteer work parties were scheduled, she was able to quickly identify specific landowners and the proper materials required. It was a highly efficient process; you could ask volunteers if they knew a certain section of our 158-mile trail network, then Cheyenne would give them a group of numbers and they would simply pick up those materials and be able to quickly start their volunteer work."
Cheyenne has also been involved in the club's fund-raising events, including the New Hampshire Grass Drags and Water Cross and the North Country Moose Festival, by working in the food trailer, setting up merchandise displays and selling sled raffle tickets.
In addition to these events, Cheyenne also works to promote the club and to thank landowners who allow the club to use their property. She was instrumental in decorating the Ski-Bees' float in Colebrook's Independence Day parade and assisted the Swift Diamond Riders Snowmobile Club with decorating their float at the Stewartstown Day parade.
Mr. Hanson went into detail to describe the amount of work that Cheyenne does on trails and other special projects. One part of the job is obtaining permission forms from over 250 different landowners. When landowners return forms, Cheyenne documents all of the information in a database and confirms the current address information, documents whether the landowner has selected a single-year, five-year or indefinite permission, along with the expiration date and any other specific requirements, such as stakes, ropes and signs. She also assists with visits to town halls in Columbia, Colebrook, Stewartstown and Clarksville to check tax records.
"The amount of rope and six-foot stakes we have purchased and continue to do would turn most volunteers off," Mr. Hanson wrote. He said 192 stakes were purchased, and Cheyenne and her recruits paint them in orange and bundle them to be organized later.
Cheyenne also built a rope reeler that makes it easier for club members to gather up rope along trails at the end of the season. This year, she made 119 dozen cookies, printed a list of landowners, held a drawing, and delivered the cookies to the winners.
Cheyenne and her family have also become friends with a landowner in Clarksville who allows a portion of Trail 21 to go through his property, and he also has a private network of snowmobile, snowshoe and cross-country trails. Cheyenne helps him maintain his trails, and Mr. Hanson said she has become skilled when she uses the owner's Bombardier 275 groomer.
Cheyenne wants to become a wildlife biologist, and has worked with Jillian Kilborn of N.H. Fish and Game for a number of years. She has volunteered at deer and moose check stations, banded ducks, and assisted with remote trail camera checks and infrastructure maintenance on the Fish and Game-owned Connecticut Lakes Natural Area. She is also a member of the Colebrook Recreation Department's Drama Club program.
"Based upon every phase of the sport she is involved with, from landowner relations to trail maintenance to trail grooming, she excels in it all and has a positive outlook and we look forward to her becoming a leader in the business of snowmobiling in New Hampshire," Mr. Hanson wrote.
(Issue of May 31, 2023)
---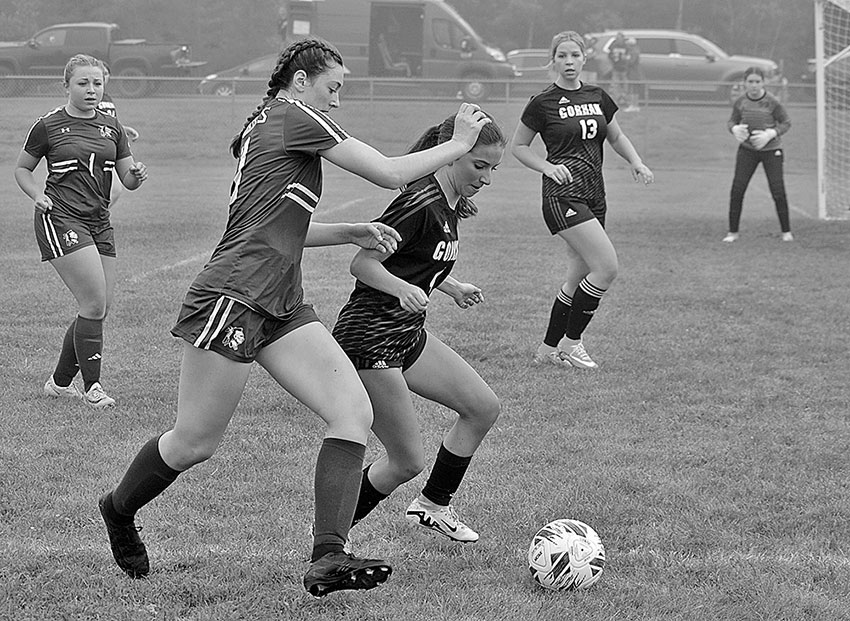 PREPARING THE AED

CPR instructor Becky Bean observes as Kolten Dowse and Brigid Wonkka-Greene prepare their AED devices before practicing on the dummies during a Heart Saver Class at Colebrook Academy and Elementary School last Wednesday. The class was open to any high school student who wished to obtain CPR and AED certification, an opportunity presented by the Colebrook Recreation Department, the school, Upper Connecticut Valley Hospital and 45th Parallel EMS, and funded by an Empower Coos Youth Grant from the New Hampshire Charitable Foundation. (Alan Farnsworth photo)
---
Division IV Softball & Baseball Playoffs

Open This Week; All Local Team Are In



All six of the area schools' varsity baseball and softball teams reached the Division IV playoffs, and will be in action this week. Results and schedule updates can be found at www.nhiaa.org, and will be posted on the newspaper's Facebook page.
Softball Tournament
#3 Groveton vs. #14 Sunapee (Wednesday, 4 p.m.)
The Eagles captured the third seed thanks to a 13-3 record, and after a three-game skid early in the season gave them a 2-3 record, they went undefeated the entire month of May. It will be their first game of the year against the Lakers, who ended the regular season with a record of 7-11.
The winner of this preliminary round game will face #6 Newmarket or #11 Colebrook at the home of the higher seed in the quarterfinals at 4 p.m. on Saturday. The semifinal game will be played at 5 p.m. on Wednesday, June 7 at Plymouth State University and the finals are at 4:30 p.m. on Saturday, June 10 at PSU.
#9 Pittsburg-Canaan at #8 Wilton-Lyndeborough (Wednesday, 4 p.m.)
The Yellow Jackets (10-6) will take the bus to Wilton (11-5) for Wednesday's prelim game, which will be the first meeting between both squads this year.
The winner will advance to the quarterfinals on Saturday to take on the top-seeded Engineers in Woodsville at 4 p.m. Pittsburg-Canaan beat Woodsville in the regular season and gave them their first loss in two years.
The semifinal game will be played at 7 p.m. on Wednesday, June 7 at PSU.
#11 Colebrook at #6 Newmarket (Wednesday, 4 p.m.)
Another north-south matchup means that like the other games, this will be the first time the two teams have played each other this season. Colebrook ended the year with a record of 9-7 while Newmarket had a record of 12-4.
The winner will play #3 Groveton or #14 Sunapee at the home of the higher seed at 4 p.m. on Saturday, and whoever wins that game will play in the semifinals at 5 p.m. on Wednesday, June 7 at PSU.
Baseball Tournament
#7 Colebrook vs. #10 Epping (Thursday, 4 p.m.)
Colebrook ended the regular season with a record of 12-4 to secure a home game in the preliminary round and will take on Epping, who finished the regular season 8-8.
The winner advances to the quarterfinals at 4 p.m. on Saturday to take on either #2 Sunapee or #15 Pittsfield at the home of the higher seed. The semifinal will be played at 4:30 p.m. on Tuesday, June 6 at Robbie Mills Park in Laconia, and the finals are at Northeast Delta Dental Stadium in Manchester on Saturday, June 10, with the time to be announced.
#12 Groveton at #5 Newmarket (Thursday, 4 p.m.)
The Eagles reached the playoffs with a record of 8-8 and will travel south to take on 14-2 Newmarket. The winner advances to the quarterfinals to take on the winner of #4 Derryfield v. #13 Hinsdale at the home of the higher seed at 4 p.m. on Saturday. The semifinals will be played at Robbie Mills Stadium in Laconia at 7 p.m. on Tuesday, June 6.
#16 Pittsburg-Canaan vs. #1 Gorham (Thursday, 4 p.m.)
The Yellow Jackets (6-10) finished the season with a four-game winning streak to make the playoffs and will face the #1 seed Huskies (15-1). Unlike every other playoff matchup involving local teams, these two squads played each other in the regular season, with Gorham taking both games.
The winner will advance to Saturday's quarterfinals for a 4 p.m. game against #8 Portsmouth Christian or #9 Woodsville. The semifinals are at 7 p.m. on Tuesday, June 6, at Robbie Mills Stadium in Laconia.
(Issue of May 31, 2023)
---
---