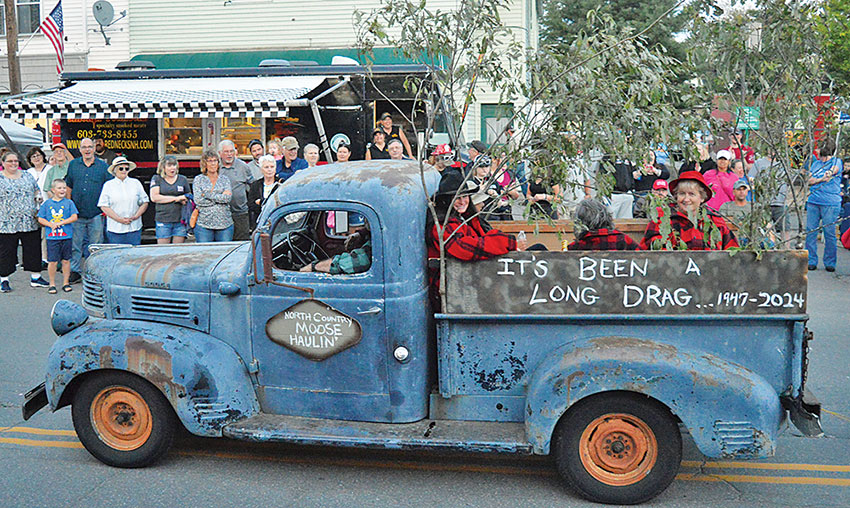 BEST-TASTING PUBLIC DRINKING WATER IN VERMONT

Canaan Fire District #1 chief operator April Busfield is seen here with Gary Leach, VP and engineer with Tata & Howard, the firm that provided engineering and consulting in the $4.1 million design and construction of the new system in 2015. (Courtesy photo)
---
Canaan's Drinking Water Wins State Title, Enters National Competition

Canaan Fire District #1, which provides drinking water to residents of Canaan and Stewartstown, won the title of best tasting water in Vermont during a statewide competition in 2022. Now it will compete in a national water taste test in Washington, D.C., on February 8.
"It seems surreal," said April Busfield, the chief operator at Canaan Fire District #1. She will travel to Washington for the contest and to meet with Vermont's congressional delegation.
The Great American Water Taste Test is held annually by the National Rural Water Association. The top water system from each state competes for the title of Best Water in the USA. The water is judged based on clarity, bouquet, and taste, and there has never been a winner from Vermont or New Hampshire.
Canaan Fire District #1 provides water to about 970 people, and is unique in that it serves towns in two different states. Perhaps most unusual, it used to get some of its water from springs located across the border in Canada.
Nowadays, groundwater is pumped from a well in Canaan to a reservoir. From there, it is treated and sent to homes and businesses in Canaan and Stewartstown.
The water system underwent a complete upgrade between 2016 and 2018, implementing a new filtration method and improved distribution. Mrs. Busfield credits this work in leading to their statewide title last year. "I feel the quality has improved tenfold," she said. "The water is crystal clear."
Vermont's Water Tasting Contest was held in May of 2022 at an event hosted by the Vermont Rural Water Association. Canaan Fire District #1 was named best-tasting groundwater, and the Champlain Water District was named best-tasting surface water. The two then faced off for best overall, and Canaan came out on top.
"We are very excited and proud to have a small, rural system such as Canaan Fire District #1 representing our state on the national level," said Liz Royer, executive director of the Vermont Rural Water Association. "April works hard to not just provide safe drinking water, but to provide great tasting water as well!"
All water systems must meet water quality regulations set by the state and federal governments. These include things like testing the water for pathogens and contaminants, protecting the water source from pollution, and employing certified water operators.
"We all do what we need to in order to take whatever mother nature gives us and balance the demands of the state with the demands and desires of the customers to deliver the highest quality of water," said Mrs. Busfield. She gives the example of using chlorine as a disinfectant: it needs to be at a high enough level to prevent bacteria growth throughout the distribution pipes, but not so high that people complain of the taste and smell.
It would seem that this balance is even more difficult when there are two towns and two states involved, but April remains positive. "The cooperation between all the boards, commissions, town departments, employees, and states are what makes this work for our small area," she said.
The fire district received funding from the U.S. Department of Agriculture to im-plement the recent upgrade. State and federal funding is critical to helping water systems update their infrastructure, but it can be difficult for small systems like Canaan's to access. Mrs. Busfield and Ms. Royer will discuss issues like this with Vermont's congressional delegation while they are in Washington.
"Small systems are held to the same standards as larger systems but are sometimes given less resources, especially personnel," said April. Like many trade fields, the water resource industry is suffering from a worker shortage as many workers retire and few are joining the trade. This especially affects small water systems, which may employ only one or two certified operators.
To address this, the Vermont Rural Water Association recently started an apprenticeship program to train new workers at drinking water and wastewater treatment facilities. The program has grown to 20 participants in three years, but it is not enough to solve the worker shortage in Vermont and across the nation.
"I do not think any of us do this because it is always fun," April said of water and wastewater operators. "But we all do this because we care about our towns and their people and we want to deliver good [water]."
The Vermont Rural Water Association is a nonprofit that supports public drinking water and wastewater systems, and promotes public health and clean water protection through technical assistance, training, advocacy and outreach.
(Issue of February 8, 2023)
---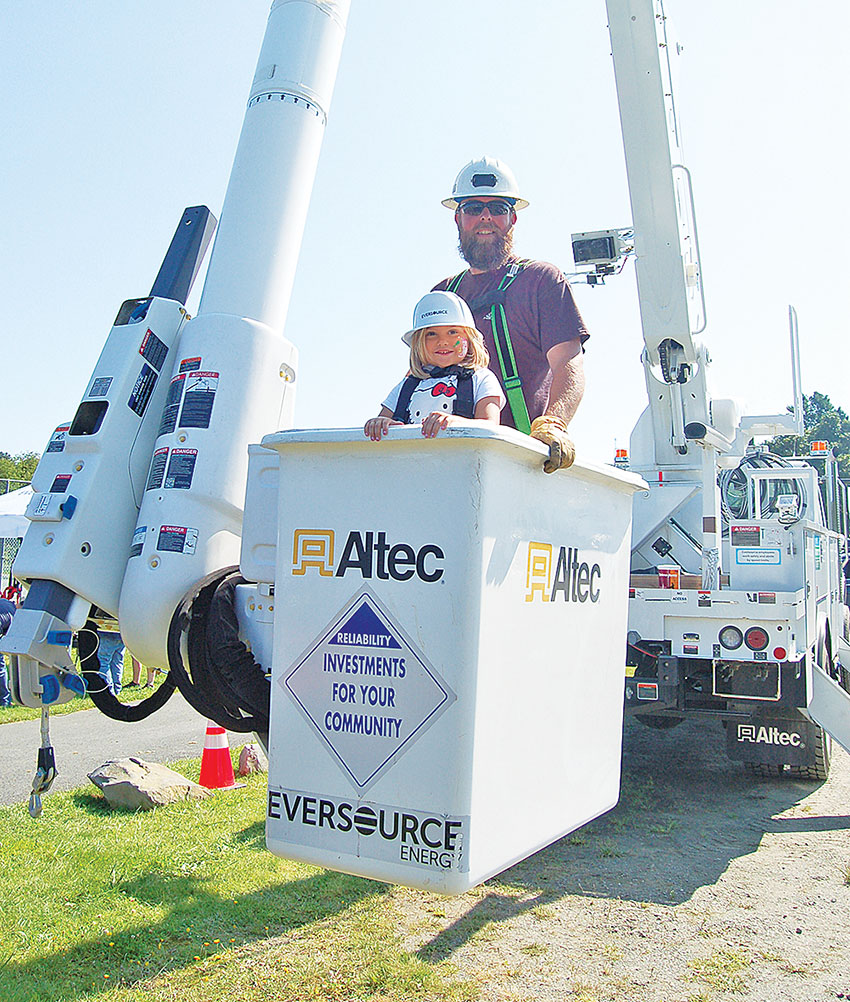 BOSTON POST CANE PRESENTATION

Stratford selectboard chairman Charlie Goulet, holding the town's original Boston Post Cane, along with selectmen Harry Juergens and Clayton Macdonald, recognized 91-year-old Florabelle Cavanaugh as Stratford's oldest citizen last Wednesday. They presented her with a plaque and a duplicate cane in a brief ceremony at the Fuller Town Hall in North Stratford. Stratford received its Boston Post Cane in 1909 and displays it on a wall in the town hall meeting room. (Alan Farnsworth photo)
---
Florida LLC Buys 8,000-Acre Perry Stream Land & Timber Property
By Jake Mardin
The Perry Stream Land & Timber property, which encompasses nearly 8,000 acres in Pittsburg, has been sold to CGH Land Trust, LLLP, a Florida limited liability limited partnership. The sale was recorded with the Coos County Registry of Deeds on January 27.
According to its listing on Cushman & Wakefield, a global commercial real estate services firm, the property was believed to be the largest offered for sale in New Hampshire. A Cushman & Wakefield press release stated that it "boasts the potential for a new owner to take advantage of various value-add opportunities including, but not limited to, two approved multi-lot subdivisions, further subdivision of the property into large recreational-residential lots, developing the permitted large-capacity groundwater well for bottling natural spring water, forest management for timber production or carbon sequestration and maple syrup production; and placing conservation easements on ecologically sensitive areas of the property."
The releases also states that the property "is currently used for recreation, including off-highway recreational activity that is opened seasonally, snowmobiling and hunting and fishing, [and] the property also features a commercial artesian well producing 250 gallons per minute with permitted capacity of 360,000 gallons per day from a natural spring fed by an aquifer source reputed to be the second largest in the state."
The release stated that the property was listed for $13 million. The warranty deed includes five parcels of land, located at 1786 Indian Stream Road, 10 Farr Road, Harris Pond Road, Moose Pond Road and 926 Back Lake Road.
According to State of Florida Division of Corporations website, CGH Land Trust, LLLP has a primary address in Sunny Isles Beach, Fla. The location is a condominium complex and shares an address with Novel Properties, LLC.
(Issue of February 8, 2023)
---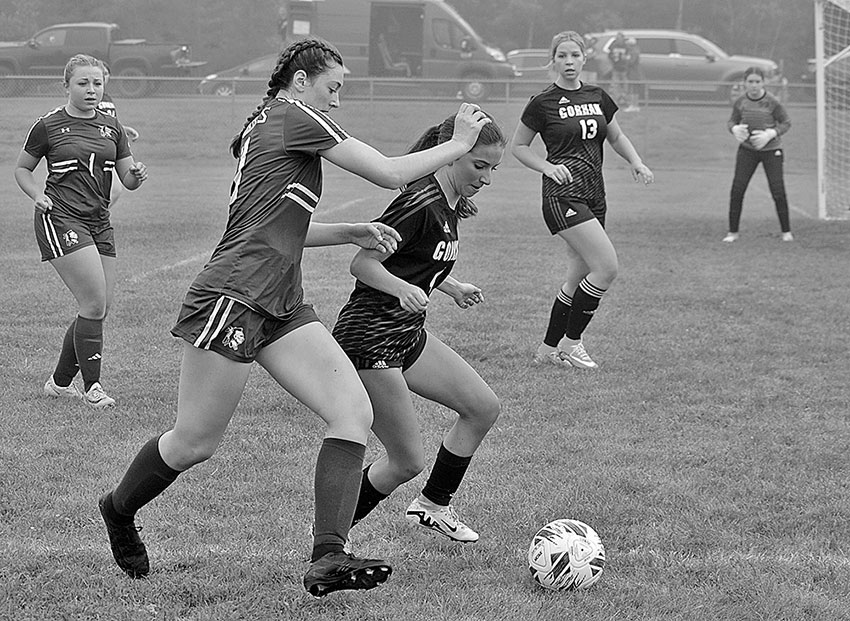 TWO ON ONE

Groveton's Brody Platt (20) and Aiden Whiting defend against Colebrook's Keenan Hurlbert during Friday action in Colebrook. Hurlbert's 15 points helped give the Mohawks a 55-43 win. (Jake Mardin photo)
Cold Causes Water Damage at Bank
By Jake Mardin
A frozen sprinkler line led to significant damage at Bangor Savings Bank in Colebrook on Sunday night.
"Due to the cold weather, a frozen sprinkler line caused water damage throughout the entire location, to include the second floor, first floor and base level," said Tricia Duchesneau, SVP and Director of Consumer Banking. The problem was discovered Sunday evening, and Colebrook fire and police personnel responded.
Assistant Fire Chief Earl Bunnell said the department arrived at 7:16 p.m. The water service was shut off and firefighters spent two hours using a portable pump, squeegees, shovel tarps and brooms to help minimize the extensive damage. "We are grateful for the quick and timely response of the Colebrook Fire Depart-ment and local law enforcement," Ms. Duchesneau said.
She said the bank is assessing the extent of the damage and will share updates of the reopening plan at www.bangor.com as they become available. "We are thankful that our employees and customers are safe and appreciate the outpouring of support from the community," she said. "Our teams are working hard to return to normal business activities and hours, and we appreciate everyone's patience."
The branch can process limited transaction types in the lobby by appointment, which can be made by calling 603-237-7070 prior to visiting. "We are working diligently to get the branch drive-through open as soon as possible," Ms. Duch-esneau said.
"Employees of Bangor Savings Bank across many departments continue to work together, which will allow us to resume normal business activities as soon as possible," she said. "Additionally, we continue to partner with service providers and contractors who are also helping to restore operations."
(Issue of February 8, 2023)
---
---
---