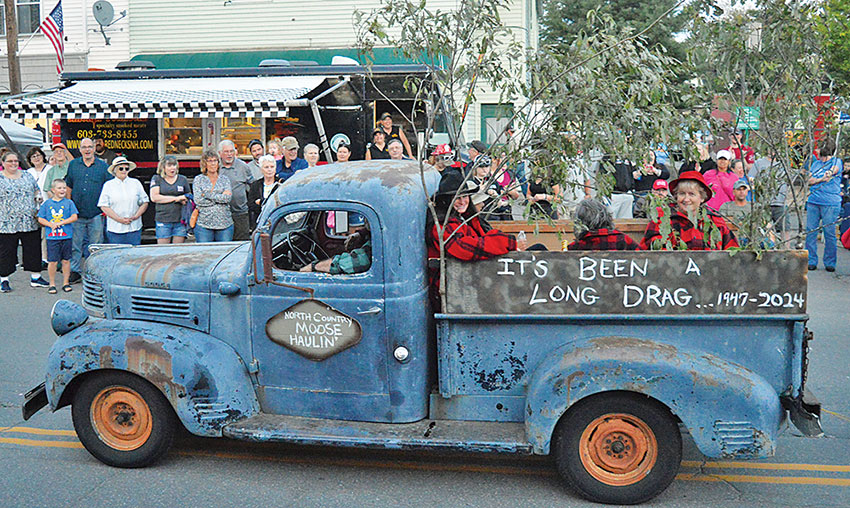 VISIT FROM A WWII VET

During their Veterans Day assembly last Wednesday, students at Stratford Public School were treated to a visit from Milton Paradis, who served with the Seabees in World War II. He talked about his service to the military, his time in the Stratford community and playing on the basketball team. (Courtesy photo)
---
Le Montagnard Lost to Fire Early Sunday
By Jake Mardin
The Cooperative de Solidarite Le Montagnard, a landmark restaurant, bar, function hall and motel in East Hereford, Quebec, was destroyed by fire early Sunday morning.
Beecher Falls Volunteer Fire Department Chief Steve Young said the call came at around 4:30 a.m., reporting that smoke was showing through the first floor of the building. The department responded with three engines and a tanker to the scene, about five miles north of the border on Route 253. Colebrook and Pittsburg fire departments were also called to the scene, along with the St. Isadore Fire Department. Stratford Hollow Fire Department covered Colebrook's station, then went to the scene after the Lancaster Fire Department arrived to cover the area.
Chief Young estimated the building to be about 150 feet long and 40 feet wide, with the restaurant and dining hall on one end and the hotel on the other. There was a brick firewall between them, but it didn't stop the fire from spreading.
When firefighters arrived on scene the area was thick with smoke and flames were visible in the front and rear windows. Chief Young said they started to attack the fire inside, but by that time the ceiling was already gone and firefighters could not get in, and had to switch to a defensive plan. At first, five different tankers were used and they ran a shuttle back and forth from Lauzon's Mill to fill up. Firefighters were eventually able to lay down 3,000 feet of four-inch hose to reach the village water system. They ended up needing so much water that the town reservoir got low, and they went back to the shuttle system.
Chief Young said Canadian authorities are working to determine the cause of the fire. He was told that there was a private function the night before and the fireplace was in use, but it is not known whether that played a role. He said once the fire got up high in the common space, it stayed up there until the roof caved in. From there it was a long process of digging everything out to make sure it was fully out.
In total, around 30 firefighters from five different departments responded to the scene, and Lancaster covered the area from Colebrook's station. Beecher Falls was back in service at 3:30 p.m. For many local firefighters, it was their second major fire in less than a week following the fire at The Spa Restaurant and Outback Pub the previous Monday.
The Montagnard's restaurant had been closed for several years, and many took to social media to reminisce about times spent there.
(Issue of November 24, 2021)
---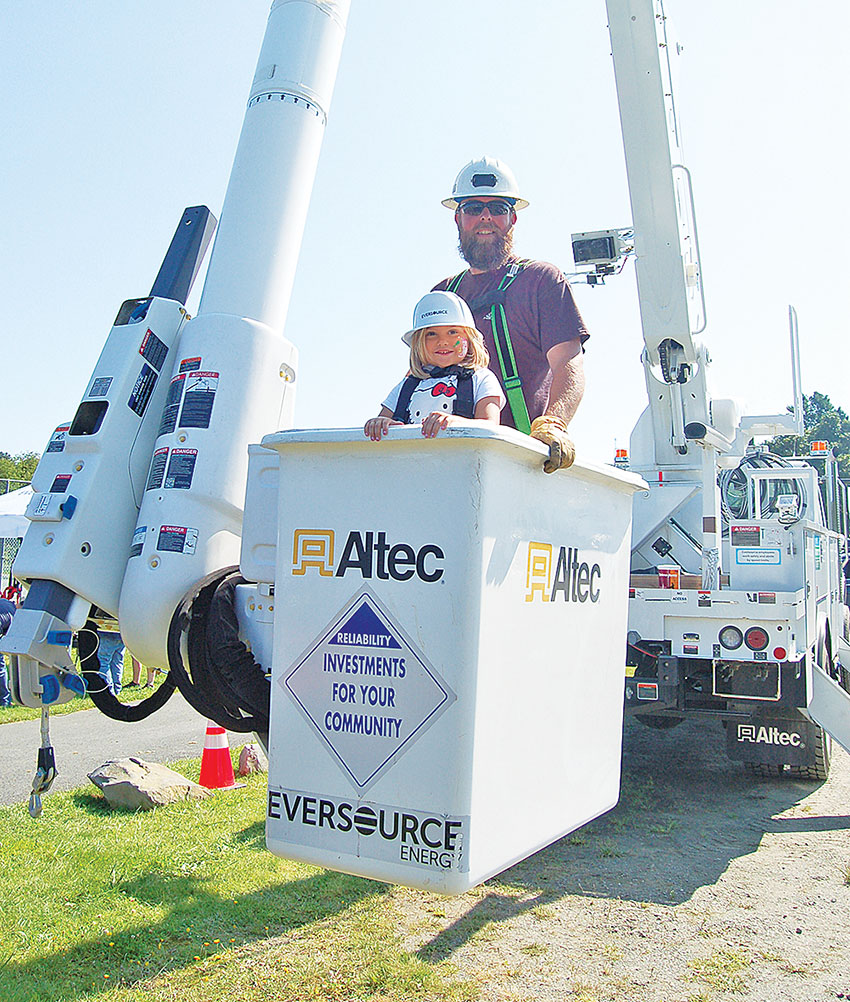 JUST THE RIGHT PITCH

Juniors and seniors in Elizabeth Griffin's marketing class at Colebrook Academy just finished a business plan unit that included a "Shark Tank" pitch to present their ideas. They negotiated offers, invested in each other's companies, and demonstrated knowledge of business concepts during the project. Junior Liam Shaw and senior Melody Oakes created Mad Beans Coffee Co. (pictured), while junior Ariana Lord created Coös Dessert Express and senior Matt Crawford created Odd Jobs Matt. (Courtesy photo)
---
Colebrook School Expansion Committee Seeks RFPs from Architects, Welcomes Input from Townspeople

Having met twice this fall, the Colebrook School District Building Expansion Committee is seeking public input on plans to provide additional educational space at the campus on Dumont Street, according to a press release SAU 7 superintendent Dr. Debra Taylor submitted last Monday, November 15.
At a special meeting held on October 19, Colebrook citizens approved the creation of a capital reserve fund, along with the allocation of $255,628 in additional adequacy aid to this fund. These funds will support the architectural design for the expansion of Colebrook Academy and Elementary School.
The school expansion is being explored in response to increased enrollment and growth at the American Performance Polymers manufacturing plant in Colebrook. "In response to increased enrollment, we need additional educational classroom space and additional course offerings to expand student opportunities," the release states.
To guide the work, the Colebrook school board appointed the Colebrook School District Building Expansion Committee--composed of townspeople, parents, school staff, administrators and school board members--to begin the process of planning for the proposed school expansion. The first two meetings were held on November 9 and 17.
During the first meeting the committee reviewed a draft Request for Proposals to be sent to qualified architectural design firms. Principal Kim Wheelock provided a tour of the school, pointing out "crowded areas and makeshift classrooms that have been created to address our growing student population," Dr. Taylor stated in the release.
"We are thrilled to see our student enrollment grow," Mrs. Wheelock noted. "As we plan for the future, we understand that expansion of the building may be necessary to ensure that our students and school staff have the necessary facilities and engaging learning environments to ensure their success."
School board member and former longtime chairman John Falconer was elected to chair the Building Expansion Committee, having served on the building committee when the elementary school was built in 2000. "We are experiencing population growth," Mr. Falconer said. "In addition, a new manufacturing plant, American Performance Polymers Company, has come to Colebrook. We need to move forward in response to our growing enrollment. We are proud of the accomplishments of our Colebrook students and staff and look forward to the process of expanding our school and student opportunities to serve them well in the future."
The planning process is just beginning, Dr. Taylor stated, and "we are open to input from all members of our school community." Anyone seeking more information or who wishes to provide input may contact her at dtaylor@sau7.org or 603-237-5571.
(Issue of November 24, 2021)
---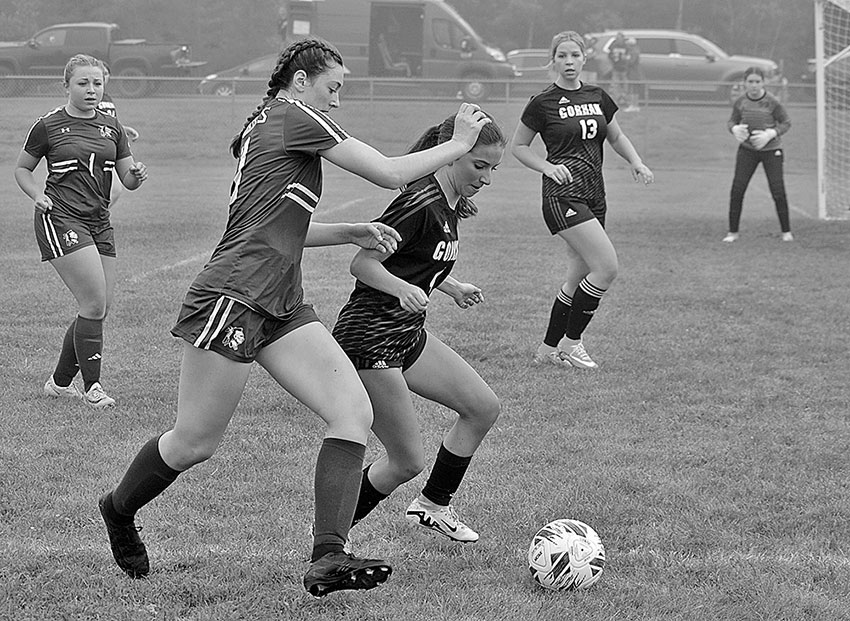 A DISTINCTIVE FELINE

Isabelle Ducret displays the cat poster she created in Michelle Desmond's art class, during the Open House and Book Fair held on Thursday, November 18 at Colebrook Academy and Elementary School. (Alan Farnsworth photo)
---
Kiwanis Club Takes on Local Toy Drive for Children in Need
By Jake Mardin
The long-running Toys For Tots toy drive that took place in Colebrook over the last decade will be undertaken by the Colebrook Kiwanis Club this year, under the new name Toys for Kids.
There will be very few changes made to what has become a popular program providing holiday joy to hundreds of children in the local area. Applications can be picked up at four locations: in Colebrook at Northern Treasures Thrift Shop, Helping Hands, and St Brendan's Catholic Church Food Pantry; and in Canaan at the NEKCA office.
Starting over Thanksgiving weekend, toy drop-off locations can be found at LaPerle's IGA, Don Noyes Chevrolet, Northern Treasures and Walgreens. Local Key Clubs will also have boxes at the Colebrook and Canaan schools.
Donated toys must be new, factory packaged, and not gift-wrapped. Money donations are also accepted, with checks payable to the Colebrook Kiwanis Foundation and mailed to the Kiwanis Club of Colebrook, PO Box 241, Colebrook NH 03576
All toy and money donations will be used within the club's service area in northern New Hampshire and Vermont.
(Issue of November 24, 2021)
---
---
The News & Sentinel
6 Bridge Street, PO Box 39
Colebrook, NH 03576