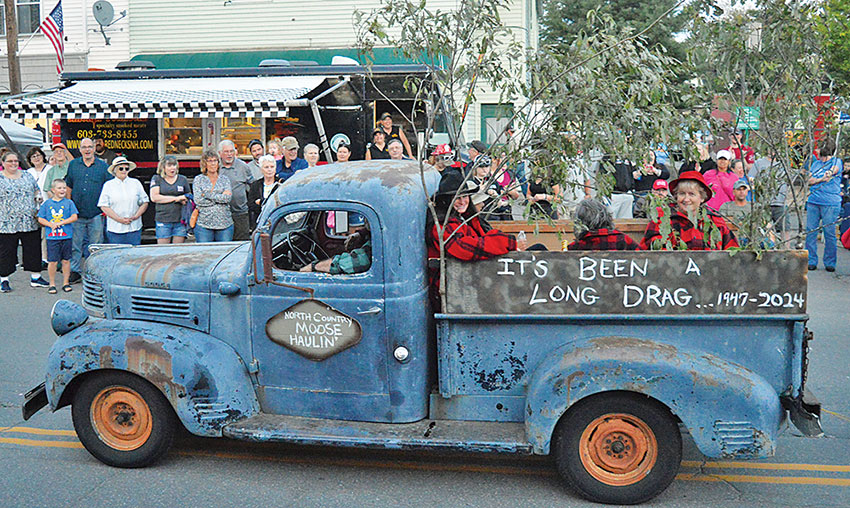 A GREEN UP FAMILY

Jaimie (behind the camera) and Kyle Moulton, along with Levi, Owen and Elliot collected roadside litter in their neighborhood on Vermont's annual Green Up Day on Saturday, May 7. (Courtesy photo)
---
Shots Fired on Meridan Hill Lead to Felony Charges for Columbia Man
by Jake Mardin
?A Columbia man is facing felony charges of attempted first-degree assault and reckless conduct with a deadly weapon after allegedly shooting at a construction worker on Meridan Hill Road on Thursday morning.
Aron Theriault, 25, was also charged with criminal trespass, criminal mischief and theft by unauthorized taking, for allegedly using a UTV without permission and breaking into a camp on Washburn Road.
The incident drew a response from New Hampshire State Police, N.H. Fish and Game, U.S. Border Patrol and the Colebrook Police Department. Meridan Hill Road was blocked off for a period of time and there was a heavy law enforcement presence as responders staged at Blue Mountain Variety. No injuries resulted from the incident.
According to an affidavit written by Trooper Sean Smarz of N.H. State Police, dispatch received a phone call shortly before 10 a.m. reporting that a construction crew at 606 Meridan Hill Road saw a UTV drive by the residence twice, and the operator shot at the crew on the second pass. He was reportedly wearing a dark hooded sweatshirt, and a dog was on the machine with him.
W.D. Dorman & Son employee Travis Lynch was reportedly working in an excavator off the driveway when he saw the UTV go past the home slowly with the operator staring at him as it passed. Lucas Cauller, who was also working at the home, told police he was out back when he heard a loud pop coming from the front of the house. He went out and saw the UTV and a male driver with his arm pointing upward towards the excavator.
"The male driver reached his arm outside the UTV with a gun pointed at Travis and fired one shot,"Trooper Smarz wrote. "Travis described the gun as black and possibly a revolver. The gunshot sounded like a .22 caliber discharge according to Travis. Travis rotated the excavator sideways, put the bucket down, then got out of the excavator. The UTV left the scene and [the operator] did not say anything. Travis had never seen Aron prior to this event."
N.H. Fish and Game Sgt. Glen Lucas located a UTV at a camp on Washburn Road that matched the description of the one seen at the shooting. N.H. State Police Sgt. Christopher Ladd and Staff Sgt. Michael Cote, along with three U.S. Border Patrol agents, approached the camp with Sgt. Lucas.
As they stood about 50 yards away from it, Staff Sgt. Cote announced that N.H. State Police was there and asked Mr. Theriault to come out. They heard a dog bark inside the camp and saw him come out through the front door, and Mr. Theriault followed the dog outside. He complied with instructions to stop and turn around.
Police found several items belonging to Mr. Theriault at the camp, which is owned by Ed Hoyt, including pieces of clothing, a blanket, and a backpack that contained multiple unfired .22 rounds, a large steak knife and a .22 caliber Taurus handgun. The handgun cylinder was open and the magazine was ejected. There were six live rounds in the magazine and two matching spent shell casings on the bed. Investigators found other rounds in the camp along with knives, matches and a mattress and camouflage sleeping bag.
The affidavit states that while he was in custody, Mr. Theriault told investigators he had been in the woods for two days and people were shooting at him all night, and thanked police for finding him.
The affidavit also states that the UTV belonged to Tim Frizzell and was on his property between Washburn Road and Meridan Hill Road, and that Mr. Theriault did not have permission to operate it.
In a later interview at Upper Connecticut Valley Hospital, Mr. Theriault reportedly told police that he feared for his safety and Muslims were coming after him. Police said he also stated there were graves on the mountain, and that "he shot at the Muslim that was operating the excavator digging the graves with his gun when he was driving by the Muslim grave site."
Mr. Theriault was arraigned at Coös County Superior Court on Friday and was placed in preventative detention. His next court appearance is scheduled for July 14.
(Issue of May 18, 2022)
---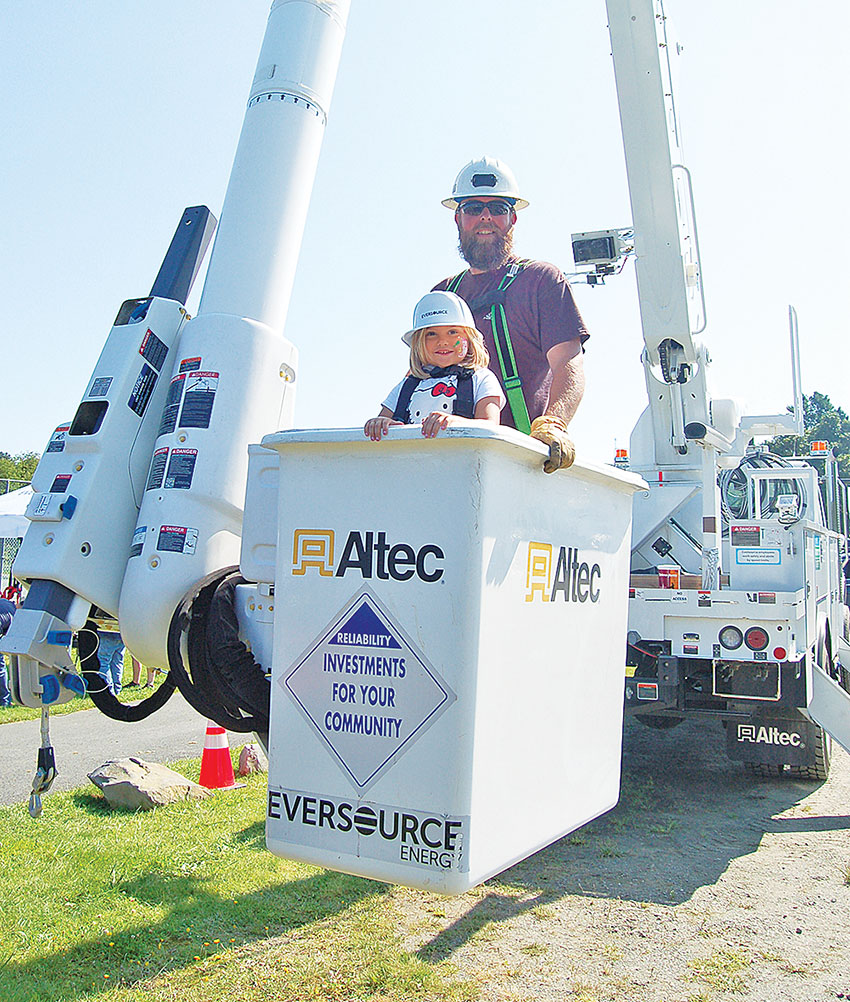 GIRL SCOUTS BEARING GIFTS

Members of Colebrook Girl Scout Troop 59331 delivered 76 care packages to residents at Colby Commons and Monadnock Village on Friday, May 13, that each contained a box of Girl Scout cookies, hand sanitizer, lotion, and a handmade flower in a reusable plant tin. The girls had accepted donated boxes of cookies from local people and businesses during their annual cookie sale, and used a portion of their cookie proceeds to buy the other items. Seen here at Colby Commons are (from left to right) Elyza Goudreau, Reese Labrecque, resident Jean Crawford, Evelyn Hyde, Carli Noyes and Meleah Rancourt. (Courtesy photo)
---
Errol Selectmen Taking Steps to Remove Town Clerk & Tax Collector from Office
by Karen Harrigan
The Errol board of selectmen is seeking the removal of town clerk and tax collector Ella Logan from both positions, and she has been on paid administrative leave since that process began on May 5.
In an interview by phone on Monday, selectboard chairman Scott Rineer said that aside from a prepared statement the board would not comment until after the entire process is complete.
"During the normal transition from one fiscal year to the next, the board of selectmen became aware that certain tax deposits were not made in a timely manner under state law," the statement reads. "The selectboard looked further into the matter and consulted with our legal and accounting firms as well as the Department of Revenue Administration. Acting upon their advice, the board has begun the process to remove [Ms. Logan] from her position under state statutes."
"The SB has no evidence that any tax monies have been lost or taken,"the statement continues. "The board contracted with an outside accounting firm, which is Plodzik and Sanderson of Concord, for an overall audit of the situation and to request specific recommendations moving forward to prevent reoccurences in the future. At this time the board would prefer not to comment any further until the statutory removal process is complete."
Under state law Ms. Logan has 20 days to respond to the May 5 notification of the board's intention, and the board then has 20 days in which to notify her of its decision whether to proceed.
After that Ms. Logan has ten days to request a hearing before the selectboard, which must take place within 20 days of that request. If the board ultimately decides to remove her from the position, she may appeal that decision to Coös Superior Court. The N.H. Department of Revenue Administration is included in every step in the process, and if at any point Ms. Logan fails to respond within a prescribed time, the selectboard may remove her from office without further action.
State law allows for removal of either a town clerk or tax collector based on an accountant's finding that the accounts contain an irregularity of error, due to intentional misstatement or theft, or a mistake that consistutes gross negligence. These reasons may also include a finding that "the timely deposit of funds has not been made,"as mentioned in the selectboard's statement.
Ms. Logan was elected to the tax collector's position in 2021, and was later appointed as town clerk to replace longtime predecessor Yvette Bilodeau, who stayed on as her deputy and is currently filling in as town clerk. Ms. Logan was elected to both positions this past March.
Mr. Rineer said no one is doing the tax collector's job at this time. "We were advised by DRA to close the tax collector's office during the removal process,"he said.
When contacted yesterday, Ms. Logan responded with the following statement: "Some tasks were delayed due to unavoidable medical leave. Also, certain individuals created a work environment that made it difficult for me to focus on my job responsibilities to best serve the town. I am grateful for having had the opportunity to serve our town for the last few years."
(Issue of May 11, 2022)
---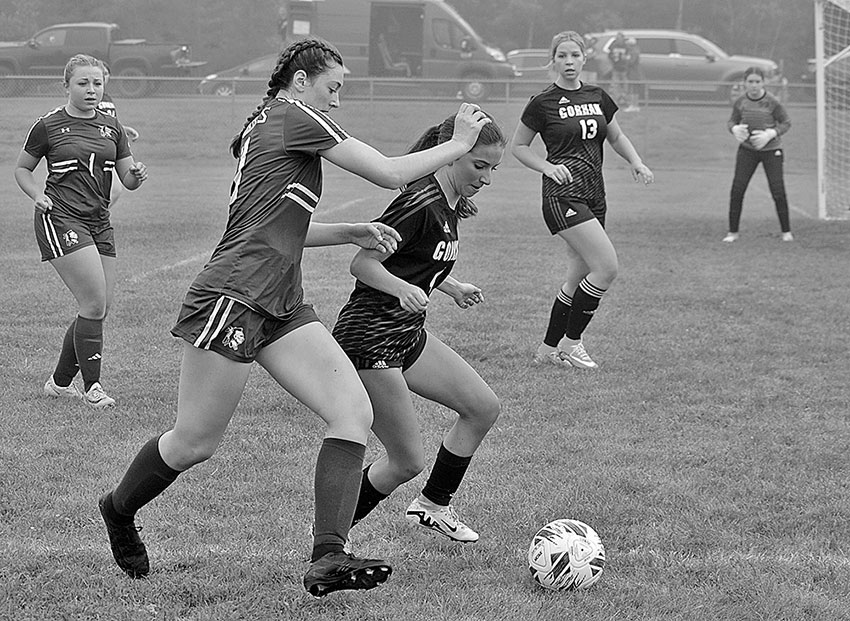 CLOSE PLAY AT SECOND

Colebrook's Jack Kyller looks to beat the tag from Groveton's Chris Corliss during last Monday's game in Groveton, which the Mohawks won 8-7. (Jake Mardin photo)
---
Civil War Re-enactors, New Monument Highlight Canaan Memorial Day Events
by Jake Mardin
This year's Memorial Day parade in Canaan and West Stewartstown on Monday, May 30 will be a special one, with the Civil War Regiment the Vermont Hemlocks participating and helping to unveil a new Civil War monument.
Northland American Legion Post 47, its Auxiliary and Sons of the American Legion will start the parade at 1 p.m. as usual with an observance at Canaan Memorial High School. This year the parade will stop first at Fletcher Park in Canaan for ceremonies at the veterans' monuments, then move east across the bridge into West Stewartstown.
Following the usual observance on the bridge, the parade will conclude at the West Stewartstown park with a ceremony and unveiling of the new Civil War monument and plaque. The Vermont Hemlocks reenactors will participate in the parade and conduct the concluding ceremony in West Stewartstown.
The plaque bears the following names of local Civil War veterans, and Post 47 Commander Scott Leigh encourages their descendants and relatives to attend:
George Abott, Arnold Aldrich, Elias Anderson, George Bannister, George Bishop, Addison Chase, Alma Cross, Caleb Dalton, James Dearth, Sydney Elmer, Nathaniel Flanders, Aldin Fletcher, Daniel Fletcher, Amos Frizzell, Charles Graham, William Graham, Hiram Haines, Nelson Haines, John Hodge, Daniel Johnson, James Jordan, James Kidder, Benjamin Knights, Robert Knights, Edgar Lang, Samuel Little, John Martin, Thomas Mayo, Martin Noyes, Daniel Ripley, Gardner Smith, Norman Smith, Hezekiah Stoddard, Horace Taylor, Henry Tewksbury, Seth Tirrell, Whitcomb Tirrell, Charles Trask, Philo Van Dyke, Oscar Worthley, Hiram Young.
Memorial Day Events
Earlier in the day, Post 47 will also lead Memorial Day parades as usual in Pittsburg starting at 10 a.m., and in Beecher Falls at 11 a.m.
In Colebrook, the parade led by George L. O'Neil American Legion Post 62 and Auxiliary Unit 62 will step off at their usual time of 11 a.m. Veterans and other participants are asked to start lining up at 10:30 in front of the post on Pleasant Street. All veterans are welcome to participate.
Volunteers will finish up placement of flags on veterans' graves at the Colebrook Village Cemetery from 3 to 5 p.m. on Thursday, May 26, and anyone wishing to help is welcome to stop by. Flags and instructions will be available at the main entrance.
Stratford Public School will hold its annual Memorial Day ceremonies starting at 8:30 a.m. on Friday, May 27. Students will march down to the Stratford town common for a student-led ceremony, then across the bridge to Bloomfield for a brief ceremony at the veterans' memorial there.
Also on Friday the 27th, Errol Consolidated School students will be joined by members of Berlin's White Mountain VFW Post 2520 for a ceremony at the town monument at 10 a.m.
(Issue of May 11, 2022)
---
The News & Sentinel
6 Bridge Street, PO Box 39
Colebrook, NH 03576