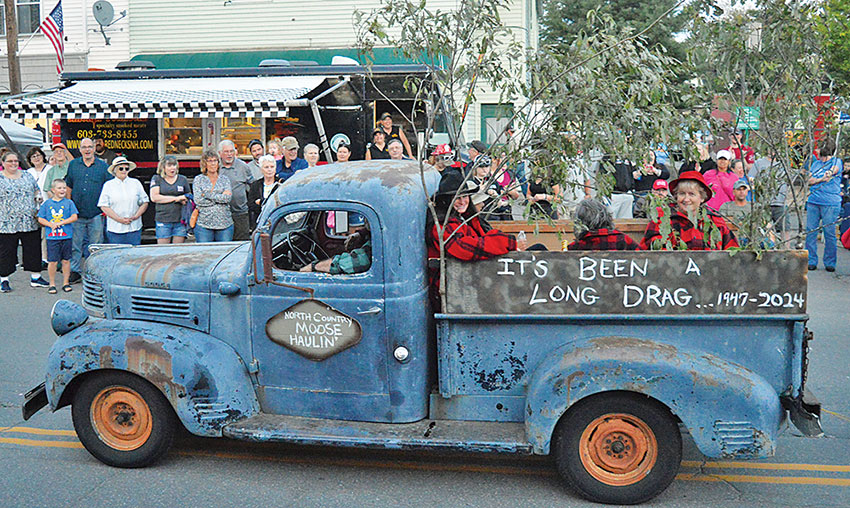 FATAL COLLISION

Colebrook Fire Department personnel work to extinguish the fire in the engine of a pickup after it was involved in a head-on crash on Route 3 in Columbia on Monday afternoon. The accident, which occurred at the Meridan Hill Road intersection, claimed the life of the pickup's driver, Dennis Hyde of Colebrook. (Jake Mardin photo)
---
Head-On Collision in Columbia Claims Colebrook Man, Injures Salisbury Driver
By Jake Mardin
A Colebrook man lost his life in a two-vehicle crash that occurred on Route 3 in Columbia on Monday afternoon. 
Trooper Tyler Brennan of N.H. State Police reported that Dennis Hyde, 68, was northbound in a 2014 Toyota Tundra pikcup when he crossed the center line and collided head-on with a 2006 Chevrolet Trailblazer driven by Danielle Remillard, 20, of Salisbury, N.H., near the intersection of Meridan Hill Road. 
Mr. Hyde received medical attention but was pronounced dead at the scene. The 45th Parallel EMS transported Ms. Remillard to Upper Connecticut Valley Hospital with serious injuries and she was flown from UCVH to Dartmouth-Hitchcock Medical Center in Lebanon. 
Colebrook fire and police personnel responded to the scene; N.H. DOT assisted at the scene and blocked traffic as Route 3 was closed down for several hours.
Trooper Brennan said the investigation into the crash remains ongoing, but neither speed nor alcohol appears to be a factor. Anyone with information is encouraged to contact Trooper Brennan at 603-271-1170 or tyler.j.brennan@dos.nh.gov. 
Mr. Hyde's services are pending, under the direction of Jenkins & Newman Funeral Home of Colebrook, and will be posted at www.jenkinsnewman.com.
(Issue of January 26, 2022)
---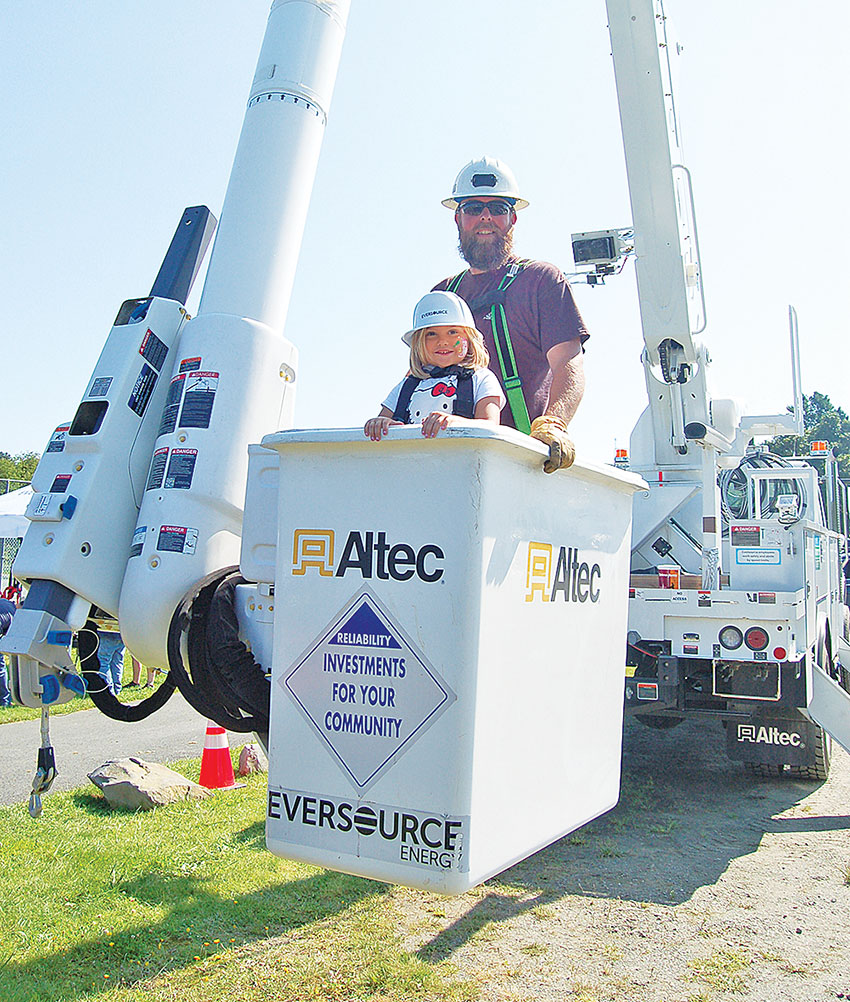 HOUSE FIRE IN PITTSBURG

Firefighters from Pittsburg and Beecher Falls responded to a house fire at the Jeralds residence on Maple Mountain Road in Pittsburg on Wednesday morning. They managed to save the main portion of the home while braving subzero temperatures and icy conditions. (Jake Mardin photo)
---
Pittsburg Couple & Dogs Escape, Home Damaged in Wednesday Morning Fire
By Jake Mardin
Multiple agencies responded to a fire at Bill and Tammy Jeralds' home on Maple Mountain Road in Pittsburg last Wednesday morning, and while battling sub-zero temperatures managed to contain the fire to one part of the home.
Chief Kevin Lassonde said the fire was called in just before 6 a.m. He said Mrs. Jeralds woke up to what she thought was her husband filling the wood furnace, but got up to check when the sound continued. It turned out to be a fire, and the couple and their two dogs made it out of the home safely.
The house is situated on a steep and narrow road, and Chief Lassonde said Pittsburg initially responded with both engines and a tanker. He made the call for Beecher Falls Volunteer Fire Department to bring its tanker to the scene because there was no water source close by. The departments ended up shuttling water from the Carr Ridge Road dry hydrant about five miles away, and trucks had to navigate the tight conditions at the house.
When firefighters arrived on scene, heavy fire was showing in one corner of an added-on portion of the house where the boiler and hot water tank were located. Chief Lassonde said they initially did an exterior attack on the building, and once they had a better water supply to protect everyone, they got a crew inside to work on keeping the fire from spreading to the home on the left, which they did.
Chief Lassonde said it was tough fighting the fire in the area where the two buildings were joined together, because there were multiple roofs and layers of siding. "There were multiple times when we said we got this," he said. "Then five minutes later it looked like we would lose it, but the guys were determined."
The added-on portion of the home was heavily damaged, but the main area sustained some smoke damage and water damage in the kitchen and was otherwise untouched. Chief Lassonde said he did not know if it would be salvageable, but said many personal items were saved.
Beecher Falls sent an engine with a full crew and a tanker to the scene. The 45th Parallel EMS also responded to the scene, and the Pittsburg highway department kept the road to the house sanded. Colebrook Fire Department was put on automatic dispatch until Pittsburg returned to service at around 5 p.m.
"It was a tough fire to fight and everyone had an all-in attitude," Chief Lassonde said. "Every firefighter on scene was encrusted in ice. The odds were against us and everyone worked as hard as possible and didn't give up." He also expressed gratitude to people who sent coffee and doughnuts to the scene for the responders.
Pittsburg returned to the scene on Thursday evening when the debris rekindled, and extinguished it with no problems.
(Issue of January 26, 2022)
---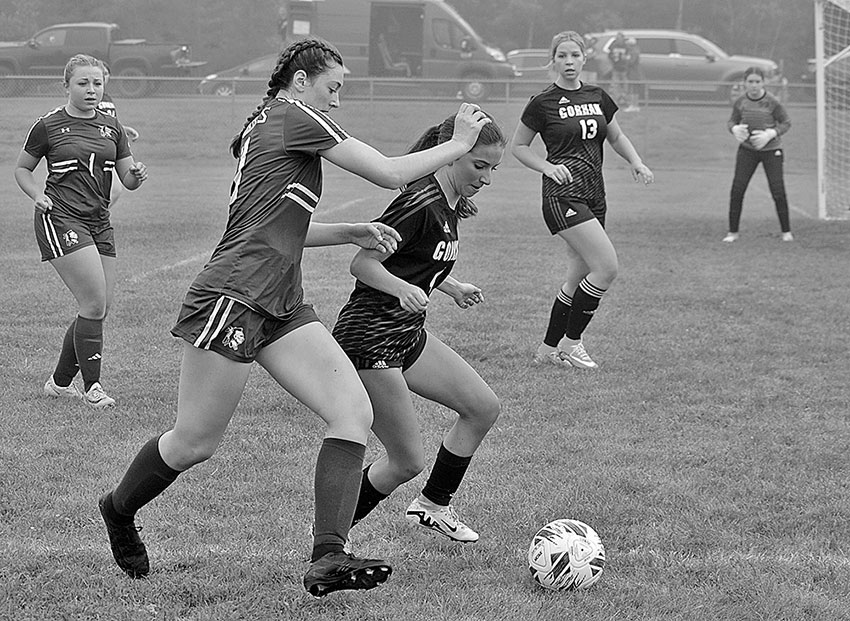 ATHLETIC MOVE

Colebrook's Keenan Hurlbert showed off his athleticism with an underhand layup in the first half of the Mohawks' home game against Groveton on Saturday. Hurlbert had 12 points in the Eagles' 62-37 win. (Jake Mardin photo)
---
School Collaborative Group Dissolves, Members Reflect on Three Years' Work
By Karen Harrigan
In March of 2018, annual meeting voters in the school districts from Columbia north and their local counterparts in Vermont agreed to join a regional conversation about education of their youth. From that consensus came the Connecticut River Valley Collaborative Planning Committee, which earlier this month voted to hand off its three years of work for local school boards to complete if they so choose.
Before voting at their final meeting on January 6, the members agreed on the record that "pulling all 200 kids into one high school would have significant educational benefit over what we have right now," said Colebrook school board chairman and committee member Brian LaPerle. "But going in the direction we were going in--forming an interstate district--it wasn't going to make it. The school boards are the people who are voted in, and have the power to do something. If people want this and don't like what their school board members are doing, they can vote in new ones."
Several members of the Connecticut River Valley Collaborative Planning Committee shared their thoughts--in a sit-down meeting last Tuesday afternoon, in later interviews or by e-mail--on what went wrong and their hopes for the region's education in the future. Most concurred that the area-wide discussion became bogged down in concerns over a regional high school's location and the governance of an interstate district, and residents' sense of protectiveness for their town identity as opposed to taking a collaborative view. They also agreed that the pandemic-induced remote meetings, rather than sitting together in one room, put a damper on open discussion and cohesiveness among the committee.
In the summer of 2020, the committee used grant funds to commission the Canaan and Colebrook schools' guidance counselors to draft a "Reimagining Our Future Schools" paper, based on its research and proposals to date. The seven-page document describes a proficiency- and competency-based learning system with expanded CTE programming, on-line learning and elective opportunities, and dual enrollment for students to attain associate degrees along with their diplomas.
The reimagined school system would offer personalized learning, a rigorous academic "school within a school" focused on STEM and the arts, an alternative school for struggling students, elimination of grade levels, and flexible scheduling. Their vision was based on a single high school, thereby possessing the re-sources to make it a reality and eliminating their struggles with scheduling.
"It's pretty hard to read that and not be excited," said Laurent Giroux of the Canaan board. Mr. LaPerle agreed, saying, "We bypassed the 'reimagine' piece, never promoted it, and it encapsulated the 'why' of what we were doing. People didn't get to absorb that, and if they had, they'd have asked, 'Why aren't you guys doing this?'"
Mr. Giroux observed that discussion about the details of an interstate school district and renovating Canaan Schools to house the high school headed off that possiblity. "If we just could've gotten together, non-building-specific, and formed that district, that would've been possible." Sharon Ellingwood White of Lemington and the NEK Choice District agreed, saying, "There was a lot of agreement and positivity in that document."
The options the committee considered soon narrowed to those allowing each town to keep its elementary school while regionalizing junior high and high schools, so that no town would lose its school entirely. "If you really want to collaborate, what are you willing to give up?" Mr. Giroux observed. "That's true collaboration, and I don't think anybody was ready for that." Mr. LaPerle added, "Pain and loss are tied together, and it became too difficult to give something up."
Columbia school board chairman Chris Brady said everyone had the best intentions for the students, and that the committee did a lot of work to gather the information and form recommendations. "But you did have those hard personalities sitting at the table," he said. "It unnerved some people, because you do have emotion in the whole thing. But the kids have gotten over that--they get together for all kinds of stuff and there are no issues."
Kyle Daley of Canaan chaired the committee, and reiterated that all members feel that a regional high school is the best outcome for this area. "But we haven't found that option there's been a lot of buy-in for," he said. "There's a lot of work done, a lot of data, and we're ready to hand that over to the school boards and let them work on it. The students are engaged and excited about the idea, and they don't have a lot of ingrained identity to deal with. We know the kids are ready for it."
In early 2019 the committee hosted public forums in Canaan, Colebrook, Pitts-burg and Stewartstown, and high school students were part of the discussion at Canaan's event. "They were excited," Mr. Giroux said, and Mr. Daley added, "They had some wonderful ideas and asked some wonderful questions."
Clarksville school board chairman Mike Dionne pointed out that the plans the committee proposed didn't require new construction for a regional school. "These plans would also have left available buildng space should there be an increase in the number of students in any of these communities," he said. "The plans would have required renovations, but not new additions or buildings from the ground up."
Jamie Gray of Pittsburg was not on the committee from the beginning, but "was very vocal in my support of it," she said. "I ran for school board [in 2019] because I was disappointed in how our community was moving forward. I ran as a parent that was hopeful for the future of our school. And to me that future included a combined high school."
She agreed that "the interstate portion is too big for the towns to look past," and expressed hope that the committee's work will continue. "I believe townspeople and our kids need to be vocal with what they want. We need to understand that everyone has to give on some things, but what they gain can be substantial." 
The Colebrook district created a school expansion committee last year to find ways to create more space for increased enrollment due to the American Perform-ance Polymers expansion. More recently, the district issued a press release in Dec-ember announcing the creation of the North Woods CTE Center at CAES.
When asked at what point the Collabor-ative Committee decided it was time to dissolve, Mr. Giroux said the notion arose last spring, "but the final straw would have been in December," with the news about CTE in Colebrook. "I guess what we would have liked as a committee was to have a heads-up instead of reading it in the paper. We were supposed to be voting on our two options at the time."
"I hope people can get back together," he continued. "It's going to be an ongoing circle of, 'I'm going to steal your teacher,' and we're not providing kids what they should be getting because we're fighting over teachers."
Mr. Brady added, "When all is said and done, it came to a point where I felt we couldn't do much more as that collaborative committee. You've got to look at the effectiveness and the time spent, and move on. It's got to come back to the school boards doing their work."
Mr. Daley pointed out that the volunteer members have put in a lot of hours on the committee's work, and Mr. LaPerle estimated he'd attended 50 meetings in one year. "We're like a family, these 23 people have been working together for three years," Mrs. White said. Mr. Giroux added, "We've had some disagreements, but we get along well."
Mr. LaPerle noted that despite not realizing their vision for a regional high school, the committee accomplished significant changes such as schedule alignment and collaboration among teachers. "When we started, we had three teachers for seven kids in calculus alone," he said.
"In my mind this isn't over," he said. "Just this part of it is over. My feeling is, let's get out of the way, and if people are really interested, it'll keep going. Pro-posals coming from us and out to the boards isn't working--it has to be more grassroots."
Mr. Daley also expressed hope that the momentum continues. "I'm hopeful more people will run for school boards based on these issues," he said. Mr. LaPerle reiterated his feeling that a regional high school "has to happen," and Mr. Giroux agreed but said, "We just weren't the right group to do it. I'm sure there's a group out there who will be able to do it, and hopefully within the next five years."
Mr. Dionne said if consolidation is considered again, "I would strongly advise finding a way to get and keep a large number of the public--not just certain little cliques--from all communities interested, involved, educated and informed on what benefits would come of such sharing of staffing and resources."
Mr. Giroux suggested that any future committee considering a regional high school be comprised of students. "They come up with a plan, and we adults will figure out if it's feasible," he said. "We probably would be amazed at what they came up with."
(Issue of January 26, 2022)
---
---
The News & Sentinel
6 Bridge Street, PO Box 39
Colebrook, NH 03576